Market Overview
The Global Container Vans Market Size is projected to grow at CAGR of approximately 7.8% during the forecast period.
Container vans, also known as shipping containers or intermodal containers, are substantial metal boxes made for carrying cargo on ships, trucks, and trains, among other modes of transportation. The most popular ones are 20 feet and 40 feet in length. They are normally built of steel and are available in conventional sizes.
Due to the rising need for reliable and secure global cargo transportation, the container van market has experienced tremendous growth in recent years. The shipping sector has undergone a revolution because of containerization, making it possible to move big cargo loads at cheaper rates
and faster speeds.
Market Dynamics
Market Drivers
As more commodities are delivered across borders to satisfy consumer demand, the advent of e-commerce has resulted in a rise in demand for container trucks. Containerization has enabled businesses to increase their consumer base outside of their local marketplaces due to the growth of online shopping. Container Vans Market allow merchants to deliver items from producers to customers in various parts of the world more quickly and affordably than they could with conventional transportation techniques. As a result, it is anticipated that as e-commerce develops, demand for container vans will increase.
Infrastructure Development
Another factor influencing the market for container vans is infrastructure development, such as the growth of transportation networks and port facilities. The demand for shipping has been rising, placing strain on the transportation infrastructure to keep up. Governments and private businesses are investing in the development of transportation infrastructure, which includes building new ports and renovating existing ones. By enhancing connection and accessibility for container shipping, transportation infrastructure development is anticipated to fuel market expansion for container vans. In turn, this will make it possible for commodities to be transported more effectively and affordably over the globe, thus increasing demand for container vans.
Market Restraints
Due to their potential to interfere with international trade and affect the need for containerization, geopolitical concerns are a serious worry for the market for container vans. Trade disputes, political unrest, and terrorism are potential causes of these hazards. Trade disputes between nations can lead to tariffs and other trade restrictions that reduce the cost-effectiveness of containerization and, thus, lower demand for container vans. For instance, the continuing trade spat between the US and China has resulted in increased import taxes on products moving between the two nations, decreasing demand for container shipping and affecting the market for container vans.
Market Opportunities
Expansion of Trade Routes
The market for container vans is seeing new growth potential as trade channels, notably in the Asia-Pacific area, are being expanded. The Belt and Road Initiative (BRI) is anticipated to increase demand for containerized shipping. This significant infrastructure project aims to establish new trade routes linking Asia with Europe and Africa. Container shipping and adjacent industries are anticipated to benefit significantly from this initiative.
Market Scope
Report Metric
Details
Market Size by 2031
USD XX Million/Billion
Market Size in 2023
USD XX Million/Billion
Market Size in 2022
USD XX Million/Billion
Historical Data
2019-2021
Base Year
2022
Forecast Period
2023-2031
Report Coverage
Revenue Forecast, Competitive Landscape, Growth Factors, Environment & Regulatory Landscape and Trends
Segments Covered

Segment by Type

Dry Freight Container Vans
Refrigerated Container Vans

Segment by Application

Food Transport
Consumer Goods Transport
Industrial Product Transport

Geographies Covered

North America
Europe
APAC
Middle East and Africa
LATAM

Companies Profiles

CIMC
SINGAMAS
CXIC Group
Shanghai Universal Logistics Equipment
Maersk Container Industry
Charleston Marine Containers
Sea Box
Hoover Container Solutions
Segmental Analysis
Based on Type
For better understanding type is further segmented into Dry Freight Container Vans and Refrigerated Container Vans.
Dry freight container vans dominate the global market. This is because various dry goods and commodities, including the most widely traded goods globally electronics, machinery, textiles, and building materials are transported using dry freight container vans. The expansion of e-commerce, which has resulted in a surge in online transactions and the necessity for quick and economical shipment of goods, is another factor driving the need for dry freight container vans.
Reefers, also known as refrigerated container vans, are an important market sector for container vans, particularly for transporting perishable products like food and medicines. However, the need for reefers is less widespread because they are more expensive and specialized than dry freight container vans. Nevertheless, as there is a rising demand for fresh food and other perishable items in emerging economies, it is anticipated that the demand for reefers will increase in the future.
Based on Application
The segment can be bifurcated by Application into Food Transport, Consumer Goods Transport, and Industrial Product Transport.
The food transport industry is predicted to grow significantly due to the increased demand for frozen and perishable food goods worldwide. Along with the growth of e-commerce, the need for container vans to transport consumer goods is projected to rise.
The market for shipping industrial goods is expected to grow, especially in emerging nations; as manufacturing enterprises grow, industrial items need efficient transportation.
Regional Analysis
The Global Container Vans Market is segmented by region as North America, Europe, Asia Pacific, Latin America, and Middle East and Africa.
Depending on the region, the market is analyzed in North America, Asia-Pacific, Europe, and LAMEA. Asia-Pacific dominates the market.
Due to the strong demand for effective transportation and storage solutions in sectors including food and beverage, consumer products, and manufacturing, the Asia Pacific region now dominates the worldwide market. The demand for container vans for the transportation of industrial goods is being driven by the region's main manufacturing hubs, including China and India. Additionally, the expansion of e-commerce in the area is boosting demand for container vans for consumer product delivery.
The key drivers of the container van market in North America are the development of the logistics industry and the increased demand for affordable storage and transportation solutions. The United States is the biggest market for container vans in North America, and demand is anticipated to rise as e-commerce, and the manufacturing industry both grow.
Europe is a developed market for container vans, with several seasoned industry players present. The demand in this field is influenced by the expansion of the food and beverage industry, the need for efficient transportation of consumer goods, and the expansion of the automotive industry.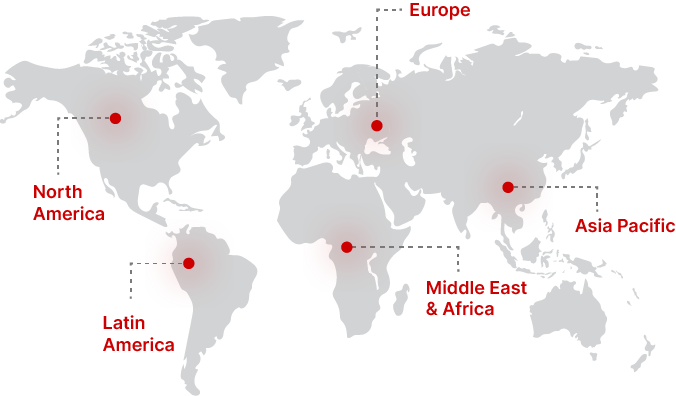 Regional Growth Insights
Download Free Sample
Key Players
CIMC
CXIC Group
Shanghai Universal Logistics Equipment
Maersk Container Industry
Charleston Marine Containers
Sea Box
Hoover Container Solutions
Recent Developments
In March 2023, Maersk announced an MOU on green methanol bunkering with Shanghai International Port Group.
Container Vans Market Segmentations
Segment by Type
Dry Freight Container Vans
Refrigerated Container Vans
Segment by Application
Food Transport
Consumer Goods Transport
Industrial Product Transport
Frequently Asked Questions