Market Overview
According to Reed Intelligence the Copper Oxychloride Fungicides Market Size will approximately grow at a CAGR of 5.4% during the forecast period.
Fungicides containing copper oxychloride are commonly utilized in agricultural practices to mitigate the occurrence and spread of fungal infections in crops. Copper oxychloride fungicides are commonly employed in various agricultural methodologies, including conventional, organic, and integrated pest management (IPM) approaches. The fungicides under consideration exhibit efficacy against a diverse range of fungal infections that pose a potential threat to plant health. This is achieved through the utilization of copper ions and chloride ions, which act as active agents in combating the detrimental effects caused by these pathogens on plants.
Copper oxychloride fungicides exhibit a diverse range of formulations, encompassing wettable powders, liquid solutions, and dusts. Copper Oxychloride Fungicides market exhibits notable efficacy against a diverse range of plant-harming fungi, thereby rendering it a viable option for the treatment of various agricultural ailments caused by fungal pathogens. The potential for modification exists, rendering it a valuable instrument for the management of illnesses. The fungicides possess the capability to effectively arrest and subsequently mitigate the identified issue. Preventive utilization of appropriate measures has been observed to potentially contribute to the mitigation of fungal diseases prior to their manifestation. Administration of appropriate treatments subsequent to an infection has the potential to contribute to the mitigation of the illness, thereby preventing its progression.
Market Dynamics
Market Drivers
Increased Demand for the Protection of Crops
The global demand for food production is steadily increasing in tandem with the expanding world population. In order to address the needs arising from an expanding global population, it is imperative for farmers to have access to highly effective fungicides such as copper oxychloride. These fungicides play a crucial role in safeguarding agricultural crops against the detrimental impact of fungal infections. Fungicides are commonly utilized in agricultural practices to mitigate the detrimental impact of fungal diseases on crop yield and overall agricultural productivity. The utilization of copper oxychloride has been observed to enhance plant well-being and augment crop yield through its efficacy in combating a diverse range of fungal pathogens. Fungal infections have been identified as a significant factor contributing to post-harvest losses in the context of storage and delivery. The utilization of copper oxychloride fungicides has been observed to exhibit a significant reduction in fungal infections, thereby effectively safeguarding crop quality and maximizing yield potential. The potential ramifications of crop failure resulting from fungal diseases on the economy are considerable. Fungicides containing copper oxychloride have been recognized as a cost-effective solution for safeguarding invaluable assets and preserving essential aspects of human existence.
Increase in the Organic Farming and Integrated Pest Management (IPM)
The growing awareness of the potential health and environmental benefits associated with organic products has led to a notable surge in the adoption of organic farming practices. Copper oxychloride fungicides, when utilized in compliance with organic standards, present a highly effective strategy for organic cultivators to manage and mitigate diseases. Numerous synthetic substances have been identified as prohibited within the realm of organic farming. Copper oxychloride stands out as a notable synthetic fungicide that has been approved for use in organic farming practices. As a consequence, it can be inferred that the utilization of this tool holds significant importance for organic farmers in their efforts to protect their crops against fungal infestations. Integrated Pest Management (IPM) is a comprehensive approach to disease and pest control that prioritizes a holistic and interconnected system. The utilization of copper oxychloride in integrated pest management (IPM) strategies can be deemed noteworthy due to its selective impact on fungal diseases while exhibiting minimal harm to beneficial organisms.
Market Restraints
Increasing Environmental Problems
Copper oxychloride, while generally considered to have a low risk profile, has the potential to cause environmental harm if mishandled or improperly managed. Improper or excessive utilization of copper has the potential to result in its accumulation in both water and soil matrices. The potential consequences of certain activities on aquatic ecosystems and non-target animals are a matter of concern. Copper-based fungicides have the potential to accumulate on crops and in the soil, thereby posing a concern for agricultural practices. The potential accumulation of copper residues poses a concern for crops with extended maturation periods, as it may lead to the accumulation of hazardous levels. The excessive utilization of fungicides containing copper has the potential to facilitate the emergence and proliferation of fungal strains that exhibit resistance to copper. The gradual loss of effectiveness is observed in the fungicide. The application of Copper Oxychloride Fungicides Market as a treatment option has been observed to potentially induce phytotoxicity or adversely impact the overall quality of crops. It is important to note that certain crops may be particularly susceptible to the harmful effects associated with this treatment. The potential impact of the pesticide on each crop's sensitivity may necessitate limitations on its utilization.
Market Opportunities
Increasing Horticulture Practices
Greenhouses serve as a pivotal component in the cultivation of crops within the context of the gardening industry. Greenhouses, as controlled environments, offer plants with optimal conditions for growth and development. However, it is important to acknowledge that they can also inadvertently contribute to the dissemination of fungal diseases among plant populations. In specific geographical regions, the utilization of fungicides containing copper oxychloride has demonstrated notable efficacy in managing and mitigating the impact of diseases. The decorative plants market, encompassing a wide range of flora such as flowers and other ornamental plants, is currently experiencing a notable expansion. The prevalence of fungal infections in ornamental crops necessitates the utilization of effective fungicides, such as copper oxychloride, to address this pressing issue. Horticulture is a field that often involves the cultivation of high-value crops such as fruits, vegetables, and flowers. The prevention of fungal infestation in crops is of utmost importance to uphold their intrinsic quality and preserve their copper oxychloride fungicides market value. Horticultural crops exhibit varying growth patterns and susceptibility to diseases. Copper oxychloride has demonstrated its efficacy in addressing the specific challenges at hand, thereby establishing its practicality within the field of horticulture.
Market Scope
Report Metric
Details
Market Size by 2031
USD XX Million/Billion
Market Size in 2023
USD XX Million/Billion
Market Size in 2022
USD XX Million/Billion
Historical Data
2019-2021
Base Year
2022
Forecast Period
2023-2031
Report Coverage
Revenue Forecast, Competitive Landscape, Growth Factors, Environment & Regulatory Landscape and Trends
Segments Covered

Segemt by Type

Suspension Concentrate
Wettable Powder
Water Dispersible Granule

Segment by Application

Grains
Fruits
Vegetables

Geographies Covered

North America
Europe
APAC
Middle East and Africa
LATAM

Companies Profiles

Albaugh
Biota Agro
IQV
Isagro
Killicks Pharma
MANICA S.P.A
Spiess-Urania
Vimal Crop
Greenriver
Segmental Analysis
Segemt by Type
A fungicide with a suspension concentration has its active ingredient, in this example copper oxychloride, in the form of tiny particles suspended in a liquid. Shake it vigorously before using to ensure that the active ingredient is distributed evenly. Because the particles take a while to settle, SC products are simple to use, cover a big area, and remain effective for a long period. This kind of formulation can be utilized whenever you want to continuously cover the plant regions.
Wettable powder fungicides are fungicides that are available in powder form. They need to be combined with water to create a solution before they can be used. While being utilized, WP recipes frequently require regular stirring to prevent particles from settling. They adhere to plant surfaces well and spread readily. WP formulations work well and last longer than other formulae when a vast area of crops needs to be treated.
Water Dispersible Granule
Water dispersible granules are fungicides that come in the form of granules or pellets that readily dissolve in water. They are designed to dissolve fast in water, making blending simple. WDG products are more convenient and easier to use than wettable powders since they contain less dust. They can aid in spreading the active component uniformly and covering a sizable region when combined with water.
Segment by Application
Fungicides using copper oxychloride can be used to treat grain crops like wheat, barley, rice, and maize. These fungicides aid in the eradication of fungal infections that can reduce grain yield and quality. Rusts, smuts, and blights are fungus infections that can affect grains. The antifungal characteristics of Copper Oxychloride Fungicides can aid in treating these issues.
Fruit crops can be protected from several fungal diseases by using fungicide treatments with copper oxychloride. Popular fruit crops like apples, pears, citrus fruits, grapes, and stone fruits like peaches and plums may benefit from copper oxychloride. Powdery mildew, plant rot, and leaf spot are examples of fungi that can be prevented or controlled by copper oxychloride.
Copper oxychloride fungicides are used to treat vegetable crops for fungal diseases that can reduce the quality and productivity of the crops. Fungi can damage leafy vegetables, tomatoes, peppers, cucumbers, and other vegetables as well. Downy mildew, early blight, and late blight are a few diseases that copper oxychloride can help prevent or decrease in these plants.
Regional Analysis
North America (USA and Canada)
Copper oxychloride fungicides could be used in the gardening industry in North America under controlled circumstances to treat fungal diseases. The scope of this endeavour encompasses the development of aesthetically pleasing plant varieties as well as the cultivation of plants within controlled greenhouse environments. In the North American region, a diverse array of crops is cultivated, encompassing both economically valuable plants and essential food staples. Copper oxychloride exhibits a diverse array of applications, rendering it suitable for implementation across a broad spectrum of crops. Copper oxychloride is a compound that is commonly utilized in the agricultural and gardening sectors, primarily due to its legal status. It has gained significant popularity among farmers and gardeners in North America, who frequently rely on its various applications. From an environmental perspective, it can be argued that copper oxychloride fungicides market exhibits certain advantages over certain synthetic alternatives. The Copper Oxychloride Fungicides market in North America has been steadily growing in recent years, owing to rising awareness of sustainable farming techniques and the need to safeguard high-value crops. In collaboration with farming and horticulture organizations, farmers have the opportunity to explore the potential benefits associated with the utilization of copper oxychloride as a means to effectively mitigate various diseases and ailments affecting their crops.
Europe (Germany, the U.K., France, Russia, Italy, Rest of Europe)
The European continent boasts Copper Oxychloride Fungicides market cantered around flowers, aesthetically pleasing plants, and horticultural species commonly utilized in gardening practices. The utilization of fungicides containing copper oxychloride has been identified as a potential strategy to mitigate the occurrence of diseases in these economically significant crops. The potential utilization of copper oxychloride as a treatment for diseases aligns with Europe's growing emphasis on integrated pest management and organic farming practices. Europe has implemented stringent food safety regulations to mitigate the risk of fungal illnesses in crops intended for human consumption. These regulations necessitate the utilization of highly effective fungicides to ensure the safety and quality of the food supply. The elucidation of copper oxychloride's mechanism of action presents a promising avenue for impeding the development of fungal resistance towards alternative fungicidal agents. The achievement of this objective is facilitated through the manipulation of resistance. Collaboration with organic farming and horticulture organizations presents a valuable opportunity to enhance the dissemination of knowledge regarding the utilization of Copper Oxychloride Fungicides market within these specific domains.
Asia-Pacific (China, Japan, South Korea, India, Southeast Asia, Rest of Asia-Pacific)
Asia-Pacific area represents a huge growth opportunity for Copper Oxychloride Fungicides Market. It boasts a wide range of climatic conditions and topography, which enables the cultivation of a diverse array of crops. Copper oxychloride exhibits a high degree of versatility, rendering it capable of effectively addressing a wide range of health concerns prevalent in the region. The potential utilization of copper oxychloride, a highly effective fungicide with positive environmental attributes, could be enhanced through increased adoption of Integrated Pest Management (IPM) practices in the Asia-Pacific region. Numerous Asian nations are known for their significant contributions to the agricultural sector, yielding substantial quantities of various agricultural products. The interdependence of foreign trade on the quality of agricultural produce, particularly in terms of disease prevention, necessitates a heightened demand for efficacious fungicides. Through the implementation of educational initiatives that promote sustainable agriculture and the adoption of effective disease treatment approaches, there is potential for wider utilization of Copper Oxychloride Fungicides Market. Collaborative partnerships with esteemed research institutions have been shown to play a pivotal role in the advancement of efficient applications for copper oxychloride and the management of various illnesses.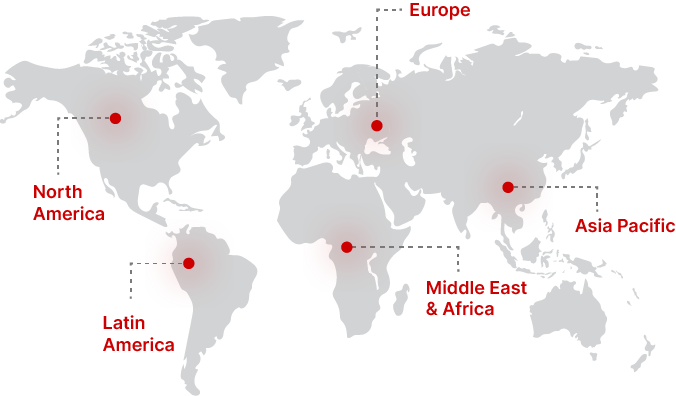 Regional Growth Insights
Download Free Sample
Key Players
Albaugh
Biota Agro
IQV
Isagro
Killicks Pharma
Spiess-Urania
Vimal Crop
Greenriver
Recent Developments
02 May 2022 - Albaugh has acquired the Rotam Global AgroScience Limited business. This acquisition would result in the formation of a substantial crop protection company with annual sales exceeding $2 billion and facilities in the United States, Argentina, Brazil, Mexico, Slovenia, China, Taiwan, and India.
14 March 2023 - MANICA S.P.A., has recently inaugurated its fourth office in Europe. This strategic move aligns with the company's overarching objective of expanding its service offerings within the Polish and Eastern European markets. By venturing into these regions, MANICA S.P.A anticipates significant growth opportunities that will contribute to the overall expansion of the organization.
Copper Oxychloride Fungicides Market Segmentations
Segemt by Type
Suspension Concentrate
Wettable Powder
Water Dispersible Granule
Segment by Application
Frequently Asked Questions