Market Overview
According to Reed Intelligence the Corporate Assessment Services Market Size will approximately grow at a CAGR of 6.2% during the forecast period.
Assessment services are the systematic collection, evaluation, and application of data regarding academic support, educational programming, business solutions, and social services to improve quality, plan, and make prompt decisions. Introducing new technologies and software applications has profoundly altered the nature and application of assessment in numerous ways, as sophisticated digital assessment systems offer vast capabilities. Assessment services are extremely beneficial in higher education because they provide numerous benefits, including enhanced student learning, development, and engagement, robust programs and services, accurate need assessments and expanding opportunities for improvement, and enhanced departmental and office communication and collaboration. In recent years, the demand for skill evaluation to enhance employability and overall organizational efficiency and the number of competitive assessments in the education sector have accelerated the use of assessment services.
Market Dynamics
Market Drivers
Psychometric Tests That Give the Market an Extra Boost
Psychometric tests are frequently used during the hiring process to evaluate a candidate's skills, intelligence, and personality. Employers use test results to determine whether a candidate is a good match for the company, and this practice is accelerating market growth. Personality profiling, a psychometric test, is a popular initial stage in employment. It can also be accomplished after a thorough examination of particular abilities. During telephone interviews, numerous companies pose traits and personality-related questions administered verbally. Large corporations use competency and personality tests in their recruitment procedures, increasing Corporate Assessment Services Market Sales. Consequently, the expansion of the services industry and the increased demand for psychometric tests will contribute Corporate Assessment Services Market Growth.
Technological Innovation to Promote Market Growth
As a result of advancements in mobile technology, corporate assessment services providers are developing mobile-based assessment solutions and integrating cutting-edge digital tools. Due to this innovation, demand will rise during the projected period. The growing population and digitalization of industrialized processes have increased the number of laptops, smartphones, personal computers, point-of-sale terminals, and tablet stations. This proliferation of diversified smart devices is generating a vast quantity of system endpoints. Due to the increasing number of endpoint devices, security audits are required. Consequently, the market for services is anticipated to expand swiftly during the forecasted time frame.
Market Restraint
High Product Costs Restrain Market Expansion
Several fundamental obstacles, including budgetary constraints, connectivity issues, and inefficient assessment technology utilization, hinder the growth of the Corporate Assessment Services Market. Due to financial constraints, businesses cannot acquire the required hardware and software tools. These are required for the execution of corporate training because they make it easy to invite employees who are prepared to learn in a technologically advanced learning environment. This may be a significant barrier to market expansion. The market will immediately begin to expand if this issue is resolved.
Market Opportunity
Increasing Demand for Assessment
Most corporate assessment services facilities provide staff with training and guidance to advance their professions. Personnel can improve their abilities and output using evaluation services geared toward professional development. This evaluation of the company. The services help employees transition into positions requiring various skill sets, train current employees with the new skills required for their projects, and house new workforces. Corporate assessment services ensure employees know how job descriptions in the relevant industry are evolving. It enables workers to comprehend how their performance impacts the organization's goals. Consequently, the increasing demand for assessment is a significant trend creating growth opportunities for the industry.
Market Scope
Report Metric
Details
Market Size by 2031
USD XX Million/Billion
Market Size in 2023
USD XX Million/Billion
Market Size in 2022
USD XX Million/Billion
Historical Data
2019-2021
Base Year
2022
Forecast Period
2023-2031
Report Coverage
Revenue Forecast, Competitive Landscape, Growth Factors, Environment & Regulatory Landscape and Trends
Segments Covered

Segmentation By Type

Online Psychometric Tests
Online Aptitude Tests
Online Domain Tests
In-Person Interviews

Segmentation By Application

Small Scale Enterprises
Medium Scale Enterprises
Large Scale Enterprises

Geographies Covered

North America
Europe
APAC
Middle East and Africa
LATAM

Companies Profiles

AON
Korn Ferry
CEB
Psytech
Hogan Assessments
Aspiring Minds
TTI Success Insight
Cubiks
Performance
Talent Plus
Harrison Assessments
AssessFirst
Chandler Macleod
TeamLease
IBM
DDI
NSEIT
Eduquity Career Technologies
Central Test
StrengthsAsia
MeritTrac
Mettl
Beisen
Segmental Analysis
Segmentation By Type
Online Psychometric Tests
Online psychometric tests objectively measure personality traits, aptitude, intellect, and abilities. In career guidance and employment, psychometric assessments are commonly used to match an individual's abilities and disposition to a suitable career or position.
A test of aptitude is an evaluation used to ascertain a candidate's cognitive ability or personality. They are widely used in job assessments because they can be used to anticipate the likelihood of a candidate's success in a job role while eliminating bias through standardized administration.
Domain assessment tests measure a person's knowledge and expertise in a specific subject area. These tests are frequently used in recruiting and promotion decisions because they provide valuable insight into a candidate's ability to perform in a particular role.
An in-person interview means meeting with the recruiting manager at their place of employment. Typically, this phase follows a phone interview in which your qualifications are evaluated.
Segmentation By Application
Small Scale Enterprises (SSE) are businesses with limited employees and modest capital expenditures. These businesses play a crucial role in the economy, as they frequently serve as the backbone of local communities and provide employment opportunities for many people.
In corporate assessment services, medium-sized enterprises (SMEs) are businesses with between 50 and 500 employees. Typically, they are too large to use the same assessment services as small enterprises but too small to afford the services of the largest corporate assessment providers.
Large-scale enterprises in corporate assessment services are organizations that offer assessment services to businesses of all sizes, with an emphasis on large enterprises. Typically, these organizations provide an extensive array of assessment services.
Regional Analysis
The Global Corporate Assessment Services Market is segmented by region as North America, Europe, Asia Pacific, Latin America, and Middle East and Africa.
North America (United States, Canada, and Mexico)
North America Dominates the Market Worldwide. The market for corporate assessment services in North America has benefited from the region's expanding industrial development, and numerous factors have increased the potential market sectors, as this region is the largest product consumer. The key factor driving the growth of the corporate assessment services market share is the increasing demand for products in the areas of frontline employee requirements, manager requirements, and internal assessment and promotion. Rapid urbanization growth will further stimulate the market.
Europe (Germany, UK, France, Italy, Russia, Spain, etc.)
In Europe, Germany dominated the market for corporate assessment services. The nation is devoted to implementing and investing in cutting-edge technologies. Companies in Germany are utilizing technologically sophisticated assessment tools to hire the ideal candidate for their organization, thereby increasing their business's productivity. After Germany, France dominated Europe's business sector assessment of the service market. The country's jobs for engineers, administrators, and health professionals are rising. Although France is undergoing de-industrialization, which has resulted in outsourcing several activities, the manufacturing sector is extremely diverse.
Asia-Pacific (China, Japan, Korea, India, Australia, Southeast Asia, etc.)
Adopting advanced and innovative technologies is prevalent throughout the Asia Pacific region. The transition of these economies from the developing stage to the developed stage has been facilitated by several factors, including rapid economic growth, the digitalization of the economy, and adequate government support. Additionally, developing nations in the region are to obtain traction in the APAC region. Profiles Asia Pacific, a company based in the Philippines, offers employment assessment products to help businesses select the best candidate and develop them to their maximum potential; it also provides the company with reliable information to make an informed decision. These factors are anticipated to drive the market for corporate assessment services.
South America (Brazil, Argentina, Colombia, etc.)
The market for corporate assessment services in South America is anticipated to increase in the future years. This expansion will be fueled by the rising demand for talent acquisition and development, the prevalence of online assessment services, and the rise of the gig economy.
Middle East & Africa (South Africa, UAE, Saudi Arabia, etc.)
The Middle East will be the largest market for corporate assessment services in Middle East Africa. This is due to the region's high demand for skilled laborers and the increasing emphasis on employee performance. The United Arab Emirates, Saudi Arabia, and Qatar are anticipated to be the largest markets in the Middle East. Africa is anticipated to be the fastest-growing market in the MEA for corporate assessment services. This is due to the region's rapid economic development and rising adoption of new technologies. South Africa, Nigeria, and Kenya are anticipated to be the most important markets in Africa.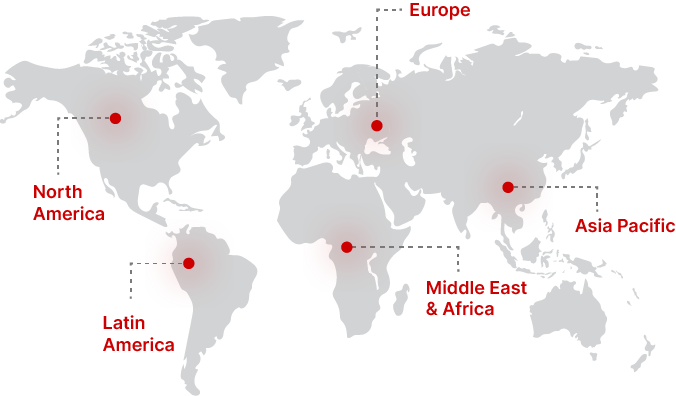 Regional Growth Insights
Download Free Sample
Key Players
AON
Korn Ferry
CEB
Psytech
Hogan Assessments
Aspiring Minds
TTI Success Insight
Cubiks
Performance
Talent Plus
AssessFirst
Chandler Macleod
TeamLease
IBM
DDI
NSEIT
Eduquity Career Technologies
Central Test
StrengthsAsia
MeritTrac
Mettl
Beisen
Recent Developments
June 28 2023 Aon plc (NYSE: AON), a leading global professional services firm, has announced the expansion of its Health Solutions capabilities in Chile through the acquisition of Benefits (Benefits Corredores de Seguros Ltda), an employee benefits consulting firm, as well as the brokerage and consulting businesses of Benefits. The acquisition substantially expands Aon's presence in Chile and the services presently offered to local clients.
Corporate Assessment Services Market Segmentations
Segmentation By Type
Online Psychometric Tests
Online Aptitude Tests
Online Domain Tests
In-Person Interviews
Segmentation By Application
Small Scale Enterprises
Medium Scale Enterprises
Large Scale Enterprises
Frequently Asked Questions