Market Overview
The Global Coworking Spaces Market Size is expected to grow at a CAGR of approximately around 15.1% during the forecast period of 2023-2031.
The coworking spaces market has experienced significant growth and evolution in recent years. Coworking spaces are shared work environments where individuals, entrepreneurs, startups, and small businesses can rent flexible workspace on a short-term basis. These spaces provide amenities such as desks, meeting rooms, internet access, and communal areas, fostering collaboration, networking, and productivity. A coworking space is a shared or collaborative office space used by many people or companies housed in the same buildings and made available for rent by the building's owners. It enables employees to duplicate the sense of community missing from the virtual workplace. Open or traditional coworking spaces, corporate or professional coworking spaces, and others are the primary types of businesses in coworking spaces. The corporate/professional coworking space caters to more corporate or professional tenants. With a calm, private, and professional atmosphere, softer lighting, and less energy usage than other rooms, it will be more affordable than a high-end location
The market has grown globally, driven by factors such as the rise of remote work, the gig economy, and the increasing demand for flexible work arrangements. It has expanded beyond traditional tech hubs and major cities, with coworking spaces emerging in suburban areas and smaller towns. The industry has seen the entry of diverse operators, including large global chains like WeWork, Regus, and Spaces, as well as regional players and independent coworking spaces. Consolidation has taken place through mergers and acquisitions, with larger operators acquiring smaller or struggling coworking space providers to gain market share and enhance service offerings.
Market Dynamics
Market Drivers
The increasing adoption of remote work by companies and individuals has been a significant driver for coworking spaces. As more people work outside of traditional office environments, there is a growing need for flexible workspace solutions that provide a professional work setting, amenities, and a sense of community.
Entrepreneurship and Startup Culture
The growth of entrepreneurship and startup culture has influenced the demand for coworking spaces. These locations offer an ecosystem that encourages business owners and startups to work together, network, and share expertise. Events, workshops, and mentoring programs that assist the expansion and development of these enterprises are frequently held at coworking spaces.
Market Restraints
The coworking industry is susceptible to economic downturns. During times of economic instability or recession, businesses may reduce their expenses, including costs associated with coworking memberships. This can lead to a decrease in demand for coworking spaces and occupancy rates, impacting the financial viability of coworking operators.
Market Scope
Report Metric
Details
Market Size by 2031
USD XX Million/Billion
Market Size in 2023
USD XX Million/Billion
Market Size in 2022
USD XX Million/Billion
Historical Data
2019-2021
Base Year
2022
Forecast Period
2023-2031
Report Coverage
Revenue Forecast, Competitive Landscape, Growth Factors, Environment & Regulatory Landscape and Trends
Segments Covered

Segment by Type

Open/Conventional Office Spaces
Corporate/Professional Office Spaces

Segment by Application

BFSI
Legal Services
Sales & Marketing
Information Technology
Consulting Services

Geographies Covered

North America
Europe
APAC
Middle East and Africa
LATAM

Companies Profiles

WeWork
IWG plc (Regus)
Knotel
The Office Group (TOG)
Servcorp
Ucommune
the Hive
Premier Workspaces
Breather
Industrious Office
Intelligent Office
JustCo
Greendesk
Office Evolution
Serendipity Labs
Venture X
Hera Hub
KrSpace
Expansive (Novel Coworking)
Impact Hub
Hacker Lab
Convene
District Offices
MIXPACE
SimplyWork
Segmental Analysis
Segment by Type
Open/Conventional Office Spaces
Coworking areas with a more casual and cooperative vibe are called open or conventional office spaces. These places usually have an open floor plan with shared desks, common areas, and a flexible layout. They often draw freelancers, entrepreneurs, small startups, and people looking for a flexible and creative workplace. Open office areas help people meet each other, work together, and feel like they belong to the same group.
Corporate/Professional Office Spaces
Corporate or professional office spaces, on the other hand, are designed to cater to established businesses, larger teams, or organizations that require a more formal and private setting. These spaces often offer private offices, dedicated workstations, meeting rooms, and advanced amenities tailored to the needs of corporate clients. They provide a professional setting with a focus on privacy, confidentiality, and a quieter working environment. Corporate office spaces are typically suitable for businesses looking for a flexible office solution without the long-term commitment of traditional leases.
Segment by Application
Coworking spaces catering to the BFSI sector provide a collaborative working environment for professionals in banking, finance, insurance, and related industries. These spaces often offer amenities such as secure networking infrastructure, private meeting rooms, and specialized services tailored to the needs of financial professionals.
Coworking spaces targeted at legal professionals provide an alternative workspace for lawyers, law firms, and legal consultants. These spaces may offer facilities like private offices, dedicated workstations, conference rooms equipped with legal research tools, and access to legal resources. The goal is to create a productive environment for legal practitioners while fostering networking opportunities within the legal community.
Coworking spaces catering to sales and marketing professionals offer an environment conducive to collaboration, networking, and creativity. These spaces may provide open areas for brainstorming sessions, meeting rooms for client presentations, and access to marketing tools and resources. The focus is on creating a vibrant and dynamic setting that supports sales and marketing activities.
Coworking spaces for the IT sector cater to professionals in software development, programming, web design, and other IT-related fields. These spaces often provide high-speed internet, tech-enabled meeting rooms, and amenities like coding resources and developer communities. They aim to create an environment where IT professionals can collaborate, innovate, and work on projects effectively.
Coworking spaces for consulting professionals offer a flexible workspace for individuals and firms providing consulting services in various industries. These spaces typically provide meeting rooms for client consultations, access to business resources, and networking opportunities with other consultants. The focus is on creating a professional setting that supports the consulting process and fosters collaboration among consultants.
Regional Analysis
North America
North America is a significant market for coworking spaces, with the United States leading the region. The region's strong entrepreneurial culture, the rise of startups, and a growing freelance economy drive the demand for flexible workspaces. Major cities like New York, San Francisco, and Toronto have a high concentration of coworking spaces, attracting a diverse range of professionals across industries. The market is characterized by a mix of open and corporate office spaces, catering to various needs. Established coworking operators and local startups compete in this competitive market, offering innovative amenities and services to attract members.
Europe
Europe has experienced significant growth in the coworking spaces, led by countries like the UK, Germany, and France. The region benefits from a thriving startup ecosystem, a rise in remote work, and increasing acceptance of flexible work arrangements. Coworking spaces in Europe offer a mix of open and corporate office environments, catering to diverse industries and professionals. The market is characterized by a blend of global coworking brands, local operators, and niche spaces targeting specific sectors. Major cities like London, Berlin, and Paris are hotspots for coworking, with a focus on networking events, collaboration, and fostering innovation.
Asia-Pacific
The Asia-Pacific region has witnessed rapid growth in the coworking spaces. China, India, and Southeast Asian countries are key contributors to this growth. The region benefits from a large population of entrepreneurs, freelancers, and tech-driven startups. Coworking spaces in Asia-Pacific offer a mix of open and corporate office environments, with a focus on technology infrastructure and community-building activities. Major cities like Beijing, Tokyo, Bangalore, and Singapore are coworking hubs, attracting both local and international operators. The market is highly competitive, with players offering localized services, flexible pricing models, and specialized amenities to cater to the diverse needs of professionals in this dynamic region.
South America
South America's coworking spaces market has been steadily growing, driven by a rising number of startups and freelancers in countries like Brazil and Argentina. Coworking spaces in the region offer a mix of open and corporate environments, focusing on networking opportunities, collaboration, and a vibrant work atmosphere. Major cities like São Paulo, Buenos Aires, and Bogotá are coworking hotspots, hosting a range of local and international operators. The market is characterized by affordable pricing, flexible membership options, and tailored services for entrepreneurs and small businesses.
Middle East and Africa
The Middle East and Africa's coworking space industry is progressively growing due to rising entrepreneurship and changing workplace culture. Targeting local startups, freelancers, and remote employees, coworking spaces are expanding in cities like Dubai, Abu Dhabi, and Johannesburg. The market provides a variety of corporate and open office settings with an emphasis on networking opportunities, business support services, and flexible workspace options. As more professionals in the area embrace flexible work schedules and look for collaborative work settings, the industry has the potential to expand even more.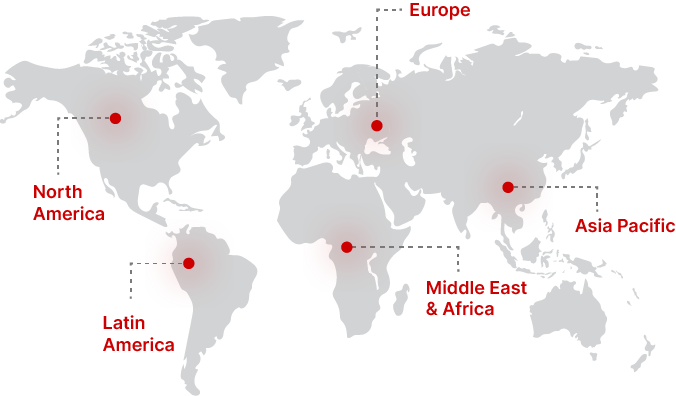 Regional Growth Insights
Download Free Sample
Key Players
WeWork
IWG plc (Regus)
The Office Group (TOG)
Servcorp
Ucommune
the Hive
Premier Workspaces
Breather
Industrious Office
Intelligent Office
JustCo
Greendesk
Office Evolution
Serendipity Labs
Venture X
Hera Hub
KrSpace
Expansive (Novel Coworking)
Impact Hub
Hacker Lab
Convene
District Offices
MIXPACE
SimplyWork
Coworking Spaces Market Segmentations
Segment by Type
Open/Conventional Office Spaces
Corporate/Professional Office Spaces
Segment by Application
BFSI
Legal Services
Sales & Marketing
Information Technology
Consulting Services
Frequently Asked Questions