Market Overview
According to Reed Intelligence the Global Digital Energy Market Size will approximately grow at a CAGR of 11.45% during the forecast period.
Digital energy is the seamless real-time information exchange between energy suppliers and consumers. This technology could change everyone it meets, changing the fuel, electricity, and gas businesses. Energy digitization has already started due to always-on Internet connections, deregulation, the rise of merchant generators, and the increase in wholesale power trade. Digital money has become increasingly convenient and pervasive in daily life, considering its user-friendly nature and rapid integration into family routines. Digital energy systems will automatically adjust their low-priority consumption to off-peak times. Additionally, these systems will trade energy internationally on behalf of the user, all while operating in the background and remaining invisible to the user.
Market Dynamics
Digital Energy Market Drivers
Increasing Adoption Of Smart Grids
A smart grid is an electrical grid equipped with digital technology. It is designed to gather, distribute, and utilize information about the behavior of both electricity suppliers and consumers. Smart grids are power grids that have been digitalized and incorporate sensors, communication networks, and analytical tools. These components work together to monitor and control the flow of electricity. Smart grids have the potential to enhance utility operations by increasing efficiency, lowering costs, and delivering improved customer service. This will also contribute to reducing electricity rates. The integration of large-scale renewable energy systems has been steadily increasing.
Digital Energy Market Restraints
High Cost And Security Concerns
Digital energy technologies are costly due to their complex structure and can incur significant upfront costs. It also has security concerns which can lead to cyberattacks. Companies have to pay extra costs to prioritize the security of their systems to protect them from cyberattacks. This technology is currently new and hence lacks standardized guidelines. Some individuals may hesitate to embrace new technologies, even when these technologies present potential advantages. All these factors can be barriers to the digital energy market.
Digital Energy Market Opportunities
Use Of Digital Energy In The Electric Utility Industry
Digital energy can potentially address a significant challenge in the electric utility industry. Electrons travel at the speed of light through extensive networks, yet records concerning them are outdated by a minimum of 30 days. Furthermore, it is important to note that we cannot control electrons, regardless of our desire to purchase them at a lower cost during specific periods, generate them ourselves, or acquire "green" electrons. When we attempted to control these electrons, they had already disappeared. Utility companies are increasingly emphasizing energy efficiency as a means to lower expenses and enhance sustainability. Digital technologies can enhance energy efficiency for utilities by monitoring and controlling energy consumption.
Market Scope
Report Metric
Details
Market Size by 2031
USD XX Million/Billion
Market Size in 2023
USD XX Million/Billion
Market Size in 2022
USD XX Million/Billion
Historical Data
2019-2021
Base Year
2022
Forecast Period
2023-2031
Report Coverage
Revenue Forecast, Competitive Landscape, Growth Factors, Environment & Regulatory Landscape and Trends
Segments Covered

Segment By Type

T&D Technologies
Energy Connectivity
Energy IT and Cybersecurity

Segment By Application

Household
Commercial
Government Project

Geographies Covered

North America
Europe
APAC
Middle East and Africa
LATAM

Companies Profiles

Itron
Aclara
Trilliant
ABB Wireless
Landis+Gyr
Nokia
RAD
Mimomax
S&C Electric
Ericsson
Segmental Analysis
Segment By Type
T&D technologies includes various technologies utilized for the transmission and distribution of electricity. These technologies include smart meters, advanced metering infrastructure (AMI), and distribution automation (DA). These technologies play a crucial role in enhancing the efficiency and reliability of the power grid.
Energy connectivity is about smart grids, microgrids, and virtual power plants, all connecting different parts of the energy system. These tools help make the energy system more flexible and less likely to break down.
Energy IT and Cybersecurity
It focuses on the tools used to run and protect IT systems in the energy sector. These technologies are crucial for protecting energy data from hacking and ensuring that energy IT systems are always available. Digital energy also includes the use of AI and advanced analytics for efficient decision-making.
Segment By Application
Digital energy is being used in various devices in households such as smart appliances, solar panels, etc.
Digital energy is also highly used commercially in power grids, smart meters, and microgrids. Microgrids are small, self-contained power grids that can provide backup power or connect to the main grid. In Smart meters, it is helpful for businesses to watch how much energy they use and find ways to use less.
It is used by governments in Energy efficiency programs and can assist governments in reducing their energy consumption and achieving cost savings. It also assists governments in enhancing their dependence on renewable energy sources with the help of renewable energy programs. The utilization of digital energy technologies has the potential to effectively address climate change by significantly decreasing emissions originating from the energy sector.
Regional Analysis
North America (USA and Canada)
North America constantly emphasizes technology. They are always one step ahead in terms of bringing innovation to life. One of the reasons the digital energy market is growing in this region is its early adoption of smart grids and distributed generation technologies. A smart grid allows consumers to play a part in optimizing the operation. Smart grids are widely used by American companies, followed by Canada. These states can bring growth opportunities for the digital energy market in this region.
Europe (Germany, the U.K., France, Russia, Italy, and the Rest of Europe)
Digital energy is growing worldwide. Many businesses that accept digital technologies and provide practical consumer services will gain the appreciation and support of both commercial and residential users. But companies not updated with digital advancements will face difficulties distinguishing themselves and may become low-margin commodity suppliers without added value. Companies that can effectively analyze and utilize digital data for commercial and residential customers will consistently outperform them. Hence, companies are constantly trying to adopt digital energy in their business. Also, due to the growing emphasis on energy efficiency, Europe has emerged as one of the largest markets for digital energy.
Asia-Pacific (China, Japan, South Korea, India, Southeast Asia, Rest of Asia-Pacific)
Approximately 150 million individuals in Asia and the Pacific region do not have access to electricity. While many people continue to cook using unhealthy and polluting fuels, this practice hinders economic growth and social development. The region emphasizes renewable energy sources. The increasing demand for electricity and emphasis on renewable energy sources can propel the growth of the digital energy market in this region.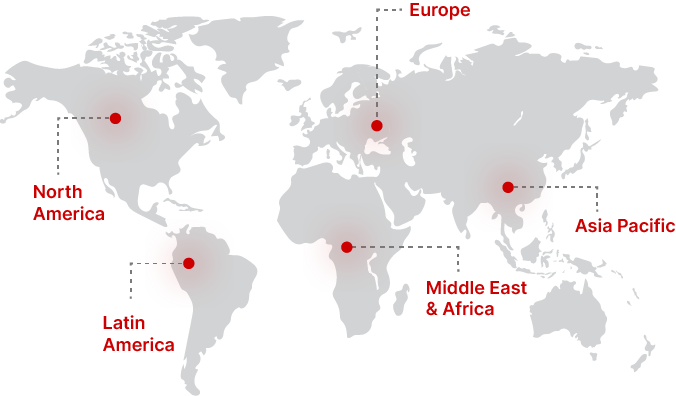 Regional Growth Insights
Download Free Sample
Key Players
Itron
Aclara
ABB Wireless
Landis+Gyr
Nokia
RAD
Mimomax
S&C Electric
Ericsson
Digital Energy Market Segmentations
Segment By Type
T&D Technologies
Energy Connectivity
Energy IT and Cybersecurity
Segment By Application
Household
Commercial
Government Project
Frequently Asked Questions