Market Overview
According to Reed Intelligence the Global Dithiocarbonate Fungicides Market Size will approximately grow at a CAGR of 3.4% during the forecast period.
Dithiocarbonate fungicides (DTFs) are widely used to control various fungal diseases in crops and ornamental plants. Maximum residual limits in the order of ppb-ppm are currently imposed by legislation to prevent toxicity problems associated with excessive use of DTFs. The specific analytical determination of DTFs is complicated by their low solubility in water and organic solvents. Dithiocarbonate compositions are often provided in dry form such as, for example, wettable powders, dusts, and granules and as suspension concentrates, such as aqueous flowable formulations.
Dithiocarbonate fungicides are used for inhibiting the growth and reproduction of fungi. They typically act on the enzyme aldehyde dehydrogenase, which is involved in energy production within fungal cells. By interfering with this enzyme, dithiocarbonates disrupt the normal metabolic processes of fungi, which leads to their inhibition. Some common examples of dithiocarbonate fungicides include mancozeb, maneb, zineb, and propineb. These fungicides are available in various formulations, including powders, liquids, and dusts, and can be applied through foliar sprays, seed treatments, or soil drenches.
Dithiocarbonate fungicides are known for their activity against fungal pathogens, including those causing diseases such as leaf spots, powdery mildew, blights, rusts, and fruit rots. They are stable in the environment and have very less effect on mammals.
The market is driven by Farming and Horticulture in various regions globally.
Market Dynamics
Market Drivers
Increasing Demand of Dithiocarbonate in Horticulture
Dithiocarbonate helps in Horticulture by reducing the cost of other operations such as crop rotation and sanitation. Horticultural crops such as fruits, vegetables, ornamentals, and greenhouse crops, are susceptible to fungal diseases. Dithiocarbonate fungicides act as a protector for growers to protect their crops from fungal pathogens. It has the ability to manage diseases which helps to ensure the quality, marketability, and economic viability of horticultural production. It can also help in extending the shelf life of the products produced by horticulture. By reducing or preventing post-harvest fungal infections, these fungicides help in maintaining the quality and freshness of fruits, vegetables, and ornamental crops during storage, transportation, and market distribution.
The Healthy growth of crops is the aim of all the farmers and food producers. Dithiocarbonate Fungicide is generally considered as cost effective as the cost of other fungicides used to protect the crops from the diseases are costly and cannot be affordable by all the farmers. They also increase the efficiency by reducing all other efforts for keeping the crops healthy. These are the effective disease control solutions that fit within the budget of the farmers. This increases the demand for dithiocarbonate fungicides by the farmers and as the horticulture is increasing it is an opportunity for the market to grow in the upcoming years.
Market Restraints
Adverse effect on Environment
The plants are treated with Dithiooxamide Fungicides to prevent them from various fungal diseases but the adverse environmental effects caused due to this use resist the farmers from using the fungicide affects the soil and water as it potentially persists in it and this accumulation can lead to its effect on the non-target organisms. These organisms include insects, aquatic organisms and soil microorganisms to the concerns about Water contamination and the impact of the fungicide on the ecosystem have led to limitations on the use of dithiocarbonate fungicides in some regions which affects its market adversely.
Development of Fungal Resistance
The repetitive use of Dithiocarbonate Fungicides can develop fungal resistant properties. As Fungi have the ability to adapt and develop resistant mechanism against the fungicides which are used frequently. It supresses the effect of the fungicides' farmers need to plan their rotation and integrated pest management strategies which can help to decrease the effect in controlling fungal diseases which reduces the market demand of the fungicide.
Market Scope
Report Metric
Details
Market Size by 2031
USD XX Million/Billion
Market Size in 2023
USD XX Million/Billion
Market Size in 2022
USD XX Million/Billion
Historical Data
2019-2021
Base Year
2022
Forecast Period
2023-2031
Report Coverage
Revenue Forecast, Competitive Landscape, Growth Factors, Environment & Regulatory Landscape and Trends
Segments Covered

Segment by type

Mancozeb
Thiram
Propineb
Zineb

Segment by Application

Agriculture
Plantation
Horticulture

Geographies Covered

North America
Europe
APAC
Middle East and Africa
LATAM

Companies Profiles

Ricca Chemical Company
Avantor Performance Materials
NBS Biologicals
Gelest inc
Spectrochem
Spectrum Chemical Maufacturing
Alfa Aesar
Scharlab SL
American Elements
Segmental Analysis
Segment by Type
Mancozeb is a dithiocarbonate fungicide which belongs to the ethylene bisdithiocarbamate (EBDC) group. It is a mixture of maneb and zineb, which are two primary active ingredients. Mancozeb inhibits several enzymes involved in fungal metabolism. It interferes with the metabolic pathways of fungi, which disrupts their energy production and cellular processes, leading to the inhibition of fungal growth and reproduction. Mancozeb has a multi-site mode of action, i.e., it affects different target sites within the fungal cells. This reduces the risk of fungal resistance development, which is reason of choosing Mancozeb for the purpose of disease protection. It provides control against diseases such as downy mildews, early and late blights, leaf spots, powdery mildew, rusts, and fruit rots in variety of crops, including fruits, vegetables, field crops, and ornamental plants.
Thiram is a dithiocarbonate fungicide used in agriculture. Its chemical name is tetramethyl thiuram disulfide. Thiram is a sulphur-containing compound that belongs to the dithiocarbonate family of fungicides. Thiram acts as a protective fungicide and is basically used to control fungal diseases in various crops, including fruits, vegetables, cereals, ornamental plants, and turfgrass. It is effective against fungal pathogens, including those causing seed and soil-borne diseases, such as damping-off, seed rot, and root rot etc. Thiram is mainly used as a protective fungicide, which helps to prevent fungal diseases. It forms a protective coverage on the surface of seeds, seedlings, or plant parts which does not allow the fungal pathogens to enter the plant tissue. Seeds are coated or treated with Thiram-based formulations before planting to protect them from seed-borne fungal diseases and improve germination.
Propineb is a dithiocarbonate fungicide. Dithiocarbonates are a group of fungicides that work by disrupting the cellular processes of fungi. They are mostly used to control a wide range of fungal diseases in different crops. It is a contact fungicide i.e.; it has to come into contact with the fungus in order to show its effect. It does not move through the plant. Propineb is present in a variety of formulations like wettable powders, water-dispersible granules, and suspensions concentrates. It is applied as a foliar spray, but it can also be applied as a soil drench. Propineb is generally considered to be safe for use on food crops.
Zineb is a white, crystalline solid that has limited solubility in water. It is used as a fungicide to control diseases such as powdery mildew, black spot, and rust on fruits and vegetables. Zineb can be applied as a foliar spray or through the soil drench method. It is a safe, multipurpose foliar and soil fungicide which is used to control various diseases. It is compatible with most of the common fungicides and insecticides. However, it should not be used with any fungicide containing lime.
Segment by Application
Dithiocarbonates are effective against fungal diseases, including powdery mildew, black spot, and rust. It works by disrupting the cellular processes of fungi which resists them from reproduction. They can be toxic to some animals, so it is important to keep them out of reach of pets and children. It is also important to wear protective clothing when handling dithiocarbonates, and to wash hands thoroughly after handling them. Dithiocarbamates can leach into soil and water, where they can persist for long periods of time. This can have a negative impact on aquatic organisms and other wildlife. Due to increasing agricultural activities the demand for fungicide is increasing.
They are commonly used in plantations and estates to protect crops from diseases such as powdery mildew, black spot, and downy mildew. Dithiocarbonate fungicides can kill beneficial fungi in the soil, which leads the reduction in crop yield. Dithiocarbonate fungicides can cause leaf burn if they are applied too heavily or if the weather is hot and dry. Dithiocarbonate fungicides can build up in the soil over time, which can make them more harmful to plants and wildlife. It is important to use the correct dosage of dithiocarbonate fungicide. Using too much can damage plants and wildlife.
DTCs are a group of organosulfur fungicides that protect the Horticulture crops from fungal infections like Leaf Spots, Rust etc. It inhibits the activity of the fungus in the horticulture plants which prevents them from diseases. The use of Di thiocarbamate should be planned and used only as much as required. Excessive use of the chemical might cause fungal resistant in crops which may reduce the need of the fungicides used to protect the crops.
Regional Analysis
North America
The Canadian ornamental horticulture sector includes floriculture and nursery. The total area of Canadian ornamental farms is accounted for 37,956 hectares. The Dithiocarbonate Fungicides play an important role in protection of ornamental crops, which drives the market of the fungicides in Canada. The dominance of the market in United States is mainly due to its large organic cultivation. The major agricultural countries in the rest of North America are Costa Rica, Cuba, Jamaica, and Guatemala where the demand for fungicides would continue to increase due to increasing demand.
Europe
Germany is one of the largest contributors to the sales of pesticide products in Europe. Carbamates and pyrethroids are the most commonly used active ingredients in the country. The rising incidences of environmental damage, organic farming, are favouring the growth of bioinsecticide products over conventional pesticide products in the German market. The need for increased agricultural productivity resulting from the increasing demand for food is driving the need for the adoption of crop protection chemicals in France. France is the largest consumer of fungicides within Europe, with ideal wet conditions for the spread of fungicides. These conditions for need of food safety and crop protection is driving the market of Dithiocarbonate Fungicides in the region.
Asia Pacific
China is one of the major producers of active ingredients that form the base of formulated agrochemical products and the ready-made pesticides sold in many countries. It is one of the largest exporters of agrochemical products to different countries and has many local and global level manufacturers such as BASF, Nutrichem Company Limited, Fuhua. Agriculture is the backbone of India's economy. 70% of its rural households still depend primarily on agriculture for their livelihood. The demand for agriculture drives the demand for the Fungicides like Dithiocarbamates which is important to protect the crops from Fungal Infection.
South America
The Latin American region is a significant exporter of a variety of crops of which the most significant include soybeans, maize, cotton, sugar, orange juice, coffee, bananas, ornamentals, cocoa, grapes, apples, and other fruits. The fungicide, mancozeb, is the third most sold in Brazil and also the oldest one. Brazil and Argentina are both among the top five GM-cultivating countries. The demand of Dithiocarbamates is increased in the region due to increased adoption of GMOs. The region has a good opportunity for the Dithiocarbonate fungicides market to grow.
Middle East and Africa
In Africa the growing population, a decrease in arable land, and a rise in food security are some of the factors driving the market growth for fungicides and pesticides in the region. The demand for fungicides in the region is prominent.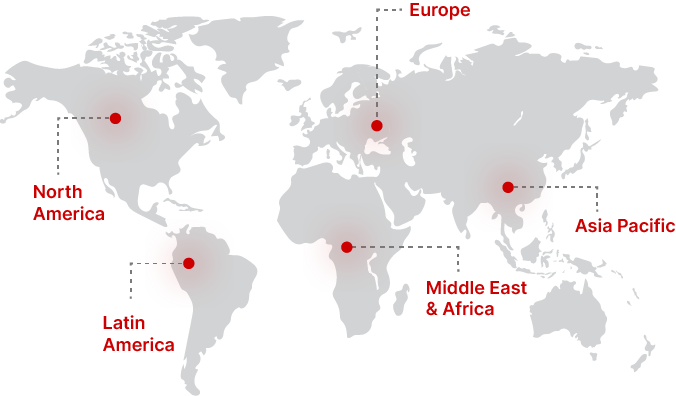 Regional Growth Insights
Download Free Sample
Key Players
Avantor Performance Materials
NBS Biologicals
Gelest inc
Spectrochem
Spectrum Chemical Maufacturing
Alfa Aesar
Scharlab SL
American Elements
Dithiocarbonate Fungicides Market Segmentations
Segment by type
Mancozeb
Thiram
Propineb
Zineb
Segment by Application
Agriculture
Plantation
Horticulture
Frequently Asked Questions