Market Overview
According to Reed Intelligence the Global Dry Cream Substitute Market Size will approximately grow at a CAGR of 6.8% during the forecast period.
Dry cream substitutes, also known as non-dairy creams, are viable alternatives to traditional dairy cream. These substitutes can effectively fulfill the role of dairy cream in various applications. This product is devoid of any milk derivatives and exhibit a texture that closely resembles, or is even less viscous than, that of coconut oil. Dry cream substitutes typically consist of a combination of plant-based oils and fats, emulsifiers, stabilizers, thickeners, and preservatives. These ingredients are commonly utilized to mimic the texture and functionality of traditional cream in various culinary applications. Plant-based oils and fats serve as the primary source of fat content, providing a creamy mouthfeel.
Emulsifiers are employed to enhance the dispersion of fat molecules within the substitute, ensuring a homogenous mixture. Stabilizers are added to prevent phase separation and maintain the desired consistency. Thickeners contribute to the viscosity and body of the substitute, imparting Palm kernel oil, being the prevailing plant-based oil utilized in dry cream substitutes, due this has potential implications for individuals with nut allergies or lactose intolerance. Dry cream substitutes have the potential to offer notable advantages to individuals with dairy allergies. These substitutes serve as a viable alternative for achieving the desired creamy texture typically associated with dairy cream, all while minimizing the risk of triggers allergic responses or experiencing undesirable side effects like bloating.
Market Dynamics
Market Drivers
There is a Growing Trend of Heightened Awareness and Prioritization of Personal Health Among Individuals
Dairy cream is characterized by its elevated fat and calorie content, rendering it a potential concern for individuals mindful of their dietary intake. Additionally, it is worth noting that lactose, a component present in dairy cream, may pose challenges for those with lactose intolerance, as it can be problematic to digest. Dry cream alternatives generally exhibit a reduced content of fat, calories, and lactose in comparison to their conventional counterparts.Plant-based milks such as soy, almond, and coconut have been identified as potential substitutes for dry cream. The aforementioned components possess a notable abundance of protein and fiber, thereby potentially facilitating the maintenance of a well-functioning digestive system and potentially contributing to weight loss.According to research findings, it has been observed that certain individuals may experience allergic reactions upon consumption of dairy cream. Additionally, the presence of lactose intolerance can pose challenges in the consumption of food products. Dry cream substitutes, in contrast to traditional cream, are often devoid of allergens, rendering them a more suitable option for individuals with allergies. Moreover, these substitutes offer a simpler alternative for individuals who suffer from lactose intolerance, as they can be consumed without adverse effects.
There is a Growing Market for Vegan and Vegetarian Products
Individuals who choose to follow a vegan or vegetarian dietary lifestyle frequently encounter the obstacle of refraining from consuming dairy cream, despite its prevalent use as a fundamental component in various culinary preparations. Plant-based cream substitutes, characterized by their rich and velvety texture, present a compelling and alluring alternative to conventional cream products.In recent years, there has been a significant increase in the prevalence of veganism and vegetarianism, indicating a growing trend towards plant-based diets. The current situation is characterized by a multitude of variables that collectively shape its complexity. These variables include, but are not limited to, the growing awareness and understanding of the environmental and ethical consequences linked to animal husbandry practices. The increasing popularity of vegan and vegetarian diets has led to a surge in consumer demand for plant-based food options. Consequently, there is a noticeable inclination among individuals to seek out alternatives to dry cream in their culinary endeavors.
Market Restraints
Lack of Knowledge About Dry Cream Substitute and Taste
Insufficient knowledge regarding alternative options for dry cream serves as a significant impediment to the expansion of the market. A significant portion of the consumer population remains uninformed about the existence of these products, consequently lacking awareness regarding the potential advantages associated with their utilization.The sensory experience associated with dry cream substitutes represents a noteworthy factor impeding the expansion of the market. A subset of consumers have expressed dissatisfaction with the taste of these products in comparison to traditional dairy cream, resulting in a reluctance to transition to the alternative options.
Market Opportunities
Availability and Demand of Dry Cream Substitute
The market for dry cream substitutes is experiencing a notable expansion, with an increasing presence observed in both online platforms and brick-and-mortar retail establishments. The increasing accessibility of these products to consumers is a key driver behind the growing demand observed in the market.The market for dry cream substitutes is witnessing a notable surge in demand, primarily driven by the increasing consumer preference for novel flavors and textures. Manufacturers are currently engaged in the development of novel products that exhibit a diverse range of flavors and textures, thereby catering to the preferences of discerning consumers.There has been a noticeable upward trend in the demand for dry cream substitutes. The observed phenomenon can be attributed to the aforementioned factors, namely the escalating consumer interest in plant-based food products and the heightened recognition of the various health advantages associated with the consumption of plant-based foods.
Market Scope
Report Metric
Details
Market Size by 2031
USD XX Million/Billion
Market Size in 2023
USD XX Million/Billion
Market Size in 2022
USD XX Million/Billion
Historical Data
2019-2021
Base Year
2022
Forecast Period
2023-2031
Report Coverage
Revenue Forecast, Competitive Landscape, Growth Factors, Environment & Regulatory Landscape and Trends
Segments Covered

Segment by Type

Powder
Liquid

Segment by Application

Supermarkets
Convenience Stores
Online Stores

Geographies Covered

North America
Europe
APAC
Middle East and Africa
LATAM

Companies Profiles

Conagra Foods
Dairy Farmers Of America
Marron Foods
Quality Ingredients Corp.
MRE Foods
Segmental Analysis
Segment by Type
The market for powdered dry cream exhibits a fragmented landscape, characterized by a diverse range of options available to consumers. The production process typically involves the utilization of molding techniques and subsequent drying of liquid cream substitutes. Consumers opt for powdered cream alternatives due to their inherent advantages in terms of storage convenience and extended shelf life. The ease of use associated with these substances stems from their ability to be precisely measured and incorporated into various food or beverage preparations. Powdered cream substitutes are commonly employed in the realm of baking, as well as for enhancing the flavor of coffee or tea, and as a constituent in a diverse range of culinary preparations.
In the realm of dry cream options, it is worth noting that there are alternatives available in a liquid format, bearing a striking resemblance to traditional cream or milk. In the process of producing cream substitutes that closely mimic the taste and texture of cream, a combination of water, lipids, proteins, and various other ingredients is employed. Liquid substitutes for cream exhibit a high degree of versatility as they can be consumed independently or incorporated into various recipes and beverages. In various culinary applications, such as coffee, tea, desserts, sauces, and other food preparations, there is a notable tendency to employ them as a common replacement for cheese.
Segment by Application
supermarkets are the primary and most commonly frequented establishments for the procurement of dry cream refills. The aforementioned items, along with similar products, are commonly found within the dairy or bakery sections of retail establishments. Supermarkets provide a diverse range of dry cream substitutes, encompassing multiple brands, forms (powder and liquid), and flavors, catering to the diverse preferences and requirements of their customers. Customers exhibit a tendency to evaluate multiple alternatives expeditiously and subsequently make a decision based on the option that aligns most effectively with their specific requirements.
Convenience stores, strategically positioned in areas of immediate need, offer viable alternatives to conventional dry cream options. Convenience stores, while offering a narrower range of products compared to supermarkets, often prioritize the availability of popular brands and a diverse selection of dry cream substitutes to cater to time-constrained individuals or those facing unexpected situations.
The proliferation of e-commerce has led to the rise in popularity of online stores as a viable alternative for consumers seeking alternatives to dry cream. The proliferation of online retail platforms and websites has provided customers with a plethora of options when it comes to dry cream alternatives. This extensive assortment encompasses a diverse range of brands, varieties, tastes, and package sizes, enabling consumers to engage in exploratory consumption behavior. Consumers have the opportunity to make purchases from the comfort of their own homes through online retailers. These retailers often offer comprehensive product descriptions, user testimonials, and recommendations to assist individuals in their decision-making process.
Regional Analysis
North America
The forecast period is expected to witness the highest and largest market for dry cream substitute in this particular region. The market in this region is experiencing growth due to the rising urbanization and widespread adoption of this product in daily life. Prominent enterprises within this geographical area have been actively allocating resources towards the advancement of novel product offerings and the diversification of flavor profiles. The surge in the dry cream substitute market within this particular region can be attributed to several key factors. The United States, Canada, and Mexico are considered the leading countries in North America, with other nations in the region following suit.
Europe
The aforementioned region exhibits promising growth potential within the dry cream substitute market. The growth of the dry cream substitute market in this region can be attributed to its numerous benefits and high level of efficiency. The companies operating within this particular region are actively allocating resources towards the advancement and diversification of dry cream substitutes, thereby contributing to the expansion of the dry substitute market in this area.
Asia-Pacific
The Asia-Pacific region is experiencing significant growth in the market for dry cream substitutes. This can be attributed to the increasing adoption of these substitutes by consumers, who are recognizing the various benefits associated with their use. In the region encompassing China, New Zealand, Indonesia, Australia, and other neighboring countries, there exists a notable consumer base for dry cream substitute powder. The growth of this market during the forecasting period can be attributed to several key factors.
South America
The South American market for dry cream substitutes is experiencing notable growth. Argentina can be identified as one of the pioneering nations in effectively harnessing this resource on a global scale, with Brazil and several other countries subsequently following suit. These nations are currently engaging in innovative culinary explorations, focusing on the development of novel and nutritious food options. The prevailing circumstances in this particular region are contributing to the notable growth and expansion of the market for alternatives to dry cream.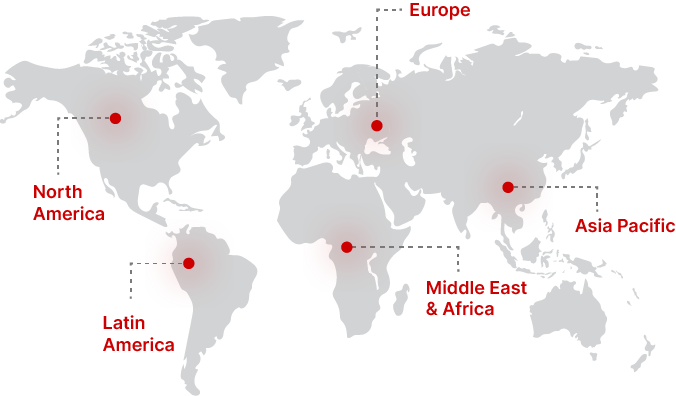 Regional Growth Insights
Download Free Sample
Key Players
Conagra Foods
Marron Foods
Quality Ingredients Corp.
MRE Foods
Recent Developments
05 August 2022 - Dairy Farmers of America (DFA) has acquired two processing facilities from Smithfoods. The acquisition of these processing facilities will enable DFA to expand its production capacity and enhance its ability to meet the growing demand for dairy.
Dry Cream Substitute Market Segmentations
Segment by Type
Segment by Application
Supermarkets
Convenience Stores
Online Stores
Frequently Asked Questions