Market Overview
The Global Dry Gin Market Size is projected to grow at CAGR of approximately 4.1% during the forecast period.
The term "Dry Gin Market" describes the world market for a certain kind of gin distinguished by its distinctly dry and crisp taste. Dry gin's characteristic flavor results from the distillation of neutral spirits with botanicals, often juniper berries. Popular alcoholic drink dry gin may be enjoyed on its own or as the foundation for a variety of drinks.
There are a variety of reasons for the extraordinary growth of the dry gin market in recent years, including the advent of artisanal distilleries, shifting customer tastes, and greater awareness of cocktail culture. For the tastes of gin enthusiasts and cocktail experts, there are several dry gin brands available, each with distinctive botanical combinations and manufacturing methods.
Due to rising alcohol usage, cultural acceptability, and consumer demand for expensive liquor, there has been an increase in the demand for premium cocktails lately. In the premium cocktail market, there has been a shift away from synthetic tastes and colors and toward natural ingredients.
Gin is often used in expensive cocktail concoctions to provide a genuine, earthy flavor. Premium gin is now being transformed into a standard ingredient for drinks at bars and cocktail counters. This is predicted to provide opportunities for market growth throughout the foreseeable timeframe.
Gin has most recently been named by the Bacardi Cultural Insights Network as the preferred alcoholic beverage for making upscale concoctions.
Market Dynamics
Market Drivers
The globalization of the cocktail culture has had an effect on the demand for dry gin. In addition to classic cocktails like the Martini, Negroni, and Gin & Tonic, dry gin is employed in a variety of contemporary and inventive drinks. Due to its versatility and mixability, dry gin is a favorite among mixologists and cocktail fans.
Market Restraints
Congressional limitations All alcoholic beverages, including dry gin, must be produced and distributed in conformity with certain regulatory limitations in every nation. These limitations may cause market participants problems with entry obstacles, licensing costs, and compliance challenges.
Market Opportunities
International Business Expansion
The dry gin industry is expanding worldwide outside of the normal gin-consuming nations. In emerging markets, North America, Asia-Pacific, and other new nations and regions, gin consumption may rise. If you have effective marketing strategies, distribution agreements, and strategic alliances, it could be easier to establish a presence in certain regions.
Market Scope
Report Metric
Details
Market Size by 2031
USD XX Million/Billion
Market Size in 2023
USD XX Million/Billion
Market Size in 2022
USD XX Million/Billion
Historical Data
2019-2021
Base Year
2022
Forecast Period
2023-2031
Report Coverage
Revenue Forecast, Competitive Landscape, Growth Factors, Environment & Regulatory Landscape and Trends
Segments Covered

Segmentation By Type

Juniper
Citrus

Segmentation By Application

Online Retail
Liquor Store

Geographies Covered

North America
Europe
APAC
Middle East and Africa
LATAM

Companies Profiles

CHUGOKU JOZO
Bombay Spirits
Four Pillars
BRITISH GIN
Scapegrace
Gin Sul
Bottega
KOVAL
The Botanist
FILLIERS DISTILLERY
Whitley Neill
Segmental Analysis
Segmentation By Type
Dry gin is produced using the traditional and significant plant known as juniper. It offers the distinctive taste that sets gin apart from other alcoholic beverages. Because they emphasize the piney and resinous notes of the botanical and who like the flowery and aromatic features of the spirit, traditional gin aficionados are drawn to juniper-forward gins.
To give dry gin its vivid and zesty flavors, citrus botanicals like lemon, orange, and grapefruit are often utilized in the distillation process. Citrus flavors may be anything from peppery and acidic to sweet and fragrant, and citrus-infused gin is well-known for its brilliant, sparkling overtones. Customers seeking a fruitier and more accessible gin experience often choose these.
Segmentation By Application
In this sense, "online retail" refers to the distribution and sale of dry gin via online shops and e-commerce platforms. Online retailers provide accessibility and convenience in addition to a huge selection of dry gin brands and varieties. It gives both established and up-and-coming gin businesses a platform to connect with more clients, particularly those who live in rural regions or prefer the ease of internet buying.
This market consists of businesses that are permitted to sell dry gin and other alcoholic drinks. Customers may inspect, contrast, and choose from a selection of dry gin brands and types at liquor shops in order to make a hands-on purchase. These establishments often have experienced personnel who may provide suggestions and direction to those looking for a certain gin taste or who want to try something new.
Regional Analysis
The Global Dry Gin Market is segmented by region as North America, Europe, Asia Pacific, Latin America, and Middle East and Africa.
North America
Particularly in the US, the dry gin market has seen remarkable expansion. The business has benefited from the expansion of artisan distilleries, adoption of craft cocktails, and growing consumer interest in luxury spirits. As customers try increasingly avant-garde and inventive gins, there is an increasing demand for artisanal and small-batch dry gins in North America. The growing trend of distilleries offering tours and tastings of their facilities attracts gin enthusiasts and tourists to the region.
Europe
Due to its long history and tradition of gin production, Europe is an important market for dry gin. Strong gin cultures may exist in nations with well-known gin brands, such the United Kingdom, Spain, and Germany. The wide range of gin variants and botanical concoctions available on the European market reflects the diversity of national tastes and preferences. As a result of the popularity of gin-specific bars, events, and distilleries, local gin markets have grown.
Asia-Pacific
Asia-Pacific has become a viable market for dry gin as a result of the rise of artisanal spirits, the influence of western drinking culture, and changing consumer preferences. In countries like Japan, Australia, and India production and consumption of artisanal and premium dry gin have surged. Due to increasing urbanization, increased disposable incomes, and increasing popularity of cocktails, this industry has seen growth. International dry gin manufacturers will discover opportunities in the region if they want to increase their market share and satisfy the evolving requirements of local consumers.
Latin America
Consumer interest in artisanal alcoholic drinks like dry gin is rising across Latin America. In countries like Brazil, Argentina, and Mexico, small-scale gin distilleries have sprung up, bringing with them unique aromas and botanical attributes. Gin & tonics and caipirinhas, two gin-based cocktails, have a broad range of flavours, which has assisted the growth of the local industry. Local botanicals like citrus and passionfruit have contributed to the creation of various regional gin flavors.
South Africa and Eastern Europe
Due to changing drinking habits and a growing urban population, dry gin consumption has been steadily rising across the Middle East and Africa. The region's middle class is expanding, and tourism is on the rise, which has raised demand for upscale liquors, particularly gin. In countries like South Africa and the United Arab Emirates, craft distilleries are starting to proliferate. These distilleries make superb dry gins using specific local botanicals.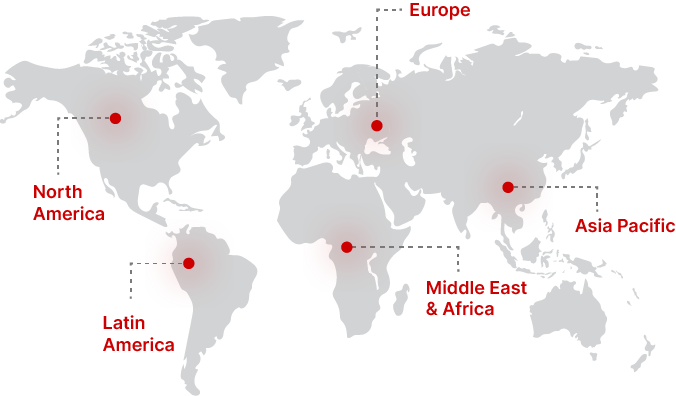 Regional Growth Insights
Download Free Sample
Key Players
CHUGOKU JOZO
Bombay Spirits
BRITISH GIN
Scapegrace
Gin Sul
Bottega
KOVAL
The Botanist
FILLIERS DISTILLERY
Whitley Neill
Recent Developments
The development of stronger flavored dry gins with fruit or citrus infusions in response to shifting consumer tastes. Together, mixologists and producers of dry gin create novel cocktail concoctions and enhance cutting-edge presentation techniques. Growth of gin tourism sites and educational distillery centers for visitors
Dry Gin Market Segmentations
Segmentation By Type
Segmentation By Application
Online Retail
Liquor Store
Frequently Asked Questions