Market Overview
The Global Education LED Lighting Market Size is expected to grow at a CAGR of 11.3 % during the forecast period of 2023-2031.
The employment of LED (Light Emitting Diode) technology in educational institutions such as schools, colleges, universities, and other learning environments is known as education LED lighting. LED lighting has grown in favor of the educational sector due to its multiple advantages, which include energy efficiency, cost savings, enhanced illumination quality, and environmental friendliness.
The education LED lighting industry has been steadily growing and being adopted by educational institutions worldwide. LED lighting technology has grown in popularity due to its multiple advantages over older lighting solutions such as incandescent and fluorescent lights.
LED lights are extremely energy-efficient, using far less power than previous lighting solutions. This is critical for educational institutions that want to reduce energy use and running costs.
Market Dynamics
Market Drivers
Energy Savings and Cost Savings
The energy efficiency of LED lighting is one of the key motivators for its use in educational facilities. LED lighting uses less electricity than previous lighting technologies, such as incandescent bulbs and fluorescent lights. Schools and institutions have migrated to LED lighting solutions to reduce their carbon footprint and operational costs. LED lights have a long lifespan, which means decreased maintenance expenses over time, contributing to cost savings.
Better Learning Environment
Lighting is critical in establishing an ideal learning environment for pupils. LED lighting can provide more consistent and uniform illumination in classrooms, lecture halls, and other educational facilities. Instead of fluorescent lights, LEDs provide a more comfortable and uniform light distribution, decreasing eye strain and boosting attention. LED lighting may be programmed to replicate natural daylight, which has been demonstrated to improve pupils' mood, focus, and overall well-being.
Market Restraints
Limited Awareness and Knowledge
The education sector, particularly in specific locations or smaller institutions, may have limited awareness and comprehension of the benefits of LED lighting. LEDs' energy-saving potential and other benefits may be underappreciated in educational settings.
Market Scope
Report Metric
Details
Market Size by 2031
USD XX Million/Billion
Market Size in 2023
USD XX Million/Billion
Market Size in 2022
USD XX Million/Billion
Historical Data
2019-2021
Base Year
2022
Forecast Period
2023-2031
Report Coverage
Revenue Forecast, Competitive Landscape, Growth Factors, Environment & Regulatory Landscape and Trends
Segments Covered

Segment by Type

LED Blackboard Lighting
LED Classroom Lighting

Segment by Application

Classroom
Laboratory
Reading Room

Geographies Covered

North America
Europe
APAC
Middle East and Africa
LATAM

Companies Profiles

Signify
Panasonic
Osram
Cree Lighting
Hubbell Lighting
GE Lighting
Advanced Lighting Technologies
Acuity Brand
TRILUX
Eaton
Zumtobel Group
NVC Lighting
Guangdong PAK
OPPLE Lighting
Foshan Electrical and Lighting
Leedarson
Xiamen GUANG PU Electronics
Yankon Group
Segmental Analysis
Segment by Type
These are specialized LED lights illuminating blackboards, whiteboards, or interactive smartboards in schools. They provide focused and uniform lighting to ensure teachers' writing and presentations are visible to all students.
These general LED lighting fixtures are used to brighten classrooms and educational institutions. They are available in various configurations, including LED panel lights, troffers, and LED tube lights, and provide bright and even lighting to provide a suitable learning environment.
Segment by Application
LED lighting in schools improves illumination and minimizes glare, resulting in a more comfortable learning environment for pupils. The lights can be adjusted to resemble natural sunshine, improving attention and minimizing eye strain. Furthermore, LED bulbs are energy-efficient, resulting in cost savings for educational institutions.
Experiments and research in laboratories require accurate and clear lighting. LED lighting provides steady and focused illumination, ensuring reliable observations and measurements. LED lights generate less heat, which is advantageous when working with temperature-sensitive products.
LED lighting is ideal for reading rooms because it emits a bright, evenly dispersed light that reduces shadows and eye fatigue. LED color temperature can be modified to produce a conducive environment for concentrated reading, increasing productivity and understanding.
Regional Analysis
North America
The LED lighting market in North America has grown over the years for reasons such as energy efficiency, longer lifespan, and government programs supporting sustainable and eco-friendly technology. LED lighting has become a popular alternative for home, commercial, and industrial lighting applications.LED lighting market size in North America has increased as more households, businesses, and municipalities adopt LED technology. It is also important to note that exact market sizes and trends may differ depending on the individual country and area within North America. North American countries have adopted rules and initiatives to promote energy-efficient lighting options. These may include energy-saving rules, subsidies, and incentives for individuals and companies to transition to LED lighting.
Europe
LED lighting has gained popularity in Europe for its energy efficiency, longer lifespan, and environmental benefits. As part of its efforts to reduce energy consumption and carbon emissions, the European Union has promoted energy-efficient lighting systems. Europe has been at the forefront of implementing lighting energy efficiency rules. The EU has prohibited the sale of inefficient incandescent bulbs in favor of more energy-efficient alternatives such as LEDs. These restrictions have substantially impacted encouraging LED lighting adoption in various areas, including education.
Asia Pacific
LED lighting is more eco-friendly than previous lighting choices. Environmental challenges were becoming more prominent in Asia, and educational institutions tried to conform to sustainable practices. Some Asian governments have implemented rules and incentives to promote energy-efficient technologies such as LED lighting. These measures pushed educational institutions to upgrade to LED lighting systems.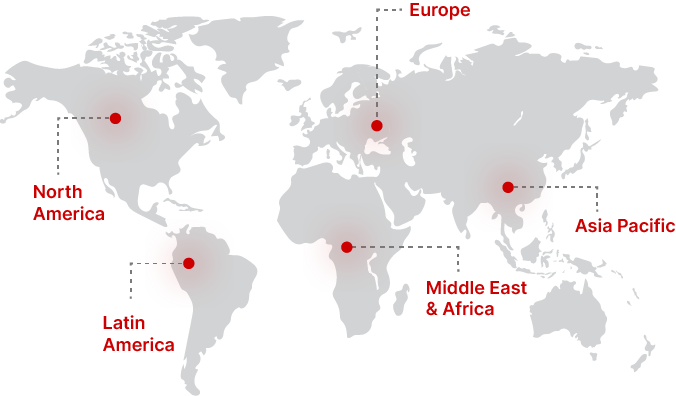 Regional Growth Insights
Download Free Sample
Key Players
Panasonic
Osram
Cree Lighting
Hubbell Lighting
GE Lighting
Advanced Lighting Technologies
Acuity Brand
TRILUX
Eaton
Zumtobel Group
NVC Lighting
Guangdong PAK
OPPLE Lighting
Foshan Electrical and Lighting
Leedarson
Xiamen GUANG PU Electronics
Yankon Group
Recent Developments
May 2023: Philips announced the development of a new type of LED light that can be lowered to any level without impacting color quality. This significant advancement may make LED illumination more enticing for use in classrooms.
Education LED Lighting Market Segmentations
Segment by Type
LED Blackboard Lighting
LED Classroom Lighting
Segment by Application
Classroom
Laboratory
Reading Room
Frequently Asked Questions