Market Overview
According to Reed Intelligence the Global Employee Benefit Software Market Size will approximately grow at a CAGR of 7.9% during the forecast period.
Employee benefits software refers to digital tools and platforms that help firms streamline and manage the different employee benefits they provide. Health insurance, retirement plans, paid time off, wellness initiatives, stock options, and other perks may be included. Employee benefits software assists HR departments and administrators in handling the enrolment, communication, tracking, and maintenance of these benefits efficiently and effectively. During the onboarding process or during defined enrolment periods, employees can easily enroll in various benefit packages.
The program saves and manages employee benefits data, such as personal information, benefit elections, and dependent information. HR departments frequently use the program to deliver essential benefits information, updates, and announcements to employees. Employee benefits software may link with other HR systems, payroll systems, and insurance providers to ensure accurate and up-to-date data. Employees can use self-service portals to access benefit information, make adjustments, and browse documentation, eliminating administrative costs.
Market Dynamics
Market Drivers
Increasing Demand For Employee Benefits
With companies offering a variety of benefits such as health insurance, retirement plans, wellness programs, flexible work arrangements, and more, the complexity of manually maintaining these programs grows. Employee benefits software simplifies this complexity by providing a centralized platform for all benefits management, making it easier for HR managers to manage various offers. Employees want benefits that are tailored to their specific needs. Employee benefits software enables benefit programs to be customized and personalized, allowing employees to choose alternatives that match their interests and lifestyles.
Automation And Efficiency
Employee benefits software automates many manual and administrative duties associated with benefits management, like enrolment, data input, and communication. This simplifies the process, reducing human error and saving HR teams and employees time.to automation, employees can enrol in benefits programs, make modifications, or update their information online. This convenience and quickness improve the employee experience and engagement. By lowering the likelihood of benefits administration errors, automation assists HR staff in remaining compliant with rules. It can also produce accurate reports and paperwork needed for audits and reporting.
Market Restraints
Data Security And Privacy Concerns
Employee benefits software generally contains sensitive employee data, such as personal information, social security numbers, medical information, and financial information. Any compromise of sensitive information due to insufficient security measures can result in identity theft, fraud, and financial damages to employees and the firm. For example, GDPR in Europe and HIPAA in the United States place stringent restrictions on how personal and health-related data should be handled.
Employees benefit software must adhere to these laws to avoid legal consequences, adding complexity to software development and deployment. Data breaches or security issues involving employee benefit information might harm a company's reputation. Employees and stakeholders may lose faith in the organization's ability to safeguard sensitive data, potentially resulting in a loss of business and talent.
Market Scope
Report Metric
Details
Market Size by 2031
USD XX Million/Billion
Market Size in 2023
USD XX Million/Billion
Market Size in 2022
USD XX Million/Billion
Historical Data
2019-2021
Base Year
2022
Forecast Period
2023-2031
Report Coverage
Revenue Forecast, Competitive Landscape, Growth Factors, Environment & Regulatory Landscape and Trends
Segments Covered

Segment By Type

Benefits of Administrative software
Flexible Benefits Software

Segment By Application

Manufacturing Industry
Healthcare Industry

Geographies Covered

North America
Europe
APAC
Middle East and Africa
LATAM

Companies Profiles

BambooHR
Gusto
Workday
Zenefits
Benefit focus
Paycor
Segmental Analysis
Segment By Type
Benefits of Administrative Software
Employee Benefits Administration software is a form of employee benefits software specifically developed to manage and streamline the process of offering and administering various employee benefits inside an organization. This software is essential for benefit enrolment, communication, tracking, and reporting. Employees can use the software to enroll in benefits programs at onboarding, open enrolment, or qualifying life events. All employee benefit-related information, including personal information, benefit selections, coverage details, and beneficiary information, is stored in a centralized database by the program.
Flexible Benefits Software
Flexible benefits software, also known as cafeteria plan software or flexible spending account software, allows employees to modify their benefits packages by selecting from a menu of options that best meet their unique needs and preferences. This software allows employers to provide a menu of benefits. It allows employees to allocate a set number of credits or money to the most important benefits. Employees are given a set number of credits or cash to spend on various perk packages. They may distribute their credits according to their requirements and preferences.
Segment By Application
Employee benefits software can help manufacturing organizations handle benefits such as health insurance, retirement programs, life insurance, disability coverage, and more. The software keeps track of changes in enrolment and eligibility for these benefits. Shift work is prevalent within the manufacturing industry. Employee schedule management software can help with flexible working arrangements, time off requests, and shift preferences. Workers of all ages are frequently employed in the industrial industry. Employee benefits software can aid with retirement planning by giving information on retirement savings plans and investment possibilities.
Benefit software can help healthcare organizations handle numerous health insurance alternatives for their employees, such as medical, dental, and vision coverage. The program simplifies enrolment, enables employees to compare policies, and gives tools for evaluating coverage and pricing. Wellness programs in the healthcare business can benefit from employee benefits software. It can assist administrators in designing and implementing wellness programs, tracking employee involvement, and providing resources to improve health and well-being. Benefit software can help healthcare organizations handle various sorts of breaks, such as sick, maternity, and medical leave, more efficiently. The program assists in tracking leave balances, streamlining leave requests, and ensuring regulatory compliance.
Regional Analysis
North America
The increase in industrialization and urbanization in North America is growing rapidly. This is leading to increasing demand for employment in the region. The offices in the region have started making all the operations automated and hence the demand for employee benefit software is increasing in the region. In the U.S. the employment rate has increased rapidly in the past few years due to the need for various growing industries like healthcare, manufacturing, etc. This is expected to drive the demand for the employee benefits software market in the region in the upcoming years.
Europe
The European market is increasing steadily due to the increase in the workforce in the companies. For the welfare of the population and an increasing number of companies and organizations in the region, there is a higher demand for employee benefits software to retain them and manage the employee benefits efficiently. This is expected to drive the demand for the employee benefits market for the convenience of HR managers to manage the benefits of the employees.
Asia Pacific
The population of Asia pacific is increasing so is the demand for industries and organizations. To run the business there is a need for efficient employees and to retain them or satisfy them there is a need for the management of employee benefits efficiently. This is expected to drive the demand for the employee benefits market in the region due to growing manufacturing and healthcare industry.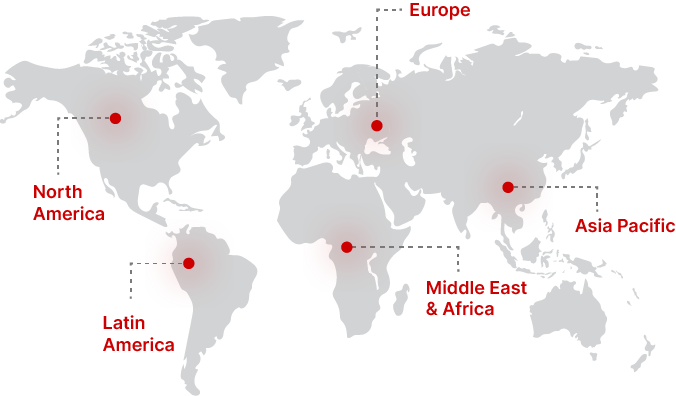 Regional Growth Insights
Download Free Sample
Key Players
BambooHR
Gusto
Zenefits
Benefit focus
Paycor
Employee Benefit Software Market Segmentations
Segment By Type
Benefits of Administrative software
Flexible Benefits Software
Segment By Application
Manufacturing Industry
Healthcare Industry
Frequently Asked Questions