Market Overview
According to Reed Intelligence the Global Energy Efficiency for Commercial Buildings Market Size will approximately grow at a CAGR of 5.91% during the forecast period.
Energy-efficient buildings are designed to greatly minimize heating and cooling energy requirements, regardless of the energy or equipment used for heating or cooling. Energy-saving building design involves constructing or renovating structures that can fully utilize the power supplied to them by reducing energy loss, such as lowering the heat loss of the building envelope.
In recent years, the energy efficiency market for commercial buildings has grown significantly as businesses appreciate the benefits of decreasing energy usage, saving operating costs, and mitigating environmental concerns. Using various techniques and technology to optimize energy use and reduce waste in commercial buildings is called energy efficiency.
Market Dynamics
Energy Efficiency for Commercial Buildings Market Drivers
Growing environmental consciousness and minimizing greenhouse gas emissions is vital in pushing commercial building energy efficiency. Buildings consume much global energy and contribute significantly to carbon emissions. Energy-efficient buildings contribute to climate change mitigation by lowering energy demand, reducing dependency on fossil fuels, and reducing carbon footprints. Environmental sustainability is becoming more important to governments, businesses, and individuals, and energy efficiency measures in commercial buildings coincide with these goals.
Incentives And Regulatory Requirements
Governments and regulatory agencies are enacting policies, rules, and building standards that demand or promote energy-efficient techniques in commercial buildings. These rules establish minimum energy performance criteria, require energy audits, and require energy-efficient equipment and technologies. Building owners and developers must adhere to these criteria to get licenses or certifications. To encourage energy efficiency investments in commercial buildings, incentives such as tax credits, grants, rebates, and low-interest financing are available. These regulatory mandates and incentives serve as powerful market drivers for energy efficiency.
Energy Efficiency for Commercial Buildings Market Restraint
There is frequently a gap between the owner and the renter on energy costs and advantages in commercial buildings. In many cases, the building owner bears the upfront expenses of energy efficiency renovations, while the tenants benefit from the resultant energy savings. This imbalance of incentives might make it difficult for building owners to justify energy efficiency expenditures. Also, because commercial leases are often short-term, renters may be unwilling to invest in energy-efficient equipment or technologies with a longer return period. The split incentives may hinder building owners' and renters' desire to collaborate on energy-saving projects, limiting progress in the commercial building industry.
Energy Efficiency for Commercial Buildings Market Opportunities
One of the key motivators for commercial building energy efficiency is the potential for cost savings. Energy-efficient buildings may significantly decrease energy use, resulting in cheaper utility bills. Building owners and tenants can save money in the long run by implementing energy-efficient systems and practices. Energy-efficient buildings frequently have lower operational and maintenance costs, benefiting organizations' bottom lines.
Market Scope
Report Metric
Details
Market Size by 2031
USD XX Million/Billion
Market Size in 2023
USD XX Million/Billion
Market Size in 2022
USD XX Million/Billion
Historical Data
2019-2021
Base Year
2022
Forecast Period
2023-2031
Report Coverage
Revenue Forecast, Competitive Landscape, Growth Factors, Environment & Regulatory Landscape and Trends
Segments Covered

Segment By Type

HVAC
Lighting
Energy Management

Segment By Application

Hotels and Restaurants
Offices
Retail Chains
Stadiums
Hospitals

Geographies Covered

North America
Europe
APAC
Middle East and Africa
LATAM

Companies Profiles

Johnson Controls
Siemens
Honeywell
Eaton Corporation
Carrier (UTC)
Schneider Electric
Fujitsu General
Emerson Electric
General Electric
Trane
Bosch Thermotechnology
Hitachi
Carel
Danfoss
Technovator International
GridPoint
Coolnomix
Spacewell
Cylon Controls
Logical Buildings
Segmental Analysis
Segment By Type
HVAC (Heating, Ventilation, and Air Conditioning) energy efficiency for commercial buildings refers to the HVAC system's ability to provide the appropriate indoor thermal comfort while consuming the least amount of energy. Commercial HVAC energy efficiency is critical for lowering energy costs, conserving resources, and limiting environmental effects.
It is critical to use energy-efficient lighting technology to reduce energy usage. This includes light-emitting diode (LED) lighting, which is highly efficient, long-lasting, and provides significant energy savings over standard incandescent or fluorescent lighting.
Optimizing energy usage inside a commercial building to achieve maximum energy efficiency and reduce energy waste is considered energy management efficiency for commercial buildings. It entails implementing various methods, technologies, and processes to monitor, control, and optimize energy use while preserving occupant comfort and productivity.
Segment By Application
Heating, ventilation, and air conditioning (HVAC) systems at hotels and restaurants use significant energy. Upgrading to energy-efficient HVAC equipment, keeping it serviced regularly, and installing smart temperature controls can all help to save energy without sacrificing guest comfort.
Applying techniques and practices to minimize energy usage while maintaining a productive and comfortable work environment is energy efficiency in workplaces. Offices can benefit from increased energy efficiency in various ways, including financial savings, environmental sustainability, and improved employee well-being.
Retail energy efficiency is critical for various reasons, including cost savings, environmental sustainability, and improved brand perception. Retail chains may minimize their energy usage and greenhouse gas emissions while providing a comfortable shopping environment for customers by implementing energy-efficient practices and technologies.
Integrating renewable energy technologies, such as solar panels or wind turbines, can produce clean and sustainable electricity to power a variety of stadium activities. Solar panels installed on the stadium roof or surrounding surroundings can offset energy use and reduce reliance on the grid.
Hospitals are energy-intensive facilities, with energy expenditures accounting for a sizable amount of their operating expenses. Hospitals can cut energy use and electricity bills by implementing energy-efficient measures, resulting in significant cost savings over time.
Regional Analysis
North America (United States, Canada, and Mexico)
Several governments and regulatory agencies throughout North America have adopted rules to encourage energy-efficient techniques in commercial buildings. Building energy codes, tax breaks, grants, and rebates incentivize building owners and operators to invest in energy-efficient systems and renovations. There are optional certification schemes in North America, such as LEED (Leadership in Energy and Environmental Design) and ENERGY STAR, that recognize buildings that fulfill certain energy efficiency standards. These initiatives serve as energy performance benchmarks and encourage sustainable construction practices.
Europe (Germany, UK, France, Italy, Russia, Spain, etc.)
Directives from the European Union (EU) and state governments have heavily emphasized energy efficiency in buildings. Directives such as the Energy Performance of Buildings Directive (EPBD) and the Energy Efficiency Directive (EED) have established targets and rules to improve commercial building energy performance. Many European countries have adopted energy performance certification regimes that necessitate energy audits and EPCs for commercial buildings. These certificates provide information on a building's energy efficiency rating and are frequently required when selling or renting commercial property.
Asia-Pacific (China, Japan, Korea, India, Australia, Southeast Asia, etc.)
Many governments in the Asia Pacific area adopted policies and regulations to improve energy efficiency in buildings. The approaches include building rules and standards, energy labeling schemes, financial incentives, and energy performance certification programs. These policies have created an enabling atmosphere for energy-saving solutions and technologies. Many businesses in the Asia Pacific area are establishing sustainability objectives and incorporating environmental concerns into their operations. Energy-efficient buildings connect with these corporate social responsibility goals and improve the company's brand image.
South America (Brazil, Argentina, Colombia, etc.)
Energy efficiency measures are present throughout the region. However, the extent of market development differs by country. Countries such as Brazil, Chile, and Colombia have made great achievements in promoting energy efficiency in commercial buildings, while others are still in the early phases of implementing comprehensive programs.
Middle East & Africa (South Africa, UAE, Saudi Arabia, etc.)
The MEA region's energy efficiency market includes many products and services, including energy audits, building retrofits, efficient lighting systems, HVAC optimization, and energy management systems. The market participants are energy service companies (ESCOs), equipment manufacturers, technology suppliers, and engineering firms specializing in energy efficiency.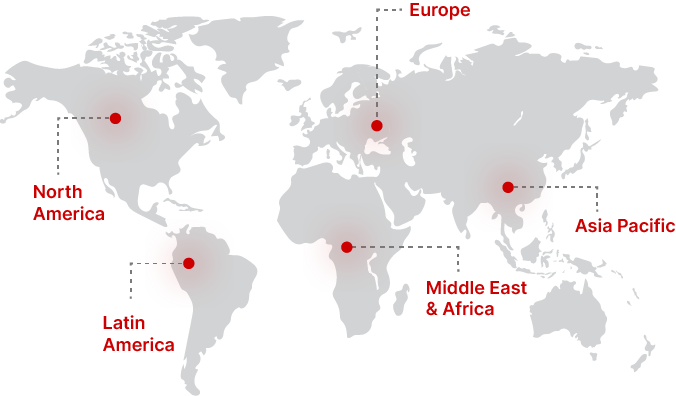 Regional Growth Insights
Download Free Sample
Key Players
Johnson Controls
Siemens
Eaton Corporation
Carrier (UTC)
Schneider Electric
Fujitsu General
Emerson Electric
General Electric
Trane
Bosch Thermotechnology
Hitachi
Carel
Danfoss
Technovator International
GridPoint
Coolnomix
Spacewell
Cylon Controls
Logical Buildings
Recent Developments
March 28, 2023: Logical Buildings announces the launch of a $110 million virtual power plant project facility to decarbonize multifamily buildings using smart energy technologies. Access to the multimillion-dollar project facility will allow thousands of multifamily units to decarbonize by implementing cutting-edge, high-return-on-investment technology that interacts with smart meters and thermostats.
Energy Efficiency for Commercial Buildings Market Segmentations
Segment By Type
HVAC
Lighting
Energy Management
Segment By Application
Hotels and Restaurants
Offices
Retail Chains
Stadiums
Hospitals
Frequently Asked Questions