Market Overview
According to Reed Intelligence the Extendable Makeup Mirrors Market Size will approximately grow at a CAGR of 5.1% during the forecast period.
A mirror that can be stretched or changed to various angles and distances is called an extendable makeup mirror. These mirrors often contain a device that allows the user to alter the mirror's angle and distance, such as an adjustable arm or a swivel.
These mirrors come in a range of designs, dimensions, and materials, including tabletop, wall-mounted, and portable options. Also, some extendable makeup mirrors have features like built-in illumination or magnification choices.
Anybody who wishes to apply makeup or take care of other grooming activities with accuracy and ease will find extendable makeup mirrors to be a useful and practical equipment. They may enhance the overall quality of someone's grooming experience and are an important component of many people's daily routines.
In the upcoming years, it is anticipated that the market for extendable cosmetic mirrors will expand as customers look for high-quality grooming items that will make their daily routines more easy and effective.
Market Dynamics
Market Drivers
Usability and Effectiveness
Consumers using extendable makeup mirrors will find them to be both convenient and effective. Users can change the mirror's height and angle using the changeable settings on these mirrors to get a better image of their face. Customers will have an easier time applying makeup precisely as a result, which will improve their whole makeup experience.
Demand for high-quality beauty tools
Demand for high-quality beauty tools and products is increasing as self-care and beautification practices become more and more popular. The need for extendable beauty mirrors is growing since they are seen as a necessary tool for doing makeup.
The popularity of social media sites like Instagram and YouTube has increased the demand for beauty accessories and tools. Extendable makeup mirrors are highly recommended by a number of beauty bloggers and influencers, which has increased consumer interest in them.
Market Restraints
Regular mirrors, portable mirrors, and magnifying mirrors are just a few of the alternatives that are readily easy to get on the market for applying makeup. Because they cost less or are simpler to use, some customers might prefer these mirrors instead of buying extendable makeup mirrors.
Materials like plastic, which can be less durable than other materials, are frequently used to produce portable makeup mirrors. For certain customers who are searching for a durable product, this can be a worry.
Since they are regarded as luxury items, extendable makeup mirrors are typically more expensive than regular makeup mirrors. For customers who are pricing conscious or have a tight budget, this may be a disincentive.
Market Opportunities
Demand for Luxury Beauty Products is Growing
Consumers' rising income has resulted in an increase in demand for Luxury Beauty Tools and Products. Because extendable makeup mirrors are seen as a luxury good, manufacturers have a chance to profit from the rising demand for high-end cosmetics.
the chance for extendable mirror market producers to reach a wider audience has been made possible by the growing trend of e-commerce and consumers updating themselves to digitalization. Because of the convenience and vast selection of products available, more people are choosing to purchase online.
Market Scope
Report Metric
Details
Market Size by 2031
USD XX Million/Billion
Market Size in 2023
USD XX Million/Billion
Market Size in 2022
USD XX Million/Billion
Historical Data
2019-2021
Base Year
2022
Forecast Period
2023-2031
Report Coverage
Revenue Forecast, Competitive Landscape, Growth Factors, Environment & Regulatory Landscape and Trends
Segments Covered

Segment by Type


Single Arm
Double Arm

Segment by Application


Household
Hotel
Others

Geographies Covered

North America
Europe
APAC
Middle East and Africa
LATAM

Companies Profiles

KEUCO
Moen
Giessdorf
Huida
ROCA
Duravit
HOCHENG Corporation
Hansgrohe
Jerdon
Zadro
Empire Industries
ORE International
Segmental Analysis
Segment by Type
One particular kind of extendable cosmetic mirror has a single arm that can be moved to various angles and distances. This kind of mirror normally has one arm that can be extended and adjusted to offer the ideal viewing angle and is mounted on a stand or wall.
A special kind of extendable mirror with two arms that can be moved to various angles and distances is called a double-arm extensible makeup mirror. Two arms on this sort of mirror may be extended and adjusted to offer the proper viewing angle, and it is commonly installed on a stand or wall
Segment by Application
Home use extendable makeup mirrors are a common accessory for applying makeup and maintaining personal appearance. These mirrors are made to be used in a domestic environment and come in a range of designs, sizes, and materials to meet various requirements and tastes.
Professional makeup artists, dermatologists, and other members of the beauty business can utilise extendable makeup mirrors. They may have many mirrors or magnification settings and are frequently bigger and more robust than those for residential usage.
Commercial extendable cosmetic mirrors are intended for usage in retail establishments, salons, and other business environments. They may include more branding or advertising components and are often bigger and more robust than versions for home usage.
Regional Analysis
The Global Extendable Makeup Mirrors Market is segmented by region as North America, Europe, Asia Pacific, Latin America, and Middle East and Africa.
North America
The market for extendable makeup mirrors in North America is anticipated to expand as a result of consumers' high spending incomes and the rising importance of beauty and self-care. Due to its huge consumer base, consumers' preference for quality over quantity, as well as the presence of key firms in the beauty industry like "P&G," "Unilever," and "L'Oréal," the United States is predicted to dominate the market in this region. The market is anticipated to increase as a result of the trend towards e-commerce and online shopping, with more customers choosing to make purchases online because of the convenience and access to a broader variety of goods.
Europe
The Extendable cosmetic mirror market in Europe is predicted to develop due to the rising demand for beauty and skincare products. Countries with a big customer base and prominent players in the beauty sector, such as the United Kingdom, France, and Germany, are projected to fuel market expansion. The growing trend towards eco-friendly and sustainable beauty products is also likely to support market expansion, with many consumers opting for more ecologically friendly goods.
Asia-Pacific
The Asia Pacific extendable mirror market is predicted to rise due to increased awareness of beauty tools and products, particularly in South Korea, China, and Japan. Because of increased awareness, these countries' growing middle classes are able to afford high-end beauty goods. The trend towards social media and influencers is primarily driving market growth, as many people are impacted by social media platforms these days.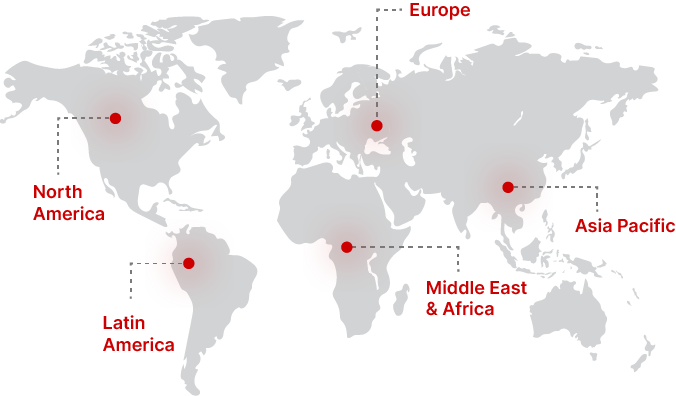 Regional Growth Insights
Download Free Sample
Key Players
KEUCO
Moen
Giessdorf
Huida
ROCA
Duravit
HOCHENG Corporation
Hansgrohe
Jerdon
Empire Industries
ORE International
Extendable Makeup Mirrors Market Segmentations
Segment by Type
Segment by Application
Frequently Asked Questions