Market Overview
The Global Feedthrough Market Size will significantly grow at a CAGR of approximately 2.9% by forecast period.
The feedthrough is an electrical conductor connecting two circuits on a surface's opposite sides. One of the most typical examples of a feedthrough connection is found in an automobile's spark plug. The plug's body needs to withstand the pressure and temperature generated in the engine, all while providing a dependable electrical connection to the spark gap in the combustion chamber.
A feedthrough is a conductor that moves a signal through an enclosure or printed circuit board. It has a small amount of capacitance, just like any other carrier. A "feedthrough capacitor" has a minimum guaranteed number of shunt capacitance and is used in ultra-high-frequency applications as a bypass.
Different types of feedthroughs are made to send electrical current, fluids, optical signals, or mechanical movements through the walls of a vacuum system.
For fluid feedthroughs, it is also important to consider the type of fluid going through the system and where the sealing steps will be. This will help keep the system stable. Also, the diameter of the tubing and the diameter of the holes through which the feedthrough will be attached must be considered.
Attaching feedthrough to a room wall or rotating shaft housing has several ways. There are standard mounting flanges and custom configurations for the housing, and the shaft can be made in any length and shape. Feedthroughs with threaded mounts, feedthroughs with nut mounts, and feedthroughs with flange mounts are all standard mounting designs.
Market Dynamics
Market Drivers
Increasing Demand For Industrial Computers
Industrial computers are computer systems that can handle various factory and industrial workloads for machine automation, production machinery, and cutting-edge autonomous robots. The global market for industrial computers is expected to grow a lot in the coming years. This is because manufacturing companies want a lot of industrial IoT, manufacturing companies are becoming more aware of how to make the best use of their resources, and recent innovations in display technology, like LCD and OLED displays, are making industrial PC more useful. Computers connection requires good quality feedthroughs for the supply of electricity; hence feedthrough market share is growing simultaneously.
Market Restraints
Feedthrough capacitors may cost you back more money than other kinds of capacitors. Sometimes to avoid failures at an earlier stage, feedthrough filters require precise installation. Installing something incorrectly can result in damage or a malfunction.
Market Opportunities
Rising Demand For RF and Microwave Filters
Radiofrequency (RF) and microwave filters are electronic filters that work with data in the megahertz to gigahertz range, which is between medium and very high frequency. Most broadcast radio, TV, and wireless contact (cellphones, Wi-Fi, etc.) use this frequency range. Because of this, most RF and microwave devices will have some filtering on the signals they send or receive. These filters are often used as building blocks for duplexers and diplexers, which combine or split different frequency bands. Communication and defense are using more RF filters. Small cell base stations are becoming increasingly popular, having more and more 4G and 5G networks, and using microwave screens in cars is becoming more popular—all these where feedthrough capacitors and other filters are employed.
Market Scope
Report Metric
Details
Market Size by 2031
USD XX Million/Billion
Market Size in 2023
USD XX Million/Billion
Market Size in 2022
USD XX Million/Billion
Historical Data
2019-2021
Base Year
2022
Forecast Period
2023-2031
Report Coverage
Revenue Forecast, Competitive Landscape, Growth Factors, Environment & Regulatory Landscape and Trends
Segments Covered

Segmentation by Type

Electrical Feedthrough
Mechanical Feedthrough
Fluid Feedthrough

Segmentation by Application

Semi & Vacuum Coating, General Vacuum
General Vacuum

Geographies Covered

North America
Europe
APAC
Middle East and Africa
LATAM

Companies Profiles

Pfeiffer Vacuum
Inficon
Emerson
CeramTec
Kurt J. Lesker
MDC Vacuum
Douglas Electrical Components
Nor-Cal Products
MPF
Ocean Optics
Conax Technologies
Filtech
Allectra
Htc
Segmental Analysis
Segmentation By Type
Electrical Feedthroughs use a tight cover to send electricity through the walls of a system under pressure or vacuum. Electrical feedthroughs are made to keep the walls of a vacuum system from falling apart up to a certain vacuum grade. There are a few different types of electrical feedthrough, including coaxial, multi-pin or instrumentation, power, thermocouple, and RF feedthroughs.
Mechanical feedthroughs transmit mechanical motion through the walls of a vacuum system. Both linear and rotary mechanical feedthroughs are included in this grouping. Mechanical feedthroughs can combine linear and rotary types, with separate drives for each. Typically, feedthroughs are rated for a maximum vacuum level.
Fluid feedthroughs are designed to transmit fluids into high and ultrahigh vacuum environments or pressurized systems through a hermetic seal. Generally, fluid feedthroughs are passed through the walls of vacuum systems to cool the entire system. Specific transmission materials include air, water, process gases, and liquid nitrogen.
Segmentation By Application
Vacuum coating, also known as thin-film deposition, is a vacuum chamber method that applies a thin, constant coating layer to a substrate to protect it from forces that could wear it down or reduce its efficiency.
General vacuum components for highly automated production lines, e.g., in the automotive industry, are found in press shops, car body construction, and final assembly. The pumps must attain the highest quality requirements.
Regional Analysis
The Global Feedthrough Market is segmented by region as North America, Europe, Asia Pacific, Latin America, and Middle East and Africa.
North America
North America is still a big player in the market for industrial computers. Big businesses and government agencies invest much money and time into panel computer technology. Also, the demand for smart manufacturing solutions is growing quickly because of advanced technologies in the manufacturing sector, rapid industrialization, and infrastructure development. This is likely to drive the panel computer market forecast driving the market share of the feedthrough.
Europe
In the Europe region, the demand for AC power sources is rising because the world's population is growing, and more and more consumer equipment is being used. The demand for equipment that uses renewable power in electric vehicles, power generation, and avionics is the main driving the rise of the Global AC Power Sources market. Feedthroughs are majorly used in AC power lines. The increasing use of AC at the domestic and commercial levels led to the feedthrough market growth.
Asia-Pacific
Asia-pacific region dominated the RF microwave filters. A microwave filter is a lossless two-port network widely used in microwave communication, radar, and electronic countermeasures. In microwaves, it generally passes, an electrical connection from the inside to the outside of a box. However, these days, it might also refer to a connection from one side of a circuit board to the other. Due to rising demand from countries like China, India, and Japan, the area is expected to be the most important over the next few years. The growing number of smart devices and the fast growth of wireless infrastructure are also driving this market, boosting the feedthrough market altogether.
South America, Middle East, and Africa
The Telecom Equipment market is expected to grow because of the growth of the smartphone market and how easy it is to get one. More companies are putting money into data hardware like cell towers, satellite transmission, and broadband spectrum. These things have caused more people to buy Telecom Equipment like phones, micro receivers, and ethernet connections where feedthrough capacitors and other filters are employed.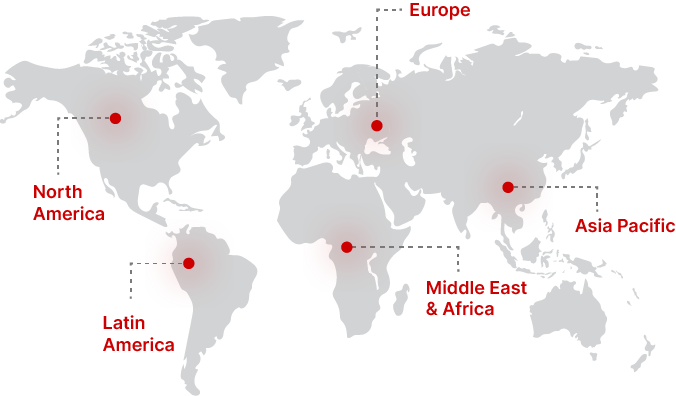 Regional Growth Insights
Download Free Sample
Key Players
Inficon
Emerson
CeramTec
Kurt J. Lesker
MDC Vacuum
Douglas Electrical Components
Nor-Cal Products
MPF
Ocean Optics
Conax Technologies
Filtech
Allectra
Htc
Recent Developments
Dec 2022: Douglas Electrical Components, Inc., a prominent US manufacturer of custom hermetic connectivity solutions, announced the opening of a second manufacturing site in Randolph, NJ—the site expansion results from Douglas' continued growth and expansion in various markets and industries. The company's current site at 5 Middlebury Blvd., Randolph, NJ, has a total of 29,000 square feet, with approximately 16,000 square feet dedicated to manufacturing. The company has operated at this location since 2008. As industry applications require more solutions for harsh conditions, customer demand has increased consistently over time for a company's hermetic capabilities to warrant expansion. This expansion is a strategic investment in the company's future and commitment to its customers.
Feedthrough Market Segmentations
Segmentation by Type
Electrical Feedthrough
Mechanical Feedthrough
Fluid Feedthrough
Segmentation by Application
Semi & Vacuum Coating, General Vacuum
General Vacuum
Frequently Asked Questions