Market Overview
According to Reed Intelligence the Global Food Coagulators Market Size will approximately grow at a CAGR of 4.9% during the forecast period.
The food processing industry, which makes tofu and cans food, depends on the market for food coagulators. The texture and quality of food items are enhanced by the use of food coagulators, which quicken the coagulation process by changing liquids into solid forms. Calcium lactate and calcium chloride are two examples. These coagulators are required to produce the smooth, firm curds from soy milk that are used to make tofu, a well-known plant-based protein source. Growing demand for tofu and other plant-based foods, rising health consciousness, and growing acceptance of vegetarian and vegan diets are all contributing to the growth of the market for food coagulators.
Using food coagulants like calcium chloride, fruits and vegetables are firmed up and preserved in texture and appearance during the canning process. Due to growing consumer demand for prepared and quick food options, the market is growing.
In response to customer demands for transparency and authenticity as well as the rising focus on clean label and natural ingredients in the food business, manufacturers are developing clean label coagulators free of artificial additives. The development of plant-based coagulators has also expanded the market, which is consistent with the trend toward sustainable and environmentally friendly dietary options.
Market Dynamics
Market Drivers
Technologies for Food Coagulation
Thanks to recent advancements in food coagulation technologies, coagulators are now more efficient and available. To enhance the functionality of these appliances and encourage more people to use them for food preparation, manufacturers are investing in R&D.
Market Restraints
Severe Laws and Regulations
The food industry is subject to severe laws and regulations to protect the safety and quality of food. Food coagulator makers may find it challenging to comply with these regulations, which could raise production costs and impose limitations on the product compositions.
Market Opportunities
By making use of unrealized potential in developing nations with expanding populations and disposable incomes, food coagulator manufacturers can increase their market presence and penetrate new consumer markets.
Market Scope
Report Metric
Details
Market Size by 2031
USD XX Million/Billion
Market Size in 2023
USD XX Million/Billion
Market Size in 2022
USD XX Million/Billion
Historical Data
2019-2021
Base Year
2022
Forecast Period
2023-2031
Report Coverage
Revenue Forecast, Competitive Landscape, Growth Factors, Environment & Regulatory Landscape and Trends
Segments Covered

Segmentation By Type

Calcium Lactate
Calcium Chloride

Segmentation By Application

Tofu Products
Canned

Geographies Covered

North America
Europe
APAC
Middle East and Africa
LATAM

Companies Profiles

Coventya Watercare
Shandong Baisheng Biotechnology Co., Ltd.
DSM
Henan Chemsino Industry Co.,ltd (Chemsino)
Megafood ( Shanghai ) Health Technological Co. , Ltd
Segmental Analysis
Segmentation By Type
When making tofu, calcium lactate is frequently used as a food coagulant. It is a soluble calcium salt made from lactic acid and is renowned for having a delicate flavor. Soy milk efficiently coagulates when calcium lactate is added, producing tofu curds that may be pressed into tofu blocks. This kind of coagulator is recommended because it is simple to operate and yields tofu with a smooth texture.
Another popular food coagulant used in the manufacture of tofu is calcium chloride. It is a calcium salt that disperses in liquids, encourages coagulation, and aids in the production of tofu curds from soy milk. By making the tofu firmer and more aesthetically pleasant in terms of texture, calcium chloride can boost customer appeal.
Segmentation By Application
Products made from tofu: Two well-known food coagulants used in tofu are calcium lactate and calcium chloride. Both coagulators are essential for the manufacturing of tofu because they help turn soy milk into a hard curd that can be processed and formed into different tofu products. Tofu consumption is rising globally due to the acceptance of plant-based diets and the health benefits of soy-based foods.
Food coagulants, most often calcium chloride, may also be present in foods. Calcium chloride is used as a firming ingredient in some canned fruits and vegetables to preserve their texture and quality throughout the canning process. It helps to maintain the appropriate firmness of the canned fruit during processing and storage by preventing mushiness or softening.
Regional Analysis
The Global Food Coagulators Market is segmented by region as North America, Europe, Asia Pacific, Latin America, and Middle East and Africa.
North America
Cheese and other dairy products as well as food coagulators have a substantial market in North America, where the food processing industry is well-established. The need for coagulators used in the manufacture of cheese and plant-based proteins is being driven by the region's propensity for cheese consumption and growing interest in plant-based alternatives. The US is home to many important food coagulator manufacturers, which supports the growth and innovation of the sector.
Europe
There is a substantial market for food coagulators in Europe, especially in nations like France, Italy, and Switzerland that have a long history of making cheese. There is a sizable need for coagulants and enzymes because of the region's varied culinary traditions and frequent use of specialty cheeses. Additionally, the popularity of vegetarian and vegan diets in Europe has increased demand for coagulators, which are utilized in the manufacturing of plant-based proteins.
Asia-Pacific
Due to the region's expanding dairy and food processing industries, as well as rising consumer demand for cheese and other dairy products, this region has a consistently expanding market for food coagulators. The market potential for coagulators has expanded as a result of rising cheese consumption and the acceptance of plant-based protein sources in nations like China, Japan, and India. The demand for coagulants is influenced by regional culinary traditions, such as how tofu is made in East Asia.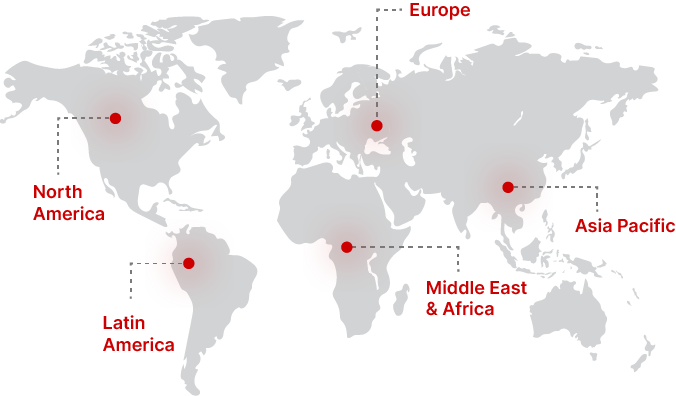 Regional Growth Insights
Download Free Sample
Key Players
Coventya Watercare
DSM
Henan Chemsino Industry Co.,ltd (Chemsino)
Megafood ( Shanghai ) Health Technological Co. , Ltd
Recent Developments
Recent changes in the food sector have intensified the focus on clean label products made with well-known natural components. Development of Coagulants for Clean Label Products. The manufacturers of food coagulators are creating clean label coagulants that don't contain artificial additives or preservatives in order to satisfy consumer demands for transparent and natural food ingredients.
Food Coagulators Market Segmentations
Segmentation By Type
Calcium Lactate
Calcium Chloride
Segmentation By Application
Frequently Asked Questions