Market Overview
According to Reed Intelligence the Global Fruit Cocktail Market Size will approximately grow at a CAGR of 4.9% during the forecast period.
Due to reasons including the need for quick and tasty snacks, the allure of blended fruit products, and the increasing popularity of healthy, natural food options, the market for fruit cocktails is expanding quickly. Customers may get a quick, ready-to-eat choice that meets their need for a range of tastes and textures with fruit cocktails, which include a variety of fruits.
The growing customer need for quick, portable snacks is one of the major factors driving the fruit cocktail industry. Pre-packaged fruit cocktails are getting more and more popular as a result of our hectic lives and need for fast and simple meals. These items are perfect for anyone looking for fast snack options since they can be consumed straight out of the box and don't need any further preparation.
Market Dynamics
Market Drivers
These products make up a very small percentage of the growing market for goods created with blended fruits, which includes cocktails. To experience a range of flavors in a single bite, consumers are becoming more and more interested in meals that combine a variety of fruits. This requirement is met by fruit cocktails, which provide a useful and visually attractive combination of fruits.
Market Restraints
Fruit cocktails may be used in lieu of many processed items, including cookies, chips, and ready-to-eat meals. Marketers assert that these nutrient-dense foods have distinctive scents and flavors and often have a longer shelf life. Competition from these snacks may have an effect on market share and consumption of fruit cocktails, particularly among consumers seeking for richer or savory snack options.
Market Opportunities
The growing acceptance of beverages that are ready to drink might be advantageous for fruit cocktails. The market for beverages that are ready to drink is expanding as a result of increased customer demand for quick-serve and portable solutions. Fruit cocktails are the most obvious illustration of this trend since they may be purchased in single-serve, portable containers and may be promoted as energizing and nutrient-rich beverage substitutes.
Market Scope
Report Metric
Details
Market Size by 2031
USD XX Million/Billion
Market Size in 2023
USD XX Million/Billion
Market Size in 2022
USD XX Million/Billion
Historical Data
2019-2021
Base Year
2022
Forecast Period
2023-2031
Report Coverage
Revenue Forecast, Competitive Landscape, Growth Factors, Environment & Regulatory Landscape and Trends
Segments Covered

Segmentation By Type

Strawberry Cocktail
Cherry-Flavored Beverages
Peach Cocktail

Segmentation By Application

Culinary
Bakery

Geographies Covered

North America
Europe
APAC
Middle East and Africa
LATAM

Companies Profiles

Del Monte
Sinonut
Dole
New Lamthong Foods
Jutai Foods Group
HALADINAR
Delicia Foods
P. Pavlides
Segmental Analysis
Segmentation by Type
Fruit-based beverages are sometimes referred to as strawberry cocktails since they taste and smell like strawberries. In order to make a tasty and fulfilling beverage, strawberries are often added to these beverages along with other fruits or components. Strawberries are a well-liked component in beverages because of its bright color, sweet taste, and versatility in a variety of culinary applications.
Cherry-Flavored Beverages
Cherry-flavored beverages showcase the delectable and distinctive flavor of cherries. To create a balanced and visually beautiful beverage, cherries are often combined with other fruits, juices, or alcoholic drinks. Cherry beverages appeal to those who like the unique taste profile and well-known tangy-sweet flavor of cherries.
Peach-based beverages emphasize the sweetness and delicate taste of the fruit. beverages containing peaches. These beverages are made with peaches and other fruits, syrups, or alcoholic beverages and provide a delectable and energetic beverage. People like peach-flavored drinks because they have a taste that is a little bit acidic, a little bit sweet, and juicy.
Segmentation By Application
In the industry dedicated to culinary applications, fruit cocktails are utilized in a number of cuisines. Fruit cocktails may be added to salads, desserts, and other foods as a garnish, filler, or topping. They enhance the flavor, texture, and appearance of food to make it more alluring. Both seasoned chefs and inexperienced cooks employ fruit cocktails to make delectable and enticing dishes.
The major focus of the bakery application area is the use of fruit cocktails in baked goods and pastries. Fruit cocktails may provide moisture and true fruit tastes to pastries like pies, cakes, muffins, and other baked foods. They provide baked goods a wonderful fruity burst, enhance their taste and texture, and make them more marketable.
Regional Analysis
The Global Fruit Cocktail Market is segmented by region as North America, Europe, Asia Pacific, Latin America, and Middle East and Africa.
North America
Fruit cocktails are quite well-liked in North America because to the large population, busy lives, and growing need for quick and wholesome snack choices. In the United States and Canada, consumers are more likely to discover fruit items that are ready to eat, provide a variety of flavours, and have health advantages. This industry is expanding because fruit cocktails are becoming more and more well-liked as a fast snack for times when people are on the go.
Europe
Due to its residents' commitment to good health and inclination for quick and wholesome meals, the continent has a substantial market for fruit cocktails. Fruit cocktails are in great demand in nations like Germany, France, and the United Kingdom because to the focus on healthy eating and the need for a range of fruit combinations in a single box. The company benefits from the accessibility of a variety of fruit flavors and upmarket fruit drink alternatives.
Asia Pacific
This region's fruit cocktail market analysis is expanding quickly as a result of factors such changing consumer lifestyles, urbanization, and the spread of Western eating customs. A significant market potential is offered by nations like China, Japan, and India because of their large populations and growing levels of consumer disposable income. Convenience, an increase in interest in healthy eating, and a desire for new and inventive culinary experiences are the main factors fueling the demand for fruit cocktails in this area.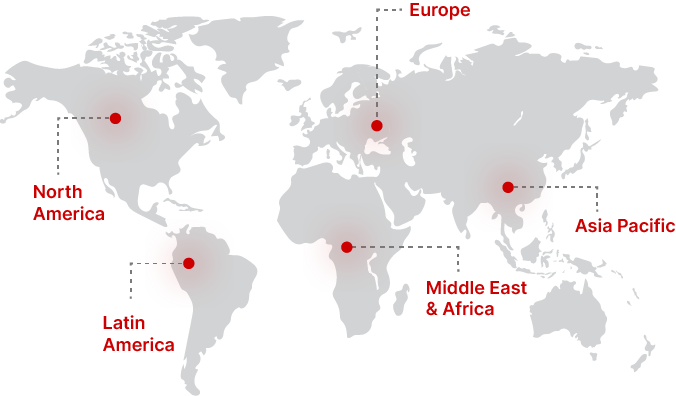 Regional Growth Insights
Download Free Sample
Key Players
Sinonut
Dole
New Lamthong Foods
Jutai Foods Group
HALADINAR
Delicia Foods
P. Pavlides
Recent Developments
Growing Need For Quick And Wholesome Snacks
Fruit cocktail is a tasty and practical snack that is becoming more and more well-liked by customers. This is as a result of the ease of fruit cocktail as a ready-to-eat snack and the growing understanding of the significance of a balanced diet.
Fruit Cocktails Are Becoming More And More Popular In The Food Service Sector
Due to their versatility as an ingredient that may be utilized in a number of cuisines, fruit cocktails are being employed more and more in the food service business. This is fueling the market in the food service sector.
Fruit Cocktail Market Segmentations
Segmentation By Type
Strawberry Cocktail
Cherry-Flavored Beverages
Peach Cocktail
Segmentation By Application
Frequently Asked Questions