Market Overview
The Global Fruits Harvesters Market Size is projected to grow at CAGR of approximately 7.3% during the forecast period.
The harvester is used to gather small fruits such as lemons and sapotas. It is made up of a PVC main body that is cylindrical in form. The top end of the body is closed, while the bottom end is open, with a nylon net tied to it for collecting the fruits. The market is a specialized market that produces and sells machines and tools used to gather fruits from trees or bushes. The market offers a wide range of fruit harvesting equipment, from handheld tools to big, motorized devices.
Several reasons drive the market for fruit harvesters, including rising demand for fresh fruits and the need for efficient and cost-effective harvesting methods. Furthermore, the use of precision agriculture technologies has resulted in the creation of novel fruit harvesting equipment that is more efficient and productive than traditional harvesting methods.
Market Dynamics
Market Drivers
Growing adoption of automation in agriculture and rapid population growth
Rapid population growth is putting pressure on farming industries around the world to increase output in order to meet rising fruit demand. Farmers are progressively implementing smart harvest technologies such as harvesting robots, automation, control systems, sensors, and imaging systems to increase profitability and production in less time and at a lower cost. The scarcity of fertile land is a key factor driving demand for indoor farming activities and the increased use of automated harvesting technologies to reduce labour costs.
Advance technology being used in agriculture
Rising desire for fresh, healthy food the demand for fruit harvesting equipment is expected to rise as more people become health-conscious and mindful of the benefits of fresh fruits. technology is increasingly being used in agriculture to increase efficiency and productivity. Fruit harvesting equipment is an important part of this development. Technological advancements have resulted in the creation of more efficient and effective fruit-harvesting equipment. This has made fruit harvesting simpler and more cost-effective for farmers.
Increasing desire for low-cost
Many nations are experiencing a labour shortage in the agricultural industry. By reducing the need for manual work, fruit harvesting equipment can help to resolve this issue. Fruit harvesting equipment can assist farmers in lowering labour expenses while increasing output. Due to this, there is an increasing desire for low-cost harvesting solutions.
Market Restraints
Lack of infrastructure and awareness
When the distribution system is not completely mechanized, losses occur during stages such as drying, storage, and chemical application in less industrialized and emerging nations. One of the main obstacles limiting market development is a lack of infrastructure and awareness in developing countries about the importance of protecting fruits after harvest. For example, among the main causes of fruit and vegetable harvester losses are insufficient logistical and technological infrastructure, as well as a lack of sufficient equipment for small-scale farmers.
Market Opportunity
Growing trend towards mechanization in agriculture
Fruit harvesting is an essential industry in the agriculture and horticulture sectors. The rising demand for fresh fruits, the need for better efficiency in fruit harvesting, and the growing trend toward mechanization in agriculture all drive demand for fruit harvesters.
Government initiatives and Increased investments by market players
Furthermore, government initiatives related to agricultural technique modernization and the deployment of automated agricultural equipment to improve crop output are boosting the market growth. Furthermore, the rising trend of precision farming to increase agricultural productivity and eliminate potential environmental hazards is raising demand for improved harvesting systems. Increased investments by leading market players in technological advancements for the creation of more complex harvesting robots are also propelling the global market forward.
Market Scope
Report Metric
Details
Market Size by 2031
USD XX Million/Billion
Market Size in 2023
USD XX Million/Billion
Market Size in 2022
USD XX Million/Billion
Historical Data
2019-2021
Base Year
2022
Forecast Period
2023-2031
Report Coverage
Revenue Forecast, Competitive Landscape, Growth Factors, Environment & Regulatory Landscape and Trends
Segments Covered

Segment by Type

Self-propelled
Towed

Segment by Application

Olive
Apple
Raspberry

Geographies Covered

North America
Europe
APAC
Middle East and Africa
LATAM

Companies Profiles

BSK
Weremczukagro
Jagoda
Moresil
GF
Selmaksan
AGH
Oxbo Corp
Tagrm
Pellenc
SZR ELEKTRONIK
Segmental Analysis
Segment by Type
These are machines that can operate on their own and do not require any external power source to do so. Self-propelled fruit harvesters have an engine and a drive system that enables them to maneuver easily through orchards and fields. They are highly efficient and can harvest large quantities of fruit in a short amount of time.
The harvesting mechanism on towed fruit harvesters is typically powered by the tractor's power take-off (PTO) system. They are less costly than self-propelled harvesters and are best suited to small farms or orchards.
Segment by Application
Olive harvesters are used to harvest olives from trees in an efficient and effective manner. These harvesters come in various types, including hand-held harvesters and tractor-mounted harvesters
Apple harvesters are used to quickly and efficiently gather apples from trees. They are intended to minimize damage to the fruit and trees during harvesting, which is critical for maintaining fruit quality.
Raspberry harvesters are machines that pick raspberries from plants. Harvesters of various kinds are available, including handheld harvesters and tractor-mounted harvesters.
Regional Analysis
The Global Fruits Harvesters Market is segmented by region as North America, Europe, Asia Pacific, Latin America, and Middle East and Africa.
North America
North America will dominate the market as productivity rises
Due to a labour shortage, rising labour costs, and the need to replace outdated equipment, North America is being pushed to adopt new technologies in order to increase crop output and efficiency. Because of their high operational effectiveness, fruit harvesters are in high demand due to the region's unpredictable weather. Farm mechanization is regarded as a critical element in increased agricultural production, sales, and export. The use of combines in agricultural fields is the focus of technological progress.
Growing use of advance equipment's
North America's farming industry has expanded significantly in recent years as a result of increased technological advancements and government incentives for the use of smart equipment. Farmers and growers in this region are utilizing various technologies on their farms, including drones, GPS, robots, smart controllers, monitors, and others, due to the numerous benefits of farming.
The United States is the regional market leader. The country's widespread use of robotic harvesting machines is hastening market growth. Harvesting is cost-effective because the average farm size in the United States. Furthermore, due to a shrinking farmer population and stringent human rights and minimum wage legislation, physical labour is expensive in the country.
Asia Pacific
Increased demand for healthy food from an increasingly health-conscious consumer base is driving development in the Asia-Pacific region's fruit and vegetable juice industry. To meet this consumer demand, key players are emphasizing the introduction of new varieties and flavors, as well as innovative packaging and product development, due to which market players has the opportunity to expand the fruits harvesters' market in this region.
Driving demand for automated harvesting equipment and solutions
The Asia Pacific market is growing at a rapid pace. Growing population, a scarcity of arable land in the region's densely populated countries, and a scarcity of qualified workers are all factors driving demand for automated harvesting equipment and solutions. Furthermore, greater government initiatives to modernize agricultural processes in order to boost agricultural production are fueling regional market growth.
Latin America
The region is renowned for its extensive fruit production, with countries like Brazil, Mexico, and Chile being significant players in the global fruit market. The growing adoption of mechanized harvesting techniques by farmers and growers is driving the Latin American market for fruit harvesters. This is due to the labour-intensive nature of fruit harvesting, which can be a significant challenge for farmers, especially during peak harvesting seasons. The need to improve efficiency and lower labour costs is also driving demand for fruit harvesters in Latin America. Fruit harvesters can harvest huge quantities of fruit.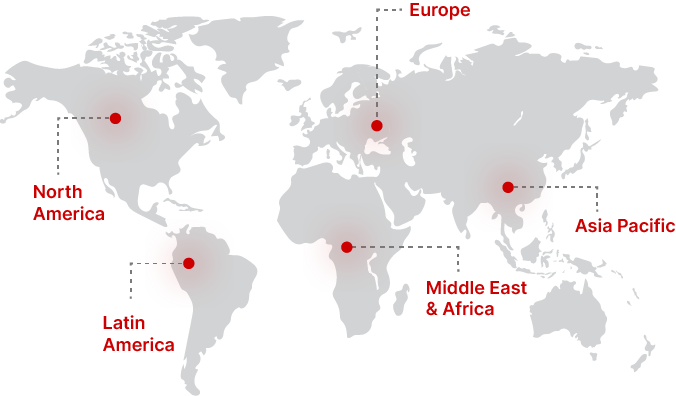 Regional Growth Insights
Download Free Sample
Key Players
BSK
Jagoda
Moresil
GF
Selmaksan
AGH
Oxbo Corp
Tagrm
Pellenc
SZR ELEKTRONIK
Fruits Harvesters Market Segmentations
Segment by Type
Segment by Application
Frequently Asked Questions