Market Overview
The Global Greenhouse Air Heating System Market Size is projected to grow at CAGR of approximately 9.1% during the forecast period.
The market for equipment and systems used to heat the air inside greenhouses so that plants can continue to develop in the best conditions is referred to as the market. With the help of a controlled environment that can shield plants from pests and bad weather, greenhouses are used to prolong the growing season for plants.
In order to control the temperature and humidity inside the greenhouse, greenhouse air heating systems frequently use heaters that are powered by electricity, natural gas, or propane. They may also include ducting, fans, and thermostats. To stop the waste of heat, they could also contain insulation materials.
The worldwide market is expected to expand in the coming years, due to rising demand for year-round crop production, the demand for energy-efficient heating systems, and the increasing adoption of advanced greenhouse technologies. Government regulations geared at reducing greenhouse gas emissions and encouraging sustainable agriculture also have an impact on the market.
Market Dynamics
Market Drivers
Growing focus on Sustainability
As people become more conscious of the environmental effect of their actions, there is a greater emphasis on sustainability. Greenhouses can help reduce the environmental effect of food production by using less resources like water and fertilizer. Subsidies and tax breaks from the government are pushing up demand for greenhouse air heating systems.
Climate change is causing unpredictable weather patterns, which can have a detrimental effect on crop yields. Greenhouses provide a consistent environment for plants to grow in, independent of the outside weather. This is driving the demand for greenhouse air heating devices that can keep the greenhouse at a constant temperature and humidity level.
Food demand and Advance Technology Driving the Market
The market is driving due to food demand is rising as the world's populace grows. Greenhouses provide a controlled environment in which plants can develop, resulting in higher yields and higher quality produce. As a result, the market for greenhouse air heating systems is increasing. Also, Technological advancements have made greenhouse air conditioning systems more efficient and cost-effective. This is propelling the use of these systems in both commercial and residential contexts.
Floriculture Industry Driving Market
The expanding floriculture industry is one of the main drivers of demand for high-end greenhouses over the forecast period. Flowers have always been popular, and this tendency is expected to continue. Furthermore, as spending rises on various occasions such as weddings, anniversaries, birthday celebrations, and political rallies, so will demand for specific flowers, regardless of season. These factors are anticipated to boost revenue growth in the greenhouse heaters market in the near future.
Market Restraints
Lack of knowledge and Other Factors Restricting Market Growth
Lack of knowledge of the product, which could impede market expansion throughout the forecast period, as well as a lack of comprehension about the advantages of greenhouse warmers, are factors impeding market revenue growth.
A greenhouse heater installation is a difficult, time-consuming task that necessitates specific knowledge and skills. It includes the implementation of ventilation systems, as well as the installation of gas lines and the cabling of electrical components. This complexity, as well as the labour costs associated with it, can have a significant effect on the market because installation fees are sometimes out of reach for many prospective customers.
Furthermore, the construction process can take several days or even weeks, which can be inconvenient for people who want to start using their greenhouse as soon as feasible. Furthermore, the placement of a greenhouse warmer requires continuous maintenance and care, Ongoing maintenance and care, which can increase the cost of ownership and limit the group of prospective users, might hinder the development of the greenhouse warmers market.
Market Opportunity
Sustainable Heating Solutions for Greenhouse Farming
Due to the growing demand for effective and sustainable heating solutions for greenhouse farming, the market represents a major potential. With the increasing demand for year-round crop output and expanding worries about energy usage and emissions, greenhouse air heating systems provide an effective answer for keeping optimal growing conditions while minimizing environmental impact.
Increased Investment in Greenhouse Farming
The market for greenhouse air heating systems is expected to expand in the coming years, owing to factors such as increased investment in greenhouse farming, technological developments, and government efforts supporting sustainable agriculture. Additionally, increasing demand for fresh produce and expanding consumer knowledge of the benefits of locally produced, pesticide-free crops are driving market development.
The Increasing Trend of Vertical Farming
The market is also expected to profit from the increasing trend of vertical farming, which includes producing products in levels that are vertically piled. This method necessitates specialist heating and illumination systems, and greenhouse air heating systems are ideal for meeting these requirements.
Market Scope
Report Metric
Details
Market Size by 2031
USD XX Million/Billion
Market Size in 2023
USD XX Million/Billion
Market Size in 2022
USD XX Million/Billion
Historical Data
2019-2021
Base Year
2022
Forecast Period
2023-2031
Report Coverage
Revenue Forecast, Competitive Landscape, Growth Factors, Environment & Regulatory Landscape and Trends
Segments Covered

Segment by Type

Natural Gas
Solar Energy
Heat Water

Segment by Application

Horitculture
Agriculture

Geographies Covered

North America
Europe
APAC
Middle East and Africa
LATAM

Companies Profiles

Munters
DutchGreenhouses
Pro-Mix
Novagric
Growspan
GGS Structures Inc
Ceres Greenhouses
ACF Greenhouses
Detroit Radiant
Segmental Analysis
Segment by Type
Natural gas is the main fuel supply for this form of greenhouse air heating device. Natural gas heaters are common because of their efficiency, low cost, and simplicity of use.
Solar greenhouse air heating devices warms the air inside the greenhouse by utilizing the sun's energy. Solar heaters, on the other hand, may not be appropriate for all regions, and their efficacy is dependent on the quantity of sunlight accessible.
Heat water devices move hot water through greenhouse lines to warm the air. These systems are extremely effective and can be combined with solar energy or other warming sources.
Segment by Application
The use of greenhouse air heating devices in horticulture enables farmers to regulate temperature, humidity, and other environmental variables to optimize product yields and quality.
Greenhouse air heating systems are used in agriculture to produce optimum growth conditions, shield products from bugs and disease, and prolong the growing season in colder areas.
Regional Analysis
The Global Greenhouse Air Heating System Market is segmented by region as North America, Europe, Asia Pacific, Latin America, and Middle East and Africa.
North America
Due to the rising demand for year-round fresh fruit and the need for energy-efficient heating solutions, the market in North America is expanding. The market is anticipated to expand steadily in the future years, owing to the increasing usage of sophisticated heating technologies such as geothermal, biomass, and solar heating systems. The United States is the biggest market in North America for greenhouse air heating systems. Canada is also a major market, owing to the country's growing greenhouse sector.
The market is extremely competitive, with several established companies ruling it,. However, there are many small and medium-sized companies providing innovative heating options that are getting market traction.
The growing emphasis on sustainable agriculture, as well as the need to decrease energy usage in greenhouse operations, will push the development of greenhouse air heating systems in North America. Furthermore, government efforts and incentives to promote the use of renewable energy sources are anticipated to drive market development in the future years.
Asia Pacific
The market for agricultural infrared heaters is expected to grow at the fastest pace in the Asia Pacific area during the projection period. One factor adding to the growth is a rising awareness of greenhouses in many countries. Agriculture is being backed by the government, which is increasing the market share of greenhouse warmers. Farmers' increasing knowledge of the advantages of infrared heaters in cultivation and getting high yields and animal kinds is driving market growth.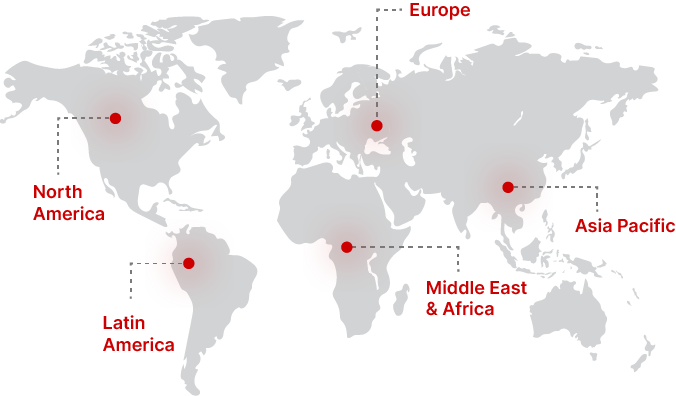 Regional Growth Insights
Download Free Sample
Key Players
DutchGreenhouses
Pro-Mix
Novagric
Growspan
GGS Structures Inc
Ceres Greenhouses
ACF Greenhouses
Detroit Radiant
Greenhouse Air Heating System Market Segmentations
Segment by Type
Natural Gas
Solar Energy
Heat Water
Segment by Application
Frequently Asked Questions