Market Overview
The Global Hydro-Pumped Storage Plants Market Size is projected to register a CAGR of approximately 5.2% during the forecast period.
By selling electricity at a premium price during periods of high demand, participants in the market for hydro-pumped storage facilities are able to balance the demand for conventional energy sources and maximize their profits. Due to the growing global population and the limited supply of non-renewable energy sources, energy must be saved and utilized wisely. The power industry uses hydro-pumped storage facilities to control demand and decrease spikes. A pump in these places moves water in the form of water energy from a lower reservoir to a higher reservoir. As a consequence, energy may be produced as needed and stored for periods of low demand.
The increase was curbed first by a drop in the demand for coal and electricity on a worldwide scale, then for oil and gas. Long-term lockdowns increased pressure on fossil fuels, which were already under stress from surplus-induced low prices and compelled people to work and study from home and consume less land or air transportation. Many people have lost their assets, homes, businesses, and earnings. The main effect of the outbreak has been a greater dependence on digital platforms. The consumption of fuel, electricity, and pollution are all impacted by this. Some claim that these immediate impacts on energy use, transportation, and the environment will not last, while others claim they will be the catalyst for a worldwide transition to a low-carbon, low-contact economy.
Market Dynamics
Market Drivers
Hydro-pumped storage facilities decrease system imbalances, provide rapid response power, and regulate frequency in order to preserve the grid's stability and the dependability of the energy supply. They provide energy security by ensuring a constant supply of power during periods of high demand or emergencies.
Market Restraints
In cases when there is a significant height difference between the top and bottom reservoirs, hydro-pumped storage facilities must be constructed. The difficulty in locating locations that match these requirements limits the widespread deployment of such facilities.
Market Opportunities
Integration with Renewable Energy Projects - Given the increase in the number of wind and solar parks, co-locating hydro-pumped storage facilities is an alternative. More renewable energy can be added thanks to this integration, which also enhances grid stability and makes the most of the transmission network.
Market Scope
Report Metric
Details
Market Size by 2031
USD XX Million/Billion
Market Size in 2023
USD XX Million/Billion
Market Size in 2022
USD XX Million/Billion
Historical Data
2019-2021
Base Year
2022
Forecast Period
2023-2031
Report Coverage
Revenue Forecast, Competitive Landscape, Growth Factors, Environment & Regulatory Landscape and Trends
Segments Covered

Segmentation by Type

Open Loop System
Closed Loop System

Segmentation by Application

Grid Stabilization and Peak Load Management
Renewable Energy Integration
Emergency Power Backup
Ancillary Services

Geographies Covered

North America
Europe
APAC
Middle East and Africa
LATAM

Companies Profiles

Alstom
First Hydro
Exelon
Voith
J-Power
Segmental Analysis
Segmentation By Type
In closed-loop hydro-pumped storage systems, two separate reservoirs located at differing elevations are joined by a closed conduit or tunnel system. Water is forced upward by turbines from the lower reservoir when there is a significant demand for electricity during off-peak hours. Closed-loop technology is used for the vast majority of hydro-pumped storage systems.
The upper and lower reservoirs are joined to create a single reservoir in open-loop hydro-pumped storage systems. Water is discharged into the environment or a nearby water body during off-peak times, and at peak times, it is pumped back into the same reservoir. Open-loop systems are less common nowadays due to potential environmental dangers.
Segmentation By Application
Grid Stabilization and Peak Load Management
Hydro-pumped storage facilities are essential for preserving grid stability since they regulate frequency and provide rapid response power. They contribute to preserving the grid's dependability by balancing variations in supply and demand, managing grid imbalances, and providing reserve capacity during emergencies or crises.
Renewable Energy Integration
of the primary applications for hydro-pumped storage systems is the integration of renewable energy sources. They get around the intermittent nature of renewable energy sources by storing excess energy during periods of high production and releasing it when demand exceeds supply. It may enable the system to more effectively absorb solar and wind energy.
Hydro-pumped storage facilities significantly shift the load by storing additional energy during periods of low demand, such as the night, and releasing it during periods of high demand. If utility providers could meet high energy needs without having to increase their ability to generate power, there would be less need for peaker fossil fuel plants.
Reactive power support, voltage control, and frequency regulation are a few of the ancillary services that hydro-pumped storage facilities might provide the grid. The grid's reliability, the supply's overall dependability, and the quality of the power are all improved by these services.
Regional Analysis
The Global Hydro-Pumped Storage Plants Market is segmented by region as North America, Europe, Asia Pacific, Latin America, and Middle East and Africa.
North America
In North America, the need for hydro-pumped storage is rising. The great majority of active facilities and the largest installed capacity are in the United States. The need for dependable grids, the use of renewable energy, and the modernization of existing infrastructure are what are driving market expansion in North America. The Federal Energy Regulatory Commission (FERC) in the United States has been aggressively encouraging the creation of new projects and looking at possibilities for updating current hydroelectric facilities.
Europe
The market for hydro-pumped storage facilities is considerable in the European Union. Historically, Switzerland, Germany, Austria, and Italy were among the nations that used pumped storage. The region's emphasis on grid stability, energy storage, and the usage of renewable energy sources has led to the sector's success. Programs like the Clean Energy Package of the European Union and many state legislation that support renewable energy sources provide further chances for market development in Europe.
Asia Pacific
The hydro-pumped storage facility sector is expanding quickly in this area. China, the region's biggest market, has made large financial investments in challenging projects to help it meet its targets for renewable energy and fortifying the grid infrastructure. Australia, Japan, South Korea, and South Korea all have very strong development prospects. These nations increase their renewable energy generation while acknowledging the requirement of energy storage for system integration and stability.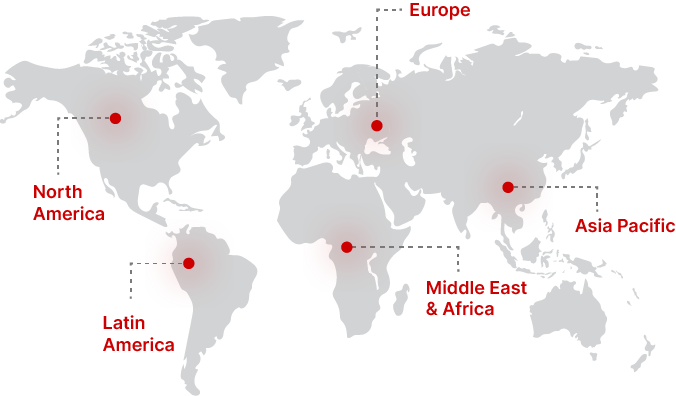 Regional Growth Insights
Download Free Sample
Key Players
First Hydro
Exelon
Voith
J-Power
Recent Developments
A worldwide conference will be held this week to develop policy recommendations and exchange knowledge on the technical and economic adjustments needed to eliminate obstacles to long-term pumped storage hydro projects, also referred to as "the world's water batteries."
The resurrection of pumped hydropower storage in India is known to the rest of the globe. When it comes to energy storage, batteries have (almost) exclusively been the subject of debate for the last 10 years. They are still costing far less than what the "experts" had predicted. It provided as proof of the success of the large-scale, centralized manufacturing technique and market stimulation strategies used by East Asian businesses.
Hydro-Pumped Storage Plants Market Segmentations
Segmentation by Type
Open Loop System
Closed Loop System
Segmentation by Application
Grid Stabilization and Peak Load Management
Renewable Energy Integration
Emergency Power Backup
Ancillary Services
Frequently Asked Questions