Market Overview
The Global Illipe Butter in Food Industry Market Size is expected to grow at a CAGR of approximately around 5% during the forecast period of 2023-2031.
Shorea Stenoptera, often Illipe butter, is a sought and unique plant. The nuts of the rare Shorea stenoptera tree, which only grows in the woods of Borneo and Sumatra, are used to make illipe butter, also known as Shorea Stenoptera Butter or tengkawang fat. Illipe butter is also known as vegetable butter. It is referred to as vegetable butter due to its vegetal origin. The illipe nut is also known as the Sengkang nut. It is the fruit of a type of Shorea cultivated by locals in Kalimantan. Its oil is converted into butter that is used in creams for cosmetics.
The seed can be utilized to produce vegetable fat that can be used as a substitute for cocoa butter. The fat can be utilized in various ways and is frequently combined with cacao butter. It is relatively similar to cacao butter (obtained from Theobroma spp.). Most chocolates, including white, milk, and dark chocolates, all contain cocoa butter. The skin readily absorbs edible fat that is extracted from the seed. It can treat skin conditions and is frequently applied to the skin as a carrier for other medications.
Market Dynamics
Global Illipe Butter in Food Industry Market Drivers
Increasing Demand For Plant-Based Ingredients
Plant-based fats are found in foods like avocado, almonds, chia seeds, soybean, canola, palm oil, and other plants containing mono- and polyunsaturated fatty acids. Edible oils like palm oil, olive oil, sunflower oil, and others are made using vegetable fats, and the market for these oils is growing along with the food business. Because of the rising demand for plant-based fat oil in the market, edible oil production has expanded over the past several years. The market is primarily driven by consumer demand for nutrient-dense and healthful edible oils and fats, changes in consumption habits and lifestyles, and rising health consciousness among consumers. Being a natural vegetable fat, illipe butter fits in well with this trend, which is what is causing its expansion in the food business.
Growing Demand For Specialized and Handmade Chocolates
Chocolate consumption has been a major factor in the artisan chocolate industry's expansion as customers switch from eating conventional sweets to making chocolate. Craft chocolate is one of the most well-liked and lucrative ingredients in the worldwide confectionery market. Illipe butter has found a place in creating specialized and artisanal chocolates because of its distinctive flavor and creamy texture, fueling its expansion in the confectionery industry.Illipe butter is used in chocolate and confectionery items instead of cocoa butter.
Global Illipe Butter in Food Industry Market Restraints
Limited Sources For Raw Material
Specific areas of Southeast Asia, notably Indonesia, Malaysia, and Borneo, are home to the illipe tree's native range. The plant Shorea Stenoptera is indigenous to the Indonesian region. The illipe tree's restricted geographic range can make it difficult to get a steady and dependable source of illipe butter. This availability restriction may hamper its widespread application in the food business. Insufficient supply of this tree negatively impacts manufacturing products, ultimately resulting in losses for the company.
Limited Shelf Life of Butter
Along with the activity of microbes, one of the primary causes of food deterioration is the oxidation of natural fats such as illipe butter. The food's shelf life is shortened due to changes to the flavor and aroma, color, loss of some nutrients, and production of potentially dangerous compounds. The food becomes unfit for ingestion due to this process, which has significant economic consequences. By destroying fat-soluble vitamins and degrading polyunsaturated acids, lipids' oxidative process reduces the diet's nutritional value. The care that should be taken here is storing food in the right place. So food dons get easily spoiled by the environment as well as microbes.
Global Illipe Butter in Food Industry Market Opportunities
Health Benefit of Illipe Butter Products
The Illipe nut butter includes the essential fatty acids oleic, palmitic, stearic, linoleic, and vitamins A and E. The body benefits from the bioactivity of these acids and vitamins in a particular manner. In simpler terms, it has the potential to help promote good health, beautiful skin, and even beautiful hair.Because of its high nutrient content, illipe butter has numerous health benefits for the human body. It is possible to include it in functional foods, nutritional bars, and snacks marketed toward customers looking for healthier alternatives.
Market Scope
Report Metric
Details
Market Size by 2031
USD XX Million/Billion
Market Size in 2023
USD XX Million/Billion
Market Size in 2022
USD XX Million/Billion
Historical Data
2019-2021
Base Year
2022
Forecast Period
2023-2031
Report Coverage
Revenue Forecast, Competitive Landscape, Growth Factors, Environment & Regulatory Landscape and Trends
Segments Covered

Segmentation by Type

Organic Oil
Conventional Oil

Segmentation by Application

Household/Retail
Food Processing

Geographies Covered

North America
Europe
APAC
Middle East and Africa
LATAM

Companies Profiles

AAK
A&A Fratelli Parodi
OQEMA
BioOrganic Concepts
ICSC International Cosmetic Science Centre
Protameen Chemicals
Thornley Company
Forestwise
O&3
Laboratories expanscience
Segmental Analysis
Segmentation By Type
Illipe butter is derived from plants. Therefore it is also called natural fat or vegetable fat. This butter is extracted from a natural source from their plant.
Conventional oil is an organic substance naturally formed in the Earth's crust and is referred to as crude oil or petroleum. Conventional oil is distinct from oil sands because it is extracted from the ground through drilling and pumping.
Segmentation By Application
Illipe butter is used as a substitute for vegetable oil. So this vegetable oil has various uses for household purposes. Illipe butter has the property of oil. It has a unique flavor and creamy texture for a variety of dishes. So it can be used as vegetable oil for the cooking process. Most of the time, different oils are combined or mixed to create vegetable oil. It is a form of oil that is more general, and many people use it in the cooking that they do daily. Vegetable oil is a great option when looking for a versatile cooking oil that doesn't break the bank. Vegetable oil is healthier than other oils. Its benefits our body in maintaining health.
Illipe butter has similar content to cocoa butter. Illipe butter is a substitute for cocoa butter in the food industry. Cocoa butter is widely used in making chocolates. Most chocolates, including white, milk, and dark chocolates, all contain cocoa butter. Now a day variety of chocolate is introduced in the market. The chocolate industry is expanding enormously due to all age groups' increasing consumption of chocolate. Chocolate is used in making desserts, pastries, and truffles. Like cocoa butter, Illipe butter has a unique flavor and creamy texture.
Regional Analysis
The Global Illipe Butter in Food Industry Market is segmented by region as North America, Europe, Asia Pacific, Latin America, and Middle East and Africa.
North America
The market for the Chocolate industry in North America is expanding. Consumers' move toward high-quality chocolate products, including single-origin chocolates, organic chocolates, handmade chocolates, dark chocolates, and other chocolate products, is a crucial driver driving the chocolate market in the region. Other chocolate items that consumers gravitate toward include single-origin chocolates, organic chocolates, and handmade chocolates. This is projected to increase the demand for illipe butter in the food industry.
Europe
Chocolate is produced in the greatest quantity and is exported to most countries from Europe. Because European purchasers source cocoa beans of varying quality and origins to satisfy the need of the cocoa and chocolate business, the European cocoa market is highly diverse. This is because of the cocoa and chocolate industries. As a result, Europe presents prospects for businesses that supply cocoa in bulk and specialized forms.Long-term growth in the demand for organic health-based products and rising consumption of premium cooking and edible oils by health-conscious customers are the main factors driving the market. This increases the demand for illipe butter in European countries.
Asia-Pacific
Due to the enormous demand from the food and other industrial sectors, which is attributed to an increase in the number of health-conscious consumers, rising population and changing living standards, along with the presence of significant edible oil-producing nations in the region, Asia-Pacific experiences the highest growth worldwide Moreover, the chocolate market in the Asia Pacific area is primarily driven by rising trends such as the healthy utilization of low fat and sugar-free chocolates. This is because these types of chocolates are perceived as having fewer negative health effects. The expansion of the luxury chocolate market can be attributed to the rising demand for cocoa that comes from a single plantation and has been farmed ethically. This increase in health consciousness demand from customers increases the demand for the illipe market.
Latin America
Deep frying is a common component of many traditional Latin American cuisines, such as Jadeja paisa, chicharron, Picante de guy, and Yuca frita, to name just a few. As a result, the amount of vegetable oil consumed in these dishes tends to be higher. In addition, the increasing frequency of health-related problems, such as obesity, hypertension, and diabetes, has led to an increase in people's awareness of the importance of maintaining a healthy lifestyle, which has led to an increase in the consumption of virgin vegetable oils, which are high in antioxidants and keep their minerals and vitamins intact.
Illipe butter has the property of natural vegetable fat. It also has healthier properties than other vegetable oil. Therefore the demand for illipe fat will rise in the Latin America region.
Middle East and Africa
Confectionery, processed meals, and ready-to-drink beverages are growing in Africa. Fats and oils are used in bakery, confectionery, sweets, ice cream, and sauces. Additionally, research and development that leads to product innovation and new vegetable oil-based products can help organizations extend fat and oil utilization across numerous industries. This increase in demand for vegetable oil for bakery and sweets sauces ultimately increases the demand for illipe butter as vegetable fat.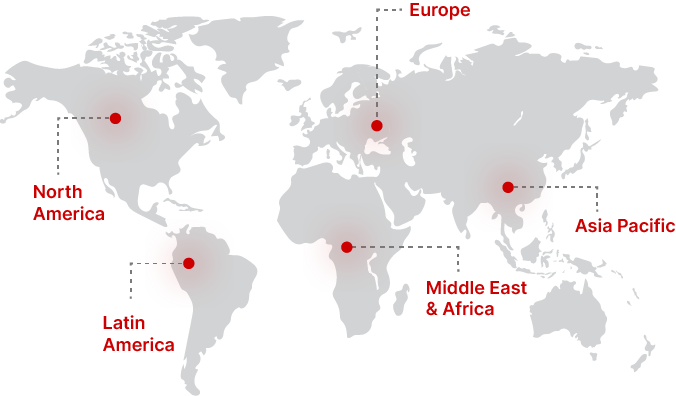 Regional Growth Insights
Download Free Sample
Key Players
AAK
A&A Fratelli Parodi
BioOrganic Concepts
ICSC International Cosmetic Science Centre
Protameen Chemicals
Thornley Company
Forestwise
O&3
Laboratories expanscience
Recent Developments
Oct 12th, 2020 - Forestwise launched refined organic illipe butter to reduce color and fragrance effects in personal care and cosmetics. Illipe butter that has been organically certified and certified by Fair for Life and refined, bleached, and deodorized (RBD) is now available from Forestwise, a supplier of excellent raw ingredients sourced sustainably from Indonesian rainforests. The elimination of color and odor from illipe butter makes it possible to utilize it in formulations for personal care products and cosmetics with a minor impact on the aroma and color of those products.
Illipe Butter in Food Industry Market Segmentations
Segmentation by Type
Organic Oil
Conventional Oil
Segmentation by Application
Household/Retail
Food Processing
Frequently Asked Questions