Market Overview
According to Reed Intelligence the Large Cold Planers Market will approximately grow at a CAGR of 4.2% during the forecast period.
The manufacture and distribution of massive machinery used for constructing and maintaining roads makes up the sizeable Cold Planers Market, a significant segment of the construction machinery industry. These tools, also known as cold milling or asphalt milling equipment, are used to remove concrete or asphalt surfaces in order to create a straight and level road profile.
The market is impacted by several variables. First off, there is a growing need for big cold planers due to the many infrastructure development projects taking place throughout the globe and the greater attention being paid to road building. Governments and private organizations invest a lot of money in building and improving road networks, necessitating the need for effective, high-capacity equipment that can perform complicated jobs. For the upkeep and repair of existing roads, cold planers are required to remove worn-out or damaged surfaces prior to resurfacing.
Market Dynamics
Market Drivers
Road Maintenance and Rehabilitation
The need to improve and maintain present roads is a significant market driver. To prepare roads for resurfacing or repairs, worn-out or damaged road surfaces are removed using Large Cold Planers Market.
Cold Planers in Other Industries
A new generation of cold planers with improved milling performance, better productivity, and improved fuel economy is being developed by manufacturers. The primary development drivers in this sector are products that adapt to shifting consumer wants and technological improvements.
Market Restraints
High Cost of Cold Planers
Due to their high price, building businesses and contractors are required to make significant investments in Large Cold Planers the first significant cash commitment. For smaller players or businesses with limited resources in particular, the high purchase costs may act as a disincentive.
Construction Industry Cyclicity
The cyclicity of the sector has an effect on the Large Cold Planers Market size. The demand for cold planers may be impacted by changes in building activity and the economy, which might restrict or delay the market's growth.
Market Opportunities
The construction sector is using sustainable business practices more often. Large cold planers Market Growth may gain a competitive advantage and meet the increasing need for sustainable solutions by using technology to reduce emissions, increase fuel economy, and diminish environmental impact.
Market Expansion into New Nations
Infrastructure and urbanization in developing nations like China, India, and Southeast Asian nations are quickly growing. Due to the increased building activity in these areas, cold planer enterprises have a lot of room to expand.
Market Scope
Report Metric
Details
Market Size by 2031
USD XX Million/Billion
Market Size in 2023
USD XX Million/Billion
Market Size in 2022
USD XX Million/Billion
Historical Data
2019-2021
Base Year
2022
Forecast Period
2023-2031
Report Coverage
Revenue Forecast, Competitive Landscape, Growth Factors, Environment & Regulatory Landscape and Trends
Segments Covered

Segmentation By Type

Working Width : 2m
Working Width >2m

Segmentation By Application

Road Construction
Public Engineering

Geographies Covered

North America
Europe
APAC
Middle East and Africa
LATAM

Companies Profiles

Wirtgen
Caterpillar
XCMG
Bomag
Dynapac
RoadTec
CMI
Sany Group
Xi'an Hongda
Shantui
SAKAI HEAVY INDUSTRIES, LTD.
Segmental Analysis
Segmentation By Type
Large Cold Planers with a working width under two meters fall under this category. These tools are appropriate for jobs requiring accurate milling operations on tiny surfaces, such as road construction and maintenance.
Large cold planers with a working width more than 2 meters make up this market sector. These machines can cover a bigger area in a single pass and are built to handle a broader variety of road conditions. They are often used in big highway maintenance and building projects.
Segmentation By Application
The employment of massive cold planers in the construction of new roads and highways is the main subject of this section. By removing the old road surfaces, these machines offer a level and smooth base on which to build the new pavement layers. They are essential for laying the foundation for later asphalt or concrete layers.
Projects involving public infrastructure, such as roads, airports, parking lots, and public spaces, are within the purview of the department of public engineering. To remove worn or damaged pavement surfaces and prepare the ground for the installation of new materials, large cold planers are employed. In order to provide facilities that are reliable and effective, it is crucial to maintain and upgrade public infrastructure.
Regional Analysis
The Global Large Cold Planers Market Market is segmented by region as North America, Europe, Asia Pacific, Latin America, and Middle East and Africa.
North America
North America is where you may find most extremely big cold planers. Numerous roads, ongoing infrastructure improvements, a focus on maintenance, and resurfacing all help the area. Due to government expenditures in transportation infrastructure and the necessity to replace deteriorating road surfaces, the United States and Canada have the lion's share of the market in this industry. Market growth is supported by the existence of established construction firms and contractors with enough funding.
Europe
There is a substantial need for big cold planers in Europe. All around the continent, but especially in nations like Germany, France, and the United Kingdom, the employment of effective road construction and maintenance technology is necessary. Because of the strict regulations controlling quality standards and traffic safety, there is an increased need for contemporary cold planers that can carry out accurate and superior grinding operations.
Asia Pacific
Massive cold planers have a significant unexplored market in the Asia Pacific area. Demand is increasing in nations like China, India, and Southeast Asian countries as a result of increased urbanization, population expansion, and developing road networks. Manufacturers will benefit from government programs that promote infrastructure growth, such as China's Belt and Road Initiative. The area now has a greater demand for effective cold planers as a result of the expansion of cutting-edge technologies like intelligent transportation systems and smart cities.
Latin America
The prospects for expansion in Latin America, the Middle East, and Africa are also upbeat. In Latin American nations like Brazil and Mexico, infrastructure development projects may comprise extending and repairing existing roads. Urbanization and the demand for transportation infrastructure in the Middle East and Africa are driving significant building. There are large cold planer markets, particularly in South Africa, Saudi Arabia, and the United Arab Emirates.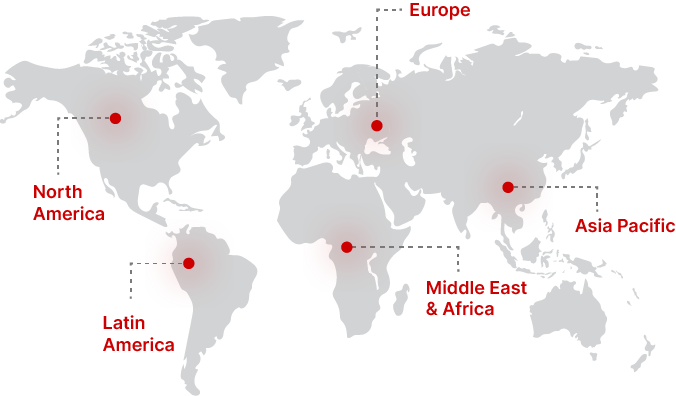 Regional Growth Insights
Download Free Sample
Key Players
Wirtgen
Caterpillar
XCMG
Bomag
Dynapac
RoadTec
CMI
Xi'an Hongda
Shantui
SAKAI HEAVY INDUSTRIES, LTD.
Recent Developments
To enable real-time monitoring of machine operation, preventative maintenance, and troubleshooting, manufacturers have developed systems for remote monitoring and diagnostics. This strategy may decrease downtime, encourage machine utilization, and boost operational effectiveness.
Large Cold Planers Market Segmentations
Segmentation By Type
Working Width : 2m
Working Width >2m
Segmentation By Application
Road Construction
Public Engineering
Frequently Asked Questions