Market Overview
The Global Livestock Transportation Market Size will significantly grow at a CAGR of approximately 3.85% by forecast period.
One of the most important aspects of the global livestock industry is the market for livestock transportation, which comprises the movement of various animal species for various purposes. For livestock transportation, animals must be transported from farms, ranches, or breeding facilities to slaughterhouses, auction houses, or other sites. Be punctual, considerate to others, and animal-loving.
One of the major factors influencing the industry is the rise in demand for animal products, such as meat, dairy, and poultry, on a worldwide basis. The demand for high-quality animal products is growing, as is the need for trustworthy transportation services. Technology advancements in transportation equipment, such as specialized livestock trailers and vehicles, have increased the efficiency and safety of transporting animals, which has further spurred industry growth.
However, there are also extra issues and restrictions to consider while moving animals. How animals are handled and moved is governed by law. Due to the strict guidelines established by authorities and regulatory bodies to ensure the moral treatment of animals during transportation, the process may become more difficult and costly. Market factors including shifting fuel prices, fluctuating feed prices, and infrastructural limitations may also have an influence on the overall profitability of the cattle transportation sector.
Market Dynamics
Market Drivers
The limitations on when, where, and how animals may migrate, as well as the focus on animal welfare. To guarantee that animals are transported morally, governments and regulatory agencies have created strict norms and legislation. This covers distance restrictions, steering techniques, and standards for a suitable vehicle design. Since carriers are required to purchase trucks and equipment that adhere to these criteria, there is an increase in the need for specialist livestock transportation services.
Market Restraints
In addition, the market for animal transportation has a number of limitations and difficulties. The intricacy and sensitivity of transporting live animals is one of the main difficulties. Animals need to be transported under sanitary conditions, such as those that provide them access to fresh food, water, and air. It could be difficult to accomplish these goals during extended bad weather journeys. Worries about the transmission of illness and issues with biosecurity make the difficulties encountered by livestock carriers even more difficult.
Market Opportunities
Despite these difficulties, the company presents a wide range of exciting options. There are now more options for the secure and pleasant transport of cattle thanks to technological advancements in vehicle design, such as better ventilation and temperature control systems. Additionally, it is now possible to monitor animal welfare indicators in real-time, ensuring compliance with laws and offering crucial information for process improvement, thanks to the expanded use of telematics and monitoring technology.
Market Scope
Report Metric
Details
Market Size by 2031
USD XX Million/Billion
Market Size in 2023
USD XX Million/Billion
Market Size in 2022
USD XX Million/Billion
Historical Data
2019-2021
Base Year
2022
Forecast Period
2023-2031
Report Coverage
Revenue Forecast, Competitive Landscape, Growth Factors, Environment & Regulatory Landscape and Trends
Segments Covered

Segmentation by Type

Personal
Commercial

Segmentation by Application

Pig
Cattle
Sheep
Rabbit

Geographies Covered

North America
Europe
APAC
Middle East and Africa
LATAM

Companies Profiles

American Airlines
Delta Air Lines
United Airlines
FedEx
Amerijet
Southwest Airlines
DSV
Air France
IAG Cargo
Lan Cargo S.A.
Copa Airlines
Segmental Analysis
Segmentation By Type
In this kind of livestock transportation, individuals or small agricultural businesses move the animals. For domestic purposes, such as getting animals to and from farms, taking them to the doctor, or taking them to displays, animal transportation is sometimes required. Smaller trucks or trailers that can only accommodate a few animals are often used for personal transportation.
Commercial animals are transported on a greater scale by professional livestock transporters or logistics firms. This kind of transportation's main objective is the movement of animals for a variety of purposes, such as breeding, production, or sale. In order to handle a range of animal types and sizes, commercial livestock transporters often adapt their trucks and equipment. They make sure that laws governing animal care, biosecurity, and transportation requirements are followed.
Segmentation By Application
Pig transportation includes moving pigs for a variety of reasons, such as moving breeding stock, moving pigs to various production phases (such weaning or finishing), or moving pigs to markets or processing facilities. Transporting pigs calls for careful handling and respect to certain rules, including those relating to temperature management, ventilation needs, and space requirements.
Bulls, cows, and calves are all moved during the "cattle transportation" process. It covers the movement of cattle for things like breeding, dairying, making meat, or auctions. To protect the health and safety of the cattle during transportation, the appropriate tools and infrastructure are needed.
This section discusses transporting sheep, including lambs, adults, and particular breeds. Sheep are moved for a variety of reasons, including breeding, producing wool, and raising them for food. To reduce stress and protect the animals' health during transport, sheep should only be handled gently.
It is referred to as "rabbit transportation" when a rabbit is moved in order to gain financial benefit, such as to be raised for meat or fur. Transporting rabbits from breeding facilities to markets or processing facilities is a part of this sector. To ensure the bunnies' health and safety while we're traveling, the right containers and handling methods will be used.
Regional Analysis
The Global Livestock Transportation Market is segmented by region as North America, Europe, Asia Pacific, Latin America, and Middle East and Africa.
North America
Cattle ranching is a large sector in North America, particularly in the US and Canada. An efficient transportation system allows animals to move across the region. The market in North America is dominated by consumer demand for products made from cattle, pigs, and poultry. Another aspect that affects how this company operates is the stringent legislation controlling animal care and transportation.
Europe
Animals are often transported throughout Europe by people. In industrialized countries like Germany, France, and the Netherlands, the cattle industry is well-established. Consumer demand for processed meats, beef, and dairy products is what drives the sector in Europe. As a consequence of strict shipping regulations and restrictions on animal care, this industry has expanded.
Asia Pacific
Due to the enormous and rising population of the area, there is an increasing need for animal products. In three wealthy countries Australia, China, and India the cattle sector is flourishing. Due to the increasing demand for dairy, meat, and poultry products from consumers, this business is primarily expanding in the Asia-Pacific region. The region's growing urbanization and shifting food choices are leading to an increasing need for cattle transportation.
Latin America
Latin America has a major cattle sector, especially in Argentina and Brazil. The primary force behind the local economy is the demand for commodities made from cattle and poultry. The region's plentiful agricultural land and great cow grazing conditions are causing the market to grow. On the other side, problems like inadequate infrastructure in certain areas may affect how efficiently cattle are moved.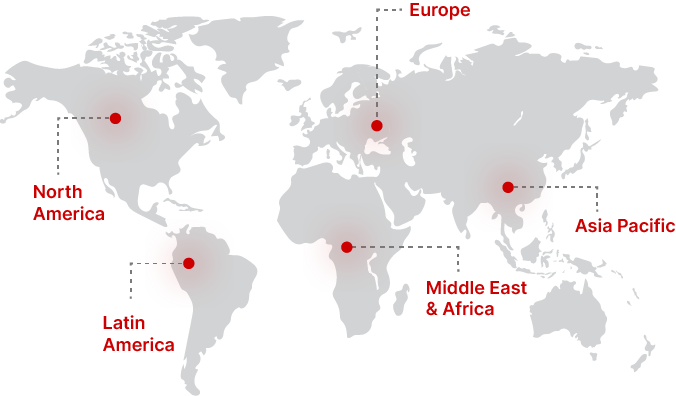 Regional Growth Insights
Download Free Sample
Key Players
American Airlines
Delta Air Lines
United Airlines
FedEx
Amerijet
DSV
Air France
IAG Cargo
Lan Cargo S.A.
Copa Airlines
Recent Developments
Animal loading and unloading has lately been improved with the use of automation and robotics. When animal stress levels drop, productivity increases. The need for sustainable practices and the need to lower carbon emissions are driving a rising trend toward the use of alternative fuels and eco-friendly vehicles for the transportation of cattle.
Livestock Transportation Market Segmentations
Segmentation by Type
Segmentation by Application
Frequently Asked Questions