Market Overview
According to Reed Intelligence the Global Location-Based Social Network Market Size will approximately grow at a CAGR of 26.8% during the forecast period.
Location-based social networks allow users to connect with the nearby users. This can be useful for meeting new people, sharing information about their surroundings and find local business for e.g., users can add location based tagged photos to a social networking service, comment on an event at the exact place where the event is happening, share their present location on a website, record travel routes with GPS trajectories to share travel experiences etc. The increasing availability of location-acquisition technology (GPS&WiFi) has empowered people to add a location dimension to existing online social networks.
Leading location-based services providers enhanced their services portfolio and product capabilities during the COVID-19 pandemic, consequently driving the growth of the location-based services market.
However, the location-based advertising segment is expected to grow at the highest rate. As it helps to increase organizational efficiency, reduce cost, and enhance customer engagement.
Market Dynamics
Global Location-Based Social Network Market Drivers
Increased Use of Smartphones
Smartphones have become essentials now-a-days. Smartphones have the features of using maps which helps the user to know the directions, track the location if the device is stolen or send live locations using social media platforms. It is also used in online food ordering to track the current location of the customer to ensure timely delivery. As the location is accessed, they send relevant advertisements once the customer enters the mall restaurants etc.to give information about the products, services and discounts offered.
Increased Use of Social Media
It is useful for the organizations to find the social users in a particular location. It can be used for target messaging. The companies can know favorable region for advertising the product in the region. Social media is used on a large extent by the organizations to advertise their products efficiently. Restaurants provide online ordering, delivery and payment by creating app which can access the location for smooth service.
Global Location-Based Social Network Market Restraints
Location based networks can track your location using your smartphone's GPS or Wi-Fi. This information can be used to track your movements, which could be a privacy concern for some people. Location-based services can also pose security risks like hacking, spoofing, and other types of cyberattacks. Location data can be leaked using access point selection algorithm in 5G mobile networks.
Market Scope
Report Metric
Details
Market Size by 2031
USD XX Million/Billion
Market Size in 2023
USD XX Million/Billion
Market Size in 2022
USD XX Million/Billion
Historical Data
2019-2021
Base Year
2022
Forecast Period
2023-2031
Report Coverage
Revenue Forecast, Competitive Landscape, Growth Factors, Environment & Regulatory Landscape and Trends
Segments Covered

Segmentation by Technology

Global Positioning System
Assisted GPS (A-GPS)
Cell Identification
Wifi

Segmentation by Application

Mapping and Navigation
Business Intelligence and Analytics
Fleet Management
Location-Based Advertising
Social Networking

Geographies Covered

North America
Europe
APAC
Middle East and Africa
LATAM

Companies Profiles

Alibaba
Baidu
Tencent
Google
Foursquare
Yelp
Segmental Analysis
Segmentation By Technology
Global Positioning System
Global positioning system is made of orbital satellites used to find the location of the receiver on the earth. GPS provides user with their latitude and longitude as well as altitude and exact time. It does not send any information directly to the user. The system can be segmented into three parts space segment, control segment, and user segment. It can be used for Personal Commercial and Military purposes. Geolocating can be useful for various industries for tracking location, navigation, Surveying &Cartography.
Assisted GPS came into existence because of commercial need. It provides better coverage, improves start-up time by connecting faster for even better coverage, cellphones can make use of a combination of A-GPS and other location-based technologies such as a Wi-Fi positioning system and cell site triangulation. Additional information can be provided by the carrier's wireless network which consist of chips. These chips are much less expensive than regular GPS chips and consume less power.
The Cell-ID method is the basic technique to provide location services and applications in second-generation mobile communication networks. The method relies on the fact that mobile networks can identify the approximate position of a mobile handset by knowing which cell site the device is using at a given time. The cell ID information is also used to calculate the location of a device using triangulation. Triangulation is the process of determining the location of a device by measuring the time it takes for a signal to travel from the device to three or more cell towers.
Wi-Fi is a wireless networking technology that allows devices such as computers (laptops and desktops), mobile devices (smart phones and wearables), and other equipment (printers and video cameras) to interface with the Internet. It can be used by connecting phones using hotspot to share network. Demand for personal Wi-Fi is increasing due to rise in use of smart phones. WIFI provides easy access to the network. Password can be set for security of network.
Segmentation By Application
Mapping and navigation are used on a wide range. It enables user to find directions to a particular location. It helps avoiding human error and provides more accurate location. The Maps have to be up-to-date to get accurate results. The market of location-based system is highly dependent on Mapping and Navigation. Geoinformatics sector designs the maps used for locating the locations.
Business Intelligence and Analytics
By leveraging insights from Location Intelligence, firms can detect patterns, opportunities, glitches, and risks for themselves corresponding to a given area of operations. For example, with the cab pooling concept, internet-enabled cab providers can easily pool as many as four ride requests for one cab and instantly draw the best route for cab drivers to follow. This is advantage for, its customers, and drivers. Without any human intervention, the company is able to seamlessly address a very high volume of cab pool requests on a daily basis. Logistics companies can reap maximum benefit, as they need to track locations for delivery vehicles and packages in real-time. Many advantages can be foreseen organizations to harness the power of data, empower staff expertise, enhance marketing decisions, improving site selection, and uses historical spending trends.
Fleet management is an administrative approach that allows companies to organize and coordinate work vehicles with the aim to improve efficiency, reduce costs, and provide compliance with government regulations. Managing and maintaining a large collection of vehicles is a challenging task, advancements in Geo-location technology, the problem can be addressed by ensuring driver and passenger safety through connected vehicles. Location-Based Solutions (LBS) enable advanced Fleet Management services where every single vehicle can be tracked using GPS, it can monitor fuel economy and driver behavior and gather useful data to improve business efficiency.
Location-Based Advertising
Location-based marketing allows organizations to target consumers at person level with online or offline messaging based on their physical location. Using location data, marketing teams are able to reach consumers based on qualifiers like proximity to a store, events happening in their region etc. Location-based marketing has proven effective across customer lifecycles – from discovery and purchase, to engagement and retention. It involves Geotargeting which is used to determine the location of a user, to then serve them personalized messaging based on their location using IP address, Geofencing allows creation of a boundary within a specific region. It utilizes GPS technology to create a border. When target audiences enter that boundary, they will become an active target of the marketing strategy.
Location based social networks use the geographic position of a mobile device through networks. Using location based social media organizations can find only those social users in the particular location. It can be used for target messaging i.e., when a customer enters the organization with location services targeted messages can be sent to them to encourage certain behavior for flash sales and upsell opportunities. Users can send their locations to the friends using social media apps.
Regional Analysis
The Global Location-Based Social Network Market is segmented by region as North America, Europe, Asia Pacific, Latin America, and Middle East and Africa.
North America
The North American Location based Social Network market is expected to grow at a CAGR of 18.6% from 2023 to 2031. United States is the largest market for LBSNs in North America, followed by Canada. These companies are developing new features and technologies to keep up with the growing demand for LBSNs. For example, Foursquare is developing new ways to help users discover businesses and events that are nearby, Yelp is developing new ways to help users find the best deals on local businesses.US has emerged as the largest market mainly due to significant number of smart phone users and pace of infrastructure developments.
Europe
Europe is the rapidly growing market and is expected to grow at a CAGR of 24.8% from 2023 to 2031 Facebook Places, Swarm, Tinder, Pokémon Go are some of the major companies in Europe. It is considered as one of the most technologically region owning to presence of key players working in location-based service market. Companies in this region are making high investments in location-based networks.
Asia Pacific
The market of location-based networks (LBSNs) in Asia Pacific is expected to grow at a CAGR of 24.1% from 2023 to 2031. Increasing demand of location-based networks in transportation and logistics which aid to growth of the market in Asia Pacific. Increasing infrastructure development in commercial offices, Localities and shopping malls in the region drives the growth in indoor location-based services. Alibaba, Baidu, Tencent, Google are some of the major companies providing location based network services in Asia.
Middle East and Africa
The market of location-based network in Middle East and Africa is expected to grow steadily. The companies in this region are working to develop software platforms to connect, improve and enhance the use of location-based networks.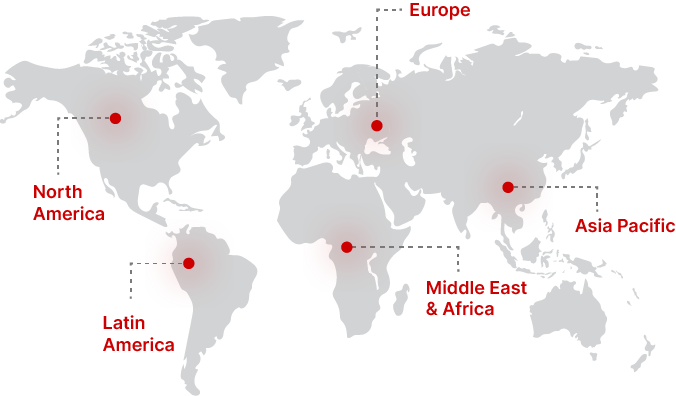 Regional Growth Insights
Download Free Sample
Key Players
Alibaba
Baidu
Google
Foursquare
Yelp
Location-Based Social Network Market Segmentations
Segmentation by Technology
Global Positioning System
Assisted GPS (A-GPS)
Cell Identification
Wifi
Segmentation by Application
Mapping and Navigation
Business Intelligence and Analytics
Fleet Management
Location-Based Advertising
Social Networking
Frequently Asked Questions