Market Overview
The Global Mongongo Oil Market Size is projected to grow at CAGR of approximately 7.5% during the forecast period.
Mongongo oil is a type of oil made from the nuts of the southern African native mongongo tree. It is often referred to as Kalahari oil or Manketti oil. The oil is a good source of vitamin E and important fatty acids like linoleic and alpha-linolenic acids.
The world market for mongongo oil is still tiny, but it is rapidly expanding as more people become aware of the advantages of natural and organic skincare products. Due to its numerous advantages for hair and skin, including its capacity to nourish, protect, and moisturize, mongongo oil is in high demand.
The two main factors propelling the market are the growing popularity of Mongongo oil and the desire for natural and organic skincare products. In the upcoming years, market growth is anticipated to be driven by the increased demand for mongongo oil in the cosmetics sector. Also, the rising demand for Mongongo oil in the food industry is anticipated to fuel market expansion.
Market Dynamics
Market Drivers
Extended benefits of Mongongo oil
Mongongo oil is a well-liked component in personal care products due to its numerous advantages for skin and hair. Vitamin E, linoleic acid, and other abundant elements in the oil aid in hydrating and nourishing the skin and hair. Mongongo oil also has anti-inflammatory qualities that can aid in lessening inflammation and redness. The demand for mongongo oil is projected to rise as more individuals become aware of these advantages.
Disposable incomes are rising in many developing countries, meaning consumers have more money to spend on personal care products. For example, the middle class is expanding rapidly in countries such as China and India, and consumers are becoming more interested in high-quality personal care products that can improve their health and appearance. As a result, the demand for natural and organic personal care products, including those containing mongongo oil, will likely increase in these markets.
Market Restraints
The Limited Supply of Raw Materials
Manufacturing mongongo oil is labor-intensive and time-consuming because mongongo trees are only found in specific areas of Southern Africa, and the nuts must be manually picked. Due to its limited supply, mongongo oil can become expensive and challenging for businesses to get in significant amounts.
Market Opportunities
Growing Interested in Sustainable and Ethical Products
Customers are becoming increasingly interested in ethical, environmentally, and socially responsible items created sustainably. Mongongo oil is a desirable alternative for customers looking for ethical and sustainable personal care products because it is a sustainable component manually gathered in Southern Africa.
Market Scope
Report Metric
Details
Market Size by 2031
USD XX Million/Billion
Market Size in 2023
USD XX Million/Billion
Market Size in 2022
USD XX Million/Billion
Historical Data
2019-2021
Base Year
2022
Forecast Period
2023-2031
Report Coverage
Revenue Forecast, Competitive Landscape, Growth Factors, Environment & Regulatory Landscape and Trends
Segments Covered

Segment by Type

Organic
Conventional

Segment by Application

Hair Care
Skin Care
Cosmetics

Geographies Covered

North America
Europe
APAC
Middle East and Africa
LATAM

Companies Profiles

Ouidad
Mielle Organics
Shea Terra Organics Company
Kalahari Natural Oils
Caribbean Natural Products
MopTop
Esoteric Oils
Bright Mountain
LXMI
KAZA Natural Oils
Segmental Analysis
Based on Type
The market is segmented into Organic, Conventional.
Mongongo nuts that were cultivated without the use of pesticides or synthetic fertilizers are used to make organic mongongo oil. Although this oil is often more expensive than standard mongongo oil, it is also said to be more sustainable and kinder to the environment.
On the other hand, conventional mongongo oil is derived from nuts that were cultivated with the use of artificial fertilizers and pesticides. Although this oil is less expensive than organic mongongo oil, it may not be sustainable or environmentally friendly.
Based on Application
The market is segmented into Hair Care, Skin Care, Cosmetics, and Others.
Mongongo oil is desirable in hair shampoos and conditioners because of its moisturizing and nourishing properties. It can aid in increasing the health and appearance of hair by reducing frizz, enhancing shine, and preventing breakage.
Due to its ability to hydrate and nourish the skin, Mongongo oil is used in various skincare products, including lotions, serums, and moisturizers. Its abundant nutrients and antioxidants can shield the skin from environmental damage and improve general health.
Due to its nourishing and moisturizing properties, Mongongo oil is used in a range of cosmetic products, including lip balms, foundations, and eyeshadows.
Regional Analysis
The Global Mongongo Oil Market is segmented by region as North America, Europe, Asia Pacific, Latin America, and Middle East and Africa.
Depending on the region, the market is analyzed in North America, Asia-Pacific, Europe, and LAMEA. North America dominates the market.
The enormous demand for natural and organic personal care products mostly drives North America. As consumers in the area become more aware of the possible harmful effects of synthetic components in personal care products, they start looking for natural alternatives. The United States, Canada, and Mexico are North America's three largest markets for mongongo oil. Also, the demand for ethical and sustainable products is growing in the region, which presents a chance for companies that provide socially and environmentally responsible products.
Mongongo oil is also well-liked in Europe because of the substantial natural and organic personal care product market there. Consumers in the region are willing to pay more for high-quality, eco-friendly commodities like mongongo oil. The UK, Germany, and France are the three largest markets in Europe for mongongo oil, but demand is increasingly growing in other countries like Italy and Spain. Also, the demand in the region for vegan and cruelty-free products is rising, which is excellent news for companies that market these products.
Asia Pacific is anticipated to expand quickly over the next several years due to rising disposable incomes in nations like China and India. Customers in these countries are becoming more interested in high-quality personal care products, especially ones that contain natural and organic substances like mongongo oil.
Mongongo oil is expanding across the Middle East, Africa, and Latin America due to the increased demand for natural and organic products in these areas.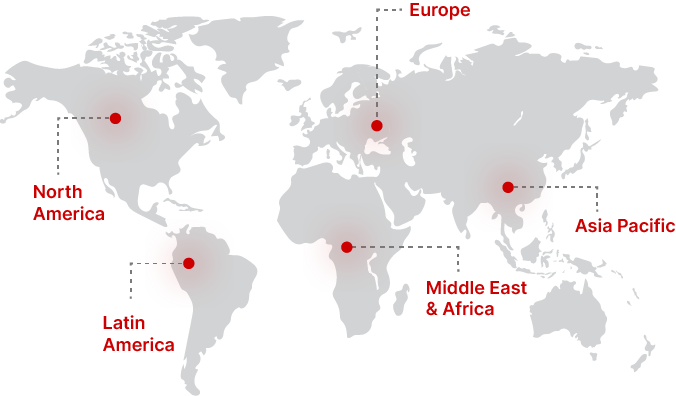 Regional Growth Insights
Download Free Sample
Key Players
Ouidad
Mielle Organics
Shea Terra Organics Company
Kalahari Natural Oils
MopTop
Esoteric Oils
Bright Mountain
LXMI
KAZA Natural Oils
Mongongo Oil Market Segmentations
Segment by Type
Segment by Application
Hair Care
Skin Care
Cosmetics
Frequently Asked Questions