Market Overview
According to Reed Intelligence the Global Montmorillonite Desiccant Market Size will approximately grow at a CAGR of 5.7% during the forecast period.
The market for montmorillonite desiccant is expanding steadily on a worldwide basis as a result of the increasing need for efficient moisture control solutions across a range of sectors. Because of their strong moisture-absorbing capacities, montmorillonite desiccants, which are made from natural bentonite clay, are crucial in packaging applications, notably in the food and pharmaceutical industries.
The market development trajectory for montmorillonite desiccant generally indicates continued expansion, with an increase in the significance of moisture management and eco-friendly packaging options across sectors. Montmorillonite desiccants are anticipated to continue being crucial elements of contemporary packaging methods as research advances and environmental consciousness rises, assuring product quality and guarding against moisture-related problems.
Market Dynamics
Market Drivers
Montmorillonite desiccants are a well-liked solution for companies seeking for substitutes to traditional packaging since they are all-natural and ecologically safe. Environmentally friendly desiccants are becoming more and more significant as the market for montmorillonite desiccants expands and environmental issues are addressed.
Market Restraints
A rival in the market is synthetic desiccants, which provide better moisture absorption rates and are widely used in a range of industries. The availability and expense of synthetic replacements may place restrictions on the market for montmorillonite desiccant.
Market Opportunities
Businesses that use biodegradable and environmentally responsible packaging materials may open up new opportunities for the sale of montmorillonite desiccants as the demand for sustainable packaging solutions increases.
Market Scope
Report Metric
Details
Market Size by 2031
USD XX Million/Billion
Market Size in 2023
USD XX Million/Billion
Market Size in 2022
USD XX Million/Billion
Historical Data
2019-2021
Base Year
2022
Forecast Period
2023-2031
Report Coverage
Revenue Forecast, Competitive Landscape, Growth Factors, Environment & Regulatory Landscape and Trends
Segments Covered

Segmentation By Type

Granularity Is 0.5-1.5mm
Granularity Is 1-2mm

Segmentation By Application

Food Industry
Pharmaceutical sector

Geographies Covered

North America
Europe
APAC
Middle East and Africa
LATAM

Companies Profiles

Wise Sorbent
Protective Packaging
Dingxing
TOPCOD
Crecompany
CLARIANT
ASCEND GLOBAL
Chun-Wang
Wanhuatong
Segmental Analysis
Segmentation By Type
The montmorillonite desiccants in this category have granularities that vary from 0.5 to 1.5 millimeters. These desiccants are suitable for applications that call for the use of small grains for efficient moisture absorption.
The montmorillonite desiccants in this area have granular sizes between 1 and 2 mm. These desiccants are used when regulating moisture is best accomplished with larger granules.
Segmentation By Application
Montmorillonite desiccants are often utilized in the food industry. These desiccants protect food products from moisture damage while they are being transported and stored. By increasing food products' shelf lives and reducing spoiling, they help retain product quality and freshness.
The pharmaceutical business also employs montmorillonite desiccants to maintain the quality and stability of pharmaceutical products and medications. Pharmaceutical formulations are protected by these desiccants against moisture-related deterioration, maintaining their effectiveness and security.
Regional Analysis
The Global Montmorillonite Desiccant Market is segmented by region as North America, Europe, Asia Pacific, Latin America, and Middle East and Africa.
North America
North America has a substantial market for montmorillonite desiccants due to the region's developed food and pharmaceutical industries. High-quality desiccants must be used to ensure product quality and safety in accordance with the stringent regulations in the food and pharmaceutical sectors. Montmorillonite desiccants have a broad variety of applications in the packaging of sensitive food goods and pharmaceutical compositions since they are all-natural and environmentally benign. Montmorillonite desiccants as well as ecologically friendly and sustainable packaging options are becoming increasingly important in the area. Technology advances and research into moisture management systems in North America are driving innovation in desiccant solutions.
Europe
Europe is a large market for montmorillonite desiccants due to the region's advanced pharmaceutical industry and its emphasis on high-quality and effective moisture control in prescription formulations. Given that desiccants are needed in the area, having a sizable food processing and packaging sector is helpful. Montmorillonite desiccants are widely used in Europe, notably in countries like Germany, France, and the United Kingdom where emphasis is largely placed on environmental initiatives and product quality laws. The growing interest in environmental preservation and eco-friendly packing methods is another factor driving the usage of montmorillonite desiccants in Europe.
Asia Pacific
The market for montmorillonite desiccant has a lot of space to grow in the Asia Pacific region. The region's growing food and pharmaceutical sectors, as well as increased disposable income and changing consumer lifestyles, are the main factors driving the need for moisture management systems. A great number of countries, particularly China, India, and Japan, have a significant impact on the growth of this economic sector. The success of montmorillonite desiccants is being aided by the expanding packaged food market and the expanding pharmaceutical business in the Asia Pacific area. The region's trend toward environmentally friendly packaging and sustainable practices promotes the usage of natural and biodegradable desiccants.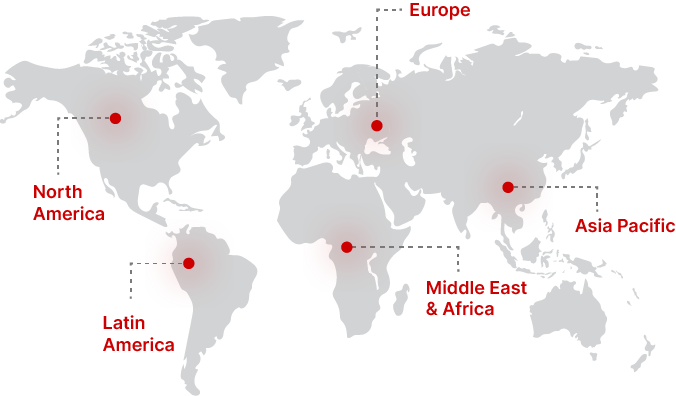 Regional Growth Insights
Download Free Sample
Key Players
Protective Packaging
Dingxing
TOPCOD
Crecompany
CLARIANT
ASCEND GLOBAL
Chun-Wang
Wanhuatong
Recent Developments
Producers provide montmorillonite desiccants in forms with specific packaging to fulfill the demands of a particular industry. This update provides a range of packet sizes and combinations in an effort to increase desiccant effectiveness and minimize waste.
Montmorillonite Desiccant Market Segmentations
Segmentation By Type
Granularity Is 0.5-1.5mm
Granularity Is 1-2mm
Segmentation By Application
Food Industry
Pharmaceutical sector
Frequently Asked Questions