Market Overview
The Global Motion Detector Lights Market Size is anticipated to touch at a CAGR of approximately 7.3% during the forecast period.
The motion detector lights are used for different purposes. The lights works by detecting the motion of objects, humans and changes the light accordingly. The motion sensor light was invented by Samuel Bagno in 1940. Initially the technology was developed with objective to use it for detect moments of enemy in World War II. Infrared sensors are used in this technology to detect motion of objects. Currently the motion detector lights are widely used for several purposes including security systems for home and commercial places, for energy saving purpose in indoor and outdoor lights, and to light up difficult areas. Two types of motion sensors are used in motion detector lights – Passive Infrared sensors and Active Infrared sensors.
Motion detector lights with Passive infrared sensors are used in indoor and outdoor security to protect house from thief's, suspicious people, criminals, big animals, snakes. These lights lit up when someone visits the area enclosed by motion detector lights. In defense sector, motion detector lights comes with active and passive infrared detectors works by emitting UV lights for better accuracy to track suspicious activity. Industries including automotive, security healthcare, electronics, infrastructure are driving the motion detector market lights industry. The motion detector lights market share is expected to grow further as more industries are adopting the technology for various purposes.
Market Dynamics
Market Drivers
Reliable Technology For Security
The objective of motion detective lights is to strengthen the indoor and outdoor security. the technology has been effective in protecting the specific area by detecting motion. Criminals, suspicious people, thiefs can be catched as the lights sends alerts to people. Also the wild animals, snakes can also be detected and prevented from entering in the area. Sensitive places such as offices of security forces, heritage places, banks can be protected with the technology. The alert system restricts people from entering in the area. Due to its reliability, the demand for the technology has been increased.
Adoption By Different Industries
The rapid growing automotive industry has opened the doors of growth for motion detector lights. These lights are used for automated features such as automatic headlights on at evening, rain sensing wipers, door unlock alert. Now-a-days the advanced driver assistance system is also based on motion sensors for several features. The expanding infrastructure industry boosted the motion detector lights as the motion sensors are used for parking lights, security gates closure and opening, and smart home appliance too. The ambient lights are getting adopted by consumers which are based on motion detector lights. Also these lights are energy efficient and reliable which adds value to the product. These key factors are expected to drive the industry further.
Market Restraints
Higher Installation Cost and Shorter Lifespan
The motion detector lights are much useful for important purposes including security, however it comes with huge initial cost. LEDs used in the lights are of higher cost, moreover the more brighter the light the higher the cost of product. The number of modes come along with the lights also plays role in product cost. Higher modes included in the lights bumps the price of product. If the lights triggers frequently the lifespan reduced to much extent as it degrades the circuit. These negatives are affecting the demand of motion detector lights market, preventing its common adoption.
Market Opportunities
Expanding Allied Industries Can Boost The Market
The industries using the motion detector lights are expanding rapidly with technology become advanced. Electronics industry is witnessing rapid development in the lights segment. From regular lights to ambient lights the progress has been immersive, and the motion sensor light can become alternative to regular lights as they are very energy efficient. Growing popularity of smart home concept can drive this market further. Automotive sector has included the technology for some of the core functions, further they are expected to add it for driver assistance system. The healthcare industry is also expected to add technology for assistance on security and convenience. With these industries growth, the market for motion detector lights will boost further.
Market Scope
Report Metric
Details
Market Size by 2031
USD XX Million/Billion
Market Size in 2023
USD XX Million/Billion
Market Size in 2022
USD XX Million/Billion
Historical Data
2019-2021
Base Year
2022
Forecast Period
2023-2031
Report Coverage
Revenue Forecast, Competitive Landscape, Growth Factors, Environment & Regulatory Landscape and Trends
Segments Covered

Segment by Type

Passive Infrared sensors
Vibration sensors

Segment by Application

Residential
Commercial

Geographies Covered

North America
Europe
APAC
Middle East and Africa
LATAM

Companies Profiles

Senisova
LG
ABB
OSRAM
Siemens
Panasonic
GE
Segmental Analysis
Segment By Type
Passive Infrared (PIR) sensors are the most widely used type of sensors in motion detector lights. These sensors detect body heat radiation emitted by humans and animals, making them highly effective in detecting motion. They are commonly used in indoor and outdoor lighting applications such as homes, offices, warehouses, and public areas.
Vibration sensors are used in motion detector lights that are designed to detect movement based on vibrations. These sensors are used in high-security areas such as banks, ATMs, and government facilities. They are also used in outdoor lighting applications such as parking lots and outdoor stairways.
Segment By Application
The motion detector lights are used for security and smart home lighting purpose.
At commercial spaces, motion detector lights are used for parking, security purposes and to protect sensitive places.
Regional Analysis
The Global Motion Detector Lights Market is segmented by region as North America, Europe, Asia Pacific, Latin America, and Middle East and Africa.
North America
North America is the bigger contributor of motion detector lights markets as the region is most developed in all areas and the people in the region prefers innovation for daily life for easy living. Instead of regular lights people are opting for motion sensing lights due to their easiness to handle, being energy efficient and biggest advantage of providing safety by detecting the activities. Also the market leaders are also belongs to this region has added scope of development for the market. Further people in the region are relaying on automation in general things fueling the market. Since the region has been faster for technology adoption compared to others, it is expected that the market will add significant growth here.
Europe
Europe has been consistent in adopting new technologies since the region prefers reducing manual work by replacing automation. Since the smart home concept has been driving in Europe motion detecting lights becomes part of daily life. People are preferring the lights for outdoor security due to its benefit of keeping criminals, wild animals away from entering homes. They are also using the technology for indoor rooms which are less used in daily life. The security purpose and smart home concept are key drivers for growth of the market in the region.
Asia Pacific
Asia Pacific is region of growth, countries like India, China and Japan are adopting new and updated technologies with pace. Rise of disposable income among the population, interest in automation of things are driving the market in the region. The automotive, electric industries are progressing in the region as India, China and Japan are countries leading in the research and development. With the positive market trends of growth the region is expected to lead the motion detector lights in coming years.
Middle East and Africa
The Middle East and Africa region has been reluctant in adopting new technologies. Countries in the region are facing multiple issues including instability, least development in key areas. Motion detector lights having applications including security, convenience in everyday life can improve the product reach across the region. Security issues are very concerning in Middle East can pave the way for market. in coming years, the region is expected to grow moderately.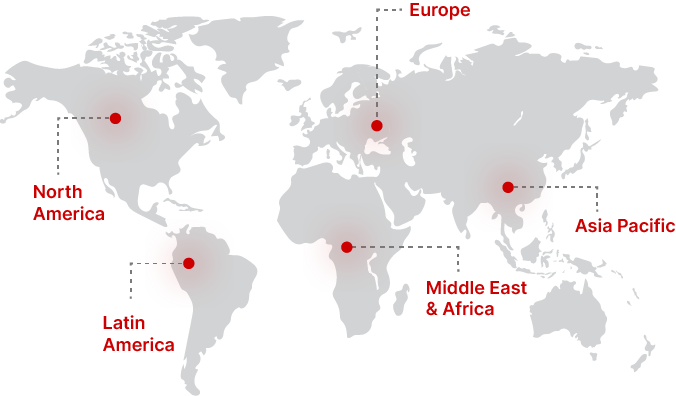 Regional Growth Insights
Download Free Sample
Key Players
Senisova
ABB
OSRAM
Siemens
Panasonic
GE
Recent Developments
Jan 2023- Securam, the leading company in the wall smart entry locks announced that the company is entering in motion detecting lights market a product range of in-wall smart lighting controls, Wi-Fi-based on/off switches and dimmers with features including laser-based motion detection and ambient light detection.
Apr 2022- InnoSenT GmbH, one of the market leader engaging in development of radar sensors launched IMD- 2022, new radar sensor for motion detection. This radar sensor can locate object by measuring distance and angle.
Motion Detector Lights Market Segmentations
Segment by Type
Passive Infrared sensors
Vibration sensors
Segment by Application
Frequently Asked Questions