Market Overview
The Global Nicotinamide Beauty Products Market Size is projected to register a CAGR of approximately 8.6% during the forecast period.
Nicotinamide is water-soluble form of Vitamin B3. It is also known as niacinamide. Niacin is the generic name for nicotinic acid (pyridine-3-carboxylic acid), nicotinamide (niacinamide or pyridine-3-carboxamide). Nicotinamide is found naturally in some foods, added to foods, and sold as a supplement. Nicotinamide supplements are used to treat skin conditions and niacin deficiency. Nicotinamide is also made in the body by eating niacin-rich foods such as fish, chicken, nuts, legumes, eggs, and grains. Niacin is not just a vitamin, it also acts as a coenzyme in the body, and more than 400 enzymes depend on it for various functions.
A major function of niacin is to help the body convert nutrients into energy, create cholesterol and fat, repair the DNA and act as an antioxidant. Nicotinamide is often used for the treatment of a range of dermatological conditions, including autoimmune blistering disorders, acne, rosacea, ageing skin and atopic dermatitis. The recent studies have also shown it to be a potential agent for reducing occurrence of rough scaly patches, pellagra, acne and preventing skin cancers.
Market Dynamics
Global Nicotinamide Beauty Products Market Drivers
Rise In E-commerce Sales and Demand For Natural Materials
There is trend of online shopping for consumer goods across globe. Customers spend a lot of time learning more about products and their reviews before buying beauty care products. During pandemic, the global e-commerce has grown due to necessity. Many beauties and personal care brand made significant presence in online channels. The e-commerce shares around 20% of beauty and personal care market's revenue. The ecommerce platforms Amazon, Alibaba and JD.com are major players in the sector and are expected to grow faster than the dominant retailers such as Walmart, Walgreens Boots Alliance and CVS Health in the forecast period. In addition to it, consumers are more health-conscious than ever before. Nicotinamide is a natural substance. The growing awareness of consumers about natural and organic materials for beauty and personal care products and the desire of cosmetic companies to replace synthetic ingredients with natural variants are the most important factors for Nicotinamide growth.
Global Nicotinamide Beauty Products Market Restraints
It has some side effects and can actually cause skin irritation with sensitive skin people. It may cause Nausea, vomiting, Headache, Fatigue, dizziness, Liver toxicity and Increased risk for low platelets. The cause of the side effects when taking niacinamide is due to use in high concentrations. The possible side effects and consequences of excessive nicotinamide exposure are being reviewed. It might have a role in the development of diabetes, Parkinson's disease, and liver damage.
Competition in the nicotinamide beauty care market is very intense with a strong presence of regional and global players whose demand is primarily driven by adaptation to skin care routines and consumer awareness of brand awareness. There are alternatives of nicotinamide are available such as bakuchiol extract, rosehip seed oil, or a face acid. These are also used for skin-based treatment and care which can limit the demand of nicotinamide beauty market to a certain extent.
Legal and Regulatory Compliances
The Nicotinamide beauty market operates in a very stringent regulatory compliance. Legal and regulatory compliances are very high in developed countries of North America and Europe regions whereas it is low in developing countries of Asia-Pacific, Latin America, and Middle East regions. It is high in Developed countries due to strong research about beauty and personal care products. The legal and regulatory restrictions prohibit the marketing of adulterated or misbranded cosmetics in interstate commerce.
Piracy of Beauty Products
Due to presence of large number of regional players in the beauty market in underdeveloped countries of Asia-pacific, Latin America and middle east and Africa regions, there is piracy or proliferation of duplicate products of well-established brands in the market through offline channels. It leads to fall in revenue of beauty and personal care brands. It will eventually hurt the sales of nicotine beauty care market.
Global Nicotinamide Beauty Products Market Opportunities
Power of Social Connection
The number of people who use social media platforms like Facebook, Instagram, and YouTube has grown steadily over the last two decades. They began creating content for these platforms, which led to the emergence of social media influencers. social media influencers have strong impact on consumer behavior. They create content for many global, regional and local brands by very deep analysis. Social media platforms are also filled with user generated content, such as reviews, ratings, and testimonials. Consumers are more likely to trust the opinions of their peers than they are to trust traditional advertising, so this social proof can be a powerful tool for influencing consumer behavior have significant impact on growth of Nicotinamide Beauty Care Market.
Demand For Sustainable Products
Since the pandemic, every platform, pressure group, and intellectual on social media has been advocating the use of green and sustainable products with less energy wastage and carbon footprint. Companies engaged in Nicotinamide Beauty Market are now using innovative ways to use sustainable solutions from manufacturing to delivery to its end customers. Furthermore, the customers of beauty care products are loyal to their brands. If brand provides constant utility to their customer, it has an opportunity to make significant Prescence in market. It is same with the nicotinamide Beauty care products.
Market Scope
Report Metric
Details
Market Size by 2031
USD XX Million/Billion
Market Size in 2023
USD XX Million/Billion
Market Size in 2022
USD XX Million/Billion
Historical Data
2019-2021
Base Year
2022
Forecast Period
2023-2031
Report Coverage
Revenue Forecast, Competitive Landscape, Growth Factors, Environment & Regulatory Landscape and Trends
Segments Covered

Segmentation by Type

Facial Care Products
Body Care Products

Segmentation by Application

Beauty Salons
Specialty Stores
Online Channels

Geographies Covered

North America
Europe
APAC
Middle East and Africa
LATAM

Companies Profiles

L'ORÉAL S.A.
UNILEVER
SHISEIDO COMPANY
THE ESTÉE LAUDER COMPANIES INC
P&G
CHRISTIAN DIOR SE
JOHNSON & JOHNSON
MESOESTETIC
GROUPE CLARINS SA
PAULA'S CHOICE
KOSE
Segmental Analysis
Segmentation By Type
Nicotinamide Beauty care product is primarily used for facial skin care and treatment of acne, ageing skins.
Nicotinamide Beauty Products are used to prevent and treat niacin deficiency, pellagra, and atopic dermatitis.
Segmentation By Application
It is primarily available and sold through beauty salons around the world.
There are some specialty stores dedicated to treat skin problems such as acne, atopic dermatitis and pellagra.
Presently, the beauty care products are sold through e-commerce platforms.
Regional Analysis
The Global Nicotinamide Beauty Products Market is segmented by region as North America, Europe, Asia Pacific, Latin America, and Middle East and Africa.
North America
In North America, US has a strong dominance in beauty and personal care market. The most revenue of beauty and personal care market is generated in this region. However, FDA approval may have a challenge for new products made from nicotinamide or other beauty care products. Moreover, any ban by FDA may lead to decrease the sales figure of Nicotinamide Beauty Market in this region.
Europe
The Demand for natural ingredients from the Europe region is increasing. However, a niacin deficiency is rare in the industrialized countries because it is well-absorbed from most foods with the exception of some cereal grains in which niacin is bound to its fibers, decreasing the absorption and is added to many foods and multivitamins.
Asia Pacific
In Asia-Pacific, China is the most dominant country and second in world after US in global beauty Market. Japan and South Korea is disrupting beauty markets globally, encompassing industry-leading innovations and trends. The hair coloring, nail care, and skin care are among the factors widening the market scope in this country. The Beauty and Personal care market is also growing in India. The India Retail and E-Commerce Trends revealed that the beauty and personal care market continues to grow strongly in digital platforms.
Latin America
In the Latin America, The growing demand for natural/organic, herbal, and innovative and eco-friendly packaging designs are attributed to the market growth in the country. Moreover, harsh climatic conditions, poor water quality, and increased focus on personal wellbeing are factors driving the need for increasingly sophisticated beauty and personal care routines and regular treatments. The trend of social media influencers showcasing their beauty regimens has been on the rise over the past few years, and both local and international beauty companies have been paying to influencers to increase their brand awareness and reach potential consumers.
Middle East and Africa
In Middle East, Saudi Arabia and UAE are the one of the prominent markets for beauty care products in the Middle East and Africa. Consumers in the country tend to spend substantially on their personal appearance, thereby, supplementing the growth of the cosmetic and fragrances market in the country. A growing number of self-conscious users, penetration of organized retail channels, growth in the aging population, and increased demand for male grooming products are a few factors that boosted the growth of the market. The contribution of the cosmetics and personal care industry leading to growth of Nicotinamide Beauty market the Middle east region.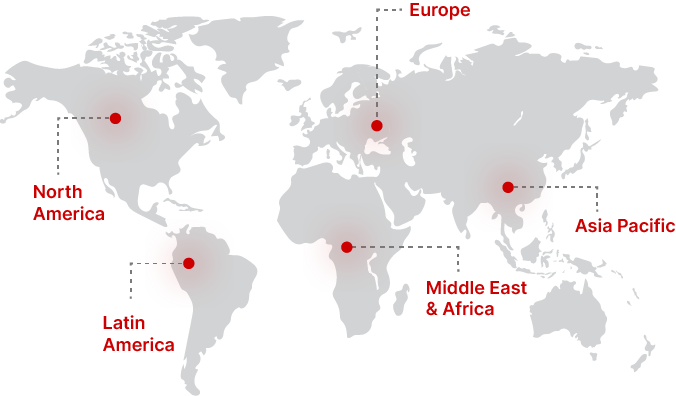 Regional Growth Insights
Download Free Sample
Key Players
L'ORÉAL S.A.
SHISEIDO COMPANY
THE ESTÉE LAUDER COMPANIES INC
P&G
CHRISTIAN DIOR SE
JOHNSON & JOHNSON
MESOESTETIC
GROUPE CLARINS SA
PAULA'S CHOICE
KOSE
Recent Developments
In 2023, P&G skincare brand OLAY announces new "powerhouse" moisturizer product following vigorous research and testing in response to increased consumer demand. It is enriched with combination of niacinamide and amino acid peptides.
Nicotinamide Beauty Products Market Segmentations
Segmentation by Type
Facial Care Products
Body Care Products
Segmentation by Application
Beauty Salons
Specialty Stores
Online Channels
Frequently Asked Questions