Market Overview
According to Reed Intelligence the Global Noise Measuring Equipment Market Size will approximately grow at a CAGR of 5.3% during the forecast period.
To measure and quantify the amounts of noise present in various applications, noise measuring equipment, also known as sound level meters or noise meters, is typically utilized. These devices have wide applications in research, industrial, occupational, and outdoor settings. To ensure that individuals are healthy and that manufacturers are in accordance with rules, they play an essential part in evaluating and managing noise exposure. Noise measuring equipment helps to identify excessive noise, put in place suitable control measures, and evaluate the performance of noise reduction initiatives by giving precise measurements of sound levels. This is accomplished by providing accurate readings of sound pressure levels.
Here Are Some Popular Types Of Equipment Used To Measure Noise:
A handheld device that records sound pressure levels (SPL) in decibels (dB). Most SLMs have a microphone, a preamplifier, filters, and a digital screen. They measure sound levels in real time and can often figure out things like maximum sound levels (LAEq), A-weighted sound levels (dBA), and maximum sound levels (Lmax).
People wear such devices to measure how much noise they are exposed to over time. Usually, they have a microphone, filters, and a way to store data in memory. Personal noise dosimeters are often used in the workplace to measure noise exposure and ensure that rules are followed.
Environmental Noise Monitor
These are either fixed or semi-permanent noise monitoring systems used to measure and study noise levels in certain places over a long period. They usually have more than one microphone, a waterproof case, a data logger, and data analysis tools. Environmental noise monitors can study noise pollution in neighborhoods, check if noise laws are being followed, and do impact assessments.
An RTA is a special device for analyzing sounds in detail in real-time. It can show the sound levels in different frequency bands simultaneously, giving a visual representation of the sound spectrum.
Market Dynamics
Market Drivers
Increasing Awareness of Noise Pollution
As more people learn how noise can hurt our health and well-being, there is a bigger need for tools to measure noise. We now know that too much noise can lead to stress, trouble sleeping, loss of hearing, and other health problems. People, groups, and governments are starting to understand how important it is to keep noise levels down. They want to find out how loud it is around them to ensure it is safe. People want tools to help them track and control noise pollution for a healthier and more peaceful atmosphere.
Market Restraints
High Cost of the Equipment
The main problem is that noise measuring equipment market can be expensive, especially if it is high-tech and accurate. This means that small businesses, research institutions, and people with small budgets might be unable to buy them. Not only is it expensive to buy the equipment, but also to maintain and keep it in good working condition. Because of these expensive costs, many people and groups might not be able to buy the tools they need to measure noise levels. This makes it harder for people to get their hands on noise-measuring equipment, and slows market growth.
Market Opportunities
Rules and Regulations Regarding Harmful Noise
Harmonizing noise standards and laws across countries and places make it easier to measure and control noise uniformly. This makes the global market for noise-measuring tools easier and lets companies make goods that meet international standards and can be used in many countries.
Market Scope
Report Metric
Details
Market Size by 2031
USD XX Million/Billion
Market Size in 2023
USD XX Million/Billion
Market Size in 2022
USD XX Million/Billion
Historical Data
2019-2021
Base Year
2022
Forecast Period
2023-2031
Report Coverage
Revenue Forecast, Competitive Landscape, Growth Factors, Environment & Regulatory Landscape and Trends
Segments Covered

Segment by Type

Ordinary Sound Level Meter
Precision Sound Level Meter

Segment by Application

Factories and Enterprises
Environmental and Protection
Transportation Industry
Scientific Research Field

Geographies Covered

North America
Europe
APAC
Middle East and Africa
LATAM

Companies Profiles

Cirrus
3M
Norsonic
RION
SVANTEK
Casella
Larson Davis


Segmental Analysis
Segment by Type
Ordinary Sound Level Meter
An ordinary sound level meter is a basic device used to measure sound levels in general. It delivers a measurement in decibels (dB) of how loud the sound is. Most of the time, these meters are used to measure the amount of noise in places like workplaces, public spaces, and residential areas. They are portable, easy to use, and ideal for basic noise monitoring and compliance assessments.
Precision Sound Level Meter
Precision sound level meters are more accurate and advanced tools for measuring noise in an exact and thorough way. They are made to meet stricter requirements and provide more accurate results than regular sound level meters. Many precision meters have extra features like frequency analysis, time-weighting options, and the ability to log data. They are often used in specialized uses where accurate noise measurements are needed, such as acoustic research, environmental effect examinations, and industrial noise control.
Segment by Application
Factories and Enterprises
This segment includes noise measurement equipment utilized in workplaces such as manufacturing plants, factories, and industrial facilities. These meters assist in measuring and monitoring the noise levels produced by machinery, equipment, and production processes. Frequently, the equipment is used to comply with occupational health and safety regulations and to implement noise control measures that protect employees' hearing health.
Environmental and Protection
This segment involves the use of noise measurement equipment for environmental noise monitoring and protection. It includes applications such as noise monitoring near residential areas, schools, hospitals, and other sensitive locations in order to ensure compliance with noise regulations and maintain the quality of life for adjacent communities. Noise meters are also utilized for assessing the environmental impact of construction projects, urban planning, and infrastructure development.
This segment focuses on noise measuring instruments used in the transportation industry, such as road traffic, railways, airports, and ports. These meters help in evaluating and reducing noise pollution caused by automobiles, airplanes, railroads, and other forms of transportation. They are used for noise monitoring at critical locations, evaluating the efficacy of noise barriers, and employing noise reduction measures to reduce the impact on communities nearby.
Scientific Research Field
This segment focuses on noise measurement equipment utilized in scientific research, academic studies, and laboratories. Using these meters, researchers examine the impacts of noise on human health, wildlife, and ecosystems. For complete frequency analysis and advanced research applications, they may also utilize specialized noise measuring equipment, such as octave band analyzers or real-time frequency analyzers.
Regional Analysis
North America
In these industries, tools and other equipment make noise when they work. Too much noise can hurt workers' health and cause problems with following the law. Companies need to keep an eye on and control the noise levels in their facilities to make sure workers are safe and follow the rules. This is where noise measuring tools come in useful. It helps companies figure out how loud their machines are and ensure they stay within safe limits. This equipment is always in demand because it lets companies measure and control noise levels in a way that keeps workers safe and makes sure their operations follow the rules.
Europe
European countries emphasize on research and innovation, particularly in industries like acoustic and environmental science. This drives the need for high-tech equipment to measure noise and help with study, data gathering, and analysis. European companies are leading the way in developing innovative technologies for measuring noise. These improvements ensure that the market has access to specialized equipment that meets the changing needs of researchers and scientists. This lets them collect accurate data and learn more about noise-related events.
Asia Pacific
Metropolitan cities in India, such as Mumbai, Pune, Delhi, Kolkata, and Chennai, have large populations and face major traffic problems. There are a lot of cars on the roads in these towns, which causes heavy traffic and long wait times for personnel. The overcrowding is made worse by the high population density, which causes traffic jams and air pollution. There is a strong need for effective traffic control methods to deal with these problems. This includes using technologies like intelligent transportation systems to monitor traffic, improve how signs work, and make traffic move better in these places. To ensure environmental safety, this equipment are employed to detect the noise of the honks.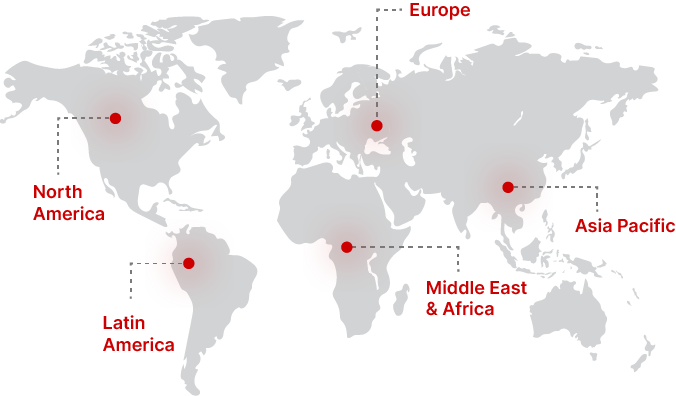 Regional Growth Insights
Download Free Sample
Key Players
Cirrus
3M
Norsonic
RION
Casella
Larson Davis


Noise Measuring Equipment Market Segmentations
Segment by Type
Ordinary Sound Level Meter
Precision Sound Level Meter
Segment by Application
Factories and Enterprises
Environmental and Protection
Transportation Industry
Scientific Research Field
Frequently Asked Questions