Market Overview
The Global Non-Dairy Creamer Powder Market Size is expected to grow at a CAGR of approximately around 7.5% during the forecast period of 2023-2031.
A non-dairy creamer, also known as tea whitener or coffee whitener, is a commercially available product designed to serve as a substitute for milk or cream when added to beverages such as tea or coffee. It is available in both liquid and granular forms. The increasing prevalence of the dairy-free movement the observed trend has led to a notable alteration in consumer preferences. towards non-dairy alternatives. The demand for lactose-free, gluten-free, and non-GMO products is notably high among consumers who prefer plant-based creamers. The increasing consumer demand for low-fat non-dairy alternatives, including milk, yoghurt, and cream, has created a favorable market environment for plant-based creamer manufacturers. This trend has enabled these manufacturers to introduce a range of based on plants creamer products that not only cater to the low-fat preference but also offer additional benefits such as being non-GMO and lactose-free.
Market Dynamics
Market Drivers
Demand For Dairy-Free and Vegan Foods on the Rise
According to prevailing perceptions, plant-based diets are commonly regarded as being more healthful in comparison to diets that incorporate dairy products. The rationale behind the preference for plant-based diets lies in their inherent characteristics, which tend to be lesser in cholesterol and saturated fat content. Additionally, these diets are frequently rich in dietary fiber and various essential nutrients. The trend of veganism has been experiencing a notable surge in popularity in recent years. The exponential growth in the population of individuals adhering to a vegan lifestyle has resulted in a notable surge in the demand for food products that are devoid of dairy and derived from plant-based sources.
Demand for Dairy Alternatives and Disposable Income to Rise
The consumption of plant-based milk alternatives, including soy milk, almond milk, and coconut milk, has witnessed a notable surge in popularity in recent years. The utilization of milk alternatives is frequently observed in the formulation of non-dairy creamer powders. These alternatives serve as commendable sources of both protein and fiber. The rising disposable income in nations that are developing has garnered significant attention in recent years. This trend is characterized by a notable surge in the amount of income available to individuals and households after deducting taxes and necessary expenses. The factors contributing to this upward trajectory are multifaceted and The upward trajectory of disposable income in nations that are developing has been a catalyst for a notable surge in consumer expenditure on premium food products, including non-dairy creamers.
Market Restraints
Competition From Dairy-Free Alternatives and Public Perception
There exists a prevailing consumer sentiment that non-dairy creamers are perceived unfavorably due to concerns regarding their perceived inferior health benefits when compared to traditional dairy cream. Additionally, it is important to note that this factor may pose as a limitation for certain individuals within the consumer base. The dairy industry is currently facing a growing level of competition from various alternative products, including almond milk, soy milk, and coconut milk. The perceived health benefits associated with these alternatives have led to their increasing popularity, potentially posing a challenge to the expansion of the non-dairy creamer powder market.
Market Opportunities
Increase In Flavor Variety and Development of Novel Applications For New Markets
Develop innovative flavors that can be enjoyed by a wider variety of customers. For instance, market participants may design flavors that are influenced by different cuisines, such as chai lattes or matcha. These flavors could then be marketed to consumers. Develop tastes that cater to specific dietary demands, such as those that require less sugar, less fat, or less calories.The growing demand for dairy-free goods, the increasing popularity of coffee, and the expanding uses of non-dairy creamer powders are likely to be the primary drivers of the market over the next few years. These are the trends that are expected to contribute to this market's quick expansion over the course of the projected period.
Market Scope
Report Metric
Details
Market Size by 2031
USD XX Million/Billion
Market Size in 2023
USD XX Million/Billion
Market Size in 2022
USD XX Million/Billion
Historical Data
2019-2021
Base Year
2022
Forecast Period
2023-2031
Report Coverage
Revenue Forecast, Competitive Landscape, Growth Factors, Environment & Regulatory Landscape and Trends
Segments Covered

Segment by Type

Original
Light
Fat-free

Segment by Application

Soups and Sauces
Beverage Mixes
Bakery Products and Ice Creams

Geographies Covered

North America
Europe
APAC
Middle East and Africa
LATAM

Companies Profiles

Almer Malaysia Sdn. Bhd.
Stancodex Pvt. Ltd.
PT Santos Premium Krimer
Korn Thai Co. Ltd.
Nestlé S.A.
Fujian Jumbo Grand Food Co Ltd.
Balchem Corporation
Compact Industries
DreamPak LLC
TreeHouse Foods
Cremio JSC
Segmental Analysis
Segment by Type
The non-dairy creamer powder is a powdered product derived from milk alternatives, specifically formulated to serve as a substitute for cow's milk in various culinary applications. The product under consideration exhibits a discernible hint of sweetness and is conveniently offered both in light and dark iterations. According to our analysis, certain individuals may perceive this alternative creamer as more easily digestible compared to conventional dairy creamer. Additionally, it is worth noting that this product aligns with dietary preferences such as veganism, gluten-free diets, soy-free diets, and sugar-free diets.
Light is a phenomenon characterized by the absence of color, odor, and taste, and is composed of organic compounds in a powdered form. Artificial flavouring agents find extensive application in the food industry, including ice creams, baked goods, and confectioneries, where they serve as a means to enhance the taste and aroma of these products. Light is widely utilized in various applications within the food industry, primarily to enhance the sensory experience and visual appeal of food products. One notable application involves the use of light to impart a sweet taste without the need to increase the fat or sugar content. This technique allows for the creation of healthier food options while still providing a desirable flavor profile. Additionally, light is employed to better the look and feel of food products by effectively mixing with other ingredients. This utilization of light contributes to the overall aesthetic appeal of the food, making it more visually appealing to consumers.
The fat-free non-dairy creamer powdered form is a powdered substance that serves as a substitute for dairy creamer in various beverages, including coffee and tea. The comparative analysis reveals several notable advantages of the alternative creamer in contrast to dairy creamer. These advantages encompass its vegan composition, gluten-free nature, and its commendably low calorie content. Moreover, this versatile ingredient exhibits the potential to be employed in the creation of both delectable confections and savory libations, contingent upon the specific formulation utilized.
Segment by Application
The utilization of non-dairy creamer powder in culinary applications presents a viable method for enhancing the consistency and imparting a creamy texture to various soups and sauces. Furthermore, it is worth noting that the utilization of this particular ingredient has demonstrated the potential to enhance both the taste and texture of said products. In certain instances, it has been observed that non-dairy creamer powder may serve as a viable alternative to dairy cream when incorporated into soups and sauces.
The utilization of non-dairy creamer powder in beverage mixes serves the purpose of enhancing both creaminess and sweetness. Furthermore, it is worth noting that this particular substance has the potential to enhance the solubility characteristics of said products. In certain instances, it has been observed that non-dairy creamer powder exhibits potential as a viable alternative to dairy cream within the context of beverage mixes.
Bakery Products and Ice Creams
The utilization of non-dairy creamer powder in baked goods and ice creams presents an opportunity to enhance the creaminess and richness of these culinary offerings. Furthermore, this versatile ingredient has the potential to enhance the overall appearance and mouthfeel of said products. In certain scenarios, it has been observed that non-dairy creamer powder may serve as a viable alternative to dairy cream in the context of baked goods and ice creams.
Regional Analysis
North America
The North America region is experiencing significant growth in the market for non-dairy creamers. This growth can be attributed to the rising prevalence of lactose intolerance and the increasing adoption of veganism. These factors are expected to drive the market's expansion in the foreseeable future. The prevalence of non-dairy powder creamer in this particular region can be attributed to its widespread popularity, primarily due to its ability to enhance the overall taste experience. Furthermore, the extensive range of available varieties and flavors further contributes to its appeal among consumers. Furthermore, it is worth noting that there is a discernible trend in the region towards the consumption of vegan and plant-based food products. The present analysis highlights the key factors contributing to the growth of the non-dairy powder creamer market within this specific region.
Europe
The European region exhibits a relatively limited market for dairy powder creamer due to the presence of stringent governmental regulations within this geographical area.Several countries in the European region, including the United Kingdom, Austria, Switzerland, Iceland, and Norway, have implemented bans on non-dairy powder creamers. These countries have taken this measure due to concerns regarding the presence of trans fats in these creamers, specifically hydrogenated soybean and cottonseed oils. Trans lipids have been linked to an increased risk of cardiovascular disease. The reason for the relatively small market size in this particular region can be attributed to several factors.
Asia-Pacific
The region under consideration exhibits a notable surge in demand for dairy-free powdered creamer, primarily driven by the East Asian countries. This trend can be attributed to the comparatively higher prevalence of lactose intolerance among the population in these nations. Consequently, the adoption of dairy-free alternatives has become increasingly prevalent in these markets. The phenomenon of urbanization is gaining traction in the region, accompanied by a rising trend in the popularity of new varieties of products with diverse flavors. The Asia-Pacific region is experiencing significant growth in the dairy-free powdered creamer market, driven by several key factors. These factors contribute to the region's favorable market conditions and are expected to continue supporting its rapid expansion throughout the forecasting period.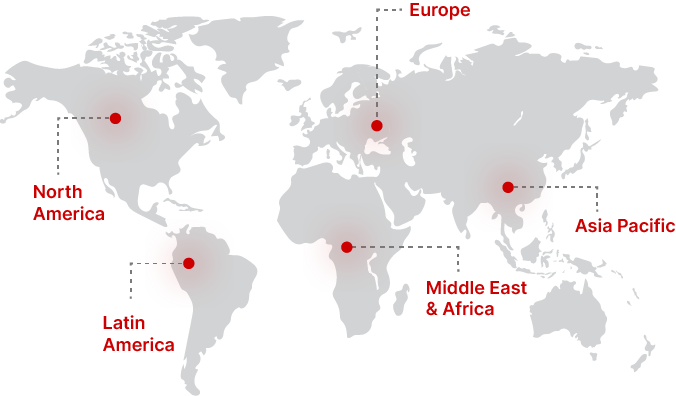 Regional Growth Insights
Download Free Sample
Key Players
Almer Malaysia Sdn. Bhd.
Stancodex Pvt. Ltd.
PT Santos Premium Krimer
Korn Thai Co. Ltd.
Fujian Jumbo Grand Food Co Ltd.
Balchem Corporation
Compact Industries
DreamPak LLC
TreeHouse Foods
Cremio JSC
Non-Dairy Creamer Powder Market Segmentations
Segment by Type
Segment by Application
Soups and Sauces
Beverage Mixes
Bakery Products and Ice Creams
Frequently Asked Questions