Market Overview
The Global Oil Storage Service Market Size is projected to grow at CAGR of approximately 3.27% during the forecast period.
Oil storage is part of the oil industry's midstream sector. Oil is first extracted upstream from companies that conduct exploration and production. Early storage tanks were made of wood and metal bands that formed enormous barrels. Storage tanks grew in size and capacity as technology evolved, allowing for safe oil storage. After extracting petroleum products, the midstream sector is responsible for transportation, storage, and wholesale selling. Oil storage is a method of collecting products before they are transferred downstream to refineries and merchants. Downstream companies may also employ storage tanks to collect oil for further processing and marketing.
Oil storage containers vary in size and design. Businesses use oil storage as a strategic strategy to maximize returns worldwide. These businesses often provide services like tank rental, pipeline transportation, and terminal operations. Companies can buy low prices and then sell oil when prices climb. A 'contango' in the oil market is a situation in which people are believed to be prepared to pay more in the future than they are now. The market for oil storage services is very competitive, with several companies offering storage solutions to the oil and gas industry. Several factors, including crude oil and refined petroleum product supply and demand, geopolitical events, and global economic conditions, influence the market for oil storage services. The oil storage service market is essential to the oil and gas industry and an important part of the global economy. The worldwide oil storage industry is driven principally by a continuous improvement in the energy situation and increased concern about fulfilling the demand for emergency crude oil supplies. As a result of increased import-export activity in the petroleum sector, the market is expanding, due to which the oil storage market is driving significantly.
Market Dynamics
Market Drivers
The growing need for crude oil supplies driving the oil storage service market
The growing need for crude oil supplies is anticipated to be a major factor in the expansion of the oil storage sector, which is driving the oil storage service market growth. Oil storage facilities store crude oil, petroleum, and many other oil products before their distribution to final users. The rising use of crude oil products like gasoline, oil, and other forms of fuel is mostly responsible for the rise in the demand for crude oil supplies. The requirement for oil storage services will increase with the rising demand for crude oil.
Demand for petrochemical products, investments in refining capacity
Due to the increasing demand for various petrochemical products, refining throughput capacity investments have expanded dramatically. A few finished goods currently in high demand are butane, epoxy, and ethanol. This has increased attention on maintaining and developing the oil storage market. Increased utilization of these goods in various production processes facilitates the need for large-capacity oil terminals. More storage areas with a high safety index are needed due to increased refinery output. The prognosis for the market for oil storage services will benefit as a result.
Rising Logistics and transportation and the increasing investments
The Global Oil Storage Market is driven by the continuous increase in the energy outlook and a growing concern towards the fulfillment of emergency crude oil supply, which presents opportunities for growth and development. The increasing import-export activities within the petroleum industry are driving growth. Logistics and transportation play a crucial role in the oil and gas industry. It's exciting to see emerging trends like the increase in vacant SPR volumes and the enhanced R&D activities on Synthetic Natural Gas (SNG) technology. Also, the growing use of Liquefied natural gas (LNG) as a ship fuel and the increasing investments by institutional investors. These developments are sure to impact the overall Oil Storage Market positively.
Market Restraints
Proper maintenance is required. Otherwise, Microorganisms have the potential to grow
Proper maintenance of oil storage can prevent any issues caused by water accumulation during long-term storage. Microorganisms have the potential to grow at the interface between fuel and accumulated water, but with proper maintenance and care, sludge can be prevented. Although injector deposits and particulates are possible, proper maintenance and care can prevent filters or fuel injection system issues. Microbes can only grow in water, so if fuel is properly stored and kept dry, the risk of microbial contamination is low. Fuel degradation can be prevented by controlling microbial growth at the water/fuel interface.
Oil storage is hazardous to the environment
Oil is one of the most frequently reported sources of pollution, responsible for more than 15 percent of pollution incidents each year. It can harm vegetation, marine life, rivers, groundwater, soil, natural habitats, and water supplies. Storing oil or any other fuel in the workplace or at home poses a risk to the user and the environment: fuels are hazardous and highly flammable substances that can cause major problems if not handled properly, which will hamper the oil storage service market.
Government regulations that may hinder market demand will affect the oil storage service market. Different regulations apply depending on where and how much you store fuel and what you use the oil for. You may be served an anti-pollution works notice or prosecuted if you do not comply with these regulations; this will affect the oil storage market.
Market Opportunity
Gaining Popularity in Product Innovation
In the oil storage industry, product innovation is one of the most important trends quickly gaining popularity. The development of new goods is a primary focus of a significant number of businesses that are active in the oil storage sector. The development of new technologies, investments in the construction of new storage facilities, and the installation of additional pipes to increase the storage capacity of tanks are anticipated to provide huge opportunities. These businesses want to broaden their product offerings and bring in more money, so the oil storage service market will grow significantly.
Market Scope
Report Metric
Details
Market Size by 2031
USD XX Million/Billion
Market Size in 2023
USD XX Million/Billion
Market Size in 2022
USD XX Million/Billion
Historical Data
2019-2021
Base Year
2022
Forecast Period
2023-2031
Report Coverage
Revenue Forecast, Competitive Landscape, Growth Factors, Environment & Regulatory Landscape and Trends
Segments Covered

Segment by Type

Floating Roof Storage Tank
Fixed Roof Storage Tank
Temperature Control Tank
Spherical Tank

Segment by Application

Logistics/Hub Function
Trading Platform
Strategic Storage

Geographies Covered

North America
Europe
APAC
Middle East and Africa
LATAM

Companies Profiles

Alkion Terminals
Buckeye Partners LP
CIM-CCMP
CLH
Compañia Logistica de Hidrocarburos CLH, S.A.
EAPC
Euro Tank Terminal BV
HES International
Horizon Terminals Limited
Inter Terminals
International-Matex Tank Terminals LLC
Kinder Morgan, Inc.
Koninklijke Vopak N.V.
LBC Tank Terminals
Magellan Midstream Partners LP
Odfjell Group
Oiltanking
Vopak
VTTI
Segmental Analysis
Segment by Type
Floating Roof Storage Tank
Floating roofs float on top of a product in a storage tank, such as crude oil. As the product level fluctuates, the floating roof rises and falls to retain sliding contact with the tank wall. The objectives are to prevent or mitigate evaporation loss and maintain compliance with emissions regulations. Floating roofs are more expensive than conventional fixed roofs because they are typically installed alongside fixed roofs
Fixed roof tanks are basic storage containers that take the shape of cylinders and have roofs that are either flat or, more frequently, shallowly conical and are welded to the shell. Atmospheric storage tanks are frequently used for warehousing huge quantities of petroleum distillates, petrochemicals, and several other types of liquid chemicals.
A temperature control tank is a special kind utilized in various industries, including the food and beverage, pharmaceutical, and chemical industries, to keep the temperature of the tank's contents within a predetermined temperature range. A thermostat or one of several alternative temperature control devices, such as a thermocouple or an RTD (Resistance Temperature Detector) sensor, may be used to regulate the temperature of this system.
Spherical containers are great for storing various liquids and pressurized gases, including ammonia, propylene, LPG, butadiene, and more, even below room temperature. Most (or many) spheres can work at temperatures as low as -50°C (-58°F). Gases are kept under pressure and at a temperature lower than the point at which they turn into liquids. The main benefit of a spherical shape is that storing pressurized gases won't cause too much stress to build up in one place. Instead, the stress resistance will be the same over the whole area
Segment by Application
A logistics hub is a highly efficient and strategic location that serves as a central point for logistics operations, providing easy access to transportation and resources in the surrounding area. A hub is a great opportunity for several companies to come together and benefit from each other's tasks related to the flow of goods.
Several trading platforms currently serve the market for oil storage services. The websites TankTrader, StorageMart, TankTerminals, OilX, and TankBroker are a few examples. These platforms bring together buyers and sellers of storage capacity and provide users with the tools and data necessary to assist them in making educated choices regarding trading and storage.
The term "strategic storage" refers to storing non-liquefied natural gas that is subject to public authority approval for release, cannot be sold on the market, and is only released in the event of supply scarcity, a disruption in supply, or an emergency.
Regional Analysis
The Global Oil Storage Service Market is segmented by region as North America, Europe, Asia Pacific, Latin America, and Middle East and Africa.
North America
The oil storage market in North America was the largest regional segment overall In 2022. In the oil business, oil storage falls under the midstream category of activities. The primary factors projected to drive the market during the forecast period are rising oil output and a growing need for large storage capacities. Additionally, expanding government programs for the storage of oil to protect the national economy during times of energy crisis and to minimize the emissions of greenhouse gases (GHG) are projected to fuel the expansion of the market. This is expected to be a major driver of the market.
Asia Pacific
The oil storage service market is driving in the Asian region, and increasing expenditures in refining all over Asia-Pacific countries are expected to result in the construction of upgradation units. These units improve the productivity of middle distillates, boosting the growth of the storage service market for these products. Gasoline, used as a fuel for automobiles due to the high energy it provides during burning, is predicted to be the product category with the highest growth rate. Construction, forestry, landscaping, and agricultural equipment all use it in one way or another. On the other hand, an increasing number of electric vehicles (EVs) will likely impede the market's growth soon. It is expected that the expanding demand for oil and gas from key economies in the Asia Pacific area, such as China and India, and rising investments in offshore and onshore operations, will drive the industry across the region, boosting the market.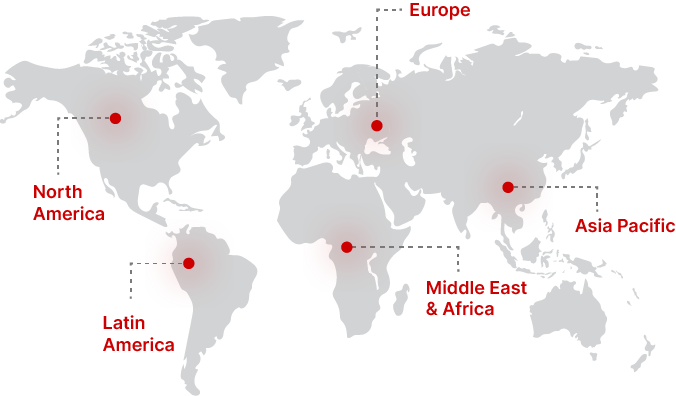 Regional Growth Insights
Download Free Sample
Key Players
Buckeye Partners LP
CIM-CCMP
CLH
Compañia Logistica de Hidrocarburos CLH, S.A.
EAPC
Euro Tank Terminal BV
HES International
Horizon Terminals Limited
Inter Terminals
International-Matex Tank Terminals LLC
Kinder Morgan, Inc.
Koninklijke Vopak N.V.
LBC Tank Terminals
Magellan Midstream Partners LP
Odfjell Group
Oiltanking
Vopak
VTTI
Oil Storage Service Market Segmentations
Segment by Type
Floating Roof Storage Tank
Fixed Roof Storage Tank
Temperature Control Tank
Spherical Tank
Segment by Application
Logistics/Hub Function
Trading Platform
Strategic Storage
Frequently Asked Questions