Market Overview
According to Reed Intelligence the Organic Halal Food Market Size will approximately grow at a CAGR of 8.3% during the forecast period.
Halal foods connect to the laws and principles of Islamic dietary guidelines. They must be free from specific substances, ingredients, and processing or preparation practices. On the other hand, organic foods are produced and processed without synthetic pesticides, antibiotics, hormones, and genetic engineering. Although halal and organic foods have similarities, important distinctions greatly affect the nutritional value and overall quality of the food. Halal food is known as organic because it uses natural ingredients without harmful chemicals. Halal foods are typically prepared using fresh, locally sourced ingredients and are completely devoid of animal by-products. Halal foods may, in certain instances, also possess organic certification. This indicates that all the ingredients used in their production are cultivated without synthetic fertilizers, pesticides, or other chemical-based substances.
Market Dynamics
Market Drivers
The Growing Global Muslim Population
Muslim consumers are a significant driving force behind the demand for halal food, as it holds great importance in the Islamic faith. In addition, the increasing popularity of health consciousness and clean eating is prompting a growing number of consumers, including both Muslims and non-Muslims, to search for organic food products actively. The increasing popularity of ethical consumerism has attracted Muslim and non-Muslim consumers toward halal brands and products. This shift can be attributed to various factors, including diseases and food security concerns, which have led to a growing demand for healthier options. The demand for organic halal food is being fueled by the combination of these two trends.
Market Restraints
Conflicts and Controversy Regarding Halal Food
Halal meat is important in the Muslim faith, as it is considered an essential component. Advocates of halal meat argue that traditional Islamic slaughter practices are humane. However, there is a significant argument among animal rights campaigners who contend that religious slaughter results in unnecessary suffering for animals and, therefore, should be prohibited. Halal food has always been a part of the discussion. Animal rights activists have been the driving force behind the argument in certain cases. In other cases, the debate revolves around the perceived quality of the meat. And frequently, beneath it all lie fundamental questions about one's identity and sense of belonging. This creates a lot of confusion in consumers' minds affecting the sales volume of the organic halal food market.
Market Opportunities
The Growing Trend Toward Vegetarian Food Products
According to Halal law, all vegetarian food is considered halal. But, nowadays, the halal concept is also expanding to vegetarian products. A product or food is classified as halal if it is free from non-halal meat or its derivatives. Additionally, the product must be prepared, processed, stored, and transported in accordance with strict halal laws. It is important to ensure that it is kept separate from non-halal foods. Many companies have chosen to launch their products with halal certification, which is seen as a mark of quality. Also, the increasing health consciousness among consumers and the growing demand for organic and halal-certified products are driving this market.
Market Scope
Report Metric
Details
Market Size by 2031
USD XX Million/Billion
Market Size in 2023
USD XX Million/Billion
Market Size in 2022
USD XX Million/Billion
Historical Data
2019-2021
Base Year
2022
Forecast Period
2023-2031
Report Coverage
Revenue Forecast, Competitive Landscape, Growth Factors, Environment & Regulatory Landscape and Trends
Segments Covered

Segmentation By Type

Frozen Salty Products
Processed Products

Segmentation By Application

Restaurant
Hotel
Home

Geographies Covered

North America
Europe
APAC
Middle East and Africa
LATAM

Companies Profiles

Nestle
Cargill
Nema Food Company
Midamar
Namet Gida
Banvit Meat and Poultry
Carrefour
Isla Delice
Casino
Segmental Analysis
Segmentation By Type
There is a wide variety of organic halal food available in frozen salty products, including vegetables, seafood, snacks, and more which adds healthy, nutrient-rich food to the diet. Additionally, they provide a convenient solution for families with busy schedules.
There is a wide variety of organic halal processed foods, such as pasta, rice, bread, and cereals. These products are an excellent choice for individuals seeking a convenient and cost-effective means of maintaining a healthy diet. Many Halal consumers avoid any processed food that is not Halal certified.
Segmentation By Application
Many restaurants offer organic halal food to their Muslim and Non-Muslim consumers. Restaurants offering organic halal food provide a wide range of options, including various types of meat such as cows, lamb, sheep, goat, turkey, chicken, and ducks. They also offer fish, seafood, and vegetarian food products. Consumers always search for healthy, high-quality food options, and organic halal food fulfills these requirements.
Hotels that offer organic halal food provide various options comparable to those in restaurants. Hotels can enhance their competitive edge by providing organic halal food choices. Lodging and resort operations offering halal food options can attract consumers from diverse backgrounds, positively impacting the economy.
Many people prepare and enjoy organic halal food at home. Due to the growing popularity of organic halal food and the rise in disposable income, individuals increasingly opt for healthier lifestyle choices, such as incorporating organic halal food into their home consumption habits.
Regional Analysis
North America (USA and Canada)
North America has not always prioritized accommodating diverse cuisines and dietary requirements. However, many major U.S. cities have embraced various halal products to meet the needs of their expanding Muslim communities. Due to the strict rules for getting halal certification, halal cuisine has gone from a religious choice to a promise of safe, healthy, hygienic, and reliable food. Many studies have shown that people who are not Muslims have a positive view of halal food items. Now it is easily available in hotels and restaurants, which can lead to market growth in the organic halal food market.
Europe (Germany, the U.K., France, Russia, Italy, and the Rest of Europe)
Europe is an incredible destination for living and exploring, especially for those from different continents. There is an abundance of diversity, beauty, and hospitality everywhere. London and the United Kingdom are highly regarded as Muslim-friendly destinations, attracting Muslims from around the globe with their wide range of offerings. With a population of 1.2 million Muslims, it is difficult for the city not to be accommodating to halal needs. Hence, organic halal is easily available in hotels and restaurants. The demand for organic halal food is increasing with increasing tourism in Europe.
Asia-Pacific (China, Japan, South Korea, India, Southeast Asia, Rest of Asia-Pacific)
The majority of the global Muslim population consists of Muslims from the Asia Pacific region. These individuals also account for up to 80% of the consumption of halal foods and beverages. People from Muslim-dominated countries are moving to other parts of the world, which is why the number of Muslims in the Asia-Pacific region is growing. As the number of Muslims has grown, so has the need these kinds of food. Indonesia has the most Muslims of any country in the world. These factors led to increasing demand for this region's organic halal food market.
South America (Mexico, Brazil, and the Rest of South America)
In South America, Brazil is the leading global exporter of meat, including halal meat. Halal meat is considered permissible for consumption by almost 2 billion Muslims worldwide. Despite being geographically distant from the Middle East and any predominantly Muslim country, Brazil is at the forefront of nations that export food to the Organization of Islamic Cooperation. This organization consists of 57 countries with Muslim-majority populations. Hence, the market share of the organic halal food market is growing in this region.
Middle East and Africa
The organic halal food market is projected to experience significant growth, driven by the high demand from millennials and emerging markets. The technological advances enable the efficiency in production process, sophisticated design and packaging, effective operational maintenance, and sales monitoring, driving the growth of this market.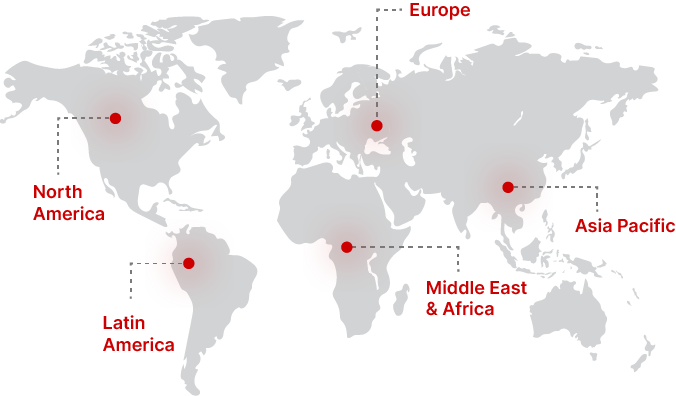 Regional Growth Insights
Download Free Sample
Key Players
Nestle
Cargill
Nema Food Company
Namet Gida
Banvit Meat and Poultry
Carrefour
Isla Delice
Casino
Organic Halal Food Market Segmentations
Segmentation By Type
Frozen Salty Products
Processed Products
Segmentation By Application
Frequently Asked Questions