Market Overview
According to Reed Intelligence the Global Pepper Sprays for Self Defence Market Size will approximately grow at a CAGR of 3.6% during the forecast period.
Pepper spray, also known as OC spray, is a lachrymatory agent that is used in self-defence, riot control, and population control situations. It is used by both individuals and police enforcement agencies. The substance irritates the assailant's eyes, causing him to cough, have a runny nose, and have shortness of breath. Pepper spray is a nonlethal personal protection weapon used for crowd and criminal control as well as self-defence. A burst of pepper spray paralyzes one or more assailants. Pepper spray is a defensive weapon that is used to briefly stop a threat and enable the user to flee physical harm from their attacker. It is illegal for the user to use pepper spray for any other purpose, and doing so may result in criminal and civil fines.
The effects of pepper spray will last between 15 and 45 minutes depending on the individual. The usual range of pepper spray is about 10 feet, enabling the user to spray an attacker from a safe distance. Because pepper spray products vary, be aware of the range of your individual pepper spray.
The rise in the number of cases of intolerable eve-teasing, rape, human trafficking, riots, and protests is expected to be a factor favoring the development of the pepper spray market during the forecast period. People are increasingly meeting dangerous animals on forest safaris and mountain treks, which has increased the demand for pepper spray. Although a variety of devices and weapons, such as pocket knives, self-vigilant alarms, aluminum baseball bats, and silver self-defense key cases, are used for self-defense, pepper spray is the weapon of choice for women because it is one of the most popular and successful defense weapons. The pepper spray bottle is small enough to accommodate in a handbag. Furthermore, innovations and technological advancements in pepper sprays are expected to help to market growth during the forecast period.
According to a self-defense product industry analysis, the online distribution segment of the market is anticipated to expand rapidly in the coming years. Businesses are turning to practical distribution models to connect with a wide client base due to the growing number of tech-savvy consumers and the growing popularity of e-commerce and online purchasing.
According to data from the World Economic Forum, nearly one-quarter of all girls have experienced gender-based violence by the age of 19. Violence against women and girls has hit epidemic proportions all over the world. According to a recent United Nations report, one in every three women, or approximately 736 million women globally, has experienced physical and psychological abuse. These various forms of abuse, ranging from intimate partner violence to sexual harassment, are profoundly disturbing, due to which pepper spray market is growing.
Market Dynamics
Global Pepper Sprays for Self Defence Market Drivers
Growing Crimes Against Women to Drive Market Growth
30% of women have been victims of intimate relationship or non-partner sexual violence. According to UN Women statistics, this equates to 736 million women worldwide. As a result, the global pepper spray industry is experiencing rapid growth, owing primarily to a rise in the use of pepper sprays by women for safety reasons. Furthermore, the rising number of female assaults and rapes is encouraging women to use self-defense products that are lightweight and easy to use, which is pushing the use of pepper spray. The emergence of women's crime problems, as well as the demand for pepper sprays, are already driving market players to develop new strategies to protect women.
After Covid-19 Pepper Spray Market Grown As Violence Against Women Has Increased
The COVID-19 pandemic has had a minor but beneficial impact on the growth of the Pepper Spray Market. Furthermore, people are becoming more concerned about their safety as the risk of being robed, raped, or physically violated increases during pandemics and natural catastrophes.
Data from emerging countries indicate an increase in calls to domestic violence hotlines since the outbreak of COVID-19. Sexual harassment and other forms of aggression against women continue to occur in public places, on the streets, and online. Verbal abuse is the most prevalent (50%), followed by sexual harassment (40%), physical abuse (36%), denial of basic needs (35%), and denial of communication (30%) according to UN Women data, seven out of ten women surveyed think that violence against women is common in their society. As a result of Covid-19, the pepper spray market has grown considerably for women's safety.
High Unemployment Leading to Crime
Due to the fact that crime rates differ significantly from nation to nation and are influenced by a variety of factors, driving is another element in the market for pepper spray used for self-defense. As a scenario, a nation's crime rate typically increases when destitution and unemployment are high. In contrast, tough law enforcement and harsh punishments tend to lower crime rates. The majority of crimes, particularly violent ones, are done by people between the ages of 20 and 30, demonstrating the strong association between age and crime.
Trends of Outdoor Activities
The worldwide pepper spray for self-defense market is expanding rapidly as a result of rising trends in outdoor activities such as hunting, camping, and other types of recreational activities. People all over the world use pepper sprays while hiking because they are compact, effective, easy to transport, and extremely useful in protecting against common threats. Furthermore, one of the most serious risks when camping is the existence of dangerous bears mostly found in the North American region.
Global Pepper Sprays for Self Defence Market Restraints
Lack of Awareness About Use and Its Benefits
One of the factors that may impede the global market's development is a lack of awareness about the use of pepper sprays for self-defense. Furthermore, many nations, including China, Japan, and Canada, require a special license or compelling reasons to carry pepper spray. As a result, such factors could have a negative effect on market growth during the forecast period.
Consumers Might Start Using Substitute Goods
Consumer preferences can shift rapidly, and manufacturers must be able to adapt to stay competitive. For example, consumers may begin to favour alternative self-defense tools, such as stun guns or personal alarms, which could impact demand for pepper spray, causing the market to struggle to expand.
Dangerous If Not Used Correctly
Pepper sprays can be dangerous if not used correctly or if they malfunction. As a consequence, manufacturers may face product liability claims if their goods cause injury or harm to users. To reduce this risk, manufacturers must ensure that their products satisfy safety standards and provide clear instructions for use.
Global Pepper Sprays for Self Defence Market Opportunities
Pepper spray market opportunity for manufacturers is that the government is promoting the use of pepper spray, which is legal in many countries and is even legal to carry in public places in some places. As a result, they have become a popular option for people who want to defend themselves but do not want to carry a weapon that is illegal or socially unacceptable.
Other Factors Boosting Pepper Spray Market
Several factors have contributed to the increased demand for pepper sprays, including rising concerns about personal safety, an increase in violent crimes, a surge in criminal cases involving children, and greater awareness of the effectiveness of pepper sprays as a self-defense tool due to which market opportunity for players increasing and new players also getting opportunity to enter the market.
Affordability and Mobility
Pepper spray is a non-lethal self-defense weapon that anyone can use to deter or incapacitate an attacker. It is simple to use, small, and reasonably priced, making it an appealing option for many people looking for a method to protect themselves.
Market Scope
Report Metric
Details
Market Size by 2031
USD XX Million/Billion
Market Size in 2023
USD XX Million/Billion
Market Size in 2022
USD XX Million/Billion
Historical Data
2019-2021
Base Year
2022
Forecast Period
2023-2031
Report Coverage
Revenue Forecast, Competitive Landscape, Growth Factors, Environment & Regulatory Landscape and Trends
Segments Covered

Segment by Type

OC
CN
CS

Segment by Application

Online Sales
Offline Sales

Geographies Covered

North America
Europe
APAC
Middle East and Africa
LATAM

Companies Profiles

Mace Security International
Sabre
Safariland (Defense Technology)
Zarc international
Udap
Fox Labs
Counter Assault
Plegium
Segmental Analysis
Segment By Type
Pepper spray, also known as oleoresin capsicum (OC) spray, is used in bear and dog repellents, personal protection sprays, and by law enforcement. Pepper spray irritates and inflames the eyes, mouth, throat, lungs, and skin, resulting in a variety of indications and symptoms.
chloroacetophenone (CN), is a riot control or tear agent used by the military (military designation CN) and law enforcement. It is also open to the general population.
CS gas (2-chlorobenzylidene malonitrile) is extensively used in an incapacitant spray that produces severe lacrimation, blepharospasm, and throat and nose burning sensations.
Segment By Application
This market expansion can be connected to an increasing number of people choosing online stores because they offer a wide variety of pepper sprays ranging from standard brands to premium brands in one location.
Pepper spray is available in Supermarkets and hypermarkets, convenience stores, specialty stores, and others are examples of store-based distribution networks.
Regional Analysis
The Global Pepper Sprays for Self Defence Market is segmented by region as North America, Europe, Asia Pacific, Latin America, and Middle East and Africa.
North America
Increase In Crime and Robberies
Geographically, it is anticipated that the market for self-defense devices will expand significantly in North America over the projection period. This growth can be attributed to both the region's dense concentration of self-defense makers and the sharp increase in crime and robberies. Additionally, the region's advantageous laws regarding the use of self-defense tools are anticipated to spur market expansion. Furthermore, the United States holds the majority of the regional market share in North America as a result of growing customer demand for products like folding knives, stun guns, pepper sprays, and other products. Market expansion is anticipated to be accelerated by increased investment in R&D of safer and more protective self-defense weapons for the general public. A major change is also being driven by North America's rising crime rate.
United States Market Opportunity
The annual government surveys conducted by the Bureau of Justice Statistics don't indicate a new rise in violent crime in the United States. According to Pewresearch data, there were 16.5 violent crimes for every 1,000 Americans aged 12 and older in 2021, the most recent year for which data is available; however, there is room for market participants to expand their pepper spray for self-defense market.
Europe
The legal situation is extremely varied throughout Europe, ranging from outright prohibition (such as in the United Kingdom, where Section 5(1)(b) of the Firearms Act 1968 forbids its ownership, carry, and use by common citizens) to more lenient laws (such as in Italy, where certain formulas can be purchased, carried, and operated without a license by anyone over the age of 16) and to the ambiguous situation (such as in France, where trade is license-free and ownership is Pepper spray is given to law enforcement as a non-lethal service weapon and is totally prohibited to civilians in a large number of European countries.
the Europa data industry claims Robberies reported to authorities in the EU decreased by 19% between 2019 and 2020, to roughly 182 300. Since 2016, there has been a decrease in robberies, which was particularly evident in 2020. Pepper spray for self-defense can still be grown by competitors on the market.
Self-Defence Products Growing As Violence Against Women Is Rising
In the European Union, one in every three women has been a victim of gender-based abuse. Because one in every ten women has been a victim of sexual violence, and one in every twenty has been raped, Due to which use of self-defense products is growing, and this is the reason pepper spray market has a great chance to expand in this region.
Asia Pacific
Growing Market Due Increase In Violent
The Asia-Pacific pepper spray market is expected to expand at a CAGR of approximately 14.6%. The increase will be attributed to an increase in the number of violent cases in Asian countries such as China, India, and Japan. Furthermore, increasing R&D spending on self-defense products, as well as the region's easy availability of pepper sprays, are some of the factors that may drive the Asian pepper spray market in the coming years.
Growing Violence Cases Against Women
Pepper spray market driving in this region as crime against women is rising. In the Pacific, gender-based violence is among the highest in the world - twice the global norm - with 68% of Pacific women reporting physical or sexual violence by an intimate partner at a certain point in their lives. Violence against women (VAW) continues unacceptably high in 2021. According to UNESCO data, the Asia-Pacific area is no exception. Over 37% of South Asian women, 40% of South-East Asian women, and up to 68% of Pacific women have encountered violence at the hands of their partners, which is leading the self-defence products market, indirectly it is boosting the pepper spray market.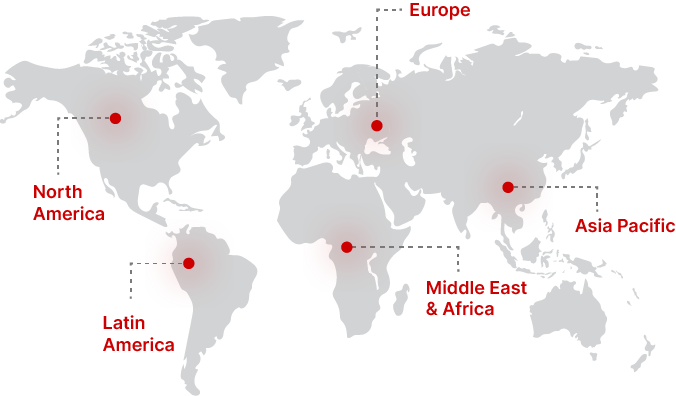 Regional Growth Insights
Download Free Sample
Key Players
Mace Security International
Safariland (Defense Technology)
Zarc international
Udap
Fox Labs
Counter Assault
Plegium
Recent Developments
In June 2022- To support safe summertime activities, SABRE, the top personal safety brand among consumers and law enforcement globally, is launching three new functional and stylish personal defense products during National Safety Month.
Pepper Sprays for Self Defence Market Segmentations
Segment by Type
Segment by Application
Online Sales
Offline Sales
Frequently Asked Questions