Market Overview
The Global Personalized Protein Powder Market Size is slated to grow substantially at a CAGR of 6.6% during forecast period 2023-2031.
The personalized protein powder market refers to the market for dietary supplements that are customized to meet an individual's unique nutritional needs. These supplements typically contain protein, as well as other nutrients such as vitamins, minerals, and amino acids, that are tailored to an individual's specific health and fitness goals.
The market for personalized protein powder has been growing rapidly in recent years, driven by increasing consumer interest in health and wellness, as well as advancements in technology that make it easier and more cost-effective to produce customized supplements. In addition, the rise of e-commerce has made it easier for consumers to access these products, further fueling market growth.
Market Dynamics
Market Drivers
Growing Awareness About Sufficient Protein Intake to Propel Market Growth
The worldwide protein supplement market is projected to collect high income inferable from the rising pattern of well-being cognizant individuals who visit sporting and exercise centre focus consistently. Compared to those who do not exercise strenuously, those who engage in the intense physical activity must consume more protein. Consuming sufficient protein helps strengthen muscles while also preventing muscle damage. When consumed in moderation and paired with regular physical activity, whey proteins are known to result in fat loss. These factors greatly influence the global market cap. In the coming years, revenue may also rise due to the increasing number of market players engaging in extensive marketing and advertising efforts to expand their customer base. Doctors and other medical professionals recommend external protein supplements to help patients maintain their vitals and body weight while providing sufficient energy. Protein powders are known to keep people from getting type 2 diabetes because they make them feel full for longer. Combining all of these elements is anticipated to result in optimal outcomes for the global market.
Muscle Building and Strength Performance
Hydration
Recovery
Endurance
Weight management
Healthy snacking
Growing awareness about sufficient protein intake to propel market growth
Market Restraints
Health Risks Associated With Over-Consumption of Supplements to Restrict Market Expansion
The global market's expansion may be limited by the health risks of taking too many supplements, but the growing number of players is expected to provide excellent growth in consumers. However, the prevalence of counterfeit goods may pose a threat to the global market expansion trend.
Market Opportunities
Customized Nutrition Plans
With the rise of wearable technology and health tracking apps, people are increasingly interested in personalized nutrition plans that cater to their unique needs. Personalized protein powders can be formulated based on an individual's health goals, dietary restrictions, and genetic predispositions.
Athletes and fitness enthusiasts are always looking for ways to improve their performance and recovery. Personalized protein powders can be tailored to their specific needs, such as muscle building, endurance, or injury prevention.
As the population ages, there is a growing demand for products that support healthy aging. Personalized protein powders can be formulated to address age-related health concerns, such as bone loss, muscle weakness, and cognitive decline.
Vegan and Vegetarian Diets
As more people adopt vegan and vegetarian diets, there is a need for high-quality plant-based protein sources. Personalized protein powders can be formulated using a variety of plant-based proteins, such as pea, hemp, and rice.
Busy lifestyles and on-the-go eating habits have led to an increased demand for convenient, ready-to-drink products. Personalized protein powders can be packaged in single-serve packets or pre-mixed bottles for easy consumption.
Online and Subscription-Based Models
The personalized protein powder market share lends itself well to online and subscription-based models. Customers can fill out a questionnaire or provide their DNA data, and receive a custom-formulated protein powder delivered to their doorstep on a regular basis.
Market Scope
Report Metric
Details
Market Size by 2031
USD XX Million/Billion
Market Size in 2023
USD XX Million/Billion
Market Size in 2022
USD XX Million/Billion
Historical Data
2019-2021
Base Year
2022
Forecast Period
2023-2031
Report Coverage
Revenue Forecast, Competitive Landscape, Growth Factors, Environment & Regulatory Landscape and Trends
Segments Covered

Segment by Type

Whey Protein Powder
Casein Protein Powder
Egg Protein Powder
Collagen Protein Powder
Other

Segment by Application

Athlete
Body Builder
Other

Geographies Covered

North America
Europe
APAC
Middle East and Africa
LATAM

Companies Profiles

TrueNutrition
Herbalife International
Gainful Health
Infinit Nutrition
Care/of
iFit
BL Bio Lab
The Personalised Co
The Protein Works
Segmental Analysis
Segmentation By Type
This type of protein powder is derived from whey, which is a byproduct of cheese production. It is a complete protein that contains all nine essential amino acids and is popular among fitness enthusiasts due to its ability to promote muscle growth and repair.
This type of protein powder is also derived from milk, but it is digested more slowly than whey protein. It is often taken before bedtime to promote muscle recovery and growth during sleep.
This type of protein powder is made from egg whites and is also a complete protein. It is a good option for people who are lactose intolerant or allergic to dairy.
This type of protein powder is derived from collagen, which is a protein found in the connective tissues of animals. It is popular for its ability to support skin, joint, and bone health.
This category includes other types of protein powder, such as soy protein, pea protein, and hemp protein, which are also gaining popularity among consumers.
Segmentation By Application
This segment includes individuals who engage in high-intensity sports or exercise and require protein supplements to support muscle recovery and growth.
This segment includes individuals who are focused on building muscle mass and strength through weight training and require high levels of protein intake.
This category includes other applications, such as weight management, general fitness, and healthy aging, where personalized protein powders can be used to meet specific nutritional needs.
Regional Analysis
The Global Personalized Protein Powder Market is segmented by region as North America, Europe, Asia Pacific, Latin America, and Middle East and Africa.
North America to produce the most elevated income during the projection time frame.
North America is expected to produce the highest income in the worldwide protein supplement market attributable to different advertising techniques market players embrace. For instance, it is known that protein supplement providers work with supermarkets and hypermarkets to assist them in increasing their revenue in exchange for a share of the profit. The bodybuilding community in the United States is well-known, and bodybuilders from the United States are recognized worldwide. Many of these athletes have started their own protein supplement companies or work as celebrities to promote international brands, which helps them turn their fans into customers of the protein supplement company.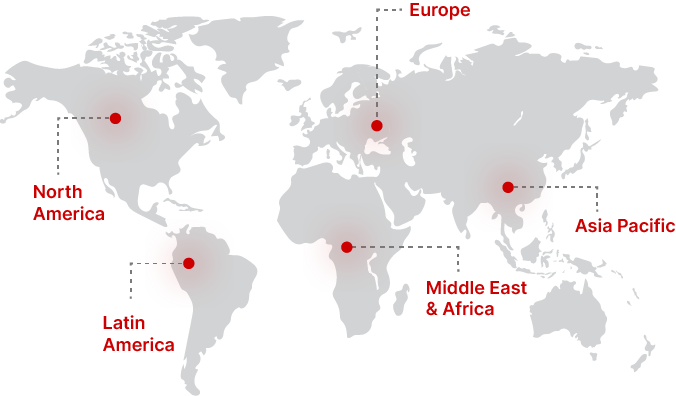 Regional Growth Insights
Download Free Sample
Key Players
Herbalife International
Gainful Health
Infinit Nutrition
Care/of
iFit
BL Bio Lab
The Personalised Co
The Protein Works
Recent Developments
2019- In order to sell its products in conventional grocery stores, convenience stores, and specialty supplement stores, quest nutation entered into distribution agreements with Sam's Club and BJ's Wholesale.
Personalized Protein Powder Market Segmentations
Segment by Type
Whey Protein Powder
Casein Protein Powder
Egg Protein Powder
Collagen Protein Powder
Other
Segment by Application
Athlete
Body Builder
Other
Frequently Asked Questions