Market Overview
According to Reed Intelligence the Global Pet Cat Snacks Market Size will approximately grow at a CAGR of 7.1% during the forecast period.
The rapidly expanding worldwide market for pet cat treats is being driven by the trend toward pet humanization and the rise in the number of households who see cats as important family pets. Owners of cats want snacks that are of the greatest caliber, nutrient-dense, and produced with the same consideration and care that they do for their own health. The demand for upscale, customized cat snacks made with natural and organic ingredients has increased as a result.
Cat owners give their cats treats to maintain their overall health and welfare. These gifts enable cat owners to swiftly and amusingly commend good conduct, deepening their bonds with their feline companions. Cans of cat food and freeze-dried cat snacks are the only two substitute products developed in response to the demand for cat snacks.
Cats like the delectable wet canned food kind that often includes beef, poultry, or fish in addition to alluring sauce or broth. However, freeze-dried cat snacks give a crisp texture and powerful fragrances while maintaining the advantages of the ingredients' natural qualities.
As the market grows, manufacturers are focusing on product innovation and diversity to stay up with shifting consumer requirements. Functional benefits including assistance for dental health and hairball control are being included into cat treats in order to address specific health concerns for cats. There are more ecologically friendly and sustainably manufactured packaging solutions available as pet owners grow more environmentally aware.
Market Dynamics
Market Drivers
Cat owners place more emphasis on the emotional and physical well-being of their feline friends. The demand for cat snacks with functional benefits, such as dental health, hairball control, and joint support, is driving the market for specialist snacks with increased nutritional content.
Cat owners may participate in the enjoyable and helpful practice of giving presents to their feline companions. For promoting good behavior and strengthening the human-animal interaction, treat time is crucial.
Market Restraints
Pet owners' price sensitivity may act as a disincentive in locations with little access to discretionary expenditure. Premium cat treats would not be purchased by cost-conscious consumers, which would restrict their market penetration.
Chemical and Allergen Concerns
If your cat is allergic to or sensitive to a certain material, you may be concerned about the ingredients in pet treats. Manufacturers must be upfront about these problems and provide remedies if they want to maintain the trust of their consumers.
Market Opportunities
There is room for varied flavors, textures, and beneficial qualities in the market for cat food for pets. Customers looking for novel and intriguing options may find that changes in product types and packaging appeal to them.
E-Commerce And Online Retail
With the growth of e-commerce and online retail channels, manufacturers of cat treats have a great opportunity to expand their audience and provide pet owners a nice purchasing experience.
Market Scope
Report Metric
Details
Market Size by 2031
USD XX Million/Billion
Market Size in 2023
USD XX Million/Billion
Market Size in 2022
USD XX Million/Billion
Historical Data
2019-2021
Base Year
2022
Forecast Period
2023-2031
Report Coverage
Revenue Forecast, Competitive Landscape, Growth Factors, Environment & Regulatory Landscape and Trends
Segments Covered

Segmentation By Type

Cat Canned
Freeze-dried

Segmentation By Application

Adult Cat
Kitten

Geographies Covered

North America
Europe
APAC
Middle East and Africa
LATAM

Companies Profiles

Mars
Nestle
Colgate-Palmolive
The J.M. Smucker Company
Schell & Kampeter
General Mills
Spectrum Brands
Blue Buffalo Pet Products Inc.(General Mills, Inc.)
Beaphar
WellPet LLC
Diamond Pet Foods
PetGuard(Jax investor group)
Harringtons
ANI BRANDS
Champion Petfoods L.P.
GA Pet Food Partners
Pidan
Myfoodie
Segmental Analysis
Segmentation By Type
Because canned cat food has a nice, moist feel, cat treats are often prepared from it. To improve flavor and palatability for cats, it often comprises beef, poultry, or fish that has been mixed with gravy or broth. Because canned cat food provides their feline friends with a complete and healthy supper, cat owners often choose for this option. For cats of all ages, including adult cats and kittens, cat snacks in cans are practical.
The nutritional content and fragrances of its components are retained in freeze-dried cat treats, making them a kind of dehydrated food. These cat snacks are made utilizing a freeze-drying process that keeps all of the vital nutrients while removing the moisture. Since they are small, shelf-stable, and portable, freeze-dried cat nibbles are a practical choice for pet owners, particularly while traveling or used as a treat during training sessions. Both adult cats and kittens like the freeze-dried cat snacks crisp texture and powerful tastes.
Segmentation By Application
Adult cats are felines that are normally more than a year old and have attained their maximum developmental potential. Cat snacks often concentrate on preserving a cat's general health, supplying important nutrients, and addressing particular health issues, such dental health or hairball management, since adult cats have distinct nutritional needs. To suit their tastes, adult cats may eat cat treats in a variety of formats, including canned and freeze-dried alternatives.
More food and energy are required by kittens than by adult cats. Snacks for kittens are created specifically to support and accelerate their quick growth. To meet their calorie requirements, these snacks could include extra protein and fat. Additionally, they could include certain nutrients that support the growth of bones and muscles. Both canned and freeze-dried kitten cat treats are used to provide the young feline friends a balanced diet.
Regional Analysis
The Global Pet Cat Snacks Market is segmented by region as North America, Europe, Asia Pacific, Latin America, and Middle East and Africa.
North America
Cat nibbles have a substantial market in North America because of the country's high rate of pet ownership and apparent propensity for pet humanization. North American pet owners place a great value on their cats' health and wellbeing, hence there is a growing demand for luxury and specialist cat treats there. High-quality, all-natural ingredients are used to make these goodies. The market is expected to expand as a result of the flourishing pet care sector in the area and the wide variety of cat snack alternatives.
Europe
The majority of the cat treat market in the EU is controlled by the United Kingdom, Germany, and France. The growing popularity of cats as pets and the region's pet-friendly culture are driving the need for nourishing and cutting-edge cat food. Businesses now provide organic and environmentally responsible cat treats because pet owners in Europe place a high importance on sustainability and natural ingredients.
Asia-Pacific
The region's pet cat treat market is expanding quickly due to urbanization, changing lifestyles, and increased disposable income. In nations like China, Japan, and South Korea, pet ownership is rising, which is driving up demand for upmarket cat food with health advantages. In addition to Western pet care standards, regional customer tastes also have a role in the approval of innovative cat food items.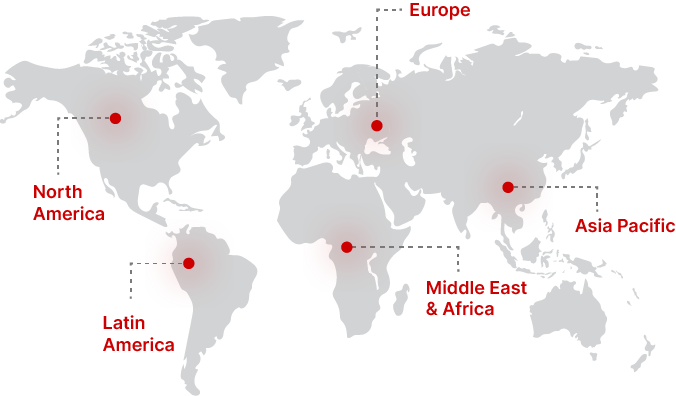 Regional Growth Insights
Download Free Sample
Key Players
Mars
Nestle
The J.M. Smucker Company
Schell & Kampeter
General Mills
Spectrum Brands
Blue Buffalo Pet Products Inc.(General Mills, Inc.)
Beaphar
WellPet LLC
Diamond Pet Foods
PetGuard(Jax investor group)
Harringtons
ANI BRANDS
Champion Petfoods L.P.
GA Pet Food Partners
Pidan
Myfoodie
Recent Developments
Putting An Emphasis On Natural And Organic Components
Cat-friendly dog treats have become more and more popular recently, and they now include more natural and organic components. Manufacturers increasingly employ genuine meat and a small number of easily recognized ingredients to appeal to dog owners who are worried about their dogs' health.
Pet Cat Snacks Market Segmentations
Segmentation By Type
Segmentation By Application
Frequently Asked Questions