Market Overview
The Global Pets Breeding Management Market Size is projected to register a CAGR of approximately 3.9% during the forecast period 2023-2031.
Management of pet breeding refers to the practices and strategies involved in the controlled reproduction of animals, specifically pets, to produce offspring with the desired traits or characteristics. It entails selecting appropriate parent animals, planning and supervising the mating process, monitoring the reproductive health of the animals, and ensuring the welfare of both parent and offspring animals.
Managing creatures that reproduce necessitates the completion of a variety of tasks. Throughout the complete breeding process, the selection of parents is based on a predetermined set of criteria. In addition to adhering to ethical breeding practices, the management must ensure the physical and mental health of the animals.
Market Dynamics
Market Drivers
Increasing Demand for Genetic Diversity and Health
The primary purpose of breeding is to modify the genotype and phenotype of canines. The market was flooded with various varieties that individuals desired. A novel breed has a distinct appearance and set of traits. The condition of one's well-being is essential for all living things. There are fewer health issues in domesticated animals and various altered genomes. In addition, reproduction helps preserve genetic diversity and reduces health issues. The human desire to procreate increases daily. Breeders breed diverse breeds of animals to produce unique companion varieties. Eventually, the market for breeding pets will expand due to rising demand.
Increasing Revenue From Breeding
Breeders charge a substantial fee for companion animals intended for reproduction. Businesses sell canines. Pet breeders offer pet establishments for sale. Breeders determine prices. There is a direct correlation between the high expense of veterinary care and the high cost of pet ownership. Monthly veterinary expenses for canines can cost breeders thousands of dollars. The breeders are responsible for the costs of veterinary care, tests, treatments, and vaccinations for both the parent canines and their offspring. The breeder covers prenatal, natal, and postoperative costs. Due to the above factors, breeders demand exorbitant prices for pet breeding. This increases business revenue and aids in expanding the pet reproduction industry.
Market Restraints
Care, and maintenance of the animals is one of the difficult duties of the breeder. Safety and success are significantly enhanced when staff members attempt to reduce behaviors that the animal may interpret as menacing or aggressive. The likelihood that an animal will act aggressively or attempt to evacuate increases with hostile handling. Animals can exhibit aggressive and evasive behavior for a variety of reasons. The most common causes of fear and anxiety include distress, pain, punishment, and excessive physical contact. Most animals exhibit fear or defensive aggression because they perceive at least one aspect of the process as harmful. This could be the environment, the users, the equipment, the method, the constraints, or any combination of these. When specific body parts are handled, animals are more likely to react negatively than when others are handled. These include the abdomen, groin/perineum, head/neck, legs, feet, and any disagreeable areas. Certain locations are natural targets for large-scale attacks, as it is simple to inflict fatal or incapacitating wounds there. The management team is struggling to deal with this issue. This hinders the market's expansion.
Market Opportunities
Increasing Trend of Pet Breeding Worldwide
Cats and dogs are the most favored pets in local households. In recent times, the number of household canines has increased. In developing nations, numerous dog and cat varieties are being introduced. In tandem with the increase in pet ownership, pet owners are spending more on service packages that include additional options, such as various nutrition and maintenance options. Due to the increasing importance of pets and the businesses catering to their requirements, there has been an increase in demand for more advanced pet care products and accessories. This presents an opportunity for the development of companion breeding management.
Market Scope
Report Metric
Details
Market Size by 2031
USD XX Million/Billion
Market Size in 2023
USD XX Million/Billion
Market Size in 2022
USD XX Million/Billion
Historical Data
2019-2021
Base Year
2022
Forecast Period
2023-2031
Report Coverage
Revenue Forecast, Competitive Landscape, Growth Factors, Environment & Regulatory Landscape and Trends
Segments Covered

Segment by Type

External Use
Internal Use

Segment by Application

Dogs
Cats

Geographies Covered

North America
Europe
APAC
Middle East and Africa
LATAM

Companies Profiles

Boehringer Ingelheim
Zoetis
Merck
Elanco
Bayer
Virbac
Ceva Sante Animale
Vetoquinol
Bimeda Animal Health
Chanelle
Segmental Analysis
Segment by Type
This subsegment of the Pets Reproduction Management Market consists of products and services utilized externally to manage and improve the pet reproduction process. It can include technologies, instruments, and services that facilitate animal reproduction, reproductive health assessment, and genetic selection. Genetic testing kits, fertility monitoring devices, artificial insemination instruments, and breeder consulting services are products and services designed for external use.
Breeders use internal products and services to improve the health and well-being of animals during the reproductive process. Included may be nutrition, dietary supplements, veterinary care for reproductive animals, prenatal care, birthing assistance, and postnatal care for mother and child. Breeding management applications and databases may monitor breeding records, pedigrees, and animal health information.
Segment by Application
Breeding pets is the profession of breeding carefully selected dogs of the same breed with traits and characteristics that are reliably reproducible. By reproduction, German Shepherd, Bulldog, Labrador Retriever, Golden Retriever, Siberian Husky, Poodle, Alaskan Malamute, and Border Collie are among the dog breeds reproduced.
Breeding cats is the modification of the cat's original characteristics to produce new types of cats with new characteristics. Numerous cat breeds exist, including the Siamese cat, British shorthair, Maine Coon, Persian cat, Ragdoll cat, Sphynx cats, American shorthair cats, Abyssinian cat, Exotic Shorthair car, Scottish Fold cat, Burmese cat, and Birman cat.
Regional Analysis
North America
The expansion of the pet industry in North America is largely attributable to the increasing number of children who own pets and the general shift in attitudes toward animals. In addition, the recent growth of pet humanization, in which pets are treated with greater care and hygiene, is proving to be a major industry driver and is resulting in significant changes to the product packaging and the procurement of ethically viable products.
Europe
Many Europeans own some form of domesticated animal, which they frequently refer to as their best companion and cherished family member. The proportion of households with at least one pet animal has increased, and consumers are spending more on their pets. Consequently, the revenue generated by the pet reproduction industry has increased.
Asia-Pacific
As the number of households with middle incomes in developing nations increases, more individuals are willing to purchase novel breeds. These nations include, among others, India, China, and Thailand. As a result, the increasing trend of humanizing pets, rising incomes, and a growing pet population are some of the primary factors driving the pet breeding market in Asia over the next several years.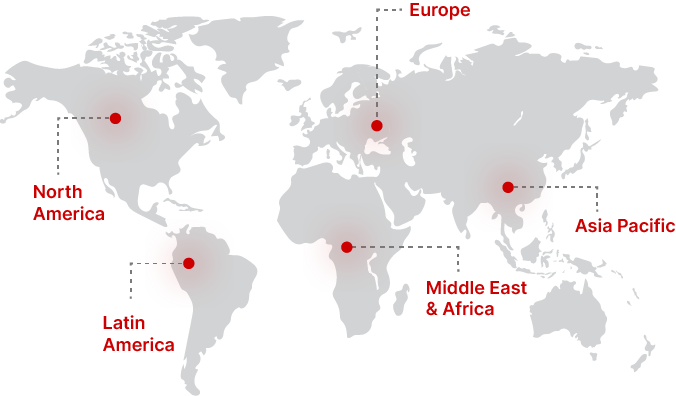 Regional Growth Insights
Download Free Sample
Key Players
Boehringer Ingelheim
Merck
Elanco
Bayer
Virbac
Ceva Sante Animale
Vetoquinol
Bimeda Animal Health
Chanelle
Pets Breeding Management Market Segmentations
Segment by Type
External Use
Internal Use
Segment by Application
Frequently Asked Questions