Market Overview
The Global Processed Soup Market Size is estimated to grow at 6.1% CAGR from 2023 to 2031.
Processed soup, a type of soup that undergoes various preparation and packaging methods prior to being deemed suitable for consumption, has garnered attention in the culinary realm. This particular soup variant has been subject to meticulous processing techniques, resulting in its distinctive characteristics and overall appeal. Industrial food processing techniques are commonly employed to develop ready-to-eat products that demand minimal user effort. Various packaging types are utilised for the distribution of processed soups, encompassing cans, bottles, and pouches.
Following the preparation process, soup undergoes a series of rigorous quality control inspections aimed at guaranteeing its superior taste and utmost safety. Processed soups offer a convenient solution for individuals with time constraints, as they are meticulously prepared and require no additional cooking. In order to cater to a diverse array of preferences and nutritional needs, processed soups have been developed in an extensive assortment of flavours and compositions. The extended shelf life of these meals contributes to their heightened consumer appeal. The current market conditions are facilitating the expansion of the prepared soup industry.
Market Dynamics
Market Drivers
Busy and Hectic Lifestyle
The prepared soup market is subject to notable influences stemming from shifts in societal lifestyles. The dynamic nature of the processed soup market is closely intertwined with shifts in consumer behaviour, interests, and objectives. In light of the increasingly busy lifestyles of modern consumers, there is a growing preference for expeditious lunch alternatives. Processed soups are highly convenient due to their minimal preparation and cooking requirements. In light of growing health concerns, individuals are actively seeking expedient meal options that effectively address their nutritional requirements. The fulfilment of this particular desire can be achieved through the consumption of processed soups that are crafted using nourishing ingredients, featuring reduced sodium content, and offering authentic flavors derived from natural sources. Processed soups can be perceived as an attractive option for older adults due to their ability to facilitate the consumption of nutritious meals, particularly for individuals who encounter challenges in culinary activities.
Globalization is Increasing and is Helping the Cuisines of Different Regions to be in Demand
The processed soup market has experienced notable effects as a result of globalization and the increasing consumer preference for ethnic cuisine. The current market for processed soups is experiencing growth due to the incorporation of ingredients sourced from diverse regions and the utilization of traditional recipes. This trend can be attributed to consumers' increasing awareness and interest in exploring different cultures and flavors. The advent of globalization has significantly expanded consumers' culinary options, granting them access to an extensive array of meals originating from diverse cultures across the globe. The increasing consumer preference for prepared soups with diverse regional flavors has led to a surge in demand. Research suggests that incorporating traditional ingredients such as spices, herbs, and conventional vegetables into culinary preparations has been positively received by customers. The utilization of these ingredients in the creation of processed soups presents a unique and stimulating approach to culinary consumption.
Market Restraints
Consumer Preference for Fresh Alternatives
The presence of fresh, pre-packaged, and homemade soups in the market poses a competitive challenge to processed soups, thereby exerting downward pressure on sales figures within both retail and foodservice establishments. The taste profiles and composition of various brands or types of pre-packaged soups may exhibit notable variations, potentially influencing consumer loyalty and purchase frequency. Due to consumer preferences for products with minimal additives and easily recognizable ingredients, the appeal of processed soups appears to have diminished compared to previous times. The preference for cooking at home is often attributed to the desire for increased control over flavor profiles and ingredient selection, as well as a decreased dependence on prepackaged food options.
Market Opportunities
Expansion in New Market and Limited Edition Products
The exploration of emerging markets, such as developing nations or regions experiencing a rapid increase in urban population, presents promising prospects for expanding market presence. The amalgamation of ingredients from diverse culinary traditions enables individuals from various cultural backgrounds to craft distinctive flavor profiles. One potential strategy to stimulate interest and drive demand in the soup market is to introduce limited-time variants that align with evolving consumer preferences. By strategically offering seasonal or time-limited soup options, businesses can capitalize on the inherent scarcity and exclusivity associated with these offerings. This approach has the potential to create a sense of urgency among consumers, encouraging them to try these unique variants before they are no longer available. Consequently, this can generate heightened excitement and engagement, ultimately leading to increased sales and customer loyalty. Individuals are often presented with cooking guidelines and personalized recommendations pertaining to the customization of processed soups, primarily due to their limited culinary expertise.
Market Scope
Report Metric
Details
Market Size by 2031
USD XX Million/Billion
Market Size in 2023
USD XX Million/Billion
Market Size in 2022
USD XX Million/Billion
Historical Data
2019-2021
Base Year
2022
Forecast Period
2023-2031
Report Coverage
Revenue Forecast, Competitive Landscape, Growth Factors, Environment & Regulatory Landscape and Trends
Segments Covered

Segment by Type

Bag
Canned

Segment by Application

Catering & Industrial
Retail

Geographies Covered

North America
Europe
APAC
Middle East and Africa
LATAM

Companies Profiles

Campbell Soup Company
Conagra Foods
Tabatchnick
Kraft Heinz
Amy's Kitchen
kettlecuisine
Blount Fine Foods
The Schwan Food Company
Nestle
Segmental Analysis
Segment by Type
Processed soups that are packaged in bags are placed in foldable pouches composed of materials that preserve the soup's freshness. Easy to consume on the go, simple to regulate quantities, reduced packaging waste, simple to store, and potential for novel container designs. They might not survive as long or offer as much protection from the outer world as cans.
Metal cans that shield processed soups from the elements are used to package them. Long shelf life due to the airtight seal, protection from moisture, light, and air, variety of flavors, transportability, and simplicity of heating. The package is larger and takes up more space in comparison to flattened bags.
Segment by Application
supplying restaurants and other establishments with large serving kitchens with ready-to-eat soups. Bulk supply provides many advantages, including the ability to tailor orders for consumers, efficiency in busy situations, maintaining consistency in quality even when producing a large volume of food, and having a wide selection of menu selections.
Direct purchases of processed soups are possible from grocery stores, supermarkets, and online retailers. With a variety of packaging solutions to accommodate a wide range of tastes, convenient packing for the consumer, branding and marketing impact, and adjustable serving sizes.
Regional Analysis
North America
The processed soup industry in North America has achieved a robust level of establishment, providing a diverse range of products to effectively meet the demands of a wide array of consumers. The prevailing consumer preference for healthier alternatives and convenient meal options has contributed to the widespread popularity of processed soups. In order to remain aligned with evolving consumer preferences, brands consistently introduce novel flavour profiles, enhance product labelling transparency, and optimise pricing structures. The prevalence of private label goods in retail establishments has engendered a competitive landscape wherein branded goods vie for market share. The proliferation of e-commerce platforms has facilitated enhanced market reach for businesses, allowing them to tap into a broader customer base. Consequently, this expansion in audience size has the potential to yield substantial growth opportunities for firms. Moreover, the advent of e-commerce has significantly enhanced the overall shopping experience for consumers, providing them with greater convenience, accessibility, and a wider range of product options.
Europe
The European continent is renowned for its extensive repertoire of both traditional and contemporary soup flavours, originating from a multitude of nations. European consumers place significant importance on the utilisation of natural ingredients, clear and comprehensible labelling, as well as environmentally conscious packaging. Individuals with a discerning palate and a preference for superior culinary experiences often gravitate towards gourmet, meticulously crafted soups that command a higher price point. The continued preference for traditional cooking methods and flavours is evident, as they seamlessly integrate with prevailing societal norms. The demand for expedient and nutritious meal alternatives is amplified by the fast-paced nature of urban living.
Asia-Pacific
The expanding processed soup market in the Asia-Pacific region can be attributed to the increasing urbanisation and evolving lifestyles of the population. Individuals with a predilection for consuming familiar food often exhibit a propensity towards processed soups due to their ability to closely resemble the flavours and culinary traditions associated with the local cuisine and culture. The rising trend of health consciousness among individuals has led to a surge in the popularity of soups that offer valuable ingredients and significant nutritional benefits. According to recent market analysis, it has been observed that middle-class consumers exhibit a notable inclination towards allocating a higher portion of their budget towards the purchase of premium, high-quality processed soups. Urban dwellers exhibit a notable preference for conveniently packaged and easily transportable ready-made soups, owing to the demands of their fast-paced and bustling lifestyles.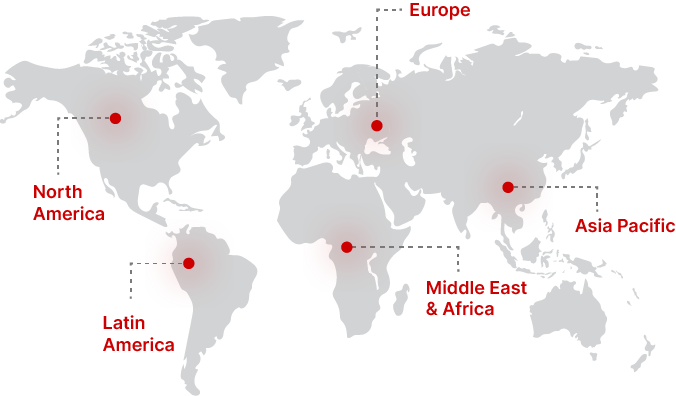 Regional Growth Insights
Download Free Sample
Key Players
Conagra Foods
Tabatchnick
Kraft Heinz
Amy's Kitchen
kettlecuisine
Blount Fine Foods
The Schwan Food Company
Nestle
Recent Developments
03 August 2023 - WWE and Slim Jim announced the multi-layered partnership. This partnership will begin with, Slim Jim being the Presenting Sponsor for a major SummerSlam fight. Slim Jim is a brand under Conagra Foods. This partnership between two well-known companies celebrates both of their violent pasts. It is the largest endorsement deal in WWE history.
Processed Soup Market Segmentations
Segment by Type
Segment by Application
Catering & Industrial
Retail
Frequently Asked Questions