Market Overview
The Global Radioactive Stent Used for Cancer Treatments Market Size is expected to grow at a CAGR of approximately around 12.5% during the forecast period of 2023-2031.
Radioactive stents are prosthetic devices that aid in efficiently administering radiation to tumor tissues while reducing post-radiotherapy toxicity by preventing unnecessary radiation exposure to adjacent healthy tissues. They are utilized to transport a radioactive substance, shield healthy oral cavity tissues from radiation exposure, aid in the efficient delivery of radiotherapy, safeguard vital structures, and maintain the desired mouth opening. With the assistance of the radiation oncologist, the oral healthcare provider can construct a number of radioactive stents for precise targeting, delivery of the intended radiation dose, and improved treatment outcomes. To improve the functionality of the prosthesis, these radioactive stents must be tailored to the specific requirements of each patient. Patients undergoing radiation therapy for head and neck cancers will learn about the therapeutic value and benefits of various radioactive substances.
The overall survival rate of patients undergoing head and neck cancer treatment has considerably increased since the introduction of radiotherapy. In addition to surgery and chemotherapy, radiotherapy can greatly benefit the treatment of cancers of the head and neck, breast, cervix, prostate, and eyes. This treatment employs radioactive liquids, radioisotopes, or radionuclides to eliminate cancer cells.
Market Dynamics
Market Drivers
Exposure to Environmental Chemicals
The term environment refers not only to the air, water, and soil surrounding humans but also to the substances and conditions in the areas where individuals work, attend school, and reside. The greatest contributors to the risk of developing cancer are a person's routines and behaviors. On the other hand, research indicates that exposure to certain artificial and naturally occurring compounds in the environment may increase the risk of developing cancer. Cancer risk is increased when individuals are exposed to carcinogenic substances such as benzene, asbestos, vinyl chloride, radon, arsenic, or trichloroethylene. Arsenic is another example of a substance that can perform this function. Environmental exposure is also a significant cancer-causing factor. This factor contributes to the rise in demand for cancer treatments like radioactive stents.
Market Restraints
Ill Effects of Radioactive Stents
The essential consideration when working on cancer treatment is ensuring everyone's safety while using equipment or instruments. Any error during cancer treatment can negatively affect the patient and operator of the radioactive catheter. Isotopes pose a significant peril to human health. Two radioisotopes used to treat cancer are iodine-125 and iodine-131. Abdominal pain, nausea, vomiting, migraines, and a metallic taste in the mouth can be caused by an excessive amount of iodine exposure. Utilization of a radioactive stent device is fraught with grave peril. These risks pose a threat to the growth of the radioactive stent industry.
Market Opportunities
Increasing Number of Patients Leads to Market Growth
Cancer is a generic name for a group of diseases that can arise in virtually any organ or tissue of the body due to the uncontrolled multiplication of abnormal cells. Additionally, neoplasm and malignant tumors are frequently used to refer to cancer. According to the World Health Organization, cancer is the second leading cause of death worldwide. The physical, psychological, and monetary toll that cancer exacts on individuals, families, communities, and global health systems continues to rise. Numerous health systems in low- and middle-income nations are ill-equipped to manage this burden, and many cancer patients lack access to prompt, effective diagnosis and treatment. In nations with robust health systems, the survival rates for various cancer types are rising due to readily available early detection, high-quality treatment, and survivorship care. Over the past several decades, breast cancer has become the most prevalent cancer globally. This global increase in cancer incidence will contribute to the growth of radioactive stent devices in the future.
Market Scope
Report Metric
Details
Market Size by 2031
USD XX Million/Billion
Market Size in 2023
USD XX Million/Billion
Market Size in 2022
USD XX Million/Billion
Historical Data
2019-2021
Base Year
2022
Forecast Period
2023-2031
Report Coverage
Revenue Forecast, Competitive Landscape, Growth Factors, Environment & Regulatory Landscape and Trends
Segments Covered

Segmentation by Type

I125 Isotope
I131 Isotope-Iodine

Segmentation by Application

Esophageal Cancer
Biliary Cancer

Geographies Covered

North America
Europe
APAC
Middle East and Africa
LATAM

Companies Profiles

Micro-Tech
Changzhou Zhiye
Changzhou Garson
Micro-Tech
Lepu Medical
Braun
Fude
Degania Medical
Biotronik
Balton
Segmental Analysis
Segmentation By Type
The Iodin-125 isotope particle carried by the radioactive stent provides radiation for treating esophageal malignancies while simultaneously providing rapid relief for dysphagia. Standard esophageal stents have been demonstrated to be less dangerous and less productive than I125.
131 is an isotope of iodine that emits radiation and is transported by the radioactive stent. The use of this radioactive I131-labeled stent in the treatment of cancer that has spread to the biliary tumor is beneficial.
Segmentation By Application
Radioactive self-expanding metal stents (SEMS) are the treatment of choice for treating advanced phases of esophageal cancer. The capability of the stents to transport I125 radioactive particles enables them to deliver radiation for the treatment of esophageal malignancies while simultaneously reducing dysphagia. Compared to conventional external radiotherapy, radioactive SEMS can directly operate on esophageal cancers, prevent dose attenuation caused by distant irradiation, and increase the radiation dose delivered to the target area, increasing the treatment's overall efficacy.
Malignant obstruction of the biliary tract that cannot be surgically removed is typically treated with implantation of a biliary stent. Unfortunately, tumor growth after stent implantation can still cause restenosis within the stent. Most studies indicate that radioactive stents can dilate an obstructed biliary system and inhibit tumor growth. Typically, a 131I-labeled radioactive self-expanding metallic stent (SEMS) treats biliary malignancy. The designed stents have prolonged patency and can reduce biliary compression caused by tumor growth.
Regional Analysis
The Global Radioactive Stent Used for Cancer Treatments Market is segmented by region as North America, Europe, Asia Pacific, Latin America, and Middle East and Africa.
North America
The rising incidence of cancer in the North American region is anticipated to be a major factor in the market's expansion. This is because people lead sedentary lifestyles, consume unhealthy diets, and consume cigarettes, alcohol, and tobacco, all of which contribute to the rise in cancer cases in the region. It is anticipated that esophageal cancer will increase due to the high rates of alcohol and nicotine consumption. Consequently, the demand for radioactive stents as a cancer treatment method will increase in the North American region.
Europe
Due to its substantial contribution to the global cancer burden, Europe is a crucial region for collecting accurate and current global cancer statistics. These four malignancies account for fifty percent of cancer cases in Europe. Lung, colorectal, breast, and pancreatic cancers are the most common fatal malignancies. Wealthy nations such as Sweden, Switzerland, Germany, and Italy have Europe's most cancer incidence. Due to the rise in cancer incidence in Europe, the demand for radioactive stents will increase.
Asia-Pacific
Due to its large population, rising incidence of head and neck cancer, and rising demand for head and neck cancer combination treatments, Asia Pacific offers lucrative growth opportunities for the industry's key participants. It is anticipated that risk factors such as rising alcohol consumption, cigarette smoking, and tobacco use will also contribute to the expansion of the market. In Asia-Pacific, chewing tobacco with betel liquid is the most prevalent method. This increase in the incidence of cancer of the head and neck stimulates the expansion of radioactive stent therapy for cancer.
South America
Prostate, lung, breast, cervical, colorectal, and gastric cancers were the most prevalent and deadly in Latin America. Prostate and breast cancer were prevalent in countries with a high/very high HDI, while cervical cancer was prevalent in countries with a medium HDI. Cancer incidence and mortality vary two- to threefold between nations. French Guiana, Brazil, Uruguay, and Argentina had the highest cancer incidence and mortality rates.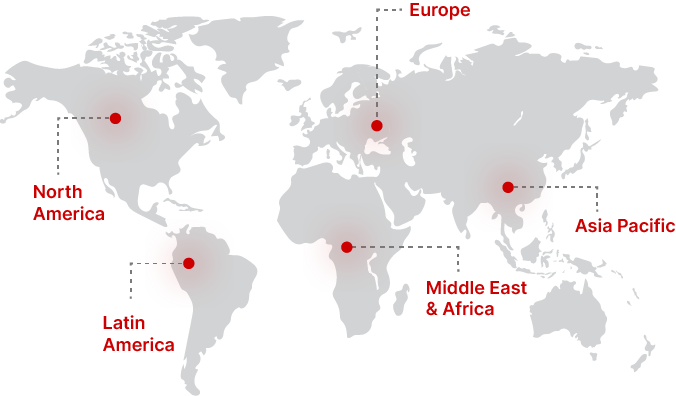 Regional Growth Insights
Download Free Sample
Key Players
Changzhou Zhiye
Changzhou Garson
Micro-Tech
Lepu Medical
Braun
Fude
Degania Medical
Biotronik
Balton
Radioactive Stent Used for Cancer Treatments Market Segmentations
Segmentation by Type
I125 Isotope
I131 Isotope-Iodine
Segmentation by Application
Esophageal Cancer
Biliary Cancer
Frequently Asked Questions