Market Overview
The Global Ramp Agent Hardhats Market Size is projected to grow at CAGR of approximately 3.7% during the forecast period.
Ramp Agent Hardhats are specialized hardhats used by workers in the aviation industry, specifically ramp agents who work on the tarmac and assist in the loading, unloading, and servicing aircraft. These hard hats protect ramp agents from head injuries due to falling objects, such as baggage or equipment, and potential hazards associated with working around aircraft.
Ramp agent hardhats are often made of high-impact resistant materials like polycarbonate or ABS (Acrylonitrile Butadiene Styrene) plastic for the best impact and penetration resistance. Additionally, they are made to be light and pleasant to wear for long periods. Some Ramp Agent Hardhats could have extra features, including ventilation systems, reflective strips for better visibility, and ear protection.
Increases in air travel, the development of the aviation infrastructure, and the aviation industry's increased emphasis on workplace safety laws and standards will all impact the demand for Ramp Agent Hardhats.
Market Dynamics
Global Ramp Agent Hardhats Market Drivers
The aviation sector has implemented increasingly strict safety standards and regulations to protect employees safety. The International Civil Aviation Organization (ICAO) has created safety standards for the aviation sector, including standards for using PPE like Ramp Agent Hardhats. In addition, regulatory organizations like the European Aviation Safety Agency (EASA) and the Occupational Safety and Health Administration (OSHA) in the United States have created safety standards and rules for using safety gear, including hardhats. The demand for Ramp Agent Hardhats that adhere to particular safety standards is driven by compliance with these rules.
Consistent growth in the worldwide aviation market has been fueled by increased traveler demand, international trade, and tourism. Global air traffic is anticipated to double by 2037, according to the International Air Transport Association (IATA), driven by expansion in emerging markets. The need for more ramp agents to manage the loading and unloading of aircraft is driven by the increase in air traffic, which also drives the need for Ramp Agent Hardhats.
Global Ramp Agent Hardhats Market Restraints
Recessions and other economic downturns may affect the market for Ramp Agent Hardhats. In a downturn, airlines might lay off employees or scale back operations, lowering demand for ramp agent hardhats. Consumers might also cut back on their travel or freight shipments, which would decrease demand for ramp agents services.
Global Ramp Agent Hardhats Market Opportunities
Technological Advancement
Manufacturers of Ramp Agent Hardhats are spending money on R&D to develop products that are lighter, more comfortable, and better for preventing head injuries in employees. These technological developments aim to solve pain, heat, and weight problems frequently associated with hardhats. For instance, some producers employ fiberglass or carbon fiber to create stronger, lighter hardhats. Several manufacturers are now adding cooling systems or ventilation elements to make hard hats more comfortable. Ramp Agent Hardhats are becoming more appealing to purchasers thanks to these developments, which are helping the industry expand.
Market Scope
Report Metric
Details
Market Size by 2031
USD XX Million/Billion
Market Size in 2023
USD XX Million/Billion
Market Size in 2022
USD XX Million/Billion
Historical Data
2019-2021
Base Year
2022
Forecast Period
2023-2031
Report Coverage
Revenue Forecast, Competitive Landscape, Growth Factors, Environment & Regulatory Landscape and Trends
Segments Covered

Segment by Type

HDPE
ABS

Segment by Application

Loading and Uploading Baggage
Operating Baggage Carts

Geographies Covered

North America
Europe
APAC
Middle East and Africa
LATAM

Companies Profiles

3M
Pyramex
Arco
TFC
Life Support International
Beal Pro
Tanizawa
Lift Safety
MSA
Segmental Analysis
Based on Type
For better understanding type is further segmented into HDPE and ABS.
Ramp Agent Hardhats are frequently made of HDPE because of their strength and impact resistance. It is perfect for usage in the aviation sector since it is remarkably strong, resilient, and resistant to harsh temperatures. HDPE may be used in tough situations since it is resistant to chemicals, UV rays, and moisture.
Ramp Agent Hardhats are also frequently made of ABS. This thermoplastic polymer is renowned for being robust, impact- and heat-resistant. ABS is perfect for hardhats with distinctive designs since it is lightweight and can be molded into intricate shapes. ABS is also resistant to chemicals and UV rays, making it appropriate for usage in the aviation sector.
Based on Application
The segment can be further bifurcated into Loading and Uploading Baggage, Operating Baggage Carts, and Others.
Both loading and unloading Transporting cargo and baggage onto and off an aircraft is referred to as loading and unloading baggage. Ramp agents wear hardhats to save themselves from falling items and head accidents throughout this process.
Operating Baggage Carts Baggage carts are used to move goods and baggage between an aircraft and a terminal. They can be protected from injuries by wearing hardhats while the carts operate.
Hardhats are required for extra tasks that fall under the others category, such as operating heavy equipment or working on construction projects.
Regional Analysis
The Global Ramp Agent Hardhats Market is segmented by region as North America, Europe, Asia Pacific, Latin America, and Middle East and Africa.
Ramp agent hardhats are anticipated to be in high demand in the North American region due to the many airports and airlines operating there. Air travel in this region will continue to grow, likely resulting in more demand for safety equipment like ramp agent hardhats. There is also a strong legislative framework for airport security in the region, which could result in tighter safety regulations and higher demand for security equipment.
Some of the busiest airports in the world are located in Europe, where there will certainly be a considerable need for ramp agent hardhats. The demand for safety equipment is predicted to be driven by the continuously increasing rate of air travel in Europe. Furthermore, the area prioritizes safety rules and standards, which can increase demand for premium safety gear such as ramp agent hardhats.
There will certainly be considerable demand for ramp agent hardhats in the Asia-Pacific region, which has some of the world's fastest-growing aviation markets. Aviation traffic is predicted to develop quickly in this region, which will probably increase demand for safety gear like ramp agent hardhats. In addition, several airports and airlines are in the area, which could lead to a rise in the demand for safety equipment.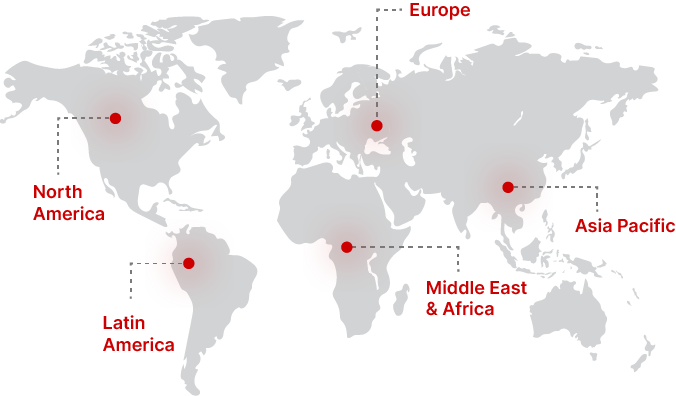 Regional Growth Insights
Download Free Sample
Key Players
3M
Arco
TFC
Life Support International
Beal Pro
Tanizawa
Lift Safety
MSA
Recent Developments
In March 2023, Guardhat and 3M announced a partnership for connected safety.
Ramp Agent Hardhats Market Segmentations
Segment by Type
Segment by Application
Loading and Uploading Baggage
Operating Baggage Carts
Frequently Asked Questions