Market Overview
According to Reed Intelligence the Global Retail Pharmacy Software Market Size will approximately grow at a CAGR of 8.1% during the forecast period.
Pharmacy software is a computer program that helps drug stores do their work faster and more easily. It is like a normal cash register in shops, but it has some extra features that are only for the drug business. For example, it can help drug stores track how many drugs they have and how many they need to order. It can also help them to give out the right drugs to customers who have prescriptions from doctors. The drug business is very big and complicated, and running a drug store well is not easy.
There are many things that drug stores have to deal with, such as the healthcare industry, the customers, the rules, and the money. The healthcare industry is increasingly complex daily, affecting drug stores' operations. Customers are very important for drug stores, and they need to get good service and advice from pharmacists. The common features of pharmacy software are Automatic refills, Bar code scanning, Barcode generation, E-prescribing, Inventory management, Point of sale (POS), Prescription processing, Rx image scanning, etc.
Benefits Derived From the Pharmacy Software Are
Providing better customer service. Pharmacy management software systems help druggists provide more comprehensive knowledge and advice to customers by suggesting appropriate generic substitutes for prescriptions. These generics have the same anatomical therapeutic chemical (ATC) code, yet are fare less costly for patients. Pharmacy solutions also enable pharmacists to run marketing campaigns and loyalty programs as well as send automatic notifications for refilling medications, so customers can stay on top of their prescriptions.
Ensure complete coverage of business operations. Pharmacy software systems are designed to manage every part of a pharmacist's business, from inventory management to maintaining regulatory compliance. Moreover, these tools provide helpful features that are essential for running a retail business, including advance expiry alerts, automated sales operations and purchase tracking.
Market Dynamics
Global Retail Pharmacy Software Market Drivers
Simplification of Workflow and Effectiveness
Retail pharmacy software automates tasks such as managing prescription orders, inventory, billing, and administrative duties, making the overall workflow more efficient. Pharmacists and staff can easily access and update information, reducing the need for manual record-keeping and paperwork. By automating these processes, the software saves time and minimizes errors that can occur with manual data entry. For example, prescription orders can be received electronically, eliminating the need for manual transcription and reducing the chances of errors. Additionally, inventory management becomes streamlined, ensuring that the right medications are always available, while billing processes are automated, reducing the time spent on manual invoicing and payment tracking. Ultimately, retail pharmacy software optimizes workflow, allowing pharmacists and staff to focus more on patient care.
Global Retail Pharmacy Software Market Restraints
Transitioning to A New Software System Requires Training
When a pharmacy adopts new retail pharmacy software, it's necessary for pharmacists and staff to learn how to use it. This learning process takes time and effort as they become familiar with the software's features and functions. The learning curve refers to the time it takes for individuals to use the software proficiently. This can be a challenge, especially for pharmacies with many employees or frequent staff changes. It requires allocating resources for training sessions and ensuring everyone understands how to navigate and utilize the software effectively. The learning curve and training requirements can be a restraint on the pharmacy's productivity during the transition period.
Global Retail Pharmacy Software Market Opportunities
Pharmacy Can Be Digitalized
Digital pharmacy is a term that describes a drug store that uses computers and the internet to provide pharmacy services to its customers. For example, a digital pharmacy can have a website or an app where customers can order drugs online and pay with their credit cards or other digital methods. The digital pharmacy can then deliver the drugs to the customers' homes or let them pick them up at a nearby location. A digital pharmacy can also use video calls or messages to communicate with customers and offer them advice and support with their drugs. A digital pharmacy can help customers save time and money and get better service.
Market Scope
Report Metric
Details
Market Size by 2031
USD XX Million/Billion
Market Size in 2023
USD XX Million/Billion
Market Size in 2022
USD XX Million/Billion
Historical Data
2019-2021
Base Year
2022
Forecast Period
2023-2031
Report Coverage
Revenue Forecast, Competitive Landscape, Growth Factors, Environment & Regulatory Landscape and Trends
Segments Covered

Segmentation by Type

Medication Dispensing Software
Pharmacy Management Systems
Pharmacy POS Software

Segmentation by Application

Retail Pharmacy
Hospital & Clinic
Pharmaceuticals

Geographies Covered

North America
Europe
APAC
Middle East and Africa
LATAM

Companies Profiles

ACG Infotech
Allscripts
ARxIUM
BD
Bdtask
BestRx.com
Cerner Retail Pharmacy
Clanwilliam Health
Datascan
Epicor Software
GE Healthcare
GlobeMed
Health Business Systems
Idhasoft
Liberty Software
McKesson Pharmacy Systems
MedHOK
Micro Merchant Systems
Mobile MedSoft
Omnicell
Oracle
Panama Technologies
PioneerRX
Sara Technologies
ScriptPro
Supplylogix
Swisslog
Talyst
Winpharm
ZAMAN IT
Segmental Analysis
Segmentation By Type
Medication Dispensing Software
Medication dispensing software, also referred to as pharmacy dispensing software, facilitates the direct transmission of external e-prescriptions into an internal pharmacy system and helps ensure medication adherence. Pharmacy medication dispensing is used for two purposes; any dispensing solution that provides workflow management, barcode scanning, claims management, and inventory management functionality qualifies for the medication dispensing category. Additionally, medication dispensing software facilitates effective and accurate communication between pharmacy and clinic, pharmacy and ancillary service provider, and pharmacy and customer.
Pharmacy Management Systems
Pharmacy management systems provide comprehensive software solutions that cover various aspects of pharmacy operations. These systems typically include features for prescription management, inventory control, patient profiles, billing and insurance processing, reporting, and administrative tasks. Pharmacy management systems aim to optimize overall workflow, enhance patient safety, and improve efficiency in managing the pharmacy's day-to-day operations.
Point-of-Sale (POS) software is designed specifically for retail transactions at the pharmacy counter. It enables pharmacists to process sales, manage payment methods, and generate invoices. Pharmacy POS software often integrates with inventory management and prescription processing systems to ensure accurate tracking of sales and inventory levels. Additionally, it may include features like customer loyalty programs, discounts, and sales analytics.
Segmentation By Application
This area focuses on software programs for independent, chain, and community pharmacies involved in retail sales. The software offers features and functionality such as prescription administration, inventory control, billing and insurance processing, patient profiles, and customer relationship management tailored to retail pharmacy operations' requirements.
The software programs used in healthcare environments, such as hospital pharmacies, outpatient clinics, and healthcare facilities, are called "hospital and clinic segments." This market's retail pharmacy software integrates with hospital information systems and electronic health records (EHRs). It offers medication management, dispensing, drug utilization review, inventory control, and interfaces with other clinical systems for seamless patient care coordination.
The software solutions in the pharmaceuticals category are targeted at distributors and makers of drugs. Pharmaceutical supply chain management, sales and distribution, inventory control, regulatory compliance, and tracking of medication sales and promotions are this program's main areas of concentration. It enables pharmaceutical organizations to manage their business operations efficiently, uphold regulatory compliance, and guarantee the smooth transition of pharmaceutical products from production to distribution.
Regional Analysis
The Global Retail Pharmacy Software Market is segmented by region as North America, Europe, Asia Pacific, Latin America, and Middle East and Africa.
North America
The North American region has the presence of a well-established healthcare system. The region is increasing technology adoption in the healthcare industry and the need for efficient management and automation of pharmacy operations. Further, Due to the huge population, expensive healthcare system, and several big retail pharmacy chains, the United States is a significant market in North America. The adoption of retail pharmacy software systems becomes possible through these elements.
Another significant market in the area is Canada. The nation has a highly developed healthcare system, and technology is increasingly emphasized to enhance healthcare services. Retail pharmacy software solutions are being used more frequently to increase operational effectiveness, simplify processes, and improve patient care.
Europe
There is a significant amount of digitization in the medical industry in the nations that make up this region, which can be seen in their well-developed healthcare systems. The increasing focus on improving patient safety, reducing medication errors, and enhancing operational efficiency in retail pharmacies drives the adoption of software solutions. In addition, government programs that encourage the use of electronic prescriptions and digital health records are another factor that contributes to the expansion of the retail pharmacy software industry in the Europe region.
Asia Pacific
China and India's region have large populations and growing healthcare needs, which offer significant opportunities for retail pharmacy software providers. The adoption of electronic health records (EHRs), digital prescriptions, and pharmacy automation systems is rising in these countries, giving them convenience in this sector and driving the demand for software solutions that can enhance operational efficiency and improve patient care. Thus, the Asia Pacific region is experiencing rapid growth in the retail pharmacy software market.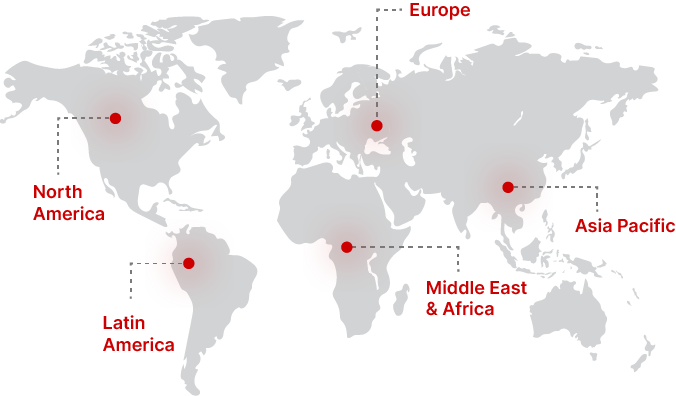 Regional Growth Insights
Download Free Sample
Key Players
Allscripts
ARxIUM
BD
Bdtask
BestRx.com
Cerner Retail Pharmacy
Clanwilliam Health
Datascan
Epicor Software
GE Healthcare
GlobeMed
Health Business Systems
Idhasoft
Liberty Software
McKesson Pharmacy Systems
MedHOK
Micro Merchant Systems
Mobile MedSoft
Omnicell
Oracle
Panama Technologies
PioneerRX
Sara Technologies
ScriptPro
Supplylogix
Swisslog
Talyst
Winpharm
ZAMAN IT
Recent Developments
February 1, 2023, the province of Nova Scotia signed a 10-year agreement with Oracle Cerner to implement an integrated electronic care record system. The "One Person One Record" (OPOR) initiative aims to provide healthcare professionals with easier access to real-time patient information, improving efficiency and patient care. The system will allow clinicians to quickly access important data, including laboratory results and imaging reports, aiding in decision-making. Additionally, the technology will enhance medication management processes, improve patient safety, and provide population health solutions. Nova Scotians will also have access to their health information through a patient portal.
Retail Pharmacy Software Market Segmentations
Segmentation by Type
Medication Dispensing Software
Pharmacy Management Systems
Pharmacy POS Software
Segmentation by Application
Retail Pharmacy
Hospital & Clinic
Pharmaceuticals
Frequently Asked Questions