Market Overview
The Global RF Synthesizers Market Size is slated to grow substantially at a CAGR of approximately 6.47% during forecast period.
Over the next years, the RF Synthesizers is anticipated to grow rapidly. A number of factors, including as the rise in demand for dependable wireless communication, advancements in communication technologies, and an increase in the usage of industrial automation and automotive electronics, are driving the market.
The market for RF synthesizers is driven by the need for accurate and dependable frequency generation across a variety of industries. For wireless communication, frequency management, and synchronization in automated manufacturing and process control systems in industrial applications, RF synthesizers are crucial. The increasing focus on connectivity, IoT devices, and smart manufacturing in the industrial sector creates a favorable market situation for RF synthesizers.
In addition to other wireless communication systems used in automobiles, RF synthesizers are essential components of Bluetooth, Wi-Fi, and cellular communication modules. The necessity for RF synthesizers is expanding as a result of the complexity of car electronics and communication systems.
Market Dynamics
Market Drivers
The development of mobile communication technologies like 5G, the Internet of Things (IoT), and wireless networks is driving the need for RF synthesizers. These synthesizers provide the frequency synthesis capabilities necessary to support the increased complexity, broader bandwidths, and faster data rates of communication systems.
Market Restraints
Depending on the application, RF synthesizer design and modification may be challenging and time-consuming due to design complexity and customisation issues. Equipment design and setup are challenging because of the wide frequency ranges, demanding performance standards, and necessity for minimal phase noise and spurious signals. If manufacturers want to meet the different demands of numerous industries and applications, they must overcome these challenge.
Market Opportunities
Applications in the Automotive industry
The growth of connected vehicle technologies, entertainment systems, and advanced driver assistance systems (ADAS) has fueled the explosion of electronic content for the automotive industry. Modern automobiles employ RF synthesizers to provide satellite communication, radar systems, and wireless networking. The automobile sector presents a significant opportunity for RF synthesizer manufacturers to address the growing need for advanced communication and sensor applications.
Market Scope
Report Metric
Details
Market Size by 2031
USD XX Million/Billion
Market Size in 2023
USD XX Million/Billion
Market Size in 2022
USD XX Million/Billion
Historical Data
2019-2021
Base Year
2022
Forecast Period
2023-2031
Report Coverage
Revenue Forecast, Competitive Landscape, Growth Factors, Environment & Regulatory Landscape and Trends
Segments Covered

Segmentation by Type

Analog
Digital

Segmentation by Application

Industrial
Automotive

Geographies Covered

North America
Europe
APAC
Middle East and Africa
LATAM

Companies Profiles

Qorvo
Lansdale Semiconductor
STMicroelectronics
Texas Instruments
Cypress Semiconductor
Silicon Labs
Nexperia
Analog Devices
ON Semiconductor
Segmental Analysis
Segmentation By Type
Analog RF synthesizers provide smooth, continuous frequency signals. They provide precise frequency synthesis for a variety of analog electronics applications. Analog RF synthesizers are characterized by low phase noise, high signal purity, and wide frequency range capabilities. They are often employed in instruments, analog communication systems, audio equipment, and other devices that need reliable frequency tuning and analog signals.
Digital RF synthesizers use digital signal processing techniques to generate frequency signals. With the use of these technologies, it is possible to quickly shift frequencies while maintaining a high degree of accuracy. Digital RF synthesizers are often used in contemporary communication systems, software-defined radios (SDRs), and digital signal processing applications. They provide advantages including versatility, ease of integration, and complex modulation techniques.
Segmentation By Application
This section discusses how RF synthesizers are used in systems for process control, industrial automation, and manufacturing. RF synthesizers may be used for many different industrial applications, including wireless communication in factory automation, frequency control in industrial sensors and instrumentation, and wireless connectivity in industrial IoT devices. In industrial environments, they provide synchronization, precise frequency control, and reliable wireless communication.
RF synthesizers are used in automotive applications to link wireless devices including Bluetooth, Wi-Fi, and cellular communication modules. They provide fast and secure communication between the many systems and parts of the automobile. RF synthesizers are also utilized in satellite communication, navigation, and vehicle radar systems to enable accurate signal synthesis and processing.
Regional Analysis
The Global RF Synthesizers Market is segmented by region as North America, Europe, Asia Pacific, Latin America, and Middle East and Africa.
North America
North America is a significant market for RF synthesizers as a result of the presence of significant semiconductor manufacturers, telecommunications companies, and research institutions. Technology development and the rollout of cutting-edge communication networks like 5G are within the purview of this division. The need for RF synthesizers in North America is being driven by the requirement for high-speed data transmission, wireless communication, and the rising usage of IoT devices. The region puts a high value on R&D activities, and the development of the RF synthesizers sector is supported by the region's outstanding telecommunications infrastructure.
Europe
Europe is a key market for RF synthesizers since there are sizable aerospace, automotive, and communications infrastructure industries there. The region's emphasis on networked autos, advanced driver assistance systems, and intelligent transportation networks has created opportunities for RF synthesizers in automotive applications. The European Union's expenditures in satellite communication systems, the Internet of Things, and 5G networks have increased the need for RF synthesizers.
Asia Pacific
As communications networks advance, smartphone use rises, and consumer electronics demand rises, the region's RF synthesizer market is expanding swiftly. The major manufacturers of semiconductors and consumers of communications technology are China, Japan, South Korea, and India. Due to the region's sizable population, rising disposable incomes, and technological advancements in fields like mobile telephony, the Internet of Things, and smart home devices, there is currently a considerable need for RF synthesizers there.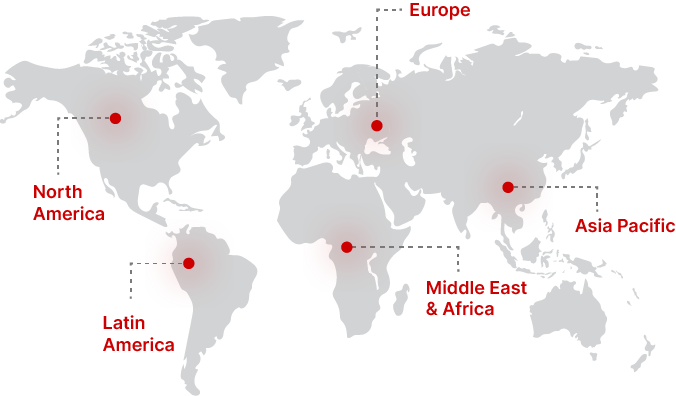 Regional Growth Insights
Download Free Sample
Key Players
Qorvo
STMicroelectronics
Texas Instruments
Cypress Semiconductor
Silicon Labs
Nexperia
Analog Devices
ON Semiconductor
Recent Developments
Data centers, cloud computing, and multimedia streaming are just a few of the applications that are driving the need for high-speed data transfer. These synthesizers' ability to precisely synthesize frequencies, which is required for trustworthy and efficient communication between devices and networks, enables high-speed data transfer.
RF Synthesizers Market Segmentations
Segmentation by Type
Segmentation by Application
Frequently Asked Questions