Market Overview
The Global Robotic Sanders Market Size is projected to grow at CAGR of approximately 10.3% during the forecast period.
Robotic sanders are automated equipment used for sanding tasks in various sectors. These machines use robotic technology and sanding instruments to sand surfaces with extreme precision and accuracy. Robotic sanders can be used for various sanding tasks, such as polishing, finishing, and surface preparation.
The use of robots for sanding tasks in various industries, including automotive, aerospace, woodworking, and others, is a rising market for robotic sanders. Robotic sanders save expenses, enhance surface finishing quality, and increase sanding efficiency and accuracy.
The demand for high-quality finishing and surface preparation in numerous industries and the increased demand for automation in manufacturing processes are some of the reasons driving the market. Additionally, the industry is seeing an increase in the usage of collaborative robots (cobots), the fusion of AI and ML technologies, and the Application of sensors and vision systems to increase precision and effectiveness.
Market Dynamics
Global Robotic Sanders Market Drivers
Increasing Demand for An Automation Process
The need for automation in industrial processes is growing as businesses look for ways to increase productivity, save costs, and enhance product quality. Robotic sanders provide a high level of automation and can carry out sanding tasks with great accuracy and precision, increasing productivity.
Advancements in Robotic Technology
The market for robotic sanders is expanding due to the development of new robot technologies and sanding equipment. The accuracy and effectiveness of robotic sanders are being improved by innovations, including collaborative robots (cobots), AI and ML integration, and the utilization of sensors and vision systems.
Adoption of Collaborative Robots
Since collaborative robots (cobots) have significant advantages over conventional industrial robots, their Application is expanding in the manufacturing sector. Cobots are the best choice for sanding tasks that require high precision and accuracy since they are smaller, more adaptable, and simpler to program.
Global Robotic Sanders Market Restraints
Limited Availability of Skilled Professionals
Robotic sander usage in various industries may be constrained by the specialized knowledge and skills needed for operation and maintenance. Robotics, automation, and software programming abilities are needed for robotic sander installation, programming, and operation.
Maintaining robotic sanders requires a thorough understanding of robotics, pneumatics, electronics, and mechanical systems. Companies who want to use robotic sanders may face difficulties because there aren't enough experienced workers with this kind of knowledge available. This may result in longer lead times for installation and maintenance, greater outsourcing costs, and a lack of qualified personnel to run and maintain the equipment.
Global Robotic Sanders Market Opportunities
Expansion to New Industries
Robotic sanders are heavily used in the automotive and aerospace industries, but there is room for growth in other sectors like metal fabrication, marine, and construction. There may be an increase in demand for robotic sanders to assist with sanding and surface preparation chores as these businesses look to increase their productivity and efficiency.
Market Scope
Report Metric
Details
Market Size by 2031
USD XX Million/Billion
Market Size in 2023
USD XX Million/Billion
Market Size in 2022
USD XX Million/Billion
Historical Data
2019-2021
Base Year
2022
Forecast Period
2023-2031
Report Coverage
Revenue Forecast, Competitive Landscape, Growth Factors, Environment & Regulatory Landscape and Trends
Segments Covered

Segment by Type

Orbital Sander
Belt Sander

Segment by Application

Commercial
Industrial

Geographies Covered

North America
Europe
APAC
Middle East and Africa
LATAM

Companies Profiles

3M
Robotiq
OnRobot
Dynabrade
Mirka
PushCorp
ABB
Segmental Analysis
Based on Type
Better understanding type is further segmented into Orbital Sander, Belt Sander, and Others.
An orbital sander employs a circular sanding pad that rotates in random orbits. The woodworking and automotive industries frequently employ orbital sanders to sand flat or curved surfaces.
Sanding large, flat surfaces fast and effectively requires a belt sander, which uses a continuous loop of abrasive sandpaper. The manufacturing and construction industries frequently employ belt sanders to sand wood, metal, and plastic materials.
Robotic hand sanders and sanding robots made for 3D sanding complex shapes are examples of robotic sanders made for specific uses in the others category. These sanders may employ various sanding methods or equipment to produce the desired finish.
Based on Application
The segment can be further bifurcated into Commercial, Industrial, and Others.
The commercial category comprises enterprises that employ robotic sanders for surface preparation and finishing, including woodworking shops, automotive repair shops, and other companies. These robotic sanders may require different sanding techniques than those used in large-scale industrial settings because they are primarily created for smaller-scale tasks.
In the industrial sector, robotic sanders are utilized extensively for surface preparation and finishing in the aerospace, marine, and metal fabrication sectors. Industrial robotic sanders can sand huge, complicated shapes and surfaces and are typically made for heavy-duty Applications.
Any other uses for robotic sanders that do not come within the commercial or industrial categories are included in the Others category. Robotic sanders, for instance, might be employed in the manufacture of consumer products like furniture or electronics, R&D
purposes.
Regional Analysis
The Global Robotic Sanders Market is segmented by region as North America, Europe, Asia Pacific, Latin America, and Middle East and Africa.
The largest region in the world market for robotic sanders is Asia Pacific. This is likely linked to the substantial expansion of the industrial sectors in nations like China, Japan, and India. These nations rank among the top vehicles and electrical equipment manufacturers, two of the main applications for robotic sanders. The market for robotic sanders in Asia is also anticipated to increase as automation and robots are increasingly used in the region's manufacturing sectors. Further driving up demand for robotic sanders is the region's accessibility to cheap labor, making it a desirable location for manufacturing activities.
Due to large manufacturing sectors in the region, such as the automotive and aerospace sectors, the robotic sander market in North America is anticipated to substantially expand. The greatest market in the area for robotic sanders is the United States. Due to the rising adoption of automation and robotics in the region's manufacturing industries, Europe is predicted to have stable expansion in the market. Europe's biggest market for robotic sanders is Germany.
Due to the region's manufacturing sectors' growing use of automation and robotics, the Latin American market for robotic sanders is predicted to rise moderately. The region's biggest market for robotic sanders is Brazil.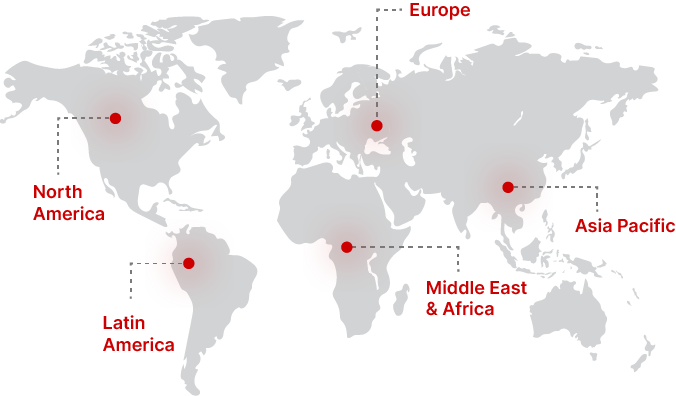 Regional Growth Insights
Download Free Sample
Key Players
3M
OnRobot
Dynabrade
Mirka
PushCorp
ABB
Recent Developments
In march 2023, Guardhat and 3M announced a partnership for connected safety.
In March 2023, Energy conservation was on display with ABB Formula E in motorsports-crazy Brazil.
Robotic Sanders Market Segmentations
Segment by Type
Orbital Sander
Belt Sander
Segment by Application
Frequently Asked Questions