Market Overview
The Global Rooftop PV System Market Size is estimated at a CAGR of approximately 10.2% during the forecast period.
Photovoltaic cells in a solar panel convert solar energy into electricity. Panels are manufactured from semiconductor cells like Silicon. Rooftop solar panels typically have 30 panels. The semiconductor in photovoltaic panels absorbs sunlight, freeing electrons (the basis of electricity) to flow across it. Dislodged electrons with negative charges travel across the cell's surface toward the front, causing a charge imbalance between the front and back. Because of this imbalance, photovoltaic cells generate power. Photovoltaic systems consist of modules, support structures, inverters, and wires.
A rooftop solar photovoltaic installation is an electrical system configuration on a roof that utilizes solar energy to generate electricity. Solar photovoltaic (PV) systems installed on rooftops are distributed power generation systems that help supply buildings' energy requirements within an existing distribution network.
Market Dynamics
Market Drivers
Inclination Towards Clean Energy
Increasing demand for renewable energy is one of the primary forces driving the global rooftop solar market. Rooftop solar provides the benefits of modern electricity services to households that did not previously have access to electricity, reducing electricity costs on islands and in other remote locations that rely on oil-fired generation and allowing residents and small businesses to generate their electricity.
Increasing Demand For Crystalline Silicon
Crystalline silicon solar panels, including monocrystalline and polycrystalline variants, are the most prevalent and well-established technology in the solar industry. Crystalline silicon modules have become popular for rooftop solar installations because of their efficiency, dependability, and affordability. In addition, the scalability and adaptability of crystalline silicon modules contribute to their increasing demand in response to the rising demand for sustainable and renewable energy solutions.
Market Restraints
Reliance on the Weather Conditions
Rooftop solar PV systems rely on sunlight to generate electricity, which can be unreliable and varies based on location and time. This variation in energy production makes it difficult to rely solely on rooftop solar PV systems for electricity, especially during periods of minimal sunlight. Thus, the PV system is entirely dependent on the current weather conditions. This inhibits the expansion of the rooftop PV system market.
The Cost Associated With PV Systems
The high installation cost is one of the greatest obstacles to the widespread adoption of rooftop solar PV systems. Even if the long-term savings are substantial, the cost of purchasing and installing solar panels and related apparatus could discourage many consumers. Rooftop solar PV systems have minimal ongoing maintenance costs, but they may require repairs or component replacements over time, which can increase the total cost of ownership. The costs associated with the installation and maintenance of rooftop PV systems could hinder the market's development.
Market Opportunities
An Increasing Number of Useful Applications
The market for rooftop solar PV modules in the power generation business is expected to grow significantly. The growth can be attributed to rooftop solar PV systems being a good way for companies to get more energy. Putting solar panels on roofs lets firms diversify their power sources, use less fossil fuels, and meet their goals for renewable energy. New policies and spending by utilities in installing rooftop solar PV systems will also help the segment's growth. This will establish the largest share of the global PV system market. In the future years, an increasing number of businesses and households will implement this system.
Market Scope
Report Metric
Details
Market Size by 2031
USD XX Million/Billion
Market Size in 2023
USD XX Million/Billion
Market Size in 2022
USD XX Million/Billion
Historical Data
2019-2021
Base Year
2022
Forecast Period
2023-2031
Report Coverage
Revenue Forecast, Competitive Landscape, Growth Factors, Environment & Regulatory Landscape and Trends
Segments Covered

Segment by Type

Crystalline Silicon
Thin Film

Segment by Application

Non-residential
Residential

Geographies Covered

North America
Europe
APAC
Middle East and Africa
LATAM

Companies Profiles

Jinko Solar
Trina Solar
Canadian Solar
JA Solar
Hanwha
First Solar
Yingli
SunPower
Sharp
SolarWorld
Eging PV
Risen
Kyocera Solar
GCL
Longi Solar
Segmental Analysis
Segment by Type
Silicon is the most commonly used semiconductor material in solar cells. Silicon atoms interconnected to form a crystal lattice compose crystalline silicon cells. This lattice's organized structure improves the efficiency of light-to-electricity conversion. Silicon solar cells offer a combination of high efficiency, low cost, and long tenure. Systems are anticipated to last at least 25 years and produce over 80% of their initial power.
A thin-film solar cell is created by placing one or more thin layers of photovoltaic (PV) material onto a supporting material such as glass, plastic, or metal. Two primary varieties of thin-film PV semiconductors exist: cadmium telluride (CdTe) and copper indium gallium diselenide (CIGS). Both materials can be deposited directly on the module's front or back surface. Thin films are more elastic and lighter than thicker films. These are utilized in developing integrated photovoltaics and as a semi-transparent photovoltaic material that can be fused and incorporated into panels.
Segment by Application
A commercial solar panel will be larger and comprise 96 cells. The price of a solar panel is estimated by the quantity of energy it generates, not its size. Industrial solar panels are larger than residential ones and produce energy more efficiently. The efficacy of industrial solar panels is 20%, making them approximately 2% more efficient than residential panels. Due to their greater complexity, installing solar panels for industrial use typically takes one week and one month. The exterior sides of industrial solar panel systems are white.
Residential solar panels are typically smaller and produce less energy because they serve fewer people. A typical residential solar panel will contain 72 cells. Residential solar panel installation takes one to two days. Numerous colors of solar panels are now available, but they are less efficient than the traditional blue and black. Residential Customers prefer black panels with a black backdrop. Residential PV solar systems are less expensive than commercial PV solar systems. This is because residential energy consumption is significantly lower than industrial energy consumption.
Regional Analysis
North America
The United States and Canada are currently the leaders in the market for rooftop solar photovoltaic systems (PV), one of the world's largest marketplaces. The expansion of the market has been aided in part by governmental policies and programs that provide incentives, including tax credits and net metering. Most solar panels have been installed on rooftops in California, making it the most solar-friendly state in the United States.
Europe
Demand for rooftop PV systems in European countries is rising. Germany is anticipated to retain a significant share of the market in Europe. The trend of producing more electricity from renewable sources is encouraging the expansion of rooftop solar photovoltaic capacity. Stringent regulations regarding the implementation of renewable energy also propel the market in the region. Expanding access to renewable energy is anticipated to reduce reliance on conventional and imported energy sources. Using solar energy is more reliable than using traditional electricity.
Asia-Pacific
Asia-Pacific region will be the leading region in the rooftop solar photovoltaic market. Countries such as Japan, China, and India support sustainable and green energy. Due to the increasing energy demand, there is a growing need to develop alternatives to this region's swiftly depleting fossil fuels. Large-scale solar farms have become more prevalent in this region over the past few years. The costs associated with technology have decreased dramatically. To meet the region's increasing energy demand and ambitious renewable energy goals, Asian governments have begun a construction binge.
Latin America
Rooftop solar PV systems are a developing market in Latin America, with Brazil, Mexico, and Chile leading the way. Government policies and incentives, including net metering and tax credits, have contributed to market expansion. Rural off-grid solar PV systems have substantial potential in this region.
Middle East and Africa
Due to the region's abundant solar resources, the Middle East and Africa are relatively modest markets for rooftop solar PV systems, but significant growth potential exists. Some nations have implemented government policies and incentives such as feed-in tariffs and net metering to encourage market growth. Net metering is a system that allows consumers with solar PV systems to sell their excess electricity back to the utility at the retail price. Feed-in tariffs are contracts that pay consumers a fixed price for the electricity they produce.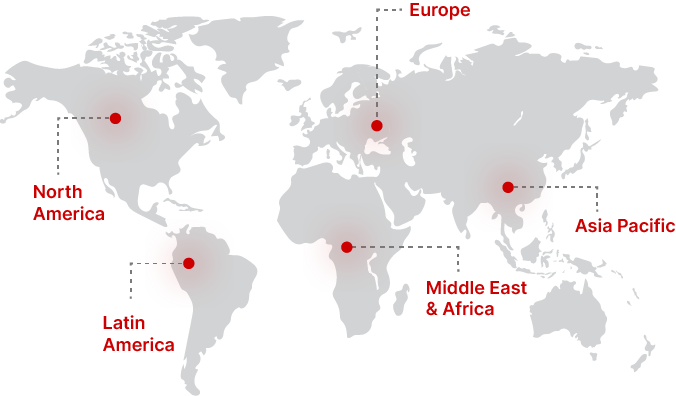 Regional Growth Insights
Download Free Sample
Key Players
Trina Solar
Canadian Solar
JA Solar
Hanwha
First Solar
Yingli
SunPower
Sharp
SolarWorld
Eging PV
Risen
Kyocera Solar
GCL
Longi Solar
Recent Developments
May 2022 - Trina Solar launched its second-generation Vertex S, Vertex S+rooftop solar module in Europe. This premium solution features dual-glass construction and 21mm n-type vertex cells for optimal compatibility and straightforward installation. A 25-year product warranty and a 30-year performance warranty cover the Vertex S+. These developments demonstrate the company's industry leadership in residential, industrial, and commercial rooftop applications.
Rooftop PV System Market Segmentations
Segment by Type
Crystalline Silicon
Thin Film
Segment by Application
Non-residential
Residential
Frequently Asked Questions