Market Overview
According to Reed Intelligence the Scalable Chassis Market Size will approximately grow at a CAGR of 33.5% during the forecast period.
A scalable chassis system can be modified or scaled to fit multiple vehicle platforms and combinations. It is intended to provide flexibility and adaptation in vehicle manufacturing by allowing automakers to employ the same base chassis design for different vehicle types or variants. The scalable chassis market is for systems that may be changed or scaled to meet various vehicle platforms and applications. A chassis is a framework or structure that supports the components of a vehicle, such as the engine, transmission, suspension, and body.
The market for scalable chassis is very competitive, with numerous major automakers investing in developing flexible platforms. Advanced engineering and design approaches are frequently used on these platforms to assure structural integrity, safety, and performance across various vehicle variations. In recent years, there has been an increase in demand for flexible and adaptable chassis systems to meet the changing needs of the automobile industry. Scalable chassis systems have various advantages, including cost savings, enhanced production efficiency, shorter development times, and increased versatility.
Market Dynamics
Market Drivers
Autonomous Vehicle Development
Another important driver for the Scalable Chassis Market is the development of autonomous vehicles, often known as self-driving automobiles. Automakers and technology companies are investing considerably in building vehicles that can navigate without human intervention as autonomous technology progresses. Scalable chassis systems provide the flexibility to accommodate complex sensor arrays, computing systems, and other autonomous driving components. These chassis designs provide the structural integrity, space, and versatility required for sophisticated autonomous system integration.
Cost Efficiency and Time-to-Market
Scalable chassis systems offer significant cost savings and a shorter time-to-market for automakers. By adopting a scalable platform, automakers can share similar components, manufacturing processes, and technical resources across several vehicle models. This decreases the requirement for specific tooling and design efforts and overall development costs. A scalable chassis also enables speedier development cycles because automakers can deliver new models or variants more quickly by leveraging current platforms, lowering time-to-market.
Market Restraint
Issues of Complexity and Compatibility
Scalable chassis systems are designed to accommodate a variety of components and form factors, such as blade servers or rack servers. However, compatibility concerns may arise due to the complexity of these systems. Different generations of components, variable sizes, or proprietary designs from various manufacturers may not necessarily fit easily into a scalable chassis, necessitating further changes or customization. This intricacy can complicate implementation and increase the time and effort necessary for installation and maintenance, putting some potential users off.
Market Opportunities
Electric Vehicle Adoption
The growing popularity of electric vehicles is a major driver of the Scalable Chassis Market. Electric vehicles are becoming more popular as governments and consumers prioritize sustainability and environmental concerns. Scalable chassis systems enable automakers to build various electric cars on a single platform, including sedans, SUVs, and even commercial vehicles. This enables manufacturers to streamline production processes, cut costs, and offer new models more quickly.
Market Scope
Report Metric
Details
Market Size by 2031
USD XX Million/Billion
Market Size in 2023
USD XX Million/Billion
Market Size in 2022
USD XX Million/Billion
Historical Data
2019-2021
Base Year
2022
Forecast Period
2023-2031
Report Coverage
Revenue Forecast, Competitive Landscape, Growth Factors, Environment & Regulatory Landscape and Trends
Segments Covered

Segmentation By Type

More Than 5 Port
Less Than 5 Port

Segmentation By Application

Large Enterprises
SMEs

Geographies Covered

North America
Europe
APAC
Middle East and Africa
LATAM

Companies Profiles

Zest Technologies
Fortinet
HOPE
Pickering Interfaces
PCICase
IBM
Lenovo
Supermicro
Check Point
Dell
Segmental Analysis
Segmentation By Type
More than five ports imply that the chassis device can support more than five network connections at the same time. This implies it can support more devices or network modules, providing better scalability and flexibility in network deployments. Chassis devices with more than five ports are often utilized in wider network environments or data centers requiring many network connections.
less than five ports indicate that the chassis device has fewer than five ports. Such chassis devices are often appropriate for smaller-scale network deployments with a modest number of network connections. They can be utilized in small office setups, home networks, and other scenarios where only a few devices need to be connected.
Segmentation By Application
Large enterprises can use scalable chassis solutions to add or replace components without disturbing their existing infrastructure. This adaptability enables them to respond quickly to changing workloads, meet rising data processing demands, and maximize resource consumption. Large organizations also benefit from the ability to easily scale their chassis solutions as their business grows or shrinks, ensuring that their infrastructure keeps up with their current needs.
Scalable chassis solutions allow SMEs to start with a smaller configuration and expand as their demands develop. This technique enables them to reduce upfront expenses and optimize resource allocation depending on their current needs. Because SMEs generally encounter rapid growth or changing demand, scalable chassis solutions enable them to scale up their infrastructure rapidly and cost-effectively. This scalability also assists SMEs in avoiding overprovisioning or underutilization of their IT resources, ensuring efficient operations and effective resource usage.
Regional Analysis
North America (USA, Canada, Mexico)
The automobile sector is strong in North America, and many segments have steady demand for vehicles. Scalable chassis platforms are becoming more popular as manufacturers strive to streamline manufacturing processes and decrease costs. Using a standardized chassis architecture, they can realize economies of scale, enhance production efficiency, and respond more effectively to changing Scalable Chassis Market demands. SUVs and pickup trucks, significant regional vehicle segments, are gaining popularity in the North American automotive industry. Scalable chassis platforms enable automakers to offer various SUV and pickup truck models while reducing development and production costs.
Europe (Germany, the U.K., France, Russia, Italy, Rest of Europe)
Europe is an important market for the automotive industry, and several European automakers have embraced scalable chassis platforms. Scalable chassis platforms include Volkswagen Group's MQB (Modular Transverse Matrix) and BMW's Cluster Architecture (CLAR). Because of tougher pollution restrictions and growing environmental concerns, the European automobile sector is shifting toward electric cars (EVs) and hybrid vehicles. Scalable chassis platforms can also aid in developing electric and hybrid vehicles by including the appropriate battery systems and electric drivetrains.
Asia-Pacific (China, Japan, South Korea, India, Southeast Asia, Rest of Asia-Pacific)
The Asia Pacific region is one of the world's largest automotive marketplaces, with key contributors including China, Japan, India, South Korea, and others. These countries' growing populations, rising disposable income, and fast urbanization, have resulted in a substantial demand for automobiles such as passenger cars, commercial vehicles, and two-wheelers. An increased emphasis on fuel efficiency, emission reduction, and stricter regulatory rules for vehicle safety and performance drives the Asia Pacific region's demand for advanced chassis technology. Manufacturers are investing in R&D to create lightweight, high-strength materials and new chassis designs that improve vehicle performance while lowering weight and increasing fuel efficiency.
South America (Brazil, Rest of South America)
The automotive sector is important in South America, with countries like Brazil and Argentina being prominent players. Brazil, in particular, has a well-developed automotive industry and is one of South America's largest automobile markets. Historically, expanding urbanization, population growth, and economic development have pushed the need for scalable chassis throughout South America. These reasons have increased demand for commercial vehicles, such as trucks and buses, which frequently utilize expandable chassis platforms.
Middle East and Africa (Saudi Arabia, UAE, Egypt, South Africa, Rest of MEA)
The Middle East and Africa region has experienced incredible economic expansion, urbanization, and infrastructure development in recent years. This expansion has raised demand for transportation and logistics services, boosting demand for commercial cars. Countries in the Middle East, such as Saudi Arabia, the United Arab Emirates, and Qatar, have significantly invested in infrastructure projects such as construction, transportation, and tourism. These expenditures generate a favorable climate for the scalable chassis industry since they necessitate a diverse variety of commercial vehicles.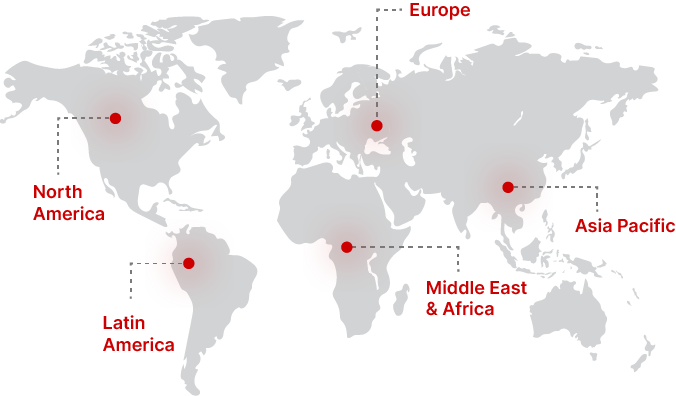 Regional Growth Insights
Download Free Sample
Key Players
Zest Technologies
Fortinet
HOPE
PCICase
IBM
Lenovo
Supermicro
Check Point
Dell
Recent Developments
April 2023: Magna International has been selected to develop INEOS Automotive's all-new electric SUV, with production set to commence in Graz, Austria. Magna will also be in charge of the vehicle's overall engineering.
Scalable Chassis Market Segmentations
Segmentation By Type
More Than 5 Port
Less Than 5 Port
Segmentation By Application
Frequently Asked Questions