Market Overview
The Global Shipping and Logistics Market Size is anticipated to touch at a CAGR of approximately 5.5% during the forecast period.
Shipping is the transfer or movement of goods from one place to another while Logistics include material handling, warehousing, packaging and much more. Logistics involves both the integration and management of these smaller areas in order to minimize costs and improve overall operations for businesses. The primary differences between shipping and logistics are scope and scale. Logistics operates on a larger scale than shipping. In fact, logistics is an important part of supply chain management which is an integral aspect of business strategy. Despite the differences between shipping and logistics, successful businesses rely on both of these areas working together in order to operate efficiently.
Logistics can be divided into 3 major categories Inbound logistics, Outbound Logistics and Reverse Logistics. Inbound logistics are the processes that move products from a manufacturer to the Warehouse. It is concerned with sourcing Products, Products Lead Time and Warehouse receiving. Outbound Logistics is concerned with all the operations necessary to move your products from a fulfilment centre or warehouse to the customers which includes Order processing, Picking and packing, Shipping, Carrier partnerships. Reverse logistics refers to processing customer returns and exchanges. This includes both inbound and outbound processes, like return labels, inspecting returned merchandise, processing refunds, and shipping out a new item if it's an exchange.
Advances in automation, digitization and a recent uptick in world trade are expected to drive efficiency and profits for ocean carriers in upcoming years. Technologies such as artificial intelligence, blockchain are changing the business landscape for the Shipping and Logistics (S&L) industry.
Market Dynamics
Global Shipping and Logistics Market Drivers
Increased Demand of Goods & Services
The increased demand of goods and services world wide is key driver of the logistics and shipping Management. The increase in population and need of services and goods leads to more manufacturing, transportation and sales of the goods. As Logistics is concerned with supply of raw materials, finished goods, storage of finished goods and transportation of finished goods the market of Shipping and Logistics market is growing rapidly. The logistics operations like inbound, outbound and reverse logistics are taking place frequently due to increase in demand and increased affordability of the global population. The supply and Logistics is Market is more stable in the economically stable regions like North America, Europe and Asia as the population is economically stable which drives increased manufacturing, Shipping and sales.
Increased Digitization and Automation
Improving the digital channels for purchasing products has made easy for the customers to purchase the products and has been time saving. It decreases the purchase and delivery time of the products which leads to customer satisfaction. The Logistics and Shipping has moved towards Digitization and Automation due to pandemic and helped the businesses to grow without any cost of infrastructure. It has increased the efficiency of Retail and Manufacturing includes innovative technology that is developed for redesigning or rebuilding the warehouses and the stores. The processes of manufacturing, packaging and shipping are being carried out efficiently due to Automation. As the use of digital platforms for purchasing is preferred by the customers there more efficient shipping and logistics carried out in various regions globally.
Global Shipping and Logistics Market Restraints
Thefts can take place while manufacturing and shipping processes. The regions where there is large scale manufacturing and shipping the risk of theft increases. For manufacturers it is very difficult to figure out where theft may have occurred as information about the shipment of their goods is usually only available days or weeks after their products have already arrived at their end destination. Theft of company products leaves less inventory for legitimate customers to purchase. With less inventory, the business has a smaller product pool with which the production costs, pay vendors meet financial obligations. There can be Cargo theft which is Cargo theft is the unlawful taking of any shipment, as goods move through the global supply chain.
Lack of Accurate Data On Shipping Conditions
Many products need to be transported within pre-set environmental conditions, such as within certain temperature parameters. As there is no way for manufacturers to see shipping conditions in real-time, some logistics companies, local or global, falsify the information on how they've shipped certain goods. As some products are to be shipped in a particular room temperature or specific conditions have to be followed, but the conditions sometimes are just shown to be followed and actually not followed because of the cost required which affects the quality of the products due to inaccurate shipping.
Market Scope
Report Metric
Details
Market Size by 2031
USD XX Million/Billion
Market Size in 2023
USD XX Million/Billion
Market Size in 2022
USD XX Million/Billion
Historical Data
2019-2021
Base Year
2022
Forecast Period
2023-2031
Report Coverage
Revenue Forecast, Competitive Landscape, Growth Factors, Environment & Regulatory Landscape and Trends
Segments Covered

Segmentation by Type

Railways
Roadways
Airways
Waterways

Segmentation by Application

Retail and FMCG
Manufacturing
Construction
Agricultural
Automotive

Geographies Covered

North America
Europe
APAC
Middle East and Africa
LATAM

Companies Profiles

Kuehne + Nagel
DHL Group
Sinotrans
DB Schenker Logistics
GEODIS
Panalpina
DSV
Bolloré Logistics
The Maersk Group
Expeditors
Dachser
Nippon Express
Segmental Analysis
Segmentation By Type
The most important advantage of shipping via Railways is efficiency. A standard rail car can fit 3.5 to 4 times the amount of product that a standard dry van can. This means that for every rail car shipped across the country, it's the equivalent of taking 4 semi-trucks off the road. From fuel savings to product handling, materials can be delivered, handled, and put into storage for distribution with fewer resources involved. With the efficiency of shipping via rail logistics, cost savings can be had in multiple areas. The transportation itself is cheaper as trains haul with strict schedules and larger quantities can be moved at a time. Shipping via Railways reduces the chances of an accident, shipping error, or even theft.
Road transport is most suited for on-time, hassle-free and offers flexible delivery options. Road transportation is cost-effective since it requires less capital investment and operating and maintenance expenses. Since road transportation is more flexible for delivery to outlying locations, it is possible to ship goods to even the tiniest settlements. Road transportation is usually used when there is local transportation of goods. Overpacking is not necessary for the goods which reduces the cost of packaging. In Road transportation routes and timings can be modified to meet the unique transportation needs of the customer. As the products are transported by road from the source to the destination the consumer need not be concerned about their shipment being handled more than once.
Air transport is one of the most important modalities for international logistics. The speed, safety, and efficiency of air transport make it the preference of companies that need to ship goods from one country to another. Air transport is significantly faster than other modes, such as sea or land transport. This speed is especially important for companies that need to ship urgent or perishable goods, such as food or pharmaceuticals. Air transport is also a popular option for companies that need to ship high-value goods, such as high-tech electronics or jewellery. airlines are required to follow IATA (International Air Transport Association) and TSA (U.S. Transportation Security Administration) security regulations. These regulations include strict baggage and cargo checks, as well as security inspections of aircraft and airport facilities. Air transport is also an efficient option for international logistics due to the efficient transport.
Transporting goods by ship is a greater option to move bulk products in lower cost. It is the slowest means of shipping. It is environmentally responsible and fuel efficient shipping. As long as there is the ability to plan ahead or can use existing inventory as a buffer, this mode could be a good option. It can be difficult to predict and control the transit times due to unforeseen circumstances. One of the major disadvantages of water transport is not being able to track the exact location of the shipments. While technology is improving, depending on the carrier, tracking the exact location of the shipments on the water can be more challenging than other modes.
Segmentation By Application
The shipping and Logistics help the retail and FMCG industry in various ways. Managing the sourcing of finished goods is a crucial part of any effective supply chain management in retail. Logistics within a company's production plant, including the flow of raw materials, components, and sub-assemblies. Rules for performance, required data storage, facility management, and regulatory compliance are monitored. Supply chain experts aim to reduce expenses and boost profits, despite the inevitability of operational and overhead expenditures. The quality of the products is assured. FMCG companies are under significant price pressure due to global competition and shorter product life cycles. Organizations should better manage this level of competition in the fast-moving consumer goods (FMCG) market with the aid of intelligent logistics solutions.
Logistics in manufacturing plays a vital role in optimizing production processes, minimizing lead times, and lowering inventory costs. Effective logistics management enables companies to refine their transportation, warehousing, and distribution strategies, resulting in higher efficiency and reduced operational expenses. Properly managing logistics manufacturing, companies can ensure timely delivery of products, improved quality control, and increased responsiveness to customer demands. The technological advancements and the growing importance of sustainability, companies are adapting their logistics manufacturing strategies. This includes implementing innovative solutions such as automation, artificial intelligence, and data-driven analytics and fostering collaboration between various stakeholders in the supply chain.
Logistics in construction management is the process of planning, executing, and controlling procurement, transportation, workers, and resources. Logistics leads to increase productivity, minimize waste production, efficient storage of material, safe work environment, and collaboration. To carry out the project on time the timely delivery of raw materials is important. Safety is one of the major concerns of the logistics. The logistics looks after the safety training of the workers before working in order to avoid accidents. It sets certain safety policies which have to be followed by every employee while working on site.
Logistics management in the agricultural industry is the process that ensures the optimal and continuous flow of ago-goods from manufacturers or suppliers to producers and, eventually, to consumers. Some of the activities needed to facilitate this logistics process include agricultural production, acquisition, storage, handling, transportation, and distribution. Corn, the most widely produced crop in the U.S., relies heavily on logistics management to ensure farmers receive the necessary resources to feed the world. The Storage of grains, fruits, vegetables is also important for stabilizing the price of produce by balancing demand and supply. Proper packaging and improved transportation facilities prevent large quantities of farm produce from getting spoiled during transit.
Automotive Logistics covers all modes of transportation, such as rail, truck, and marine. The movement of auto components, replacement parts, and whole cars from supplier to consumer is known as automotive logistics and transport, warehousing, unloading, loading, distribution, and data processing are the primary operations. Automotive logistics is the meticulous planning and execution of a complicated car transportation process. Production logistics, manufacturing and distribution logistics, car sales logistics, supply logistics, and recycling logistics are all types of logistics used to manage the Automotive industry. Automotive supply logistics can help keep the manufacturing, transit, and purchase of automobiles moving forward.
Regional Analysis
The Global Shipping and Logistics Market is segmented by region as North America, Europe, Asia Pacific, Latin America, and Middle East and Africa.
North America
The increasing demand for the foreign goods in the emerging economies, such as Indonesia, Thailand and India specifically imported from the North American countries, acts as one of the major forces which is driving the growth of the logistics market in the region. The United States represents one of the key markets for logistics accounting for over 60% of the total market. The region has highly integrated supply chain network that links producers and consumers through multiple transportation modes, such as air and express delivery services, freight rail, maritime transport, and truck transport. Mexico is a major trading partner of the United States, and its coordination with the US market has helped to boost the growth of the Mexican shipping and logistics market. The increasing volume of trade between North America and other regions of the world has led to growth of the Market. DHL, FedEx, Purolator, TFI International, Canadian National Railway are some of the major companies in Canada.
Europe
The European Union is the largest market for shipping and logistics in Europe, accounting for over 50% of the total market. The EU has a strong economy and a well-developed infrastructure, which has helped to drive growth in the shipping and logistics market. The German logistics market is the largest in Europe, which is over 20% of the total market. The country has a strong economy and a well-developed infrastructure, which has helped to drive growth in the logistics market. The French logistics market is the second largest in Europe, accounting for over 15% of the total market. The Italian logistics market is the third largest in Europe, accounting for over 10% of the total market. The UK logistics market is the fifth largest in Europe, accounting for over 7% of the total market. Repost, C.H. Robinson, Dachser are some of the major companies in the region.
Asia Pacific
Economic development in Asia has gained increasing attention around the world and has had an enormous impact on the growth of its logistics market. With regard to growth, Asia will contribute about half of the world's trade growth by 2030. Trade growth between Asia and the rest of the world will contribute about 55%, with intra-Asia trade growth making up the rest. This will lead to growing logistic and shipping activities. China, Japan, and India are the largest logistics markets in Asia. The logistics market in China is the largest in the world, accounting for over 10% of the global market. The growth of e-commerce is driving the demand for last-mile delivery services. China Ocean Shipping (Group) Company, China Railway Express, SF Express are some of the major players in China. The growth of the Indian economy and development of new technologies have led to growth in the Shipping and Logistics of India. In Australia the growth rate of Shipping and Logistics is 5.23% from 2023 to 2031.
South America
The South American market of Shipping and Logistics is expected to grow at a 6.2% compound annual growth rate (CAGR) between 2023 to 2031. Brazil is still experiencing challenges due to the lack of infrastructure in the logistics sector, when analysing the leading countries in the logistics ranking of the world bank, such as Germany, Holland, and Sweden. The road is the largest segment of the freight and logistics market in Brazil, accounting for about 60% of the total market. Due to lack of road safety the growth is steady. In Columbia the market is driven by increasing exports in the agricultural sector. Colombia has seen improving logistics performance in recent years and is ranked the 5th country in Latin America and the Carribean region.
Middle East and Africa
The Middle East and Africa Freight and Logistics Market is anticipated to register a CAGR of approximately 6% during 2023 to 2031. The economy is highly dependent on mining, which represents a third of the GDP. Egypt and Algeria have the highest production values. However, they are known for their little international interaction and lack of developed logistics corridors. Airports in the Gulf, with Dubai, Abu Dhabi, Bahrain, Doha, Muscat, and Jeddah are investing heavily in infrastructure and focusing on improving the transportation services. This investment is due to the close symbiotic relationships the airports have with domiciled carriers such as Emirates Airlines, Etihad Airways, Qatar Airways, and Saudi Arabian Airlines, which enable most stakeholders in the value chain to work together and develop an end-to-end experience, serving the industry and the respective local economies.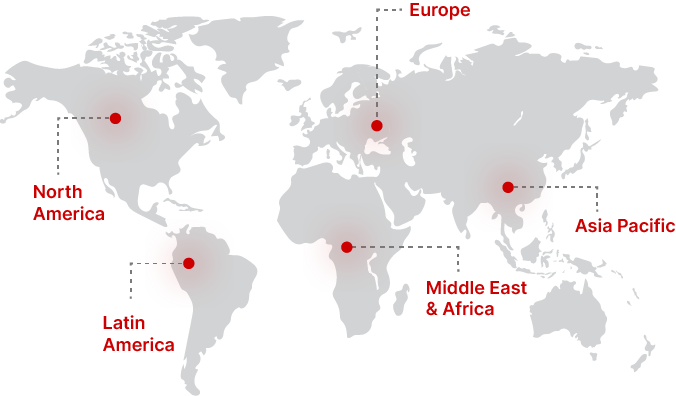 Regional Growth Insights
Download Free Sample
Key Players
Kuehne + Nagel
DHL Group
DB Schenker Logistics
GEODIS
Panalpina
DSV
Bolloré Logistics
The Maersk Group
Expeditors
Dachser
Nippon Express
Shipping and Logistics Market Segmentations
Segmentation by Type
Railways
Roadways
Airways
Waterways
Segmentation by Application
Retail and FMCG
Manufacturing
Construction
Agricultural
Automotive
Frequently Asked Questions