Market Overview
According to Reed Intelligence the Global Synthetic Sausage Casings Market Size will approximately grow at a CAGR of 5.9% during the forecast period.
Synthetic sausage casings are casings or coverings made up of collagen, cellulose, or plastic. They are often used in place of natural casings, which are made from animal intestines. Synthetic casings are often used in the production of commercial sausage as they are responsible for more accurate size and shape than natural casings.
The Collagen casings are made up of animal collagen. It is a protein that is found in connective tissue. Collagen casings are most commonly used. They appear the same as natural sausage casings, while the cellulose casing is made up of cellulose found in plants in fiber. These casings are generally non-edible and have a good water-holding capacity. They can withstand high temperatures. Synthetic casings are easier to use and can be cleaned easily. The plastic casings are made from plastic, a synthetic, nonedible material that is strong and durable.
The synthetic casings do not require soaking before use. But the synthetic casings may not have the same flavor as the natural sausage casings. Various food processing companies, Food retailers, and service providers are the end users of synthetic sausage casings. The restaurants and cafes offer a variety of sausages. The increase in meat and seafood consumption in various regions drives the demand for sausage casings. The demand for processed nonveg food is increasing in various regions globally. Hence the market for synthetic sausage casings will continue to grow in the upcoming years.
Market Dynamics
Synthetic Sausage Casings Market Drivers
Increasing Demand for Processed Meat
The demand and consumption of processed meat and seafood is increasing due to change in food habits and health concerns. As processed meat products have a long shelf life and are used in sausage making, the demand is more from restaurants and retailers. The increased demand for processed meat can indicate demand for sausages. This creates more opportunities for manufacturers for the production of synthetic sausage casings. Synthetic sausage casings are the most preferred choice for processed meat products because they are appropriate in size and shape and are easy to use. The increase in demand can also lead to new product innovations in the sausages. Previously natural casings were used as the casings of sausages. As the demand for sausages is increasing, the manufacturers are shifting towards the synthetic options of casings which are more affordable than the natural casings used. The change in people's food preferences increases demand for synthetic sausage casings.
The increasing demand for sausages is leading to innovations in the products manufactured, which is increasing customer engagement. The use of natural casings is decreasing due to increased demand for sausages, driving manufacturers' focus from natural to synthetic sausage casings. The growing demand for processed meat products that involve sausages not only in urban areas but also in rural commodities is driving the demand for synthetic casings of sausages. Bratwurst is a German sausage made from coarsely ground pork and veal. Chorizo is a famous Spanish sausage that drives the market for synthetic sausage casings. These are some of the examples of sausages made from meat or pork. The Dietary preferences of people are changing. Sausages are famous, available in innovative varieties, and are frequently demanded food items. Hence the innovations in the sausages are driving the demand of the market.
Synthetic Sausage Casings Market Restraints
Synthetic sausage casings are relatively more expensive than natural casings. The cost of synthetic sausages may increase the price of the sausage. The manufacturers have to increase the price of the products to ensure the cost of the synthetic casings from the selling prices. The increased prices may reduce customer preference for sausages who cannot afford them. It can also restrict manufacturers from making innovative sausages to increase demand. They cannot invest more in expensive sausage casings as the price decreases. The manufacturers may use alternatives, shifting their focus from synthetic sausage casings. This could be a barrier to the usage of synthetic sausage casing demand.
Market Scope
Report Metric
Details
Market Size by 2031
USD XX Million/Billion
Market Size in 2023
USD XX Million/Billion
Market Size in 2022
USD XX Million/Billion
Historical Data
2019-2021
Base Year
2022
Forecast Period
2023-2031
Report Coverage
Revenue Forecast, Competitive Landscape, Growth Factors, Environment & Regulatory Landscape and Trends
Segments Covered

Segment By Type

Collagen Casing
Cellulose Casing
Plastic Casing

Segment by Application

Meat Processing
Seafood Processing

Geographies Covered

North America
Europe
APAC
Middle East and Africa
LATAM

Companies Profiles

Columbit Group (Colpak)
Innovia Films
Devro
Nitta Casings
Selo
Kalle
Nippi, Inc.
Viskase Companies
FABIOS S.A
Viscofan SA
DAT-Schaub Group
FIBRAN, S.A
ViskoTeepak
Shenguan Holdings (Group)
Jiangxi Hongfu
Segmental Analysis
Segment By Type
Collagen casings are used in the food processing industry as synthetic sausage casing. These casings are made up of collagen. Collagen is a protein which is derived from animal sources such as bovine or porcine hides. Collagen Casings provide appropriate casing and help in the uniform appearance of the sausages. It requires lesser time for casing as there is no need for soaking or flushing before use. This saves time and labor for the sausage production. They are used as casings for fresh, smoked, and cooked sausages. They are synthetic casings but are edible, and removing the casing is not required before consuming it. It does not interfere with the taste of the sausage. They can be stored and have a good shelf life compared to natural casings and are preferred over natural sausages to meet the demand.
The Cellulose Casings are made from regenerated cellulose derived from natural sources like wood pulp or cotton linters. These casings commonly produce cooked sausages, such as frankfurters, hot dogs, and smoked sausages. The cellulose casing is edible and can be consumed with the sausage without causing any harm. Cellulose casings have good moisture and oxygen barrier properties, which help maintain the freshness and quality of the sausage. This property of cellulose casing can prevent moisture loss which would lead to weight loss during the process of cooking and processing. Cellulose casings allow the penetration of smoke during the smoking process, which helps in giving flavor to the sausages.
Plastic Casings are made from various types of plastic materials, such as polyamide (nylon), polyethylene, and cellulose derivatives. They can be produced in straight, curved, or shirred forms. Plastic casings provide good mechanical strength, which enables efficient filling and stuffing processes without any breakage. Plastic casings can withstand high-temperature cooking processes, such as smoking, boiling, or grilling, which can prevent bursting or melting. Plastic casings are generally more cost-effective than natural casings, making them attractive for manufacturers seeking affordable alternatives. Plastic casings contribute to extended shelf life, which provides an effective barrier against spoilage organisms and maintains product freshness.
Segment by Application
Synthetic casings are mainly used for production of different types of sausages which include fresh sausages, cooked sausages, smoked sausages, and dry-cured sausages. They provide an outer covering that helps in holding the ground meat mixture together during the process of shaping the sausages. Synthetic casings are mostly used for manufacturing frankfurters, hot dogs etc. The synthetic sausage coverings can also be used in luncheon meats, such as bologna or mortadella. They are also used in production of deli-style meats which include sliced roast beef, ham, and turkey. They are used in fermented sausages like pepperoni and salami. They can be used as a covering for meatballs, breakfast sausages, and pates.The synthetic sausage covering is an important factor for production of various types of sausages.
Synthetic sausage casings are generally used to cover various seafood products. It is used to cover the products sold for the retailers. Synthetic sausage casings can be helpful in protecting seafood products from contamination by bacteria and other microorganisms. Synthetic sausage casings can help to protect seafood products from contamination by bacteria and other microorganisms. Synthetic sausage casings are mostly used to smoke salmon, as they help in prevention the salmon from drying out during the smoking process. Surimi is a processed seafood product made from fish that has been minced and then pressed into a mold. Synthetic sausage casings can be used to wrap surimi products to help their protection from the external environment.
Regional Analysis
North America
Pork is the largest sold form of processed meat in North America. The region's meat market has been increasing significantly in the past few years. Due to changing lifestyles, there is an increasing demand for ready-to-eat or ready-to-cook meat among consumers across the region. The United States Processed Meat Markets top five companies are Hormel Foods Corporation, Marfrig Global Foods SA, Sysco Corporation, Tyson Foods, Inc., and WH Group Limited. Fast food outlets or restaurants with menus comprising Chinese cuisines that use processed meat products are driving the market of cold meat in the region. As synthetic sausage coverings are mainly used to cover the sausages of meat, the increased demand for products made from meat raises the demand for synthetic casing in the sausage market in the region.
Europe
The processed meat market in Europe is expected to grow at a rate of 4.2%. As the growing working population is increasing disposable income and rapid urbanization, the preference for ready-to-eat food products is rising, which may act as a driver of the market in the region. Russia is the largest market for processed meat. The European processed meat market is becoming highly competitive, and some of the key players are BRF SA, Cargill Inc., Churikova Group, Foster Farms, Marfrig Group, and Nippon Meat Packers Inc. Urbanization and changing customer preferences have led to the demand for cold meat in Russia. The Synthetic sausage casing market has an opportunity to grow in this region due to the increasing consumption of meat and seafood. This can indicate demand for synthetic sausage casings in the region.
Asia Pacific
China holds 49% of the global pork consumption in the world. It is mainly cold meat which is used in many Chinese dishes. Chilled and processed beef is the largest selling meat in China. Rising consumption of pork meat which is chilled or frozen, to preserve it for a longer time. Several processed red meat products, including Classical German Bacon, Tasty Pork Shank, and Black Pepper Pork Chop, have been introduced into the market, which increases the demand for meat. The cold meat is processed and used in many sausage dishes. China imports pork from the US, Brazil, Canada, and Europe. The demand for dishes that use meat is increasing in the region and contributes to the growth of the sausage market. Pork is found to be the most commonly used material in sausages.Thus the synthetic sausage casing market is expected to grow in the region.
South America
The South American processed meat market is expected to grow at a CAGR of 9.2%.;The demand for processed meat products, especially beef, and beef used sausages is increasing in the region due to its nutritional value and availability. Processed meat products are made using all-natural methods and stored in refrigerated environments to prevent external spoilage. New packaging trends such as shrink wrapping or vacuum packaging are also being used to increase the product's shelf life. Beef is the most preferred type of meat form in the region. These factors would drive the market of cold meat in the region.This increased demand for beef and sea food is increasing the demand for sausages which in turn are increasing the demand for synthetic sausage casings due to increasing demand.
Middle East and Africa
Meat consumption has increased in the region of Africa. The steady growth of restaurants, Foodservice restaurants and increase in consumption of meat and seafood in the region is expected to drive the market of synthetic sausage casing market in the region.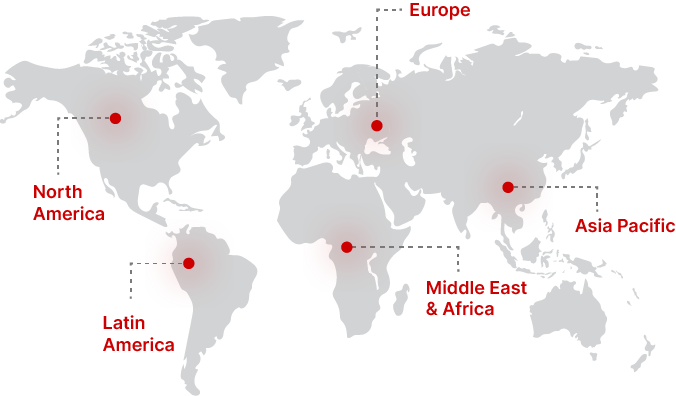 Regional Growth Insights
Download Free Sample
Key Players
Columbit Group (Colpak)
Innovia Films
Devro
Nitta Casings
Selo
Kalle
Nippi, Inc.
Viskase Companies
FABIOS S.A
Viscofan SA
DAT-Schaub Group
FIBRAN, S.A
ViskoTeepak
Shenguan Holdings (Group)
Jiangxi Hongfu
Synthetic Sausage Casings Market Segmentations
Segment By Type
Collagen Casing
Cellulose Casing
Plastic Casing
Segment by Application
Meat Processing
Seafood Processing
Frequently Asked Questions