Market Overview
The Global Telecommunications Infrastructure Market Size is expected to grow at a CAGR of 5.5% during the forecast period of 2023-2031.
Telecommunications infrastructure is the underlying physical and virtual components that allow communication networks and systems to function. It refers to a wide range of technologies, equipment, and facilities that enable the transmission of voice, data, video, and other types of communication between people, devices, and organizations. Telecommunications infrastructure is critical for linking people, businesses, and gadgets across geographical boundaries.
The telecoms infrastructure market underwent significant transitions due to technological breakthroughs and shifting consumer behaviors. The market includes various components and services enabling telecommunication networks to function, such as mobile networks, fixed-line networks, data centers, fiber optics, etc.
Market Dynamics
Market Drivers
Deployment of 5G Technology
The 5G technology implementation and expansion was a major driver for the telecoms infrastructure sector. 5G technology promises far higher data speeds, lower latency, and the capacity to connect a huge amount of devices at the same time. To enable these capabilities, Telecommunications businesses have to invest in upgrading and expanding their infrastructure, including the deployment of new cell towers, tiny cells, and fiber-optic networks. The desire for reliable and fast connectivity drove corporations to invest in developing a comprehensive 5G infrastructure, propelling growth in the telecommunications infrastructure market.
Increasing Data Consumption and the Internet of Things
Data consumption increased exponentially due to the growth of data-hungry applications, streaming services, video conferencing, and Internet of Things (IoT) devices. Due to the increase in data usage, telecommunications firms had to upgrade their infrastructure to meet the increased demand. IoT devices, in particular, were predicted to generate huge volumes of data, necessitating a strong and dependable telecommunications network to handle communication and data transfer between these devices. As the number of connected devices increased, so did the demand for better telecommunications infrastructure.
Market Restraints
Regulatory and Policy Issues
Governments and regulatory agencies have tightly controlled the telecommunications industry. Spectrum allocation, licensing, data protection, and net neutrality policies may cause uncertainty and problems for enterprises operating in the market for telecommunications infrastructure. Adapting to new rules and ensuring compliance may complicate and increase the cost of infrastructure implementation and expansion.
Market Scope
Report Metric
Details
Market Size by 2031
USD XX Million/Billion
Market Size in 2023
USD XX Million/Billion
Market Size in 2022
USD XX Million/Billion
Historical Data
2019-2021
Base Year
2022
Forecast Period
2023-2031
Report Coverage
Revenue Forecast, Competitive Landscape, Growth Factors, Environment & Regulatory Landscape and Trends
Segments Covered

Segment by Type

Lattice Tower
Guyed Tower
Monopole Tower
Stealth Tower

Segment by Application

Rooftop
Ground-Based

Geographies Covered

North America
Europe
APAC
Middle East and Africa
LATAM

Companies Profiles

China Tower Corporation
American Tower Corporation
MER
SBA Communications
Crown Castle
Valmont Industries
Aster Private Limited
Helios Towers Africa
Bharti Infratel
Segmental Analysis
Segment by Type
Lattice towers are a type of telecommunications tower distinguished by its open framework structure resembling a lattice or grid. They are made up of interconnecting metal sections, usually in a triangle or square shape. Lattice towers are noted for their strength and stability, making them ideal for supporting large equipment and antennas. They are employed in microwave transmission, broadcasting, and cellular networks.
Guyed towers are towering constructions supported by guy wires, tensioned cables that give stability and balance. These towers comprise a central mast or column and multiple guy wires tied to ground anchor points. Guyed towers are employed when height is desired but not as much material as a self-supporting tower. They are used for several communication purposes, including radio and television broadcasting.
Monopole towers are single, self-supporting poles or columns that rise vertically. They are sleek and slim in appearance, making them less visually conspicuous than lattice or guyed towers. Monopole towers are often employed in urban and suburban settings where aesthetics are important. They can support antennas and equipment on their surface or within concealed compartments.
Stealth towers are meant to blend into their surroundings to reduce their visual impact. They are camouflaged like trees, flagpoles, or other ubiquitous structures. Stealth towers are used in regions where regular tower designs may not be permitted owing to zoning or aesthetic concerns. They enable the deployment of telecommunications infrastructure without interfering with the visual scene.
Segment by Application
Telecommunications companies put equipment on rooftops to improve network coverage and capacity. Rooftop installations benefit from elevated placement, which allows signals to cover wider regions and overcome obstructions. This method is very popular in congested urban settings. Rooftop infrastructure consists of antennas, transmitters, and strategically situated receivers to ensure the best signal propagation.
In ground-based deployments, Telecommunications equipment is installed on towers, poles, or other ground-based structures. These installations are critical for covering large rural or suburban areas where elevated rooftops are impractical. Ground-based infrastructure must be strategically placed to ensure complete coverage and minimal signal interference. Taller buildings are used in these configurations to achieve greater signal reach.
Regional Analysis
North America
North America was at the forefront of 5G deployment, with major telecommunications companies working to spread their 5G networks across the area. 5G technology promises better data rates, lower latency, and the capacity to handle a wide range of upcoming technologies, such as the Internet of Things (IoT) and driverless cars. To meet the demands of 5G technology, telecommunications companies focused on network densification, which entails deploying more cell sites and tiny cells to boost network capacity and coverage in densely populated areas. Fibre optic networks were critical for providing high-speed and dependable internet connectivity. Many telecommunications firms invested in expanding their fiber optic infrastructure to accommodate the increased demand for broadband services.
Europe
The European Union (EU) has been enforcing policies to promote competition and investment in telecommunications infrastructure. The Electronic Communications Code aims to simplify laws and encourage the building of high-speed networks. Some European countries encouraged telecom providers to share infrastructure to minimize costs and hasten network expansion. Cell towers, antennas, and other network components were shared under this strategy.
Asia Pacific
The Asia-Pacific area has seen a huge rise in mobile phone and data usage. With a vast and expanding population, there has been a boom in demand for data services such as mobile internet, video streaming, and other data-intensive applications. The APAC area contains several geographically close countries, resulting in increasing cross-border data flows and trade. Telecommunications infrastructure was critical in enabling cross-border access for businesses and individuals. Several governments in the Asia-Pacific area were actively supporting the building of telecommunications infrastructure through laws, regulations, and incentives to promote digital inclusion and economic progress.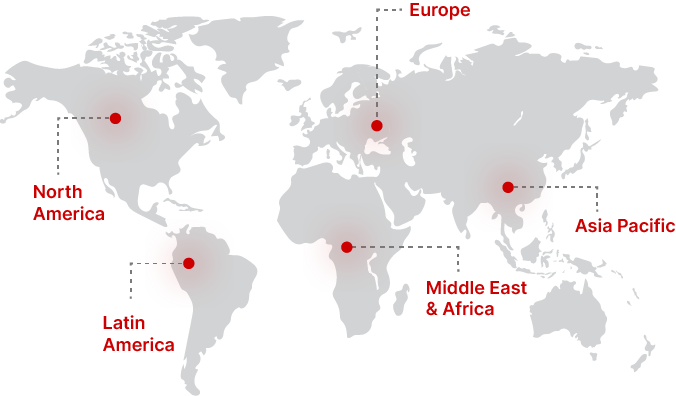 Regional Growth Insights
Download Free Sample
Key Players
China Tower Corporation
American Tower Corporation
MER
SBA Communications
Valmont Industries
Aster Private Limited
Helios Towers Africa
Bharti Infratel
Recent Developments
February 2023: Ericsson announced the development of a new 5G radio that is 20% more efficient than the previous generation. This could result in huge savings for telecom operators because they could use less electricity to transport data through their networks.
Telecommunications Infrastructure Market Segmentations
Segment by Type
Lattice Tower
Guyed Tower
Monopole Tower
Stealth Tower
Segment by Application
Frequently Asked Questions