Market Overview
According to Reed Intelligence the Global Tetrabutyl Urea Market Size will approximately grow at a CAGR of 4.5% during the forecast period.
The organic compound tetrabutyl urea, or CBU, produces hydrogen peroxide. Tetrabutyl urea is represented by the chemical formula C(CO)NHCHCOOH and a 180 g/mol molecular weight. Tetrabutyl Urea is a crystalline white organic compound that is a member of the area. This product has multiple applications, including antioxidant and chemical industry reagents.
The Tetrabutyl Urea market's expansion is fueled by its increasing demand in applications such as oxidizing production and hydrogen peroxide production, among others. Additionally, factors such as the low cost of raw materials for tetrabutyl urea production are propelling the expansion of this market.
Market Dynamics
Market Drivers
Increasing Usage for Cleansing Products
Cleaning agent for cleaning surfaces of all types of vehicles, large outdoor surfaces, especially of structures, plants in the food, beverage, tobacco, and alcohol industries, especially milking installations, and plants and equipment with metal, ceramic, and plastic surfaces. Tetrabutyl urea is one of the cleaning agents present in cleaning liquid. The tetrabutyl urea cleaning agent is eco-friendly, cost-effective, incredibly effective, and reduces enzymes and bleaching agents found in conventional cleaning agents.
High Demand for Hydrogen Peroxide
Rising demand for hydrogen peroxide from the healthcare industry due to its antiseptic properties is a key factor fueling the market growth. Antiseptics are in high demand in the healthcare industry, where they are applied to wounds and bruises to prevent infection. It is also widely used as a mouth rinse as it can relieve mouth irritation or mucus and other oral infections. Majorly, the substance releases oxygen, leading to foaming on the bruised and cut skin and eventually effectively removing dead skin and keeping the wound safe from infection.
Market Restraints
Health Risks Associated with Prolonged Exposure to Hydrogen Peroxide
In addition to numerous benefits, hydrogen peroxide has negative effects that directly affect our bodies. Hydrogen peroxide is an oxidizing agent; spontaneous combustion may occur upon contact with organic matter. Odor does not serve as a warning signal for dangerous concentrations. Hydrogen peroxide is not absorbed through the layers of the skin, but inhalation or ingestion can result in systemic toxicity. Individuals whose clothing or skin has been contaminated with a concentrated hydrogen peroxide solution can contaminate personnel through direct contact or off-gassing vapor. Hydrogen peroxide's negative effects diminish Tetrabutyl urea's market.
Market Opportunities
Growing Demand for Hydrogen Peroxide as a Basic Material for The Production of Propylene Oxide
In the HPPO process, hydrogen peroxide (H2O2) is utilized as the oxidizing agent to convert propylene to propylene oxide (PO) with water as the only byproduct. Primarily, propylene oxide is used to manufacture polyurethane precursors. It is primarily utilized in producing polyurethane intermediates, which are subsequently used in producing products such as upholstery for automobile seats and furniture and insulation material for the construction and refrigeration industries. Tetrabutyl urea is commonly used to produce hydrogen peroxide. High growth in the production of propylene oxide ultimately increases the production of hydrogen peroxide. Consequently, market demand for tetrabutyl urea will increase.
Market Scope
Report Metric
Details
Market Size by 2031
USD XX Million/Billion
Market Size in 2023
USD XX Million/Billion
Market Size in 2022
USD XX Million/Billion
Historical Data
2019-2021
Base Year
2022
Forecast Period
2023-2031
Report Coverage
Revenue Forecast, Competitive Landscape, Growth Factors, Environment & Regulatory Landscape and Trends
Segments Covered

Segmentation by Type

Purity: 99%
Purity: 98%

Segmentation by Application

Oxidizing Production
Hydrogen Peroxide Production

Geographies Covered

North America
Europe
APAC
Middle East and Africa
LATAM

Companies Profiles

Indo Amines Limited
Zhejiang Limin Chemical
Fluorochem
Hairui Chemical
Huzhou Jichang Huaxue
Wego Chemical Group
Shanghai Bayue
Parchem Fine & Specialty Chemicals
Limin Group Co.
Jobachem GmbH
TCI (Shanghai) Pvt.
Segmental Analysis
Segmentation By Type
The concentration of 99% pure tetrabutyl urea contains 99% pure tetrabutyl urea and only 1% impurities of other substances. This is considered the purest concentration of tetrabutl urea. Many industrial processes require highly pure compounds to maintain product quality.
98% pure tetrabutyl urea concentration contains 98% pure tetrabutyl urea and 2% impurities of other substances. In this form of purity, the concentration of pure material is less than 99%. 98% of the chemical is still of relatively high quality and is used for various industrial applications.
Segmentation By Application
Oxidizing Tetrabutyl Urea reacts with oxygen to generate heat to produce compounds during the manufacturing process. The primary application of tetrabutyl urea is in the production of hydrogen peroxide, which has a variety of uses, including sterilization and bleaching. Tetrabutyl urea is both an antioxidant and an industrial chemical agent.
Hydrogen Peroxide Production
Tetrabutyl Urea is also utilized in the production of hydrogen peroxide, which has a variety of applications, including oxidizing, bleaching, and sterilizing. Tetrabutyl urea reacts with oxygen to produce heat for chemical production. This item functions as an intermediate in synthesis reactions. By forming soluble but less nucleophilic organometallic compounds (amine complexes), it stabilizes intermediates involved in complex syntheses, such as oxidation reactions involving metal salts. It reduces the need for additional solvents during purification processes.
Regional Analysis
The Global Tetrabutyl Urea Market is segmented by region as North America, Europe, Asia Pacific, Latin America, and Middle East and Africa.
North America
It is anticipated that the market for tetra butyl urea (TBU) will experience significant growth in North America due to the identification of a prolonged water-borne illness. In addition, the removal of phosphorus and nitrogen from water sources and the effluent oxidation are anticipated to contribute to the expansion of the tetra butyl urea (TBU) market over the next few years.
Europe
In the European region, the demand for tetrabutyl urea is anticipated to rise due to its increasing applications in oxidizing production, hydrogen peroxide production, etc. This regional market expansion can be attributed to the expanding end-use industries.
Asia-Pacific
Asia-Pacific is the largest tetra butyl urea (TBU) market due to the increasing penetration of chemical formulators, personal care products, and medical industries. In addition, the availability of skilled labor and a favorable trade balance will bolster the expansion of the tetra butyl urea (TBU) market in the region over the forecast period.
South America
Tetrabutyl urea has applications in hydrogen peroxide production, allowing it to be utilized extensively in Latin American countries such as Brazil and Argentina.
Middle East and Africa
Countries such as the UAE, Saudi Arabia, and Iran, among others, have an established presence of manufacturers engaged in urea (TBA) production. Due to their high consumption rates, these nations contribute substantially to the Middle Eastern and African markets.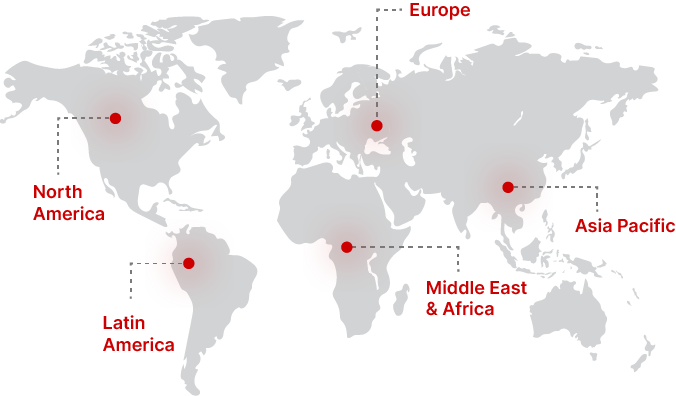 Regional Growth Insights
Download Free Sample
Key Players
Zhejiang Limin Chemical
Fluorochem
Hairui Chemical
Huzhou Jichang Huaxue
Wego Chemical Group
Shanghai Bayue
Parchem Fine & Specialty Chemicals
Limin Group Co.
Jobachem GmbH
TCI (Shanghai) Pvt.
Tetrabutyl Urea Market Segmentations
Segmentation by Type
Segmentation by Application
Oxidizing Production
Hydrogen Peroxide Production
Frequently Asked Questions