Market Overview
According to Reed Intelligence the Global Thermal Transfer Ribbons Market Size will approximately grow at a CAGR of 7% during the forecast period.
Thermal transfer Ribbon is used for printing barcodes or identification labels. Thermal Transfer Ribbon is done for purposes where hardwearing is needed so that it can withstand any chemical or heat. These polyester films are coated with different layers of ink to produce your desired effect. Typically, there are four layers of ribbon: backing, release, base PET and ink. The backing layer is for the smooth running of the printer and to prevent damage to the print head. The release layer is applied for better ink release. The thermal transfer printing process involves the transfer of ink through the ribbon. When it goes underneath the printhead, the heat melts the ribbon, and ink gets on the printed label material.
The thermal transfer ribbons are made of either wax or resin or combined (wax resin); it depends on the use of the printer. These define the sensitivity of the ribbon. The resin-made ribbons have less sensitivity to heat under the printer head, wax-Resin has medium sensitivity to heat under the printer head, and wax has high sensitivity under the printer head.
Market Dynamics
Market Drivers
COVID-19 has a lot of impacts. One of the most prominent among them is the digital world. Everything has become digital nowadays; the most important is digital transfers through QR codes. We can see QR codes everywhere in small or big shops or even in rikshaws. Thermal transfer ribbons are used to print QR codes; every little thing needs to have its whole history on it if we are looking for food or healthcare products because people are more aware of what they are buying. They want to know every detail; this one is another impact of COVID-19.
World Health Organization (WHO) has reported that Thermal transfer ribbons are in demand in hospitals as they are used for taking real-time rhythm of the patients through cardiac monitors. This is also another impact of COVID-19.
IoT printers are getting more new features that need thermal printers and which need thermal transfer ribbons, so it is directly helping to raise the thermal transfer ribbons market.
Market Restraints
Competition In Technology
Direct thermal printers and InkJet printing are competitors for thermal transfer ribbon printing. Direct thermal printing makes the ribbon completely useless, and InkJet printing gives better capabilities for printing.
Changing Prices of Raw Materials
Thermal transfer ribbons need wax, resins, and other chemical compounds for substrates. Changing these raw material prices can make less profit as there will be more production costs, and it will affect the thermal transfer market directly.
Impact on The Environment
Thermal transfer ribbon uses poly-based material extracted from petroleum products which causes more mining and directly affects the market growth. In addition, producing these poly ribbons creates a huge amount of waste, which pollutes the environment and is likely to hamper market growth.
Market Opportunities
Growth of E-Commerce and Manufacturing Industry
The manufacturing industries are growing rapidly with the increasing population and market demand; all these products need barcodes, QR codes, and production & batch information. Thermal transfer ribbon is used for this purpose for their durability. E-commerce is another important industry that needs Thermal transfer ribbons for QR codes.
Market Scope
Report Metric
Details
Market Size by 2031
USD XX Million/Billion
Market Size in 2023
USD XX Million/Billion
Market Size in 2022
USD XX Million/Billion
Historical Data
2019-2021
Base Year
2022
Forecast Period
2023-2031
Report Coverage
Revenue Forecast, Competitive Landscape, Growth Factors, Environment & Regulatory Landscape and Trends
Segments Covered

Segmentation by Type

Wax Ribbons
Resin Ribbons
Wax-Resin Ribbons

Segmentation by Application

Industrial Manufacturing
Barcodes And QR Codes

Segmentation by Printer Head

Flat Head Printer
Near–Age Printer Head

Geographies Covered

North America
Europe
APAC
Middle East and Africa
LATAM

Companies Profiles

Ricoh
ITW
HANGZHOU TODAYTEC DIGITAL CO.,LTD
Zebra
TSC
Zhuoli Group (Zhuorim)
ARMOR
IIMAK
General Co., Ltd.
Dai Nippon Printing Co., Ltd.
Fujicopian
Inkstar
Segmental Analysis
Segmentation By Type
Wax ribbons are used more than the other two because it is cost-effective, the quality of printing is excellent, and they can print on coated or uncoated labels. They are used for purposes where no durability or any harsh conditions resistance is needed.
These ribbons are made of resin-based ink; they are the less sensitive ones. They are resistant to chemicals, water, heat, and abrasion. They are used in the industries where the most durable labels are needed, such as the healthcare industry (Medical Devices), automobile industry, and electronic industry. This ribbon is used on synthetic materials like polyester, polyamide, etc., as they can adhere to them.
These ribbons are made of a combination of resin and wax. They offer stronger durability compared to wax ribbons. They have resistance against heat, water chemicals, and other unsuitable environments. This ribbon is used on synthetic materials.
Segmentation By Application
Thermal Transfer Ribbons are used on equipment, products, codes on lots, and inventories for proper identification and tracking.
This is the most common use of thermal transfer ribbons as the QR and Bar codes give the information and tracking, and another use is in e-commerce. Also, in the healthcare industry, bar codes, and QR codes are important for expiry dates and other important information on medical devices and pharmaceutical products.
Segmentation By Printer Head
Flathead printers are the most common thermal transfer printers. These printers have a flat print head that directly interacts with the ribbon and the substrate to be printed. Flathead ribbons are designed specifically for use with these printers to ensure full functionality, compatibility, and optimum performance. To meet different printing requirements, they are available in different ribbons types such as wax, wax resin, and resin.
Near-edge printers use a different print head design than flathead printers. Near-edge printheads enable faster print speeds and higher output volumes because they are positioned at the edge of the printhead assembly. Near-edge ribbons are designed for this printer, providing proper alignment and efficient printing. They are available in different types to meet different usage requirements.
Regional Analysis
The Global Thermal Transfer Ribbons Market Analysis is segmented by region as North America, Europe, Asia Pacific, Latin America, and Middle East and Africa.
North America
This region comprises countries like United Nations and Canada. The industries which are thermal transfer ribbons market drivers are the Automotive industry, healthcare industry, logistics industry, retail industry, and manufacturing industry. The strong presence of major thermal transfer ribbon manufacturers and a strong focus on barcode labelling and compliance regulations help to grow the market in this region.
Europe
Countries included in this region are Germany, the U.K., France, Russia, Italy, and Rest of Europe. Industries such as retail, logistics, pharmaceutical, and automotive are dominating the European thermal transfer ribbon market. Strict labelling regulations in the region, increased focus on product tracking, and demand for durable and high-quality labelling solutions are helping to drive growth in the thermal transfer ribbon market.
Asia Pacific
Asia Pacific region has countries like China, Japan, India, South Korea, and Australia. Due to fast industrialization, a growing e-commerce industry, and increasing acceptance of thermal transfer printing technology, this region represents a considerable growth opportunity for the thermal transfer ribbon market. The packaging, retail, manufacturing, and logistics industries lead the demand for thermal transfer ribbons in this region.
Middle East and Africa
The countries in this region are Saudi Arabia, UAE, Egypt, South Africa, and the Rest of MEA. The main market drivers in this region are the manufacturing industry, retail and logistics industry, and healthcare industry. Increasing industrialization, tracking, and efficient labelling can grow the thermal transfer ribbon market in this region.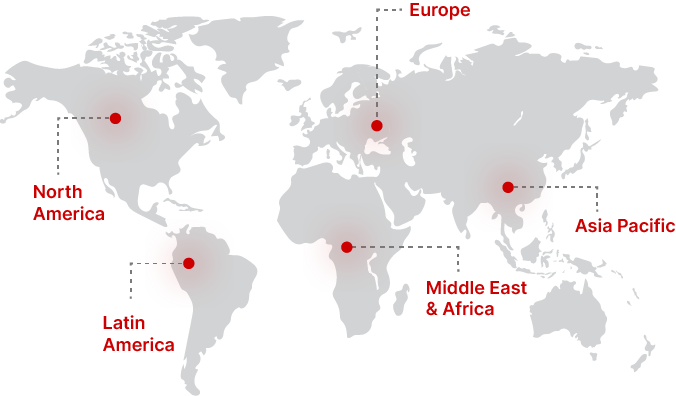 Regional Growth Insights
Download Free Sample
Key Players
ITW
HANGZHOU TODAYTEC DIGITAL CO.,LTD
Zebra
TSC
Zhuoli Group (Zhuorim)
ARMOR
IIMAK
General Co., Ltd.
Dai Nippon Printing Co., Ltd.
Fujicopian
Inkstar
Recent Developments
On 16th January 2023, Domino Printing India has recently launched their brand new Vx-Series thermal transfer overprints (TTO), which provides a greater output on variable food packaging lines; it is designed to optimize production tie while reducing the use of ribbon in flow wrap and vertical (VFFS) and horizontal form fill seal (HFFS) applications.
Markem–Imaje, A USA-based company, launched their new ribbon called SmartDate Xtra 3530 on 20th April 2023. This ribbon will be available in a wide range of widths and lengths to suit customer requirements, including 33mm x 900m, 55mm x 900m, 110mm x 600m, and 130mm x 600m, and is designed to print on paper-based substrates such as coated, uncoated, glossy and rough paper.
Thermal Transfer Ribbons Market Segmentations
Segmentation by Type
Wax Ribbons
Resin Ribbons
Wax-Resin Ribbons
Segmentation by Application
Industrial Manufacturing
Barcodes And QR Codes
Segmentation by Printer Head
Flat Head Printer
Near–Age Printer Head
Frequently Asked Questions