Market Overview
The Global Tropical Flavoured Rum Market Size is projected to grow at CAGR of approx. 6.4% during the forecast period.
Rum is a liquor made by fermenting and distilling sugarcane molasses or juice. The clear liquid distillate is typically aged in oak casks. The majority of rums are produced in the Caribbean, North and South America, but also in other sugar-producing nations such as the Philippines and Taiwan.
Global Tropical Flavoured Rum Market is a rum category that has grown in appeal in recent years due to its distinct and exotic flavour profile. It is a rum that has been infused with tropical fruits and seasonings to produce a variety of flavours that appeal to consumers looking for something different than traditional rum.
Coconut, pineapple, mango, passionfruit, and guava are some of the most common tropical flavours used in rum. To create complicated and flavourful blends, these flavours are frequently mixed with traditional rum flavours such as vanilla, caramel, and spice.
In recent years, the market for tropical-flavoured rum has grown considerably, with established rum brands as well as new and innovative brands adding new tropical-flavoured varieties to their product lines. The rise of cocktail culture, as well as changing customer tastes and preferences, have all played a role in the growth of this market.
Market Dynamics
Tropical Flavoured Rum Market Drivers
Rising Demand and The Introduction of New Goods
Tropical Flavoured Rums Market provide expresses for cocktails, rum cakes, and many other spicy rums usually enjoyed with cola and the ease of preparation. New product launches and increased completion in the flavoured rum market are major initiatives in the flavoured rum industry. Rising demand and the introduction of new goods can characterize the popularity of flavoured rum.
The hospitality sector, which includes bars, restaurants, and hotels, can also drive the market for tropical-flavored rum. Bartenders and mixologists can use tropical flavors to create new and innovative rum-based cocktails, attracting new customers and boosting demand for these kinds of rums. The rising popularity of cocktail culture and mixology has increased demand for rums with diverse flavor profiles, including tropical flavors.
Premium Rum Varieties Popularity
Premium rum varieties are becoming increasingly popular due to their authenticity, taste, and brand. Furthermore, as per capita income in developed and developing nations has grown, consumer preferences for premium rums have increased significantly. This encourages suppliers to offer new types of premium rum to satisfy the growing consumer demand. These factors are expected to accelerate the growth of the global rum market.
Attracting Health-Conscious Customers
Tropical Flavoured Rums Market Growth is driving due to the health and wellness business can also have an impact on the market by emphasizing the health benefits of specific ingredients used in these rums. A rum made with natural fruit juices and sweeteners, for example, could be promoted as a healthier option to other sugary alcoholic beverages, attracting health-conscious customers.
Tourism Industry Boosting Market
The tourism sector driving the market for tropical flavoured rum. Tourists visiting tropical locations may sample tropical-flavoured rums for the first time and develop a taste for them, increasing demand for these products in their home countries. Tropical tourist destinations such as the Caribbean, Central and South America, and Southeast Asia are popular, and rum is a traditional and extensively consumed spirit in many of these areas. The expansion of tourism in these regions has increased demand for tropical-flavoured rums.
Rum's popularity is growing in general, with the global rum market expected to expand at a CAGR of approximately 4.5% from 2021 to 2028. Factors such as rising disposable income, the growing trend of premiumization in the alcohol industry, and the rise of cocktail culture are driving this development.
Tropical Flavoured Rum Market Restraints
Economic conditions and fluctuation in Raw material price
The price of raw materials used in the production of tropical flavoured rum, such as sugar cane, molasses, and other flavourings, can vary considerably. These fluctuations can influence the product's production expense and, as a result, the manufacturers' profit margins. Furthermore, economic circumstances such as recessions, inflation, and changes in currency exchange rates can have an impact on consumers' buying power and ability to purchase premium goods such as tropical flavoured rum. This may result in lower demand and income for producers.
Intense competitions from alcoholic and non-alcoholic maker
Tropical-flavoured rums market will be limited due to other alcoholic drinks, such as wine, beer, and other spirits and the existence of a variety of non-alcoholic beverages has created stiff competition for rum. compete fiercely in the Tropical Flavoured Rum Market Report. This competition has the potential to reduce the market share and income of tropical flavoured rum makers.
Social Trends and Changes in Consumer Tastes
Tropical-flavoured rums market restrains will be social trends and changes in consumer tastes can have a significant impact on market for tropical-flavoured rum. Changes in consumer preferences for healthier beverages or non-alcoholic beverages can result in lower sales and income for producers.
Tropical Flavoured Rum Market Opportunities
Cocktail culture among younger consumers
Market opportunity for key players will be as the Cocktail culture, especially among younger consumers, is driving demand for tropically flavoured rums. Consumers want visually appealing and tasty cocktails that they can post on social media, and tropical-flavoured rum is an ideal ingredient for making these cocktails. Consumers are growing interested in discovering new and exciting flavours that can be enjoyed both straight and in cocktails.
Distribution Channels to an Online Site
The market's major players are shifting their distribution channels to an online site. It will assist them in selling their image to a large number of customers. Online selling helps in direct selling, lowering the price of liquor for end users. However, official regulations and policies in some nations have restricted the sale of rum.
Diversifying their Product
Another market opportunity is to appeal to a broader range of consumer tastes, key players could consider diversifying their product inventory to include other alcoholic beverages such as ready-to-drink (RTD) cocktails and other spirits with tropical flavours. Another critical factor is effective marketing and branding, which could include emphasizing the rum's distinct qualities and tropical origins, as well as utilizing social media platforms to reach a larger audience.
Market Scope
Report Metric
Details
Market Size by 2031
USD XX Million/Billion
Market Size in 2023
USD XX Million/Billion
Market Size in 2022
USD XX Million/Billion
Historical Data
2019-2021
Base Year
2022
Forecast Period
2023-2031
Report Coverage
Revenue Forecast, Competitive Landscape, Growth Factors, Environment & Regulatory Landscape and Trends
Segments Covered

Segment by Type

White rum
Gold Rum
Flavoured and Spiced rum
Overproof Rum
Black Rum

Segment by Application

Hypermarket/Supermarket
Specialty store
Online retail
Convenience store

Geographies Covered

North America
Europe
APAC
Middle East and Africa
LATAM

Companies Profiles

Diageo plc
Bacardi Limited
Tanduay Distillers, Inc.( LT Group, Inc.)
Altitude Spirits
Heaven Hill Distilleries
Maine Craft Distilling, LLC
Suntory Holdings Limited
Destilería Serrallés Inc
Sazerac Company
William Grant and Sons
Bumbu Rum Co
Segmental Analysis
Segment by Type
This is the most common type of rum, and it is typically clear. It is made from molasses or sugarcane juice and has a light, delicate flavor that makes it a favorite drink mixer.
This type of rum is aged in oak barrels, which gives it a slightly darker colour and a richer flavour profile.
This rum is infused with different fruits, spices, and other flavorings to give it a distinct flavor. Common flavors include coconut, pineapple, mango, and cinnamon.
Overproof rums are often used in cocktails to add a strong kick of flavour and alcohol.
Black rums are often used in traditional Caribbean drinks like the Dark and Stormy and the Rum Runner.
Segment by Application
These are big retail stores that sell a variety of goods, including alcoholic beverages such as tropical-flavored rum. Supermarkets frequently have a separate liquor section with a variety of various brands and types of rum.
Specialty stores are retail establishments that concentrate in a specific sort of product. In the case of tropical-flavored rum, specialty stores may specialize in Caribbean or tropical spirits and offer a more unique and high-end selection than a normal supermarket.
Many customers now prefer to buy alcoholic beverages online, either from a specialized online retailer or from the website of a specific brand or producer. Online retail provides the convenience of shopping from the comfort of one's own home, as well as access to a broader variety of products that may not be accessible in physical stores.
Convenience stores are small retail outlets that offer a limited range of products, usually aimed at providing quick and easy access to essential items.
Regional Analysis
The Global Tropical Flavoured Rum Market is segmented by region as North America, Europe, Asia Pacific, Latin America, and Middle East and Africa.
Asia Pacific
Expanding pub and bar culture, rapid urbanization, and increasing purchasing power
From 2019 to 2026, the Asia-Pacific rum market is projected to grow at a 4.9% CAGR. The growing popularity of premium rums, as well as the expansion of the region's hospitality sector, are also driving market development.
The region's expanding pub and bar culture, rapid urbanization, and increasing purchasing power are the primary drivers of the Asia-Pacific market's expansion. India and the Philippines are the two nations with the highest rum consumption, as well as the top rum producers.
Tropical flavoured Rums is Dominant region
The Asia Pacific region is one of the dominant regions in this segment, and it is divided into China, India, Thailand, and other countries. The young generation in China is more attracted to international rums, and the sense of bar culture, rituals offer a demand for the rum market. Companies such as Xiaolangjiu and Baijiu cater rums needs to their younger consumers through customized products such as flavoured rum, spiced rum, and packaging innovation.
Europe
In terms of regional prospects, the United Kingdom is Europe's biggest rum market, with a strong demand for premium and artisanal products. The United Kingdom market is also known for its diverse cocktail culture, making it an ideal market for tropical-flavored rum. Other important European markets for tropical-flavored rum include Germany, Spain, and France, all of which are growing in popularity with rum and tropical flavors.
The tropical flavored rum market in Europe offers significant growth and expansion opportunities, driven by consumer demand for unique and exotic flavors, the popularity of cocktail culture, and increasing interest in premium and artisanal products.
North America
Consumers Increasing Desire for Unique and Exotic Flavors
Tropical-flavored rums have grown in popularity in North America in recent years, as consumers have become more interested in experimenting with various flavour profiles and seeking out new and exciting drinks to try. The market for these rums is anticipated to expand further in the coming years, due to a variety of factors such as changing consumer tastes, the rise of craft cocktails, and the increasing popularity of tropical and tiki-themed bars and restaurants.
Consumers' increasing desire for unique and exotic flavors is one of the main drivers of the market for tropical-flavored rums. This tendency is especially prevalent among younger drinkers, who are more likely to be open to attempting new things and experimenting with new flavors. As a result, numerous rum producers have introduced a wide range of tropical-flavoured rums, including options like coconut, pineapple, mango, and passionfruit.
The popularity of rum-based cocktails is another element driving the growth of the North American rum market. Classic cocktails such as the mojito and daiquiri have seen a resurgence in popularity in recent years, and many bartenders and mixologists are experimenting with new and creative ways to incorporate rum into their drinks. This has boosted demand for a broader variety of rum varieties, such as spiced, aged, and flavored rums.
Latin America
The Latin America Rum Industry is divided into Brazil, Mexico, Argentina, Chile, and the rest of Latin America. Latin America accounts for a sizable portion of global rum output. According to the report, while only two of the ten largest markets for rum - Cuba and the Dominican Republic - are expected to expand over the next five years, the heaviest consumers will.
Markets with great volume and low value will struggle. Few of rum's other major markets, notably Brazil and Venezuela, are expected to perform much better. Meanwhile, Peru is expected to grow rapidly over the forecast timeframe.
World's third-largest rum market
Latin America is a key market for tropical-flavored rum, and the area is known for its rich rum heritage and history. The region accounts for a sizable part of the global rum market, and Latin American consumers have a strong preference for tropical flavors and rum-based cocktails.
In terms of regional prospects, Brazil, the world's third-largest rum market, is the largest market for tropical flavored rum in Latin America. Brazilian customers have a strong preference for fruity and tropical flavors, making tropical flavored rum an ideal fit for the market. Mexico, Colombia, and the Dominican Republic are also important markets in the area, with high demand for rum and tropical flavors.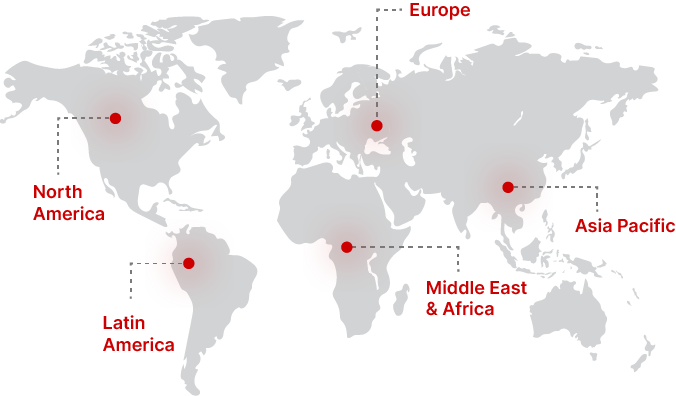 Regional Growth Insights
Download Free Sample
Key Players
Bacardi Limited
Tanduay Distillers, Inc.( LT Group, Inc.)
Altitude Spirits
Heaven Hill Distilleries
Maine Craft Distilling, LLC
Suntory Holdings Limited
Destilería Serrallés Inc
Sazerac Company
William Grant and Sons
Bumbu Rum Co
Tropical Flavoured Rum Market Segmentations
Segment by Type
White rum
Gold Rum
Flavoured and Spiced rum
Overproof Rum
Black Rum
Segment by Application
Hypermarket/Supermarket
Specialty store
Online retail
Convenience store
Frequently Asked Questions