Market Overview
The Global Vegetarian Fried Snacks Market Size will significantly grow at a CAGR of approximately 5.9% by forecast period.
The Vegetarian Fried Snacks Market refers to the business that manufactures and sells vegetarian fried snacks. Vegetarians, vegans, and non-vegetarians equally enjoy these snacks, which come in a variety of forms such as chips, crisps, fries, nuggets, and more. The growing demand for healthier and more sustainable food choices is driving the market for vegetarian fried snacks. Consumers are increasingly turning to plant-based foods as an alternative to meat and dairy products as they become more health-conscious and environmentally conscientious.
Fried snacks are food products that are deep-fried in oil to give them a crispy, crunchy texture. These snacks are popular all over the world, and many different kinds of foods can be fried. French fries, onion rings, samosas, banana chips, cheese ball, and many other fried treats are popular.
The growing knowledge of nutritional values and health concerns raises the demand for vegetarian snacks. Vegetarian snacks are primarily pushed by the growing trend toward a healthier lifestyle.
Market Dynamics
Market Drivers
Market Is Driving Due to Taste and Affordability
vegetarian Fried snacks are popular since they have a crispy, crunchy structure and a savory, satisfying flavor that many people find enticing. Fried snacks are frequently quick and simple to prepare, making them a common option for people looking for a quick and tasty snack. Many fried snacks are affordable and can be found in quick food restaurants, food trucks, and convenience shops, due to their satisfying taste, extended shelf-life, and ease of storage, these snacks are widely preferred by the people of all age, which is driving the vegetarian fried snacks market share is growing.
Rapid Pace of Urbanization and Growth In the Working Population Led to the Growth of the Snack Food Segment
Consumers' hectic lifestyles and erratic schedules drive them to seek out goods that provide convenience. Snacks are not only good value for money, but they are also easy and cheap to buy. Factors such as rapid urbanization, an increase in the working population, and an increase in nuclear families have all contributed to the growth of the snack food sector. The pandemic-induced change in consumer preferences and purchasing habits toward convenient foods, as well as the improvement in customer living standards, are further catalysing the demand for snacks.
Diverse Food Culture Around the World
Based on the diverse food culture around the world, growth is also being driven. To draw customers and extend their product portfolio, the players are introducing innovations and developing fried snacks in a variety of flavors, shapes, textures, and seasonings, driving the vegetarian fried snacks market demand.
Market Restraints
Rising Concerns Associated With the Health Complications
The growing worries about health complications such as diabetes, obesity, and cardiovascular diseases are limiting the market for vegetarian fried snacks. Furthermore, the growing demand for plant-based cereals such as fruit and nut snacks, cereal-based snacks, and plant-based snack bars is driving market development due to their high nutritional value. However, the presence of cholesterols in vegetarian fried snacks is lowering demand as health concerns grow.
Health has become a major motivator in a variety of sectors. The snack industry, which was once thought to only offer occasional treats, now has to appeal to a public that wants healthier options at all times of day. With so many diets to choose from, health claims on labels are more essential than ever. Manufacturers may lose out on certain demographics if all of the health benefits of their snacks are not labelled, due to this market players facing difficulty to grow vegetarian fried snacks.
Increasing Demand For Nuts and Seed
While people's consumption of chips and pretzels has stayed stable, their consumption of nuts and seeds has increased dramatically which is limiting the vegetarian fried snacks. Nut and seed consumption has more than quadrupled. Traditional snack vendors must reconsider their potato chips, tortilla chips, and pretzels. Perhaps the changing role of snack foods is to blame for this change. Many consumers substitute meals with numerous snacks or seek out small, on-the-go meals. Nuts and seeds provide energy and fiber that fried treats do not.
Market Opportunities
There's still a huge opportunity for market players to capitalize on some of that online growth, many customers still do not consider purchasing snacks via e-commerce. But COVID has really helped to program many people to purchase snacks online, so it's changed the landscape, which great opportunity for market players to utilize e-commerce platform to grow their market.
Another reason for the growth of the vegetarian fried snacks is the increased accessibility to online deliveries, which is fueling the startup ecosystem in this sector. Startups are now attempting to make nostalgic snacks available through both online and offline platforms.
Right Balance Between Flavor and Health
Since modern consumers are concerned about their health and well-being, they demand snacks that are not only delicious but also have a nutrient balance quotient. To satisfy customers, market players should incorporate the "health and hygiene" aspect into their snacks. It's all about striking the right balance between flavor and health while keeping the essence of traditional snacking indulgence.
Market Scope
Report Metric
Details
Market Size by 2031
USD XX Million/Billion
Market Size in 2023
USD XX Million/Billion
Market Size in 2022
USD XX Million/Billion
Historical Data
2019-2021
Base Year
2022
Forecast Period
2023-2031
Report Coverage
Revenue Forecast, Competitive Landscape, Growth Factors, Environment & Regulatory Landscape and Trends
Segments Covered

Segment by Type

Sweet Snacks
Salty Snacks

Segment by Application

Online Sales
Offline Sales

Geographies Covered

North America
Europe
APAC
Middle East and Africa
LATAM

Companies Profiles

Kettle Foods
Intersnack Foods
ITC
Great Lakes Potato Chips.
PepsiCo
Orkla ASA
Burts Potato Chips
Calbee
UTZ Quality Foods
The Kellogg Company
BESTORE
Segmental Analysis
Segment By Type
There are many versions of deep-fried sweet snacks such as donuts, cheesecake bites, fried twinkies and Indian sweet snacks jalebi, Gulab jamun and many more.
There are variety of salty snacks such as French fries, cheese balls, samosa and many more tasty salty snacks.
Segment By Application
Due to covid pandemic e-commerce market also has grown as consumer more prefer to buy online rather than going market.
Convenience stores, specialized stores, hypermarkets, and supermarkets are all examples of retail establishments. Overall sales of vegetarian fried snacks have increased due to an increase in the number of supermarkets and hypermarkets.
Regional Analysis
The Global Vegetarian Fried Snacks Market is segmented by region as North America, Europe, Asia Pacific, Latin America, and Middle East and Africa.
North America
The area of North America observed a significant share. The increasing awareness of the abuse of animals in the food industry and its negative environmental effects is driving the regional market. As a consequence, the significant increase in plant-based retail sales in the United States helped the company's expansion. The strong customer preference for foods that taste great and provide health benefits was a major factor in increasing plant-based food sales in the United States. Asia-Pacific is expected to experience significant growth during the forecast period. The business is mainly driven by a growing understanding of the health benefits of vegan diets.
Asia Pacific
Asia Pacific dominated the fruit and vegetable chips industry. Because the demand for natural and organic convenient food products is increasing in China and India, manufacturers are concentrating on providing natural flavors such as tomato and cucumber vegetable chips, among others, to target health-conscious consumers.
Due to rising consumer demand in the region, key manufacturers are progressively launching exciting flavors in the region, which is anticipated to support market growth in the coming years. The tastes include potato, orange sweet potato, paprika, and garlic; potato & tomato, with mozzarella and herbs; and potato, purple sweet potato, and sea salt, which is boosting vegetarian fried snacks.
The Indian snacks market is expanding and undergoing digital change. While technology is making advances into the world, innovations in recipes, flavors, and textures of items are being introduced to gain a competitive advantage. Start-ups are playing an important part in driving the market's growth. With the entry of ventures into the domain, the complete lifecycle has been considerably improved, from product manufacturing and order placement to fulfillment and delivery to consumers. They are assisting the field in dealing with industry dynamics and changing consumer expectations.
In 2024, the Snack Food segment is projected to grow by 6.4% in volume. In 2023, the average volume per person in the Snack Food segment is expected to be 10.6kg.
Europe
The Biggest Organic and Natural Snack Market
In 2021, Europe will be the biggest market. The region is a major producer as well as a large consumer of snack food items. Snacking on the go or at social gatherings is popular in Europe, but more consumers are opting for healthier snacking choices. It is valued and beneficial to a healthy diet and is typically eaten between meals. Europe has the biggest organic and natural snack market.
Demand For Savoury and Cereal-Based Snacks Is High
Snack product sales in Europe increased around 5.8% over the prior year. Part of the strong snack market can be explained by the increasing interest in on-the-go healthy snacks, which are frequently savoury or cereal-based snacks.
Savoury snack consumption differs across Europe, but the average per capita purchase is approximately 3.6 kg per year. Sweet biscuits have grown quicker than toasted bread, wafers, and other cereal products regarded to be healthier. Crispbread sales, such as the Wasa brand, fell in 2018 after experiencing strong growth in prior years. Savoury is still trailing sweet biscuits, which remain the most popular cereal nibble. However, sweet biscuits have lost market share, most likely due to customers cutting back on sugar.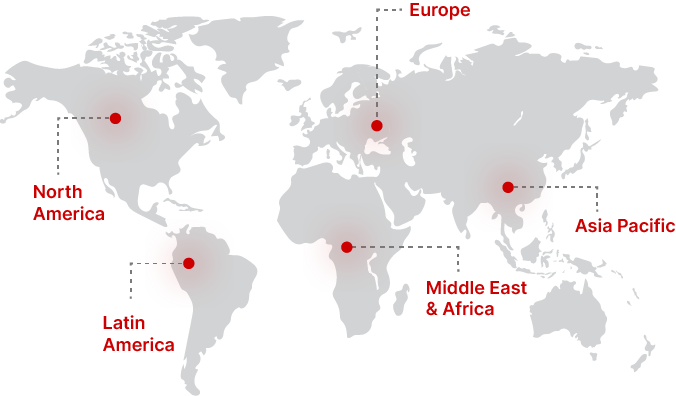 Regional Growth Insights
Download Free Sample
Key Players
Intersnack Foods
ITC
Great Lakes Potato Chips.
PepsiCo
Orkla ASA
Burts Potato Chips
Calbee
UTZ Quality Foods
The Kellogg Company
BESTORE
Vegetarian Fried Snacks Market Segmentations
Segment by Type
Sweet Snacks
Salty Snacks
Segment by Application
Online Sales
Offline Sales
Frequently Asked Questions