Market Overview
The Global Water Cooling Reactor Market Size is projected to grow at a CAGR of approximately 5.2% over the analysis period.
A water-cooling reactor refers to a type of nuclear power plant that employs water as its principal coolant. The primary function of the heat transfer system is to facilitate the efficient transfer of thermal energy from the reactor's core to another machine, typically a steam turbine. Water-cooling reactors play a pivotal role in the nuclear energy landscape due to their utilization of cost-effective materials and simplified operational and maintenance procedures, when compared to alternative reactor designs.
The expanding market for water cooling reactors can be attributed to the increasing demand for clean and safe water across various sectors, including drinking water, agriculture, and commercial applications. The global concern surrounding global warming and climate change has prompted several countries to implement stringent regulations pertaining to carbon pollution. This development holds significant advantages for the water cooling reactor industry. The growing interest among individuals in utilizing nuclear energy as a viable source of power has led to a notable expansion within the water cooling reactor industry.
Market Dynamics
Market Drivers
Demand For Nuclear Power is on the Rise
The market for water-cooled reactors is primarily driven by the increasing demand for nuclear power. Nuclear power is widely regarded as a technologically advanced and environmentally friendly method for generating substantial quantities of electricity. The increasing global population and escalating energy demands have prompted a revaluation of nuclear power as a viable solution. One prevalent variant of nuclear reactors, renowned for its high power generation capacity, is the water-cooled reactor. Water-cooled reactors employ a highly efficient mechanism for transferring thermal energy from the reactor core to a steam generator. The steam generator is responsible for the production of steam, which subsequently serves as the driving force for a turbine generator. Water-cooled reactors have been found to exhibit a commendable level of safety and efficacy, rendering them a viable option for power generation. Furthermore, their construction costs have been observed to remain within reasonable bounds, making them economically feasible. The increasing demand for nuclear power necessitates a corresponding rise in the requirement for water-cooled reactors. Water-cooled reactors have emerged as a viable solution to address the escalating global electricity requirements, owing to their commendable cleanliness and efficiency.
New Developments In Technology
The industry is also greatly influenced by technological advancements in water-cooled reactors. These modifications have made water-cooled reactors more productive, secure, and affordable to construct. The following are significant advancements in water-cooling reactor technology: new materials are created when: To withstand the extreme temperatures and pressures of nuclear reactors, new materials have been developed, such as improved composites and ceramics. Reactors that operate more efficiently and safely can now be created thanks to these novel materials. Installing new control systems: The reactor core can now be controlled more effectively thanks to new control techniques. Reactor maintenance has become simpler and safer as a result. The development of new safety measures has begun. Passive safety systems and other features are being created to assist prevent accidents. Water-cooled reactors are now even safer than they were previously thanks to these new safety features. Technology advancements have made water-cooling reactors a more alluring alternative for nations seeking to generate power in an effective and clean manner. The market for water-cooling reactors is anticipated to increase as these advancements continue.
Market Restraints
Alternate Technology and Maintenance of this Reactors
Various alternative cooling systems, including air cooling, oil cooling, and liquid metal cooling, have emerged as potential contenders to traditional water cooling methods employed in reactors. Various cooling methods possess distinct advantages and disadvantages. The demand for water cooling reactors and potential market limitations may be influenced by the availability of alternative technologies and their corresponding benefits. In order to ensure the secure and optimal functioning of water cooling reactors, it is imperative to conduct regular maintenance and monitoring activities. The management of water quality, includes measures to prevent scaling and fouling, as well as strategies to effectively address any potential leaks or system failures that may arise. The maintenance and operational requirements associated with this particular system may pose challenges, as they demand specialized personnel and supplementary resources. Consequently, these demands might discourage certain prospective users from adopting the system.
Market Opportunities
Increasing Demand For Sustainability and Energy Requirements
The utilization of water as a cooling agent for reactors has the potential to contribute to sustainable growth by mitigating the emission of greenhouse gases during the energy production process. Water-cooled reactors possess a heightened potential to contribute significantly towards the reduction of the energy sector's carbon footprint, aligning with the ongoing efforts of nations and corporations to embrace environmentally sustainable practices. The escalating global electricity demand, particularly in the context of nuclear power plants, presents a promising prospect for utilizing water as a coolant for reactors. Water-cooled nuclear reactors have been widely recognized as a reliable and established technology. These reactors have the capability to generate significant amounts of baseload power, making them a valuable asset in meeting energy demands. Moreover, water-cooled nuclear reactors are considered a renewable and low-carbon energy source, further enhancing their appeal in the context of sustainable energy production.
Market Scope
Report Metric
Details
Market Size by 2031
USD XX Million/Billion
Market Size in 2023
USD XX Million/Billion
Market Size in 2022
USD XX Million/Billion
Historical Data
2019-2021
Base Year
2022
Forecast Period
2023-2031
Report Coverage
Revenue Forecast, Competitive Landscape, Growth Factors, Environment & Regulatory Landscape and Trends
Segments Covered

Segment by Type

Plate Water Cooling Reactor
Tube Water Cooling Reactor

Segment by Application

Wind Power
Industrial Equipment

Geographies Covered

North America
Europe
APAC
Middle East and Africa
LATAM

Companies Profiles

Eagtop
Hitachi ABB Power Grids
Jinpan Technology
InducTek Power Electronics
Mangoldt
Magnetic Specialties, Inc
Segmental Analysis
Segment by Type
Plate Water Cooling Reactor
The dissipation of heat in a water-based process is facilitated through the utilization of water cooling reactors. The utilization of these devices is predominantly observed within the petrochemical sector, where their primary function entails the cooling and sterilization of feedstock, intermediate components, and final products. The product serves as a crucial component within thermal processing units, encompassing a wide range of applications such as boilers, coolers, and reactors. Additionally, it finds utility in pressure recovery systems, further highlighting its versatility and significance within the industry.
Tube Water Cooling Reactor
The tube water cooling reactor, also known as a heat exchanger, is a crucial component employed in nuclear power reactors for the purpose of cooling water. This system features by an open circuit configuration, wherein a copper or aluminium tube is employed to facilitate the circulation of a coolant, specifically water. The primary objective of this device is to effectively extract thermal energy from the incoming feed water prior to its introduction into the reactor's core.
Segment by Application
With the aid of water-based cooling systems, wind power is produced. Wind turbines use generators to convert the energy created by rotating blades into electrical power. These engines frequently produce a lot of heat when they are operating. In order to ensure that the electrical components of the wind turbine function properly and dependably, the excess heat can be removed using water cooling units.
Reactors that use water cooling are frequently used in companies to cool down equipment and tools. Many industrial operations include the utilization of heat-producing machinery, such as motors, transformers, compressors, and power electronics. In order to preserve the equipment from overheating and preserving its performance and longevity, water cooling systems aid in dissipating this heat.
Regional Analysis
North America
The North American region has consistently demonstrated a significant demand for water cooling reactors, particularly within the nuclear power sector, over an extended period of time. In the context of the United States, it is worth noting that there exists a considerable number of nuclear power plants that employ water cooling mechanisms. The market in North America is influenced by various factors, including energy policy, environmental concerns, and the aging infrastructure of nuclear facilities. These elements exert a notable impact on market dynamics and warrant careful analysis.
Europe
Water-cooled reactors have demonstrated a longstanding operational presence in the European region. France, Germany, and the United Kingdom are the nations that prominently utilize them in their respective contexts. Several nations possess a significant quantity of nuclear power facilities that employ water as a coolant for their operations. The European market is subject to various factors that exert influence on its dynamics. These factors include a heightened focus on renewable energy sources, the decision of certain nations to phase out nuclear power, and the necessity to modernize aging nuclear reactors.
Asia-Pacific
The water cooling reactor market in the Asia-Pacific region is projected to experience substantial growth. Several countries, namely China, India, Japan, and South Korea, have expressed significant aspirations to augment their nuclear power capacity. The utilization of water cooling reactor technology is anticipated to yield novel opportunities for various applications. China has made substantial investments in the field of nuclear energy and is expected to emerge as a prominent market for water-cooled reactors in the coming years.
South America
South America has a very new water-cooling reactor market compared to other regions. The primary force behind the expansion of nuclear energy in the area is Brazil. It plans to expand its two nuclear power reactors. Argentina has previously produced nuclear energy and intends to add more reactors. Chile has assembled a team to research nuclear power and is looking into it. Others are only now beginning to employ nuclear energy, such as Peru and Ecuador.
Middle East and Africa
The regions of Africa and the Middle East are exhibiting a gradual evolution towards becoming promising markets for water-cooling reactors. The imperative to diversify energy sources in response to the escalating electricity demand is particularly noteworthy. The initiation of nuclear power plant construction has been observed in various nations, such as South Africa, Saudi Arabia, and the United Arab Emirates. The current situation potentially offers a favorable prospect for the adoption of water cooling reactor technology in the region.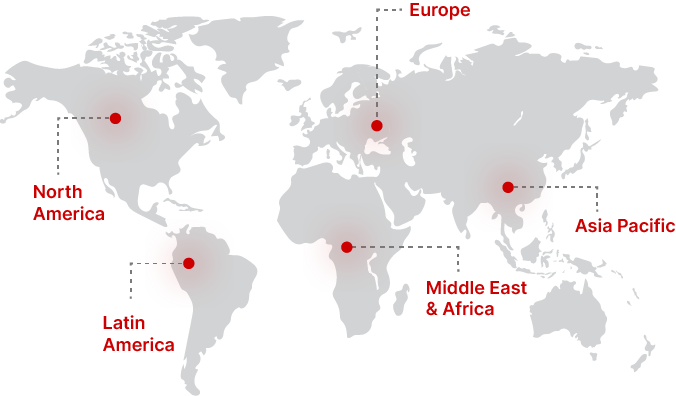 Regional Growth Insights
Download Free Sample
Key Players
Eagtop
Hitachi ABB Power Grids
Jinpan Technology
InducTek Power Electronics
Magnetic Specialties, Inc
Recent Developments
24 May 2023 - A collaborative effort is underway between SAMSUNG Heavy Industries (SHI), Korea Hydro & Nuclear Power (KHNP), and Seaborg Technologies to explore the development of floating nuclear power plants.
Water Cooling Reactor Market Segmentations
Segment by Type
Plate Water Cooling Reactor
Tube Water Cooling Reactor
Segment by Application
Wind Power
Industrial Equipment
Frequently Asked Questions